Walking along Victoria's Dallas Road, the memories flooded over me. I grew up on Vancouver Island, and although I left when I was fifteen, I've been back many times since. On a mid-October day, a few days before Thanksgiving, I saw the wind whip through the long grass along the coast and was quickly reminded how much I hated that wind. Dallas Road is where my school often competed in cross country races, and that wind was murder on my run times. Not like it mattered much – I was a consistent back-of-the-packer. In those days I was competitive in virtually everything else – hockey, judo, basketball, tennis, rugby, volleyball – but running was just something I hoped to survive, and the winds whipping in off the Pacific never made it any easier.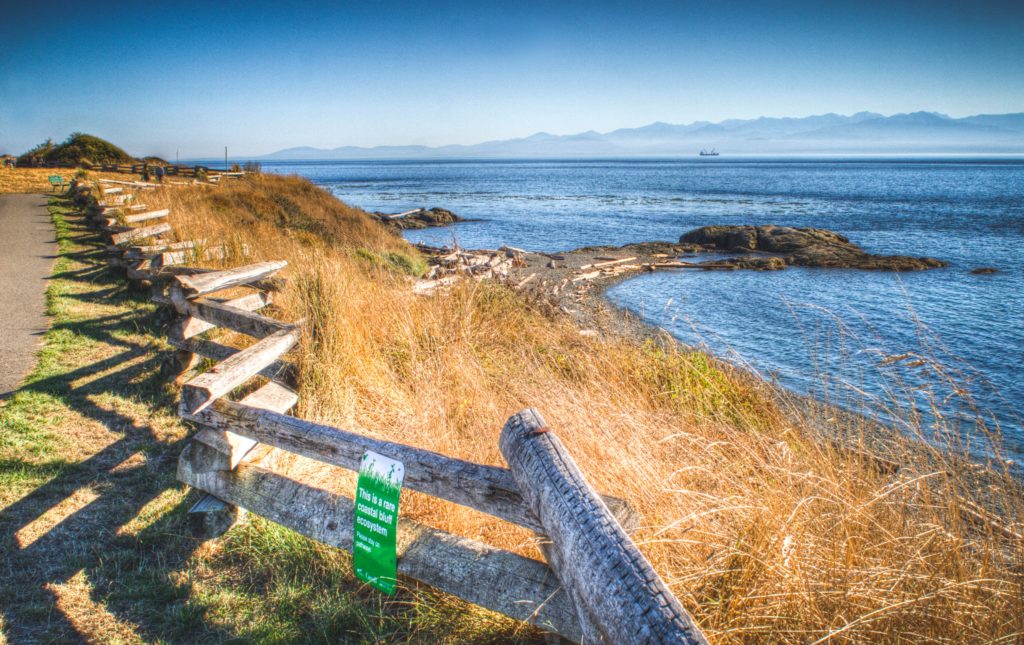 Victoria is one of my favourite Canadian cities. It's more laid back than Vancouver or Toronto, the weather is great (it gets about half the rain of Vancouver, and no snow in the winter), and it's stupidly scenic. It's a good sports town, has an outdoors-y vibe, and you'll see more VW vans per square mile here than any other city in Canada.
While in Victoria we usually stay with my good friends out in the suburbs, but this time around we found ourselves at the Hotel Grand Pacific on the city's inner harbour. Angela was taking part in a conference at the Grand Pacific, so it made things easier. I've always loved this hotel and the service this time around was above and beyond, so we'll be back.
The inner harbour is tourist central. Horse drawn carriages pull gawking travellers past the Parliament Buildings, through tony James Bay, Beacon Hill Park (where the world's largest totem pole stands) and around the harbour where zodiac boats galore promise the ultimate in whale watching tours. Victoria is heavily influenced by England, proven by the fact that you can have afternoon tea with tiny sandwiches at more than one spot in the downtown core.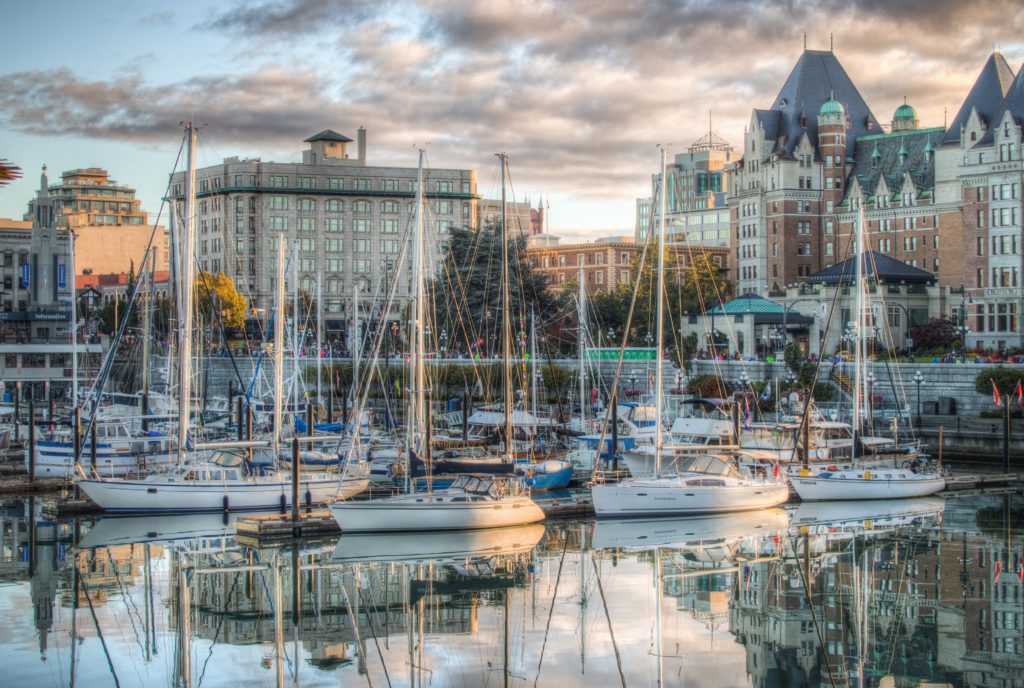 Being chock full of English influence doesn't necessarily make Victoria unique; adding in First Nations arts and culture does. Going to school here, our intramural sports teams weren't named Maulers, Crushers, or Spartans – instead we were Haida, Bella Coola, Tsimshian, and so on – all named for west coast native tribes.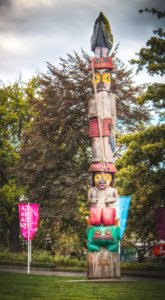 The Royal BC Museum has an extensive First Nations collection, and this is a city where you can find totem poles watching over Beacon Hill Park, Thunderbird Park, and in front of the Parliament Buildings.
So it's a unique city. In addition to English and First Nations influences, Victoria also boasts the oldest Chinatown in Canada. I got up early one morning and hiked out to the main gates (known as the Gates of Harmonious Interest) at Fisgard and Government Streets. The walk was about twenty minutes, and it surprised me how quiet this town was for a Saturday morning. Outside of a handful of bleary-eyed tourists, city workers, and a few homeless guys, I had the city to myself.
The gates are pretty fantastic. They haven't changed since I was a kid, and it brought back a lot of memories for me. I used to be really into martial arts, and would go shopping in Fan Tan Alley for anything related to Bruce Lee. I was fascinated by Chinese culture, and years later it would spawn an interest in learning Mandarin and traveling extensively in Asia for both work and pleasure.
Unfortunately I was too early and Fan Tan Alley hadn't opened yet. In fact, most of Chinatown was still closed for business, so there wasn't much to see. Thankfully, the gates are always there, so I took my time, snapped a few pictures and wandered around a bit. The Chinatown has shrunk over the years, and it's smaller than I remembered it being as a kid.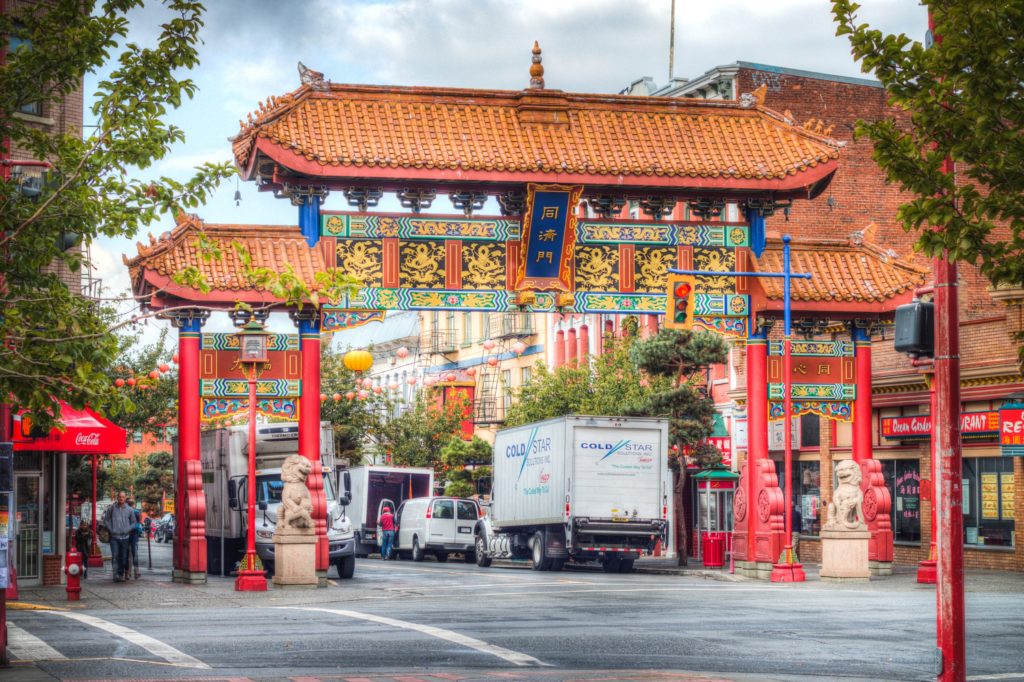 Many of the Chinese retailers have been taken over by coffee shops and cafes. A few good Chinese restaurants remain, including Don Mee, which has been in the same spot for over 80 years. The restaurant used to be owned by the father of a friend of mine, and I thought they had the best chow mein in the world. They're known for kick ass dim sum, and I was pleased to see them still flourishing in the same spot.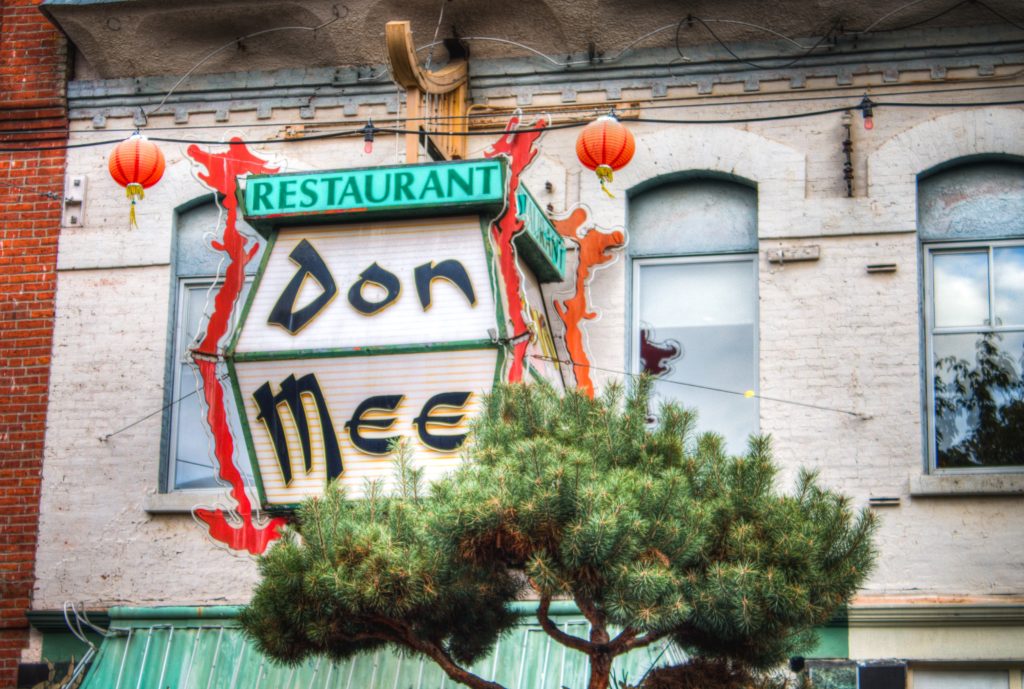 I left Chinatown and ventured away from the water, and with that move, away from the tourist epicenter. I visited an old record store, Lyle's Place, on Yates Street. Lyle's has been around for decades. It's an old school record shop that I enjoyed while growing up, but as an adult I've found the service to be inconsistent. Either way, it's a shop with some cool factor and I enjoyed revisiting it.
Getting hungry, I decided to go hunting for an early lunch. Victoria has raised its food game through the years, and I had plenty of good options to sift through. I settled on Tacofino, a hipster haven on Fort Street sporting delicious tacos made from fresh local west coast ingredients. They began out of the back of a surf shop in Tofino (where we first tried them out, and the fish was freshest I had ever tasted) and have expanded to a number of spots in Vancouver and the one shop in Victoria. I opted for the basic fish taco (crispy ling cod, cabbage, chipotle mayo, salsa fresca) and I wasn't disappointed. This place has awesome, delicious, fresh food and I would consider moving back to Victoria for the fish tacos alone.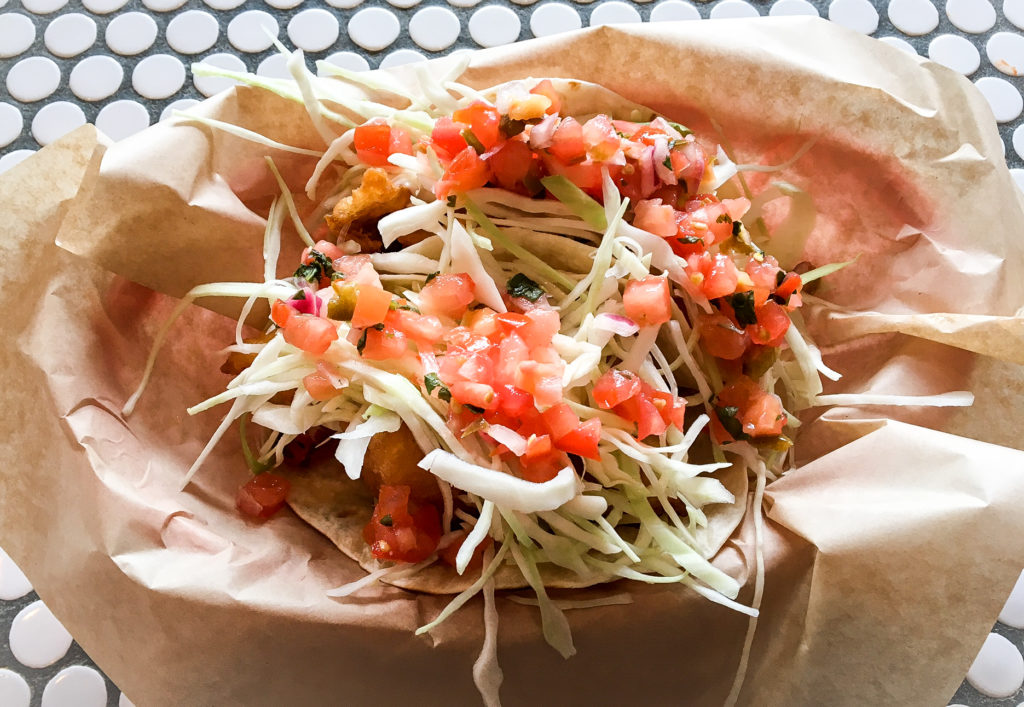 Leaving Tacofino I spotted a little hole in the wall restaurant called Pho Vy. I dig me some pho, so I made a mental note and wound up hitting it up the next day. Delish. Victoria has a bevy of pho-tastic restaurants with catchy names like Phonomenal and Pho Ever. This is a city not lacking in food options or pun-a-riffic restaurant names.
Another area where Victoria has improved is in its beer game – and honestly, where in Canada is craft beer NOT booming? I think if you threw a rock out a window in any town in Canada your odds of hitting a brewery owner are better than average. This is a good thing – a country full of passionate brewers is a country I want to live in.
My buddy Brendan and his family joined us for dinner downtown but not before we hit up The Churchill, a pub boasting "50 taps of the Pacific Northwest's finest beer". Or, in other words, heaven.
The menu: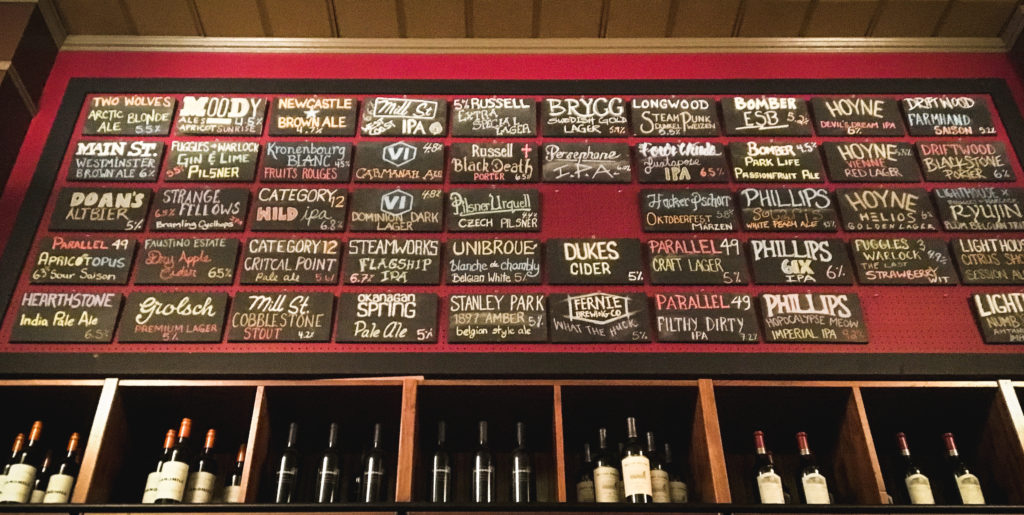 Unable to decide – after all, how do you choose just one? – we opted for a couple of flights so we wouldn't leave anything on the table, so to speak. I don't remember what we did for all eight choices, but some of the highlights included the Hacker Pschorr Oktoberfest, Parallel 49 Filthy Dirty IPA (I love my hops), Brygg Swedish Gold Lager, Hoyne Devil's Dream IPA, and the Driftwood Blackstone Porter.
The flights: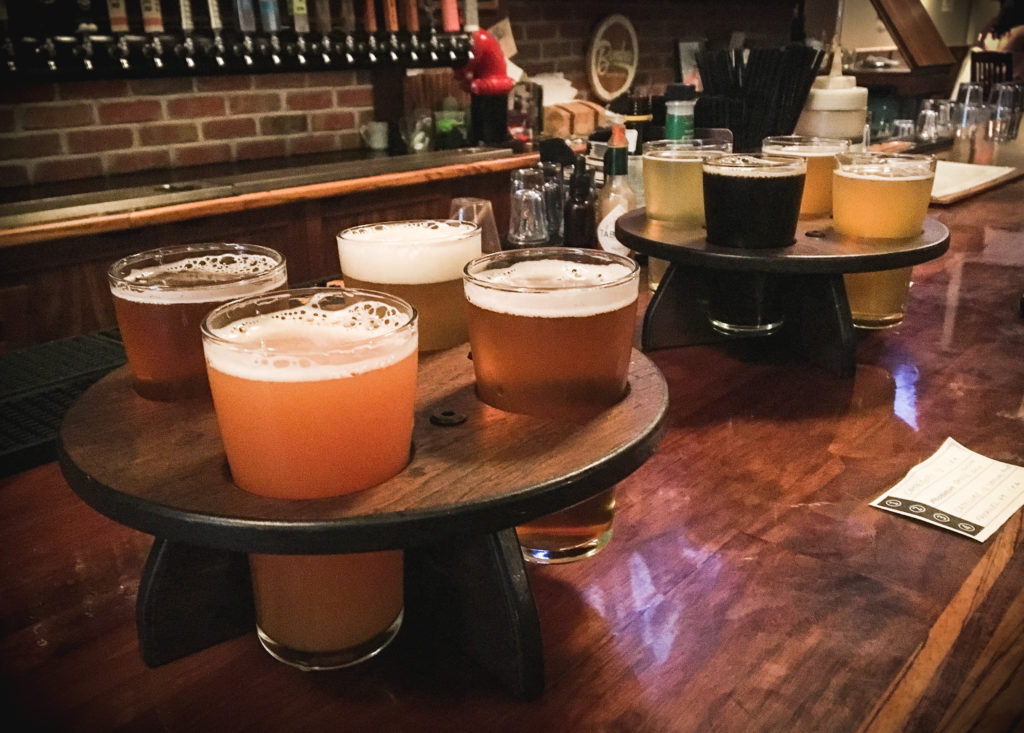 Over the next few days I continued to explore all that Victoria had to offer, and went for more than a few workouts along Dallas Road. Brendan and his family took good care of us and even went double turkey on the BBQ for Thanksgiving weekend. Think about that – two turkeys on a regular BBQ. It was impressive, and motivated me to keep asking, "what's possible?"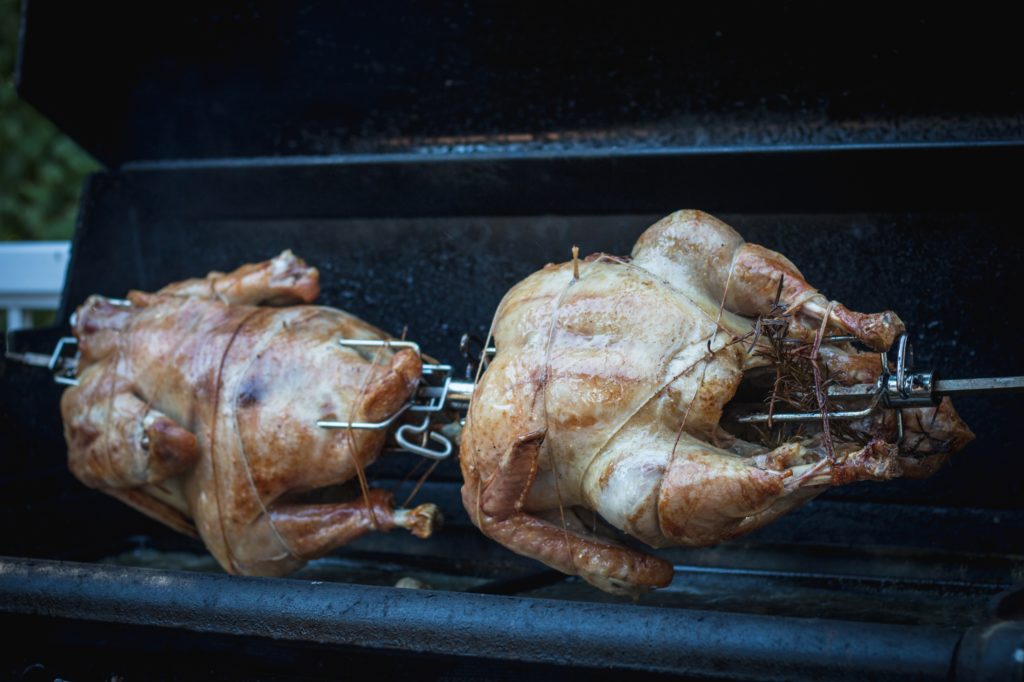 I would have loved to scale Mt. Doug; trek up island to Tofino, Nanaimo, and the Comox Valley; gone to UVic for a Vikes game, or check out the Victoria Royals hockey club. The reality is you can't do it all, and I know I'll be back. We had a killer five days in British Columbia's capital city, and I can't wait to return.
Following Thanksgiving dinner we joined B's family and went for a hike around Swan Lake, a gorgeous area about fifteen minutes from downtown. The sun was setting, and it was a perfect way to end our time in Victoria. Like I said, this is one gorgeous city.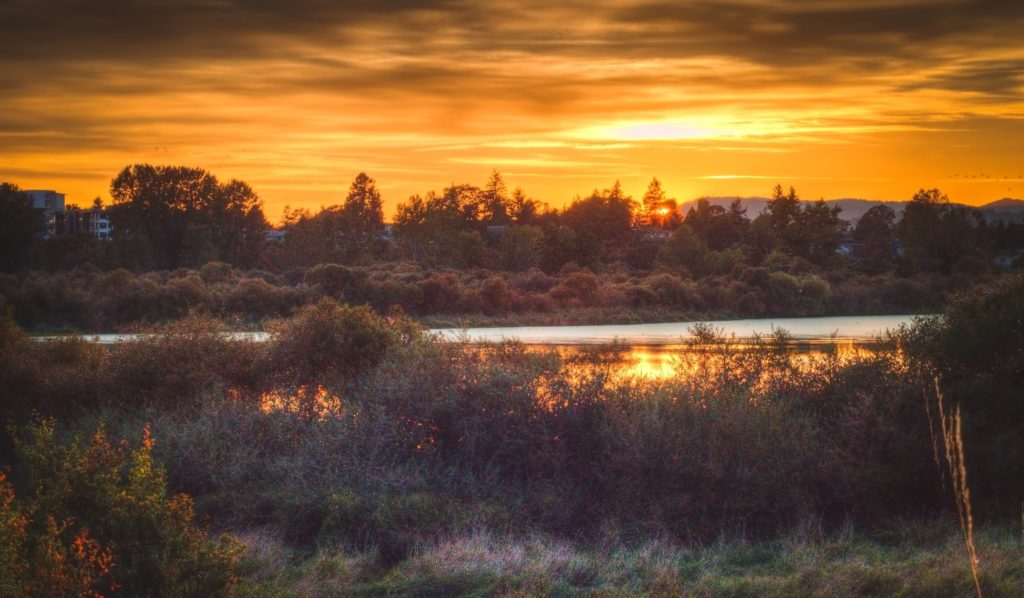 Here's a few final pics:
1/ View from Dallas Road, the Olympic Mountains (Washington State, USA) in the distance. Float plane taking off.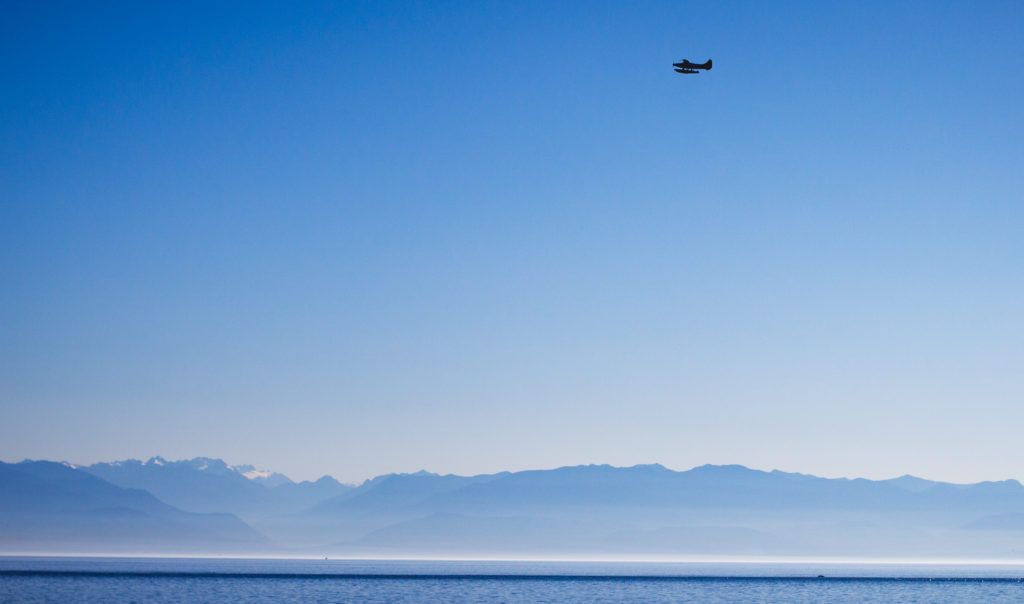 2/ The famous Empress Hotel: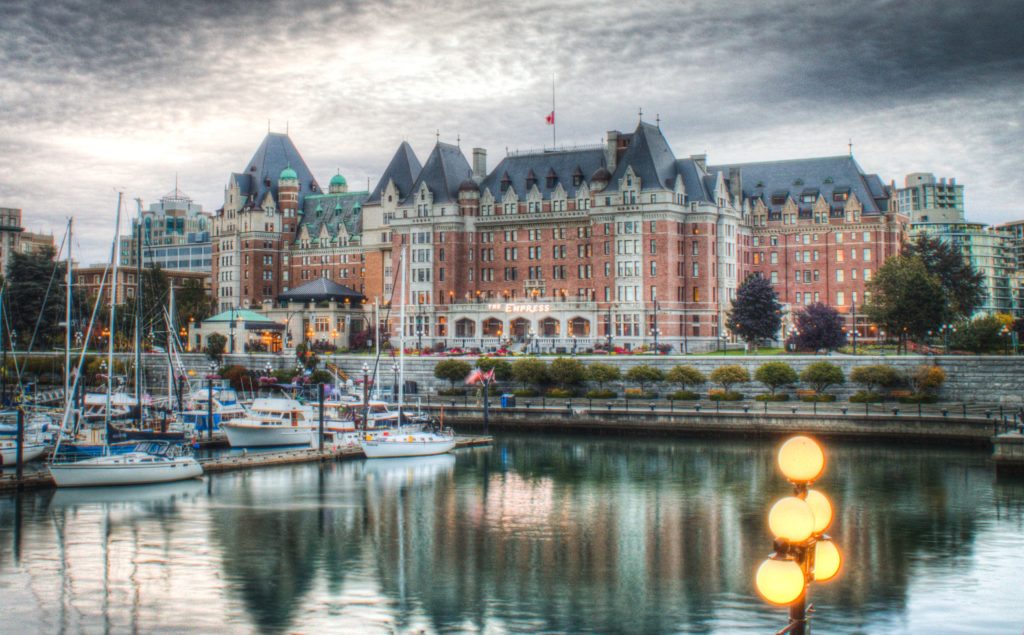 3/ Victoria Parliament Buildings. They definitely make a statement.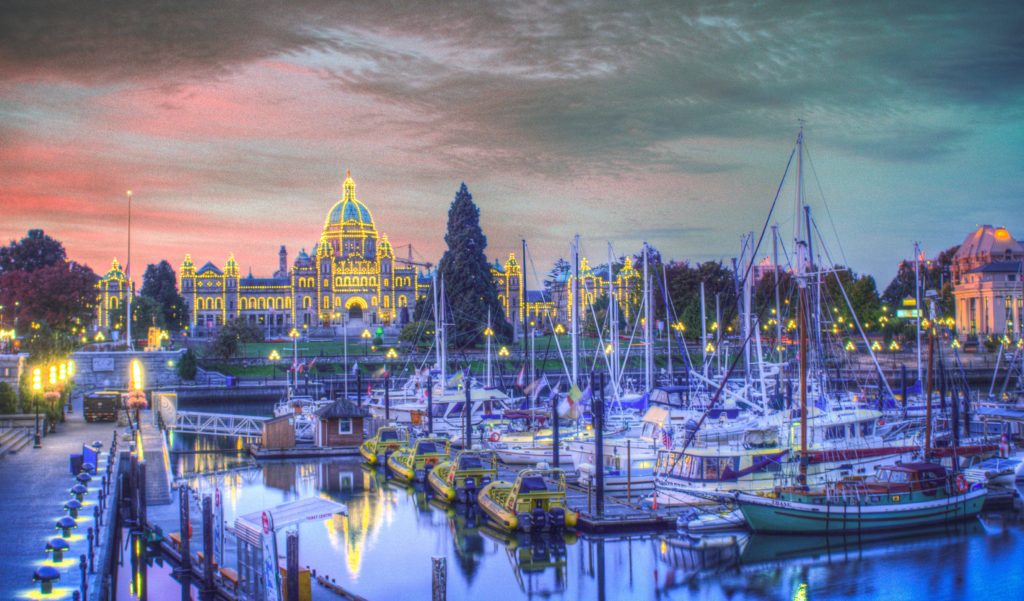 How about you? Ever been to Victoria? What were some of your highlights? Comment below – cheers!