Inside the walls of the old city of Saint-Malo, you feel a bit like you've been taken back in time. The cobblestone streets, ramparts, and the imagery of the corsairs all set the scene for a place that is fun, unique, and a bit touristy (but that's okay). If you're looking for a day trip or short getaway from Paris, Saint-Malo is a good option.
Our journey to the coast of Brittany (or Bretagne, if you prefer) began around noon on a Thursday, when we boarded a bus from Mont Saint-Michel to Saint-Malo, direct. It was the best deal in town at €4.99 each – a bargain by anyone's standard. If you're planning on making a similar journey check out Flixbus – they operate a number of routes in that part of the country.
We arrived in Saint-Malo roughly an hour later. We could have taken a city bus to the old city, but opted instead to walk, as it was a nice day. It turned out to be a dumb plan, as there are more cobblestones in St M than you can throw a stick at, so having your suitcase bounce up and down for the better part of half an hour is a bit of a drag.
Cobblestones or not, we made it relatively unscathed to our hotel, the highly touted (on Trip Advisor) Quic En Groigne. We were greeted by a very friendly young woman who seemed genuinely happy to see us. That continued throughout our stay, as everyone we met was super friendly – this definitely makes a big difference when you're on the road for a while, as we were. She and Angela spoke excitedly in French about all of the wonderful things on offer in Saint-Malo, as well as in the hotel itself. I caught about half of it, happy just to be able to hang in there and not totally embarrass myself.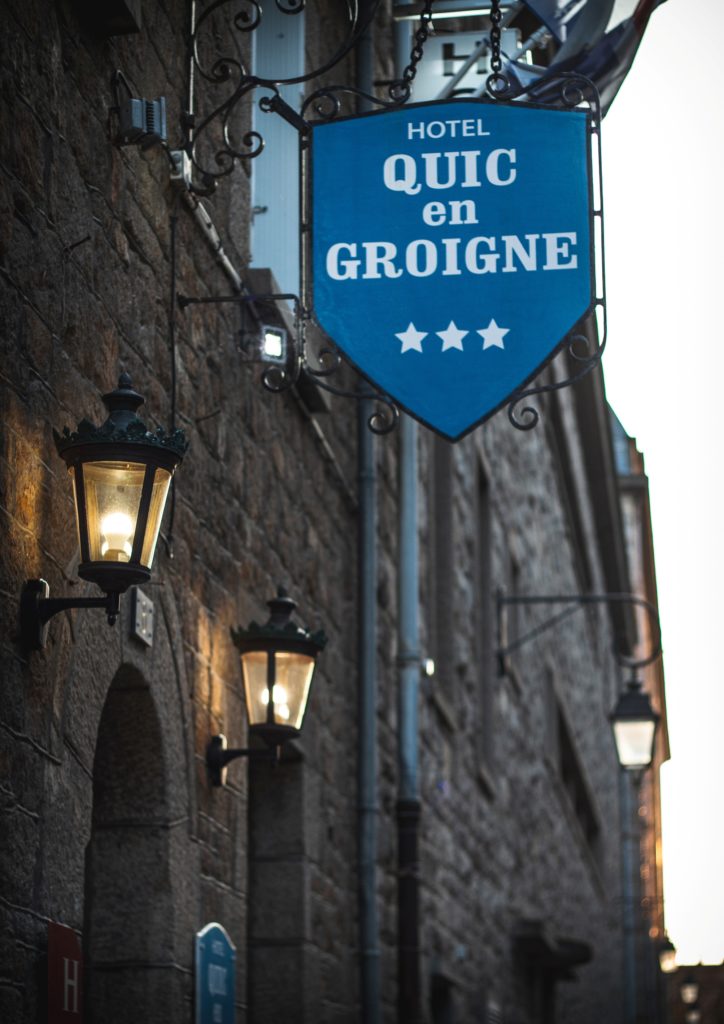 We were shown to our room, a very nice spot up the staircase on the first floor. The room was immaculate, and we had a nice view out to the street, overlooking the breakfast room below (which we never wound up using). We hadn't eaten since breakfast, so by this point we were more than ready to go find some food. After unpacking a few things we headed right back out.
Finding a restaurant in Saint-Malo is not a problem. There are dozens of crêpe places, seafood restaurants, pizza and sandwich shops, the usual boulangeries, fromageries, and one very good burger place. We opted for the burger place. I know it's sacrilege not to be eating great French food all the time, but honestly, sometimes when you're on the road you just want a good burger, and to be fair, this place boasted that they only used French suppliers for the bulk of their menu, so we were going for French food.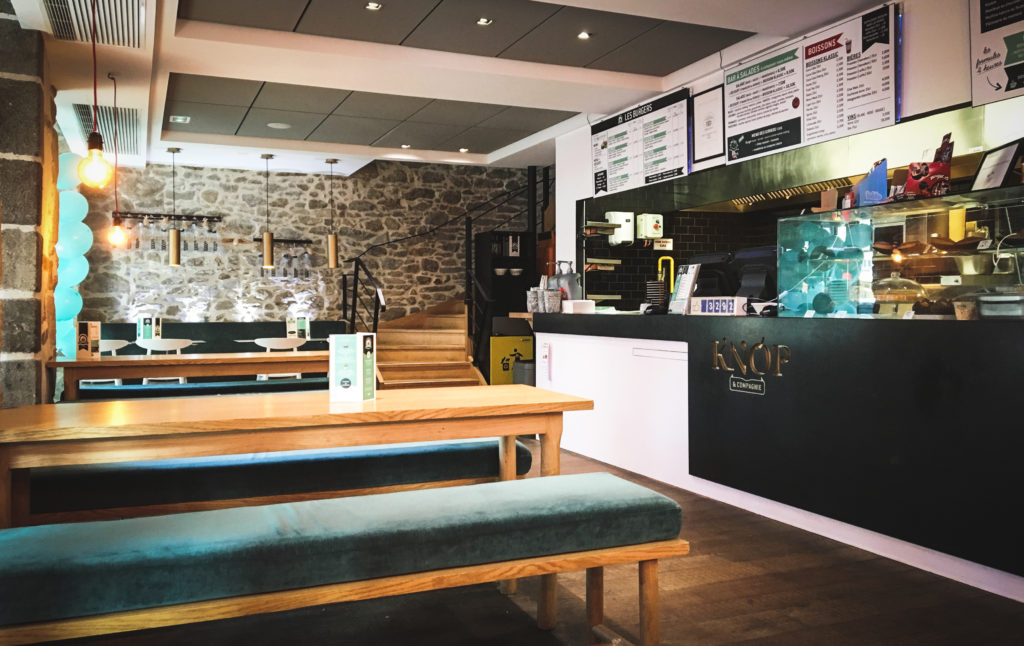 Knop & Compagnie is located near the main front gates of the old city. It's clean, they keep upbeat 80's and 90's music pumping through the place, and the food is amazing. And of course, in France, a burger is never just a burger.
The owner, a very nice guy, made us two delicious burgers built on fresh buns, cooked to order, featuring fresh French beef. Mine had tomme de savoie cheese, which I had never had before. It's mild, and worked well on the burger. Angela ordered a plain burger with tomato (which I would never do, as raw tomatoes are vile and can't be trusted). The toppings were fresh and everything tasted great.
One caution – in France they cook their burgers à point, or medium-well, with some pink inside. If you come from Canada, and some places in the US, burgers are always well done, so you don't have to think about how to order it. If you like your burgers fully cooked, make sure to order it bien cuit, or well done.
Lunch over, we decided to go explore. Walking around this town is a study in contradictions – you're either in the midst of touristy shops and restaurants or alone on a quiet cobblestone rue that conjures images of medieval Europe.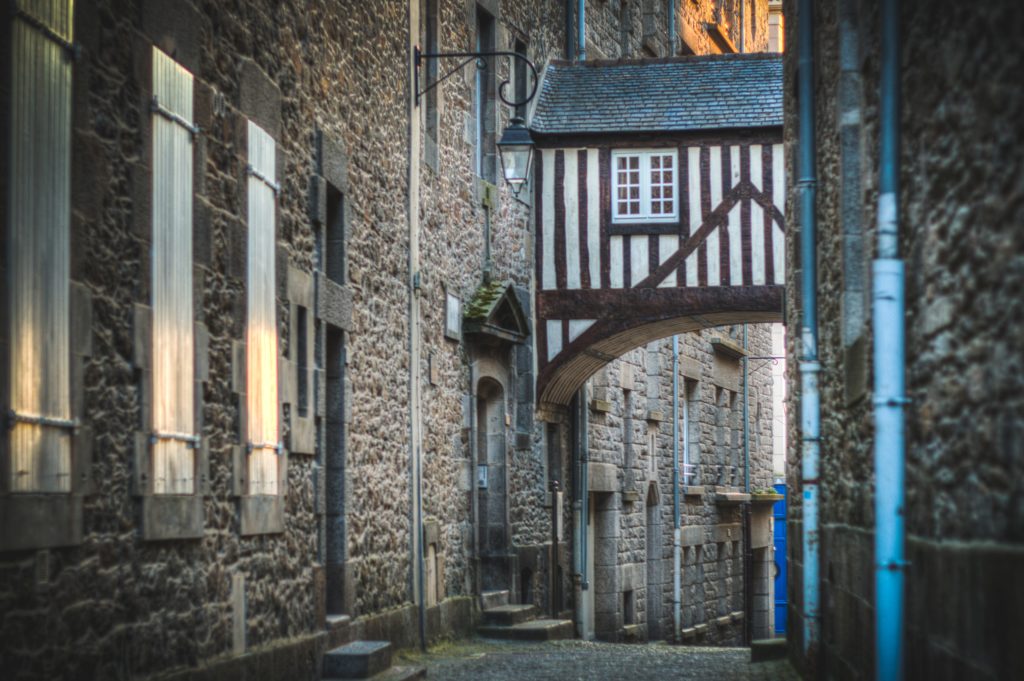 We just kind of meandered, enjoying the freedom to check things out with no set schedule. If you walk long enough in any direction you'll eventually hit one of the staircases that you can climb in order to walk atop the walls, among the ramparts, and in the company of many a seagull.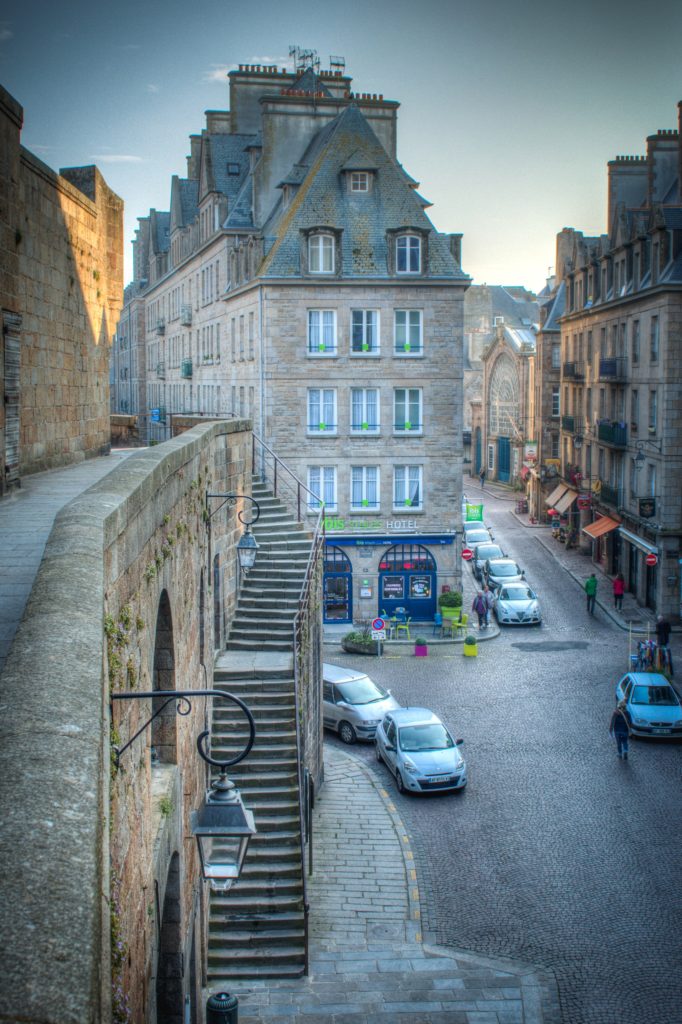 If you're looking for a great calf/butt workout, this is your place. Plenty of stairs to help you create that bootylicious look you've always wanted.
Once you're up on the walls, the views are pretty fantastic…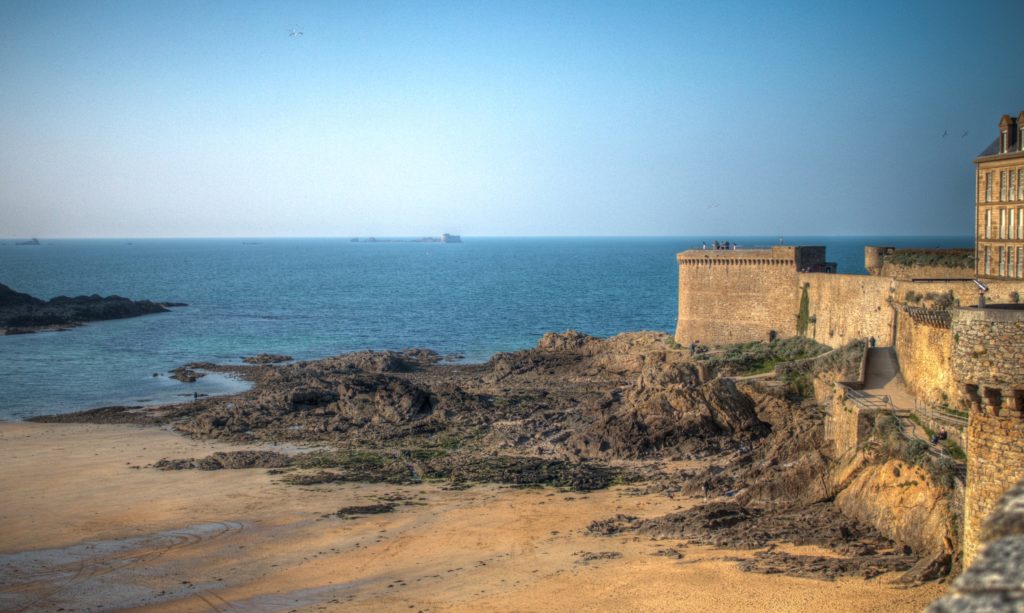 French privateer Robert Charles Surcouf (1773-1827) points out to the sea, towards England. Angela was pointing out to sea as well, but she was gesturing towards her home town of Halifax, Nova Scotia, home of the donair (aka nature's perfect food).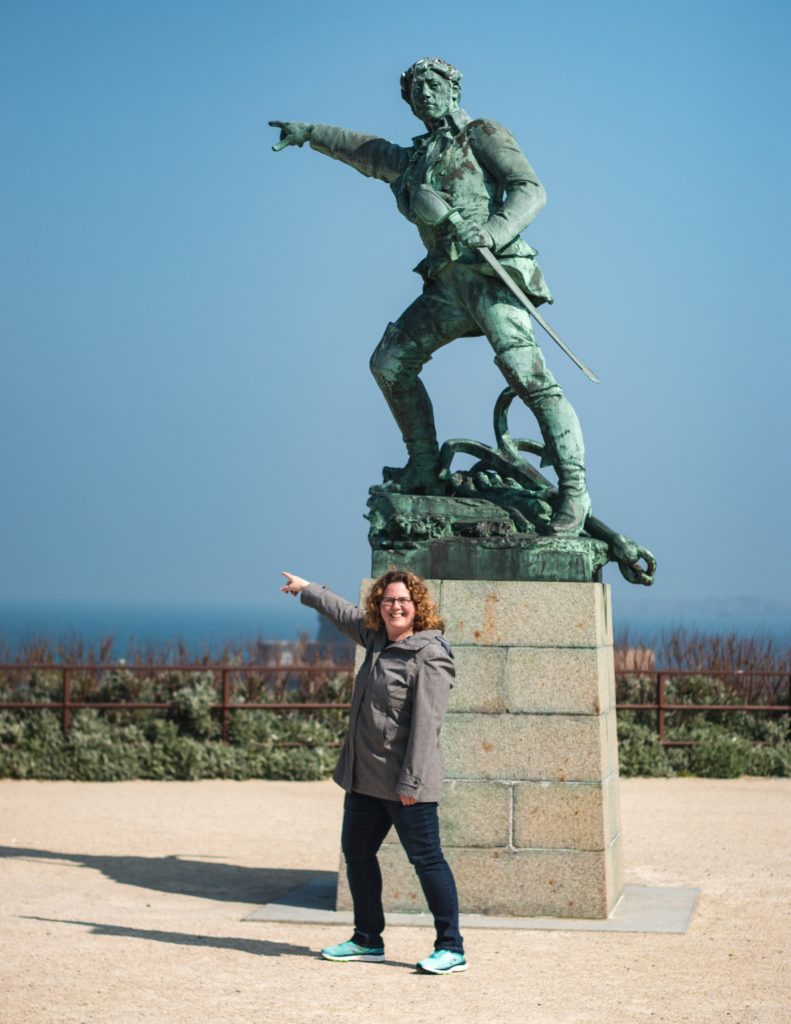 We were there in the off-season, so we didn't get to see this place in full swing, but during the summer the beaches are packed.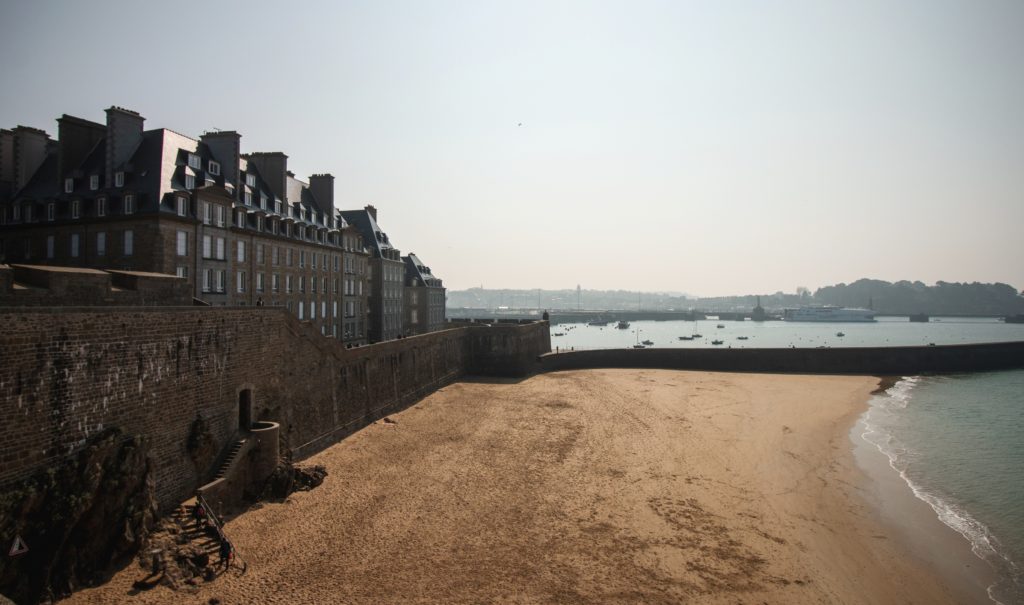 Once you're up there it's a good spot for selfies and portraits. As you can see by my attire, it was sunny but still fairly cool. It was great weather for late March, but it was still late March, so light jackets and hats were the order of the day.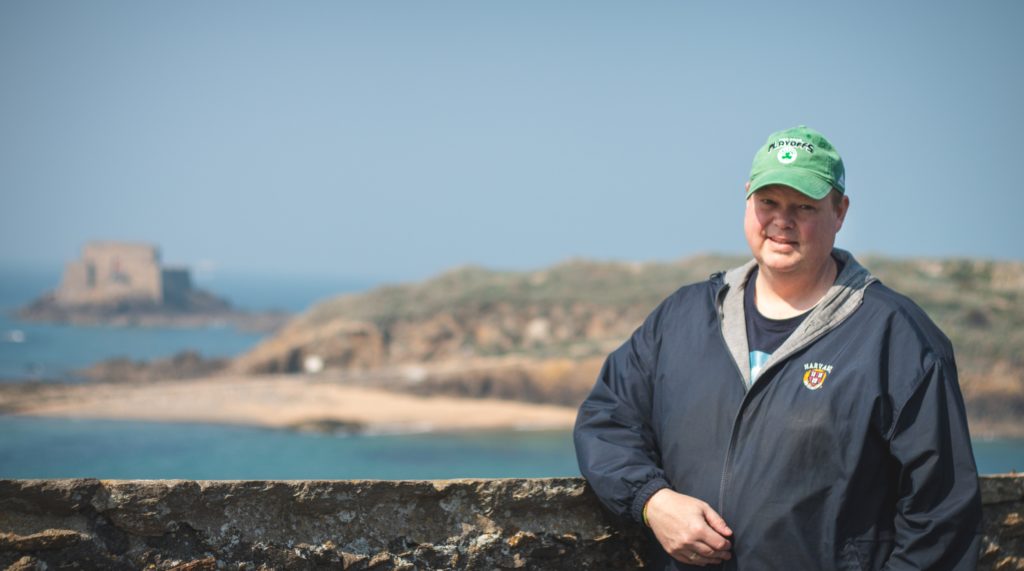 The island you can see behind me is one you can explore when the tide is out. The very friendly woman at Quic en Groigne had told us that between 5-7pm there would be a good window to walk out there. She also cautioned us that if we were late coming back, the path would be under water and we'd be stuck out there for the night.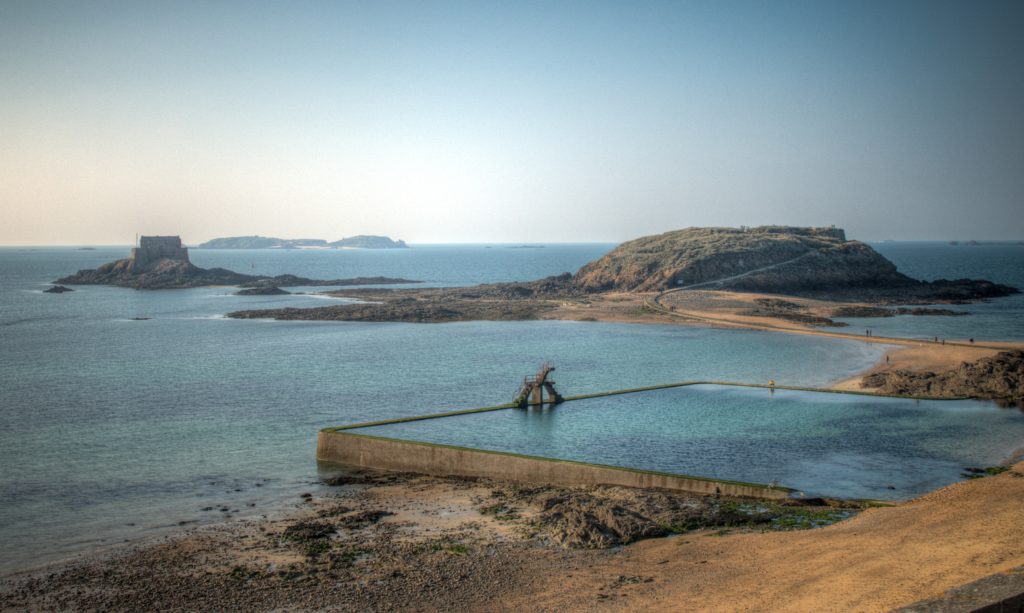 The hike out to the little island isn't all that far, but it's hilly and the winds kick up off the sea, making it moderately more challenging than we thought it might be otherwise. Except for one other couple, we were the only ones up there, so it felt relaxing to breathe in some ocean air and just wander around with no agenda. It also gave us an opportunity to look back at the city and see Saint-Malo from the Atlantic.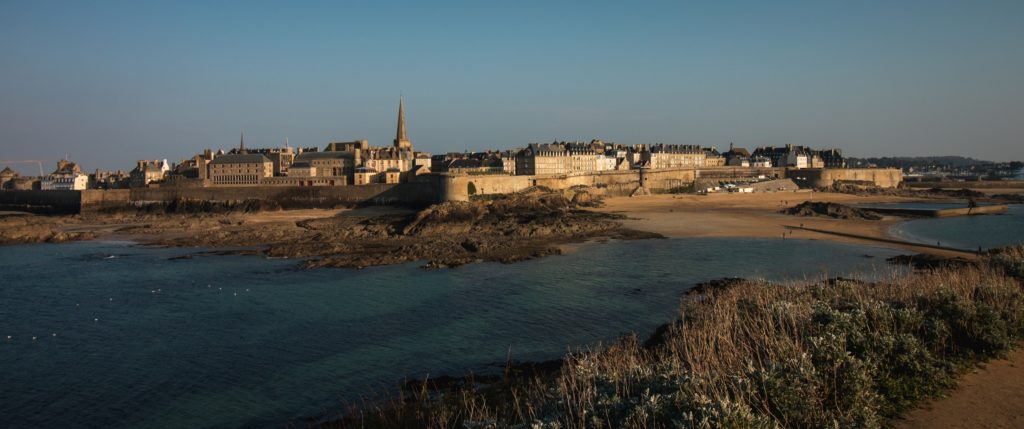 It's a good place to shoot back on the city and take advantage of the elevated perspective and distance from Saint-Malo.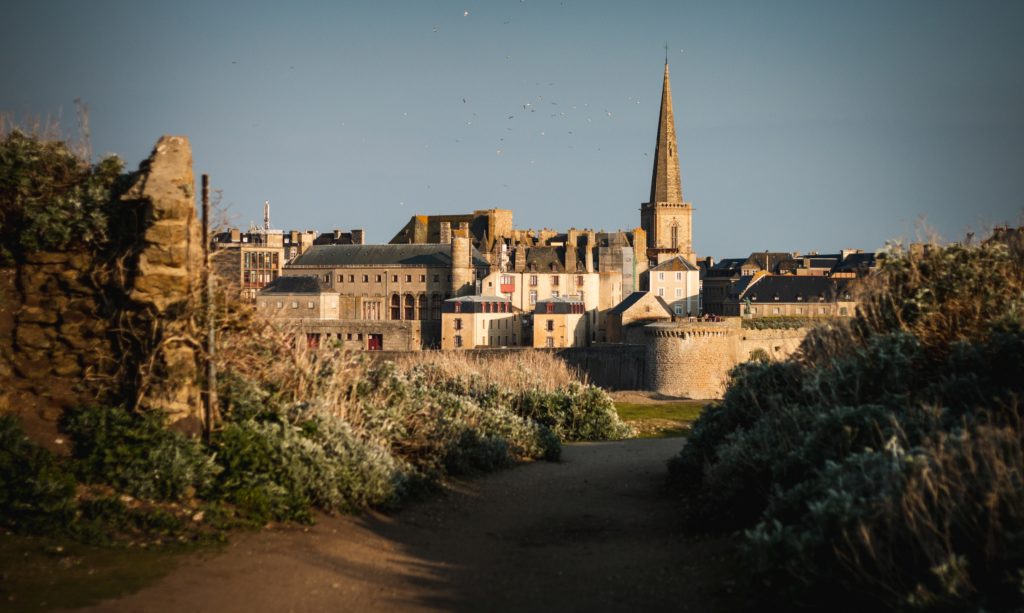 We strolled around a bit, enjoying the seclusion, and then made our way back lest the tide roll in and strand us there.
We bought a baguette and a few other little items so we could make a picnic in our room for dinner. Eating out every night for days on end adds up, so we do the picnic thing every few nights to stay on budget. And honestly – a fresh baguette sandwich is pretty damn good, so it's not like were unhappy.
We ate dinner, did some laundry, and watched a French singing competition where contestants got the words to a song on a screen, like in karaoke, then the screen went blank and they had to finish the phrase with the correct lyrics. I didn't know any of the songs, and could only understand a fraction of the commentary, but it was surprisingly addictive. It was on for like three hours, so by the end I was getting pretty good.
The next morning we got up and went for a workout. It was sunny and the air fresh. I wanted to do a full lap around the outside of the city, mostly walking, some running, a lot of stair climbing. At the end we journeyed out onto a long breakwater where there were a couple of fisherman and plenty of people walking their dogs.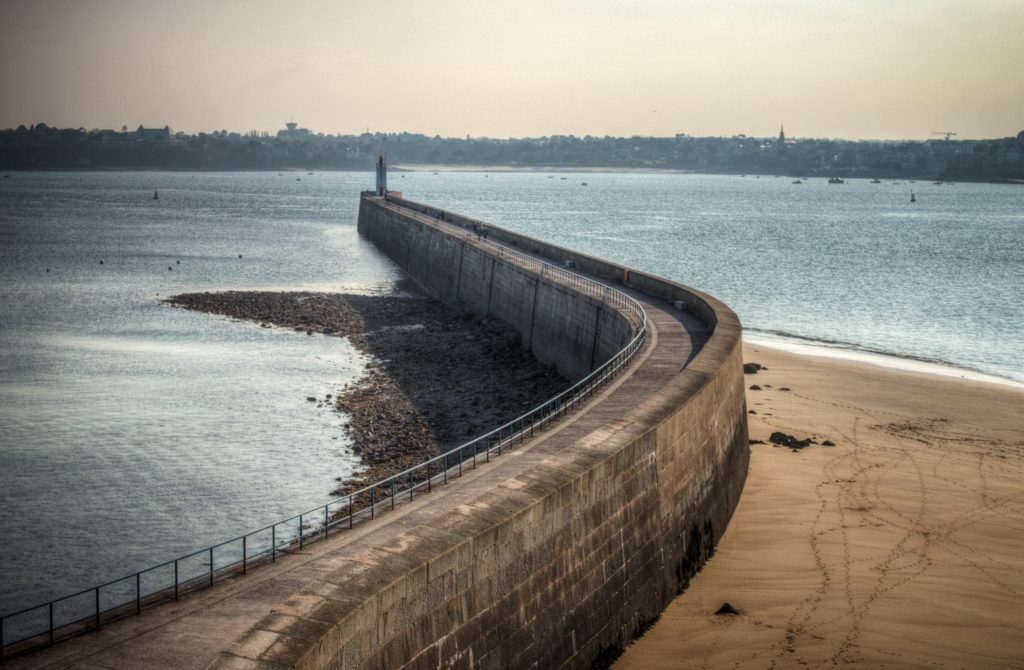 The views looking back from the end of the breakwater, especially in the morning, are pretty fantastic.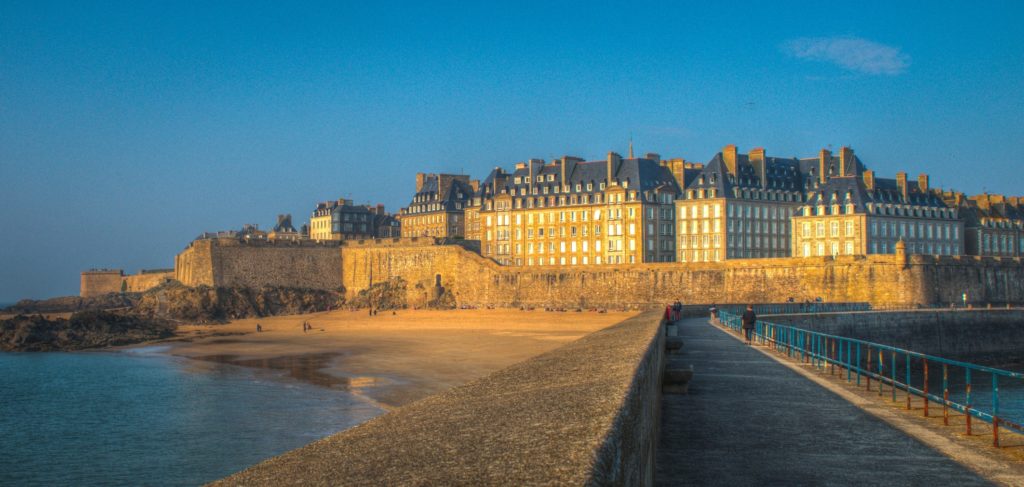 Across the channel there's a ferry that takes people to Portsmouth in the U.K.. You can also catch boats destined for the island of Jersey, and a few other spots.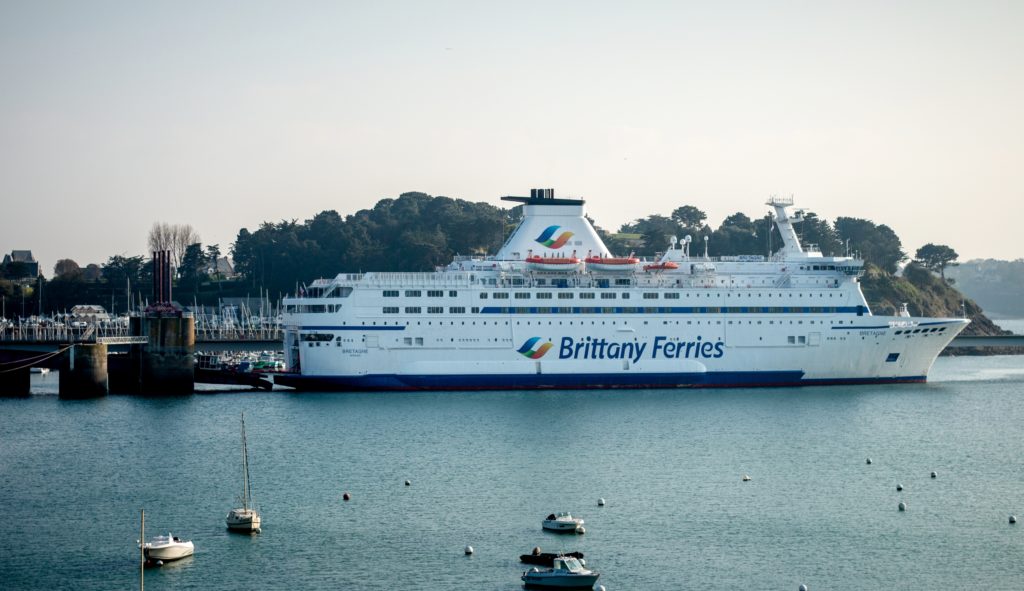 We zipped back to the room, showered, changed, and headed out for lunch. Along the way we passed plenty of funky restaurants and small inns. There's some great signage and cool little shops in this town.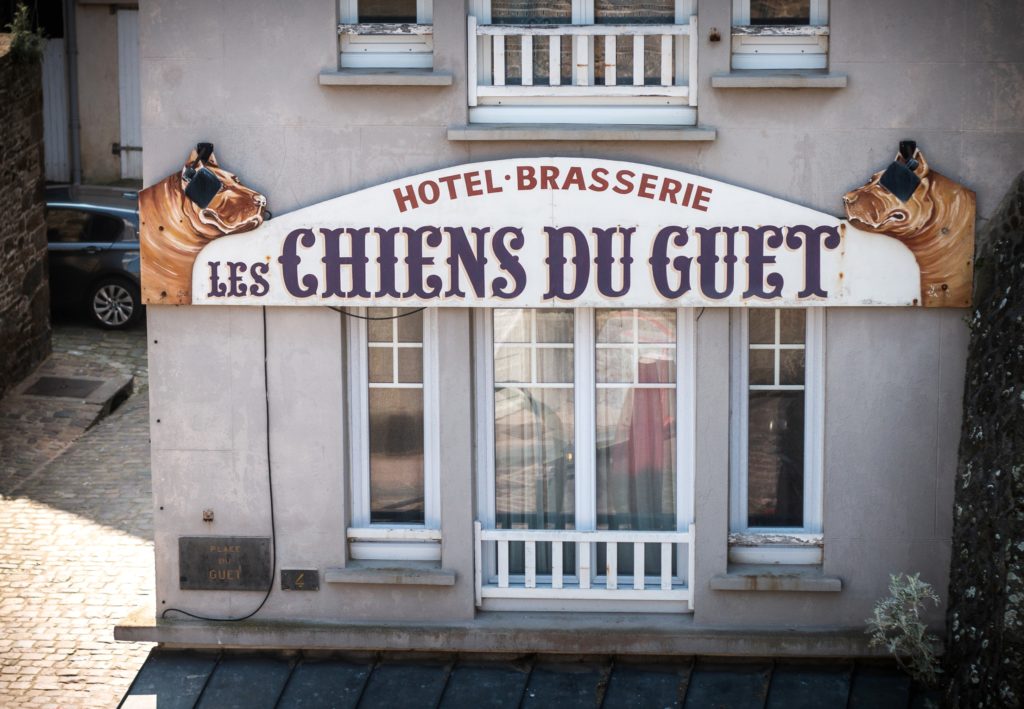 We found a great little pizza place (Le café de Saint Malo) near the main gates and settled in. I like the thin crust pizzas they serve in Europe, and this place did an exceptional job of it. Fuelled up, we did a bit of shopping, where I bought some shoes that fit in a bit better amongst the French. My Nikes, apparently, are not appropriate for every situation.
Happily strutting around in my funky new kicks, I'm quite sure I was the envy of all who saw me. On the cobblestones, though, they didn't offer me much support…I could feel each stone through the soles of my aesthetically pleasing footwear. At first it felt like a mild foot massage, but after a while it became a pain, so I went back to the Nikes. People in Toronto can admire me, where cobblestones are nowhere to be found. In Saint-Malo, I reasoned, I would be a nerd, but a comfortable nerd, and I'm okay with that.
The rest of our time was spent exploring. We ate ice cream, went in to a very cool fromagerie that I wish I had taken a few pictures in – it was seriously old school; and exploring a craft beer shop where we met one of the friendliest guys in town. He sold me a bunch of unique beers from around the region, a few boissons I could quaff before trying my hand at the French lyric game show later that night. The second time around I was no better at it (in real life), but in my mind I was an absolute rock star.
Our time in Saint-Malo was a perfect reprieve from the busy lifestyle we tend to enjoy when we're in Paris. It was nice to have no schedule, no agenda, nothing we had to do. We came and went when we pleased, ate good food, enjoyed the ocean, and the history geek in me liked learning about the city, the corsairs, and the architecture. This is a relaxing, unique place, and I'm glad we took some time to visit.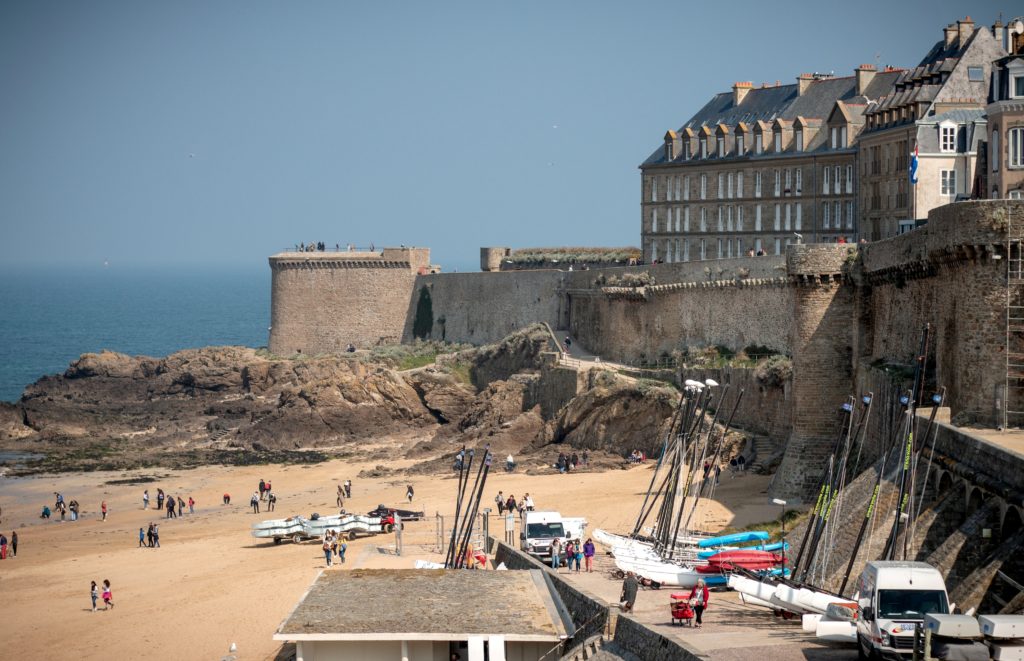 The next morning we packed up, said our goodbyes at Quic En Groigne, and ventured out of the old city. We took a city bus to the train station and jumped on the high speed train back to Paris. Rested and ready to rock, we were excited for part two of our Parisian adventure.
Have you been to Saint-Malo? If so, what were your impressions? Leave any comments or questions below – cheers!