Note: This post was originally published on Aug.15, 2017 but was updated on Oct. 25, 2020 with some new info and ideas. Thanks for reading!
I love going to the movies, losing myself in make-believe, wishing I could launch myself into the fantastic worlds that jump out at me from the screen. The great thing about so many movies is that they are set in very real places; when I see a city beautifully shot or an adventure I'd like to be a part of, I inevitably jump on my laptop to figure out how to explore the exciting / mysterious / exotic places I just saw on the screen.
Recognizing this, I put together a list of movies that have had an influence on me when it comes to travel and exploration. They're not all great movies, and some of them aren't even "travel" movies, but they showcase a place so vividly, I feel like they've inspired me to go see it for myself. I've visited many of the countries featured in these films, and yes, I'm enough of a nerd that I've tracked down some of the filming locations in the cities I've visited.
So enjoy the list, and feel free to comment below!
In no particular order…
1 – Hector and the Search for Happiness
This movie exceeded my expectations, sending me on a whirlwind of emotions as I watched Hector try to find the secret to what makes people happy. Simon Pegg is perfect in this role, and I found myself relating to him on more than one occasion. He travels from the U.K. to China, to the Himalayas, to Africa, to the USA. It's a well-told story with great visuals, and this should certainly do the trick when it comes to inspiring wanderlust.
2 – Midnight in Paris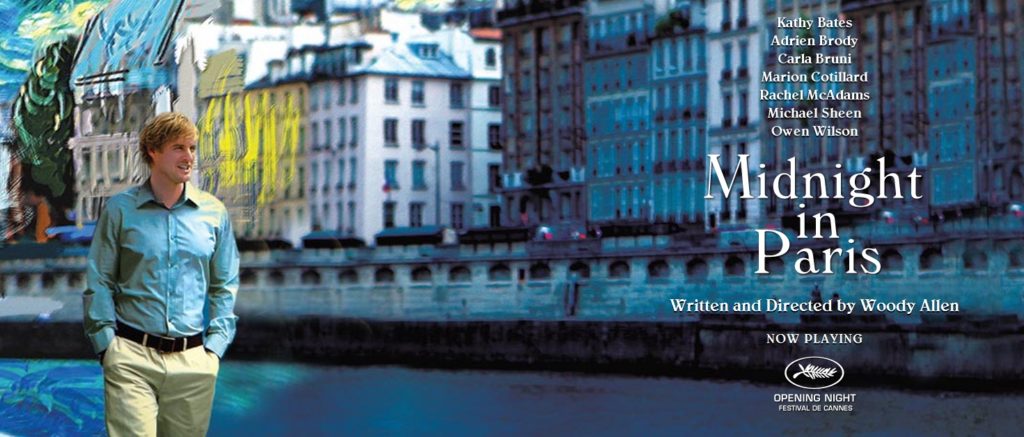 I can't say enough about this film. Directed by Woody Allen, Midnight in Paris paints an enticing portrait of both current day and 1920's Paris. It taps into our need for escape, our desire to explore the place (or more specifically, time) of our dreams. Of course, the grass is always greener on the other side. It's an ode to the City of Light that always pulls me in; my guess is that if you don't want to visit Paris after watching this film, you're dead inside. Owen Wilson was brilliant, as was the entire cast.
3 – The Grand Seduction
This isn't really a travel movie, but it does do a great job of showcasing rural Newfoundland. It's a comedy about a small fishing town that loses its doctor, so the residents cook up a number of schemes to convince a new doctor to move in and take on the role. It's quite funny, and it shows a side of Canada many people have never seen. It definitely piqued my interest in visiting Newfoundland.
4 – The Beach
I think this is on everyone's travel movie list, and for good reason. It has all of the elements – perfect beaches, adventure, danger, bohemian living, gorgeous scenery and scores of attractive people.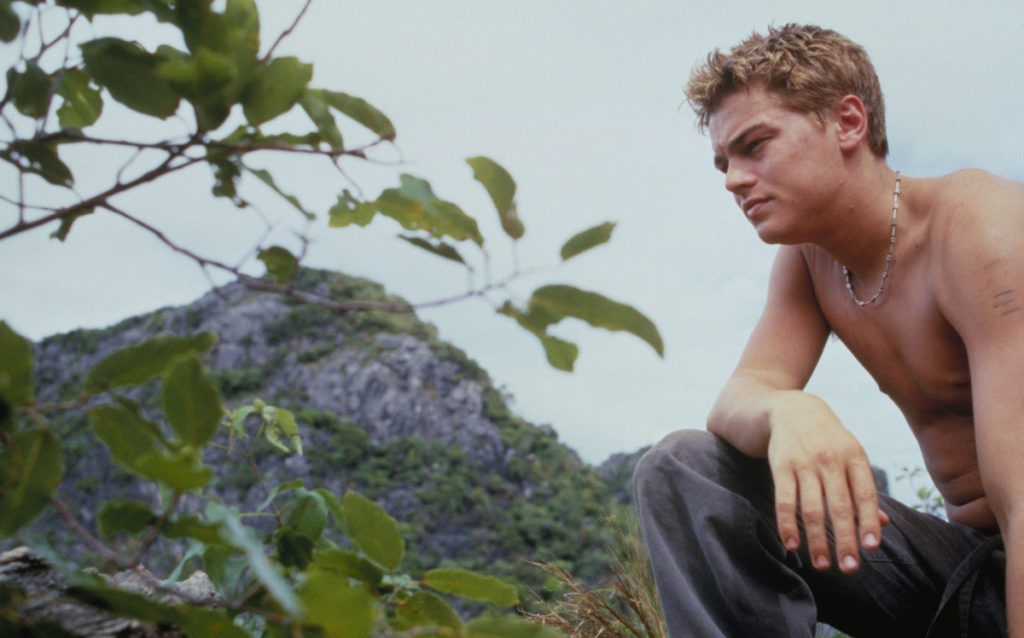 Shot in Thailand, it's mandatory watching (or reading, if you prefer – the original book by Alex Garland is excellent) if you're planning to escape to SE Asia. I saw this movie before my first trip to Thailand, and it definitely had me move the Land of Smiles up to the top of my travel list.
5 – Lord of the Rings
When I was in my early teens I read most of J.R.R. Tolkien's work. I loved the sense of adventure and always dreamed of setting off on epic journeys to save the world. I couldn't imagine how a filmmaker might turn the LOTR trilogy into a workable movie – it seemed like Tolkien's imagination was so far ahead of the available technology, that it would never be done well. And then Peter Jackson came along. Using New Zealand as a backdrop, he created three exceptional movies with visuals that will be inspiring people to visit the land of the All Blacks for years to come. Even if you don't feel the need to explore New Zealand after watching LOTR, I'm willing to bet you'll have itchy feet to get out there and explore the world.
6 – Vicky Cristina Barcelona
Another Woody Allen movie, this one is set in Barcelona. It's been a while since I've seen Vicky Cristina Barcelona, but I'll always remember the impact that Allen's visuals had on me. He made Barcelona look gorgeous.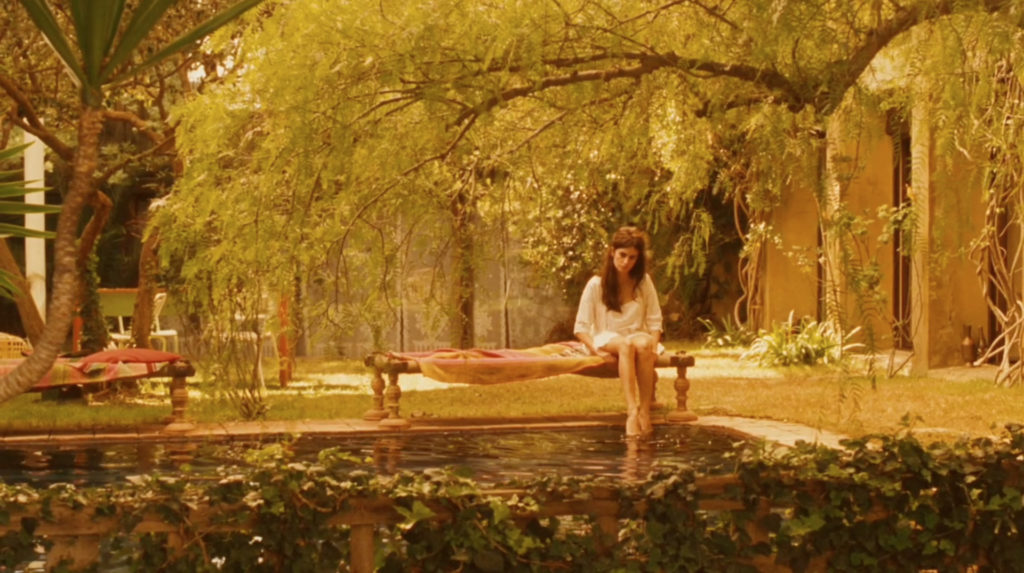 I can still see the reds and his amazing use of light and colour. My brother, who doesn't travel much, was even inspired to go and see Barcelona as a result of this film. It's a bit of a twisted story, but the cast is killer, featuring Javier Bardem, Penelope Cruz, and Scarlett Johansson.
7 – Best Exotic Marigold Hotel
I've never been to India, but it's steadily moved up my list. This is in no small part due to movies, TV shows, and articles I've read about this amazing country. The Best Exotic Marigold Hotel is a story about "outsourcing retirement" to India, where an enterprising young hotelier (played by Dev Patel, who never disappoints) operates a home for elderly tenants from the UK. It's funny, tackles the issue of culture shock well, and is visually appealing. The cast includes a bevy of great British actors who you'll get a kick out of. The sequel is also worth a watch.
8 – Lost in Translation
Lost in Translation is one of my all-time favourite movies. It's not for everyone, it's not a particularly upbeat movie, but for my movie-going dollars, this is a classic. I love director Sofia Copolla's pacing, and the role of Bob Harris, the aging actor (mid-50's?) who was once a star, is tailor made for Bill Murray. Scarlett Johannson is perfect as the melancholy Charlotte, a young woman who is bored and questioning her new marriage to her photographer husband (Giovani Ribisi). Bob and Charlotte connect while they explore Tokyo, neither of them thrilled to be there, neither of them happy with their current station in life. They form a deep connection, but ultimately need to split and get on with their lives after a week in Japan.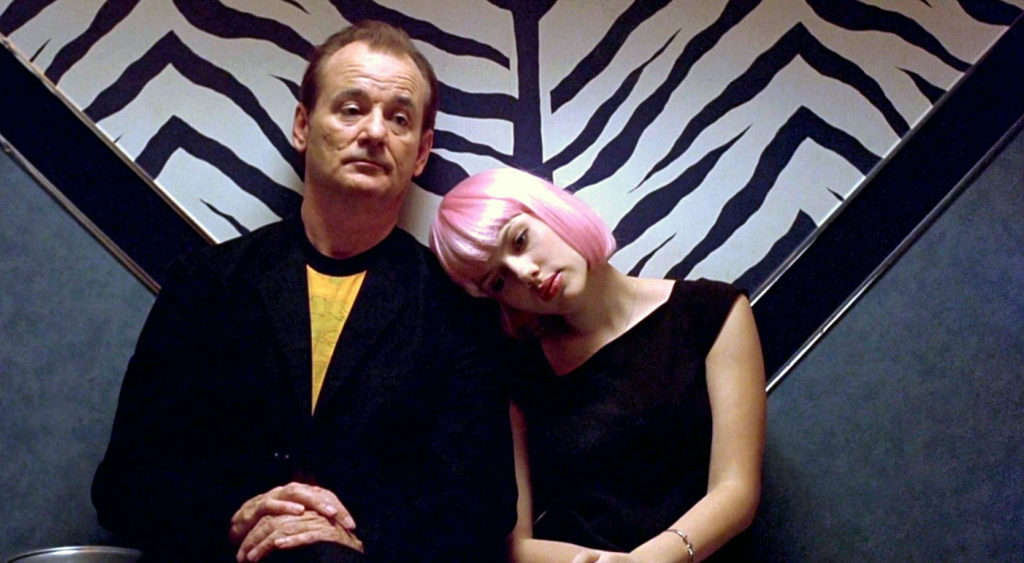 Honestly, I've never explained this movie properly. All I can say is that it's different in tone than anything I've ever seen, and the relationship between Bob and Charlotte is sweet. For anyone who has been on the road a bit too long, you'll understand their feelings. The city scenes capture Tokyo beautifully, and Bob and Charlotte give watchers a tour of this exciting / overwhelming / enigmatic city through curious and occasionally bewildered eyes. The visuals made me want to book a trip to Japan five minutes after the credits rolled.
9 – Vacation
I'm including all of the Vacation movies in this (with the exception of the 2015 reboot). Something about Clark Griswold, cousin Eddie, and the never-ending rotation of kids that just works (Christie Brinkley didn't hurt either). Once the "Holiday Road" theme music kicks in it makes me want to pack up the car and hit the road.
10 – Hangover I and II
Two of my favourite cities (Las Vegas and Bangkok) are featured in these movies, so I was biased to begin with. They're pretty much the same movie, just set in different locations. Bradley Cooper, Ed Helms, Zach Galifianakis, and Justin Bartha make up the Wolfpack, a group of idiots who wake up after an epic night of partying that none of them can remember.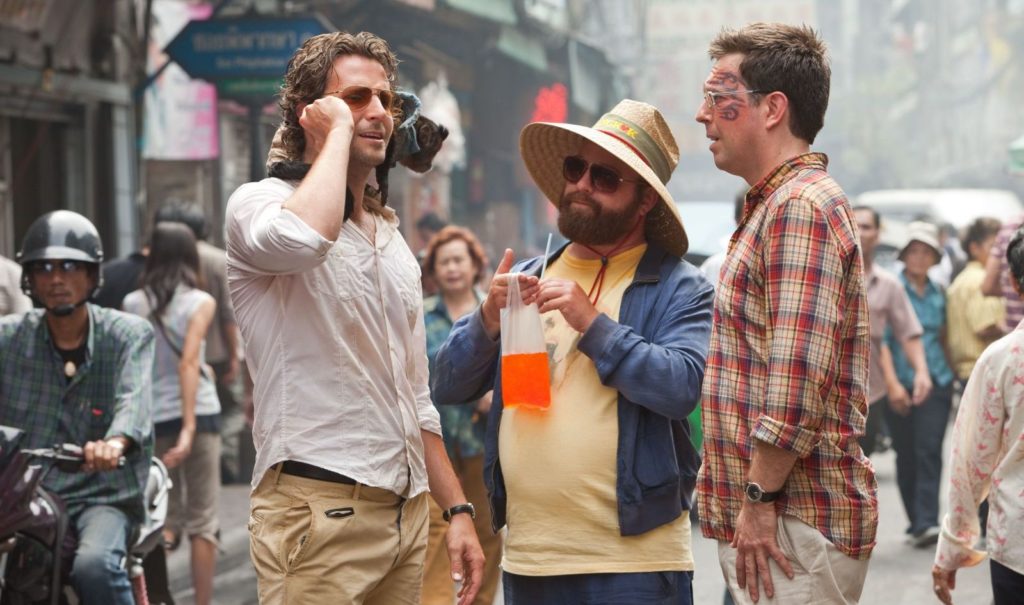 Piecing the night's activities together the day after are critical to getting them out of a number of jams. It's stupid fun, and I'm a sucker for movies set in Vegas and BKK. Besides, Mike Tyson sings in the second one, so that should count for something.
11 – The Way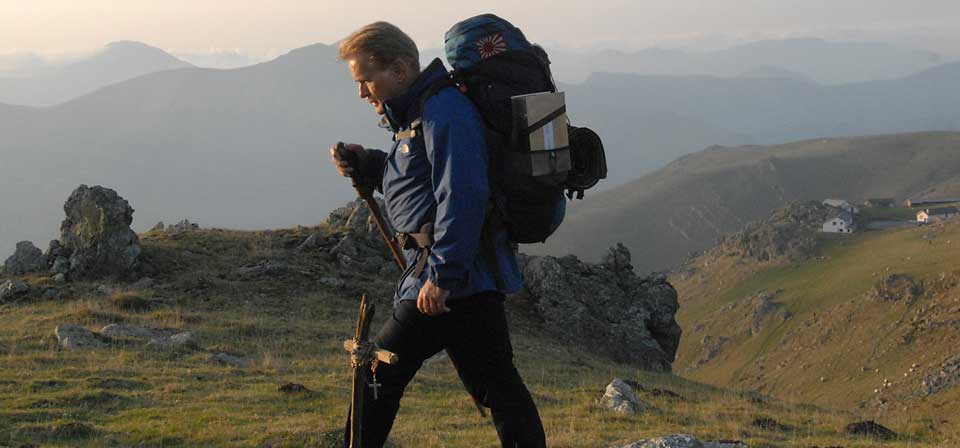 I couldn't sleep one night so I flipped on the TV and found that the Emilio Estevez / Martin Sheen movie The Way was just starting. I had always heard it was a great travel movie, so I settled in to start my day contemplating the Camino de Santiago pilgrimage, told from the viewpoint of a grieving father (Sheen).
Sheen's character, Tom, starts the pilgrimage in an hommage to his recently deceased son who died on the trail. Along the way Tom meets and – somewhat reluctantly – befriends others along the way who are all on their own personal journeys. They confront the challenges of the journey as well as their own personal demons.
It's a well told story and the cinematography is absolutely beautiful. The visuals provide glimpses of the French and Spanish countryside, as well as cities, hostels, churches, and cafes spread out over hundreds of miles. Shot on location, the production crew and actors walked between 300-350 kilometres while filming.
12 – Eat, Pray, Love
Yep, I'm both a Hangover guy and an Eat, Pray, Love guy. Consider me a mystery wrapped in a riddle. Honestly, if a movie showcases a place I want to explore and it's a well told story, I'm in.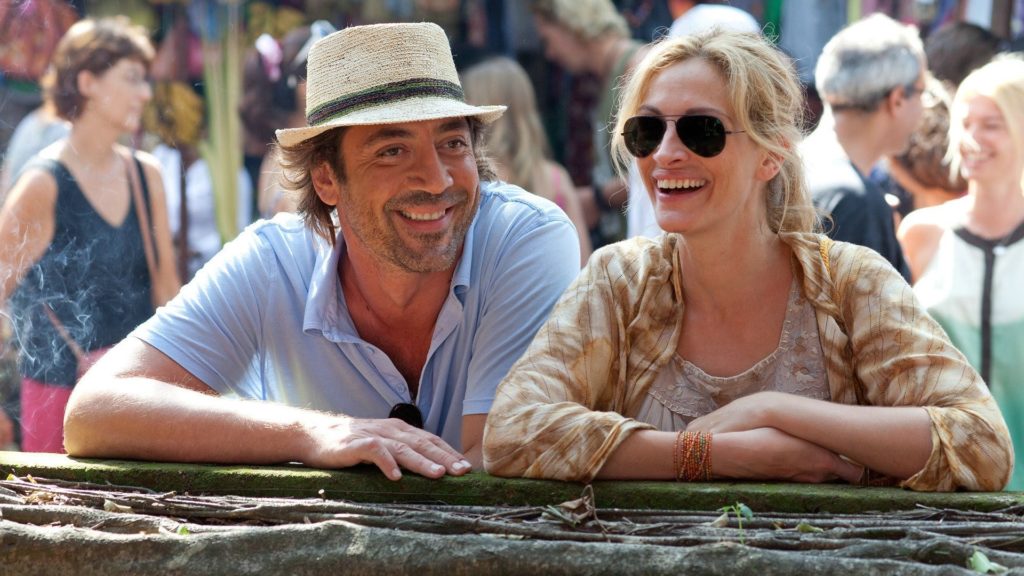 In the case of Eat, Pray, Love, Julia Roberts plays a newly divorced woman who goes on a journey of self discovery, exploring Italy, India, and Indonesia. As one who appreciates good visuals, I thought this was a well shot movie and I loved some of the scenes from India and Bali.
13 – The Darjeeling Limited
The Darjeeling Limited is a Wes Anderson movie, which is to say it's stylish, quirky, and won't be for everyone. But having said that, I really enjoyed this story about three estranged brothers who meet in India a year after their father's funeral. Like all Wes Anderson movies it's visually engaging and the dialogue is snappy. It has a great cast (starring Owen Wilson, Adrien Brody and Jason Schwartzman augmented by a ton of great cameos) and captures aspects of Indian travel beautifully.
14 – Indiana Jones Movies
To think of the Indy movies as travel movies doesn't seem quite right, but I recognize the sense of adventure that Indy awoke within me, and let's face it – Indy really did cover a LOT of ground.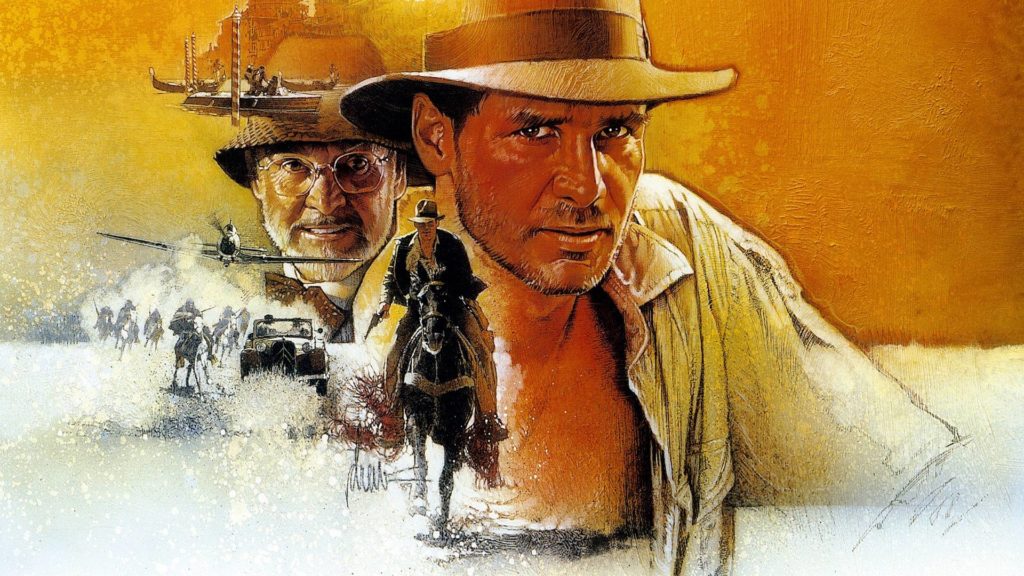 Filming locations included (but weren't limited to) Hawaii, Tunisia, France, Sri Lanka, Macau, Petra (Jordan), Spain, Argentina, Paraguay, Brazil, England, and some of the USA's most impressive national parks. When Indy jumped on a plane / zeppelin / boat, and that map showed up on the screen to trace his travel route, it definitely inspired more than a bit of wanderlust in me.
15 – Lara Croft: Tomb Raider and Lara Croft: Cradle of Life
Since Indy put us into adventure movie mode, I'll also include the Lara Croft movies. Tomb Raider was filmed in the UK, Siem Reap (Cambodia), and Iceland. Siem Reap had been on my travel bucket list for some time, and we recently had a chance to explore there, including the "Tomb Raider temple" at Ta Promh. It's a magical place, and definitely exceeded my expectations.
Cradle of Life was filmed in Hong Kong, the UK, Tanzania, and Kenya.
I quite liked Angelina Jolie in the role of Lara, but a new reboot of the franchise has Alicia Vikander taking over. She's brought a new sensibility to Lara's character, so hopefully this franchise will continue to thrive.
Honourable Mention Goes To: Le Ride (Phil Keoghan cycling doc retracing the 1928 Tour de France),180 Degrees South (Documentary), Under the Tuscan Sun (Diane Lane), A Walk in the Woods (Robert Redford, Nick Nolte), The Secret Life of Walter Mitty (Ben Stiller),  Up in the Air (George Clooney, Anna Kendrick), The Hobbit (Martin Freeman), Romancing the Stone (Kathleen Turner, Michael Douglas), Eurotrip (Scott Mechlowicz).
Movies I've Heard Are Great Travel Movies But Haven't Seen Yet: Into the Wild (Emile Hirsch),  A Map for Saturday (Documentary),  The Motorcycle Diaries (Gael García Bernal, Rodrigo De la Serna), Wild (Reese Witherspoon).
How about you? What movies inspire you to hit the road? Comment below – cheers!