"Burgers?!" I can hear you asking, eyebrows arched at your screen, incredulity lacing your tone. "Why would you travel to France to write about burgers?"
To be fair, it's only one burger, and honestly – try this burger and then tell me it's not worth writing about. A friend of a friend who lives in Paris swears that this is the best burger in the world, so how could I ignore that? I could have written about the heaps of other tasty and delectable dishes on offer in the City of Light, but it's been done to death and I was impressed by this experience, so here we are.
First, let me say that everything you've heard about French food is true – it's fantastic. Part of the deal is that French cooks in most restaurants tend to use fresh local ingredients, and they pay attention to detail. Because so many restaurants in France cook to a high standard, even the more modest, little hole in the wall places need to make a real effort to compete. I definitely get the feeling that if a restaurant in Paris half-assed it they would be out of business pretty quickly.
In North America so much of our food is processed and out of a package – even in restaurants – so eating fresh food, cooked properly is a treat.
This brings me to the best burger in Paris (and possibly the best I've ever had, which is saying a lot). Everything about this thing was made from scratch, from the bun to the ketchup, so in a way it's right in keeping with most other French food (but we'll come back to that).
This work of burger art can be found at Le Burger Fermier Les Enfants Rouges (from here on in referred to as Le Burger Fermier), located in the Marais, 3rd Arrondissement. You have to keep your eyes open to find it, as the burger stand is located in a market that includes a few other food stalls as well as a fruit, veggie, seafood, and meat market. Here's proof – this guy at a neighbouring stall (pictured below) isn't making burgers. It's your basic meat in some sort of pita meal, so if you're with someone who doesn't want a burger, you have options by hitting one of the other stalls. But remind them – while the pita might be tasty, they also might be missing out on the best burger in the world.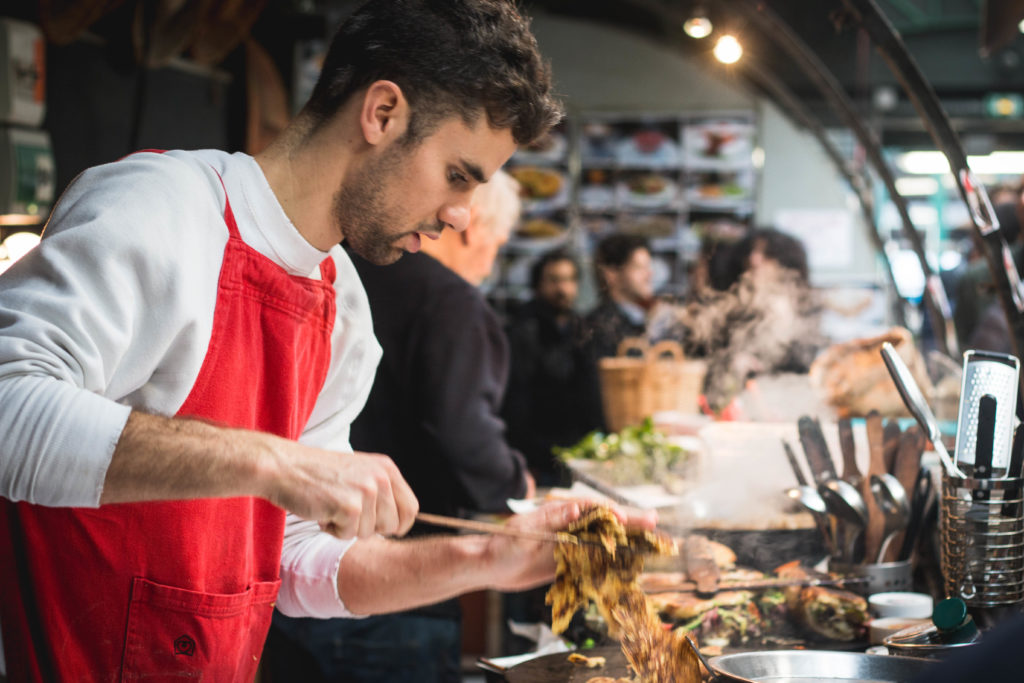 Once you settle on to your stool at Le Burger Fermier, you'll notice the smell of the bread, the fresh ingredients, and the beef cooking. It's unlike any other burger place I've been to.
There isn't tons of space to sit – on a busy day, I've been told, most people never get a chance to sit down, opting to take their burgers elsewhere. We were lucky, and found six stools for our group of six.
A waitress asked for our orders. She didn't speak English, so I responded in my rusty French, hoping I was making sense. I got what I wanted, so I was evidently on the right track.
The food took about ten minutes to arrive, and by that time we were really hungry. I quickly opened up the newspaper-style wrap they present the food in, and paused just (barely) long enough to snap a pic.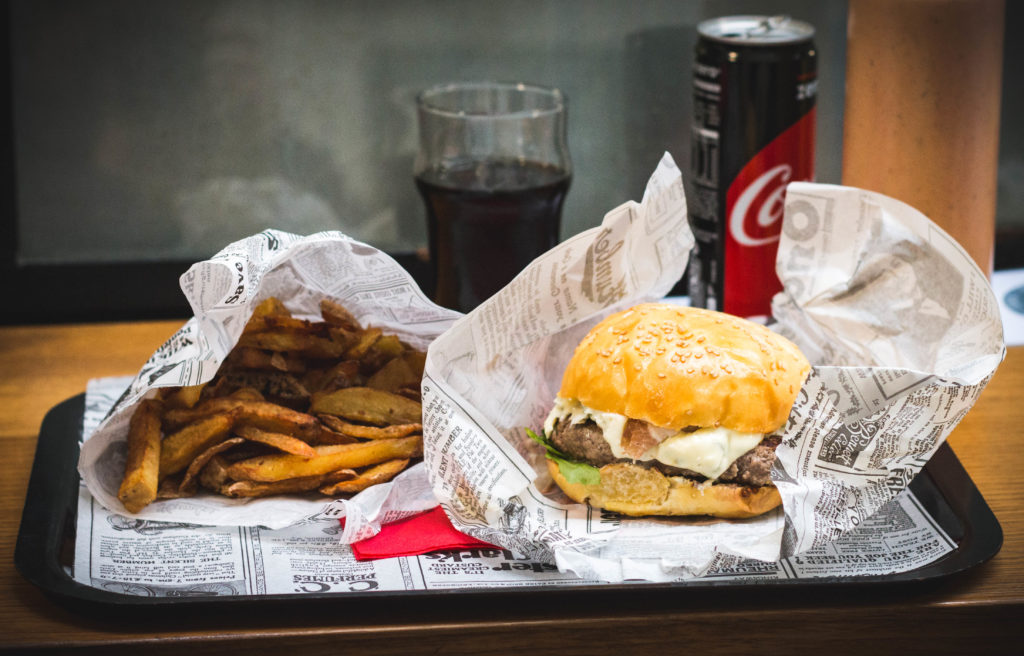 I had ordered the set burger menu, which includes a burger made on a home-made bun with fresh cut fries and a drink for 12 € (it's 10 € if you take your food out). With your burger you can choose your toppings, including smoked bacon and a variety of excellent cheeses. They list on their website the farms where the beef, bacon, vegetables, and potatoes for the fries come from. They even identify the farm that provided the flour for the buns. If you're looking for a "local" food experience, this is it. You can track every single ingredient down to its origin.
I picked up the burger and noted it was heavier than it looked. This is a dense burger and more than enough food for one meal. The first bite revealed a flavour that I can only describe as fresh. I've had excellent burgers in other places that promised fresh ingredients, but I've never tasted one that really delivered on the flavour front like this one did.
Next, the fries (or frites, if you prefer). Hand cut, well cooked, and lightly salted, they delivered on every level. Bad fries can definitely take a good burger experience down a notch, so I was impressed that the fries were every bit as good as the burger.
Fed and extremely happy we made our way out of the market, drooling over some of the desserts available at a nearby stall. I swear, everything in this city looks delicious, but we were full and with no room left for another bite, we promised ourselves we would come back another time.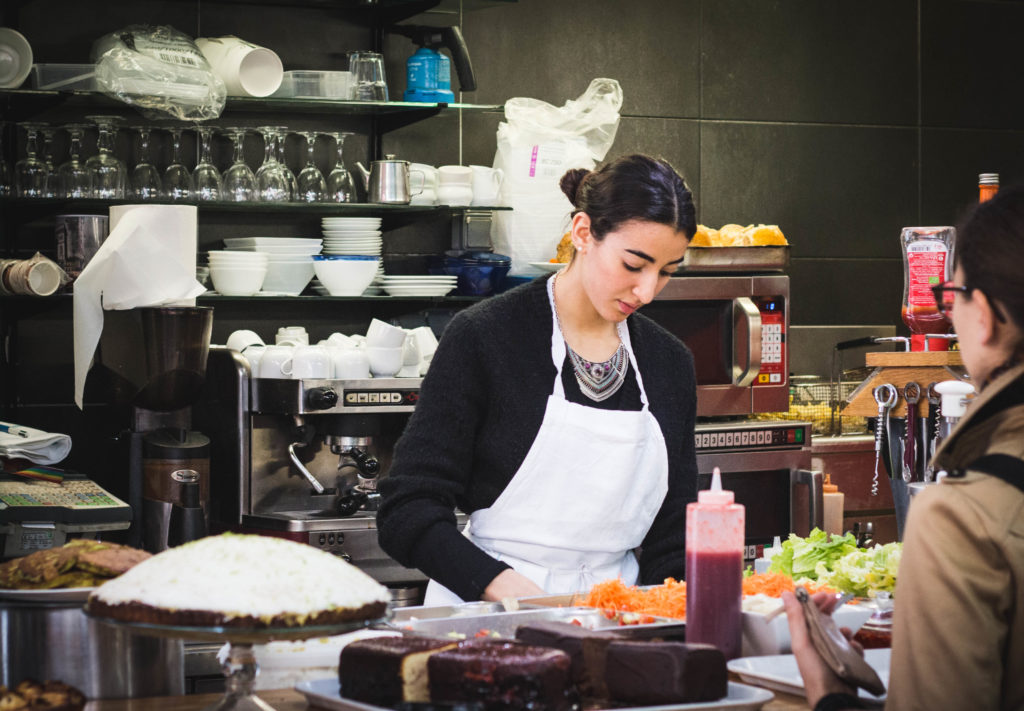 So does Le Burger Fermier provide the best burger in Paris? It's a pretty tough thing to prove, but for my money it's one of the finest burgers I've ever had. Next time I'm in France this place will be first on my food itinerary.
Le Burger Fermier can be found in the Marché des Enfants Rouges, Paris, 75003. Learn more at: http://leburgerfermier.fr/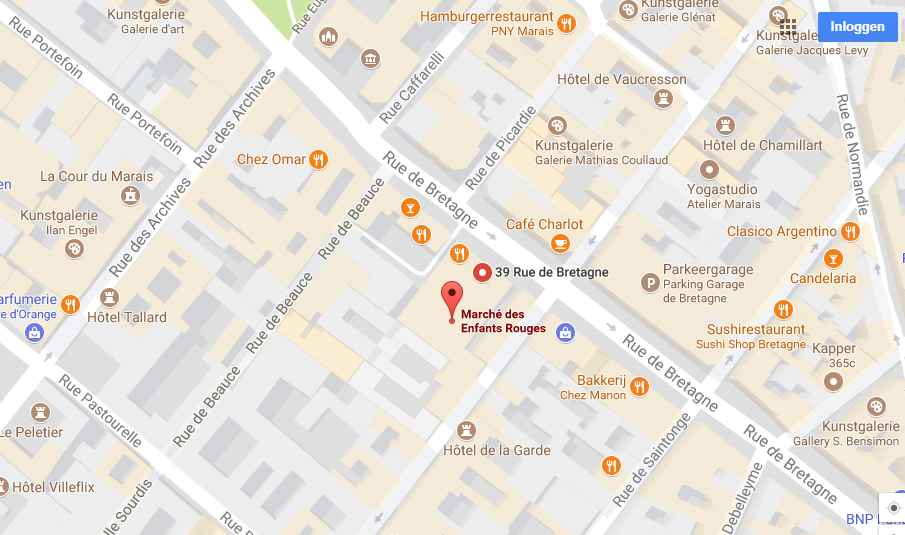 Please note: this is not a sponsored post – I just love great food, and was blown away by this experience! I received no compensation or "freebies" for this article.
How about you? Ever eaten at Le Burger Fermier or had a stellar burger in Paris? Comment below – cheers!