2021 Update! This post was originally published in 2018, leaving out a more recent trip to the City of Light. I also hadn't processed all of my work from my first two trips, so I have gone back and updated this post, adding in a number of new photos and additional commentary. Thanks!
————————————————————————–
I knew Paris would be photogenic before I got there. Everyone knows that Paris is a gorgeous city, right? It's like saying that lemons are sour or Mt. Everest is "hilly".
Like so many things, though, I didn't realize just how photogenic it would be in real life. This is a city made for photographers, writers, and people who love history. It's a place where the highlights live up to expectations and even small, unknown streets can capture your attention and take your breath away.
Okay, maybe that was a bit much, but you get the idea. The attention to detail is a part of what helps Paris to stand out; and the focus on maintaining the city's architectural roots mean that it won't be overrun by soulless glass skyscrapers anytime soon.
The one glass skyscraper they did try – Tour Montparnasse – is universally hated, and was referred to more than once by locals as "the shame of Paris" while we were there (tell us how you really feel!). After it was built a law was put in place that no buildings taller than seven stories were to be built in the city centre. They weren't messing around – they really hate that thing. They say the best view in Paris is from the viewing deck on top of Tour Montparnasse because it's the one place you can't see Tour Montparnasse! I think they dislike it more than bad cheese or cheap American wine. But I digress.
Despite the "shame of Paris", this is one of the world's truly great cities, and you can feel the history wash over you as you walk down the street…so I was thrilled to be there three times in the last few years for extended visits, providing me plenty of opportunity to get out there and shoot. Here are some of the highlights (and don't worry, none of them include Montparnasse), including a few thoughts on getting some unique pics for yourself should you find yourself in Paris ready to shoot!
Eiffel Tower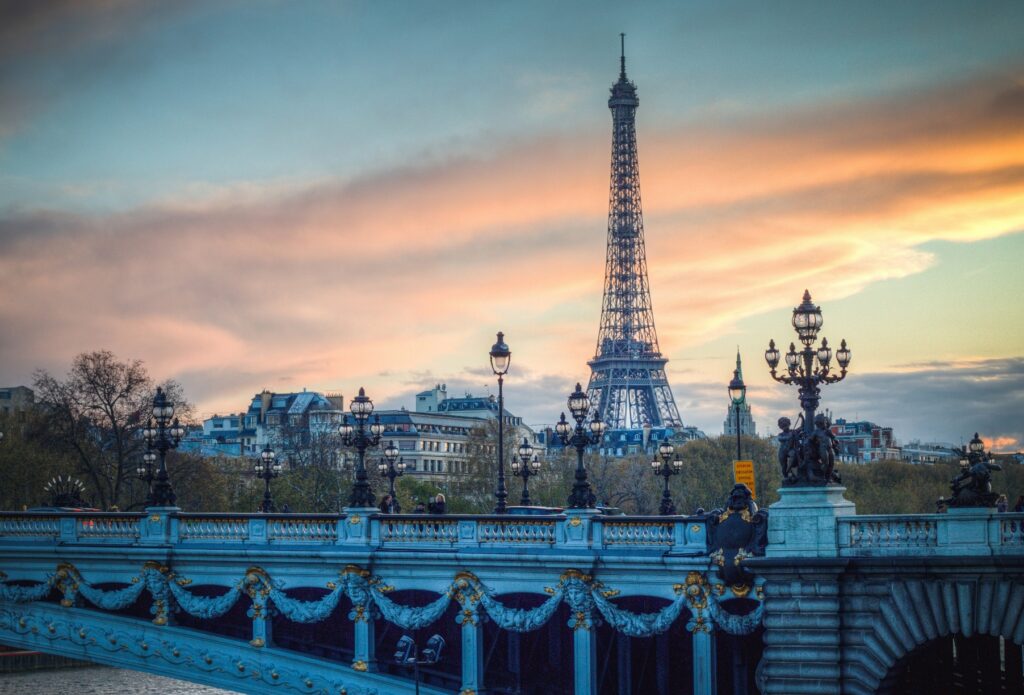 The Eiffel Tower can be seen from locations all over the city. It makes it easy to use it as the dominant feature in a photo, or just as an accent / background element.
A great location for photographing the tower from a distance is Pont Alexandre III (pictured above). The bridge itself is worth photographing, but the vantage point is brilliant.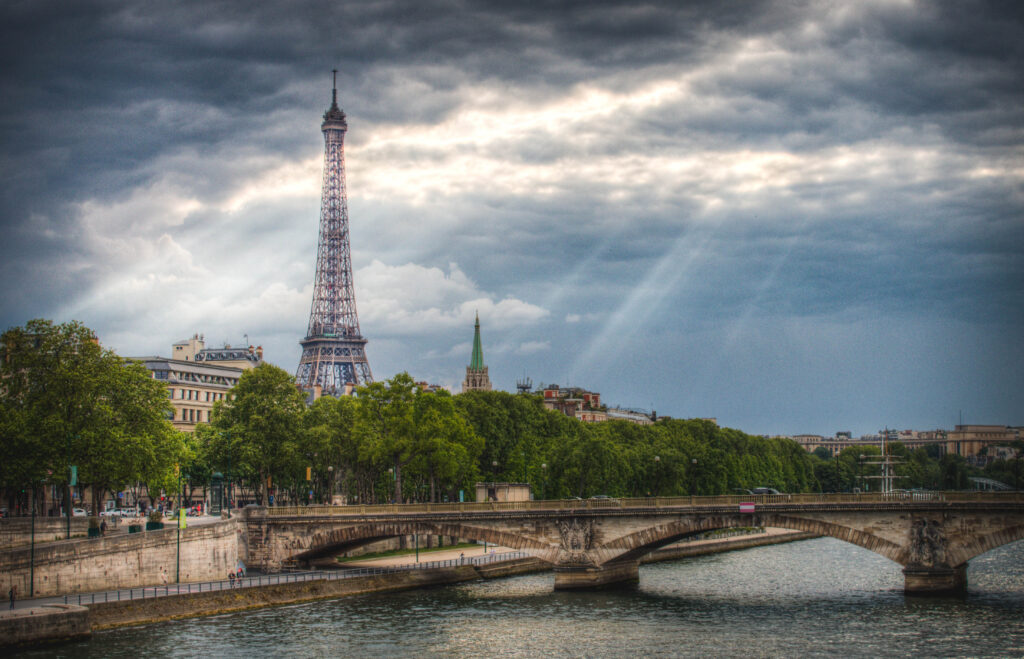 Of course, the quintessential viewing point for the Eiffel Tower is Trocadero Plaza, across the Seine from the tower itself.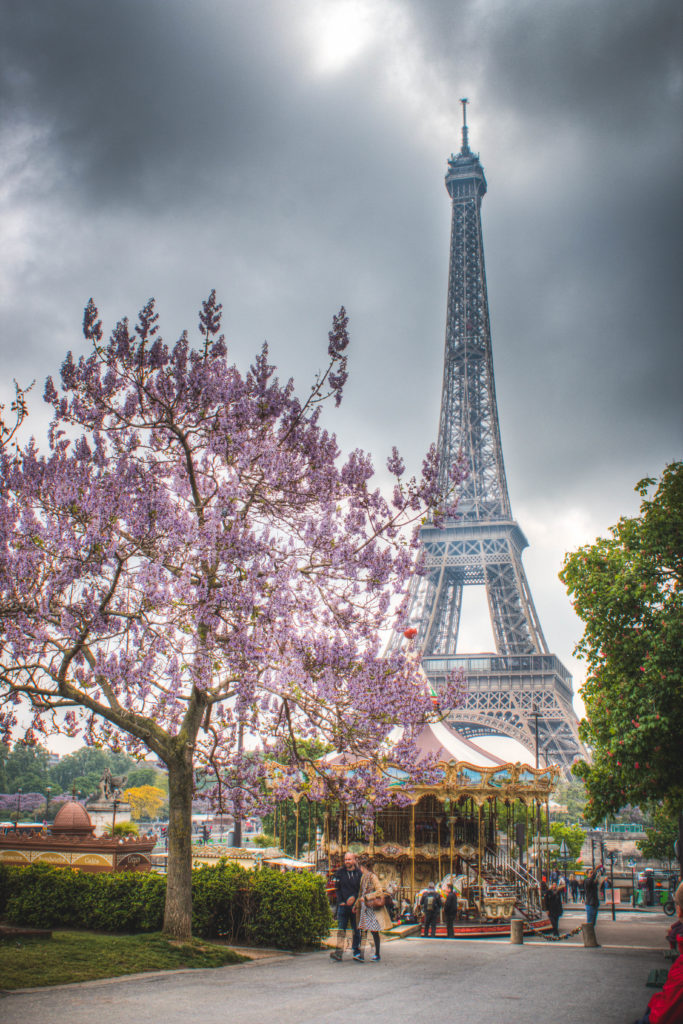 Trocadero is also a brilliant spot for portraits – all over the grounds. The carousel at the bottom of the hill is a great backdrop (and Paris has many carousels, so fill your boots). The photo below was taken with Parisian model Ophélie Moreau, who I had the pleasure of shooting with on my first trip.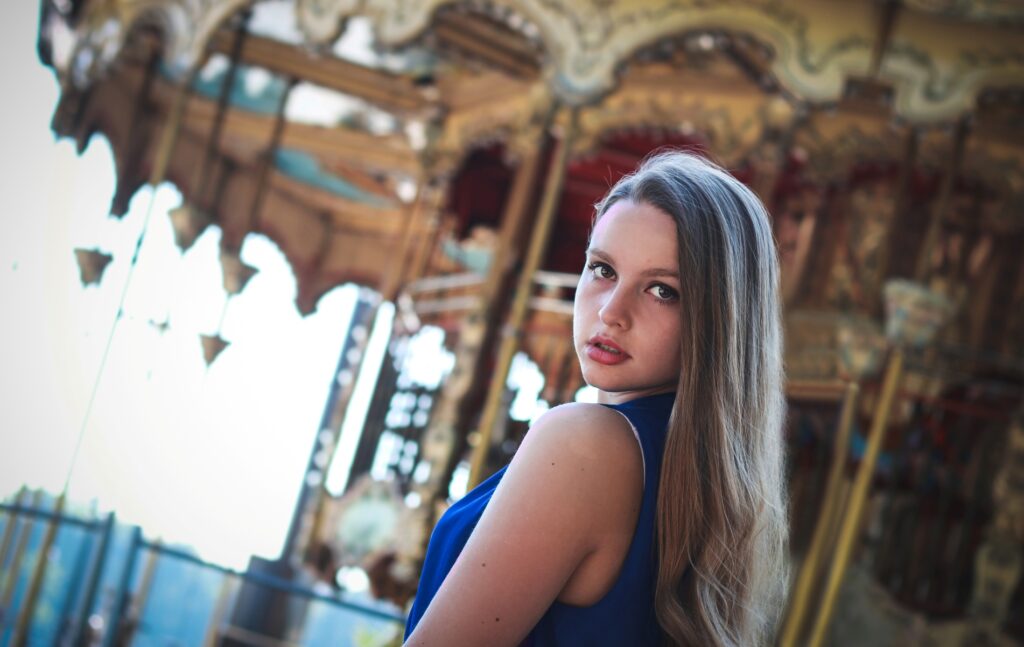 There are also a few hidden spots where you can get some great photos of the Tower without hordes of tourists crowding your fun. One of my favourite hidden gems is Avenue Camnoen, a ten minute walk from Trocadero, where you can spend all day looking at the tower without a single person bumping into you or harassing you to buy tiny trinkets.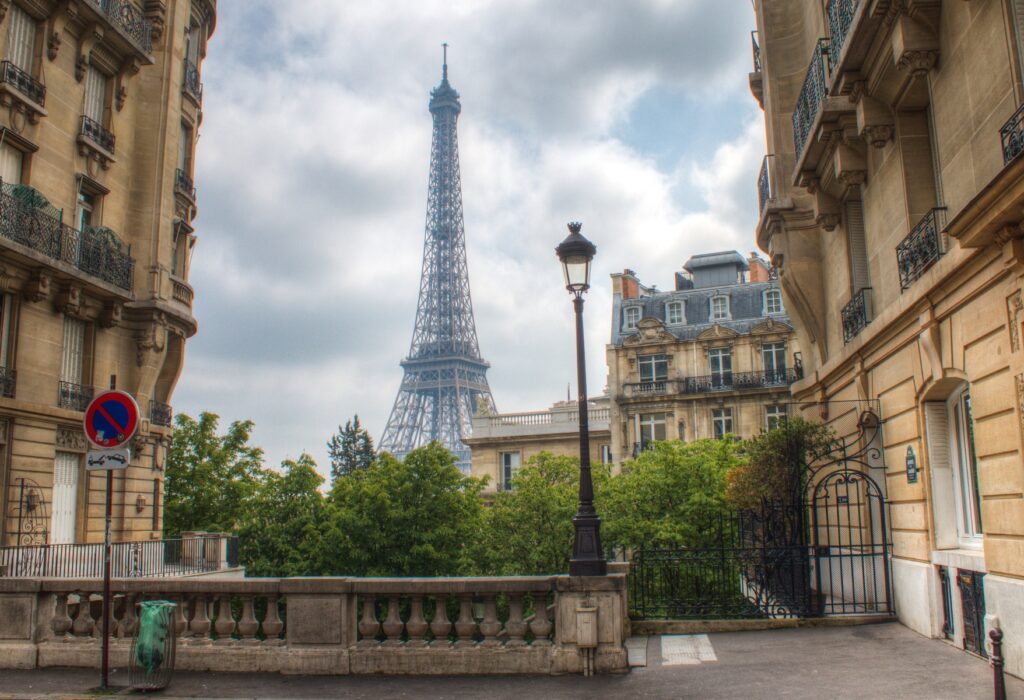 Sacre Coeur and Montmartre
One of my favourite parts of the city is Montmartre. With Sacre Coeur, the Moulin Rouge, and a generally funky vibe that I enjoy, this is a part of Paris I will always return to: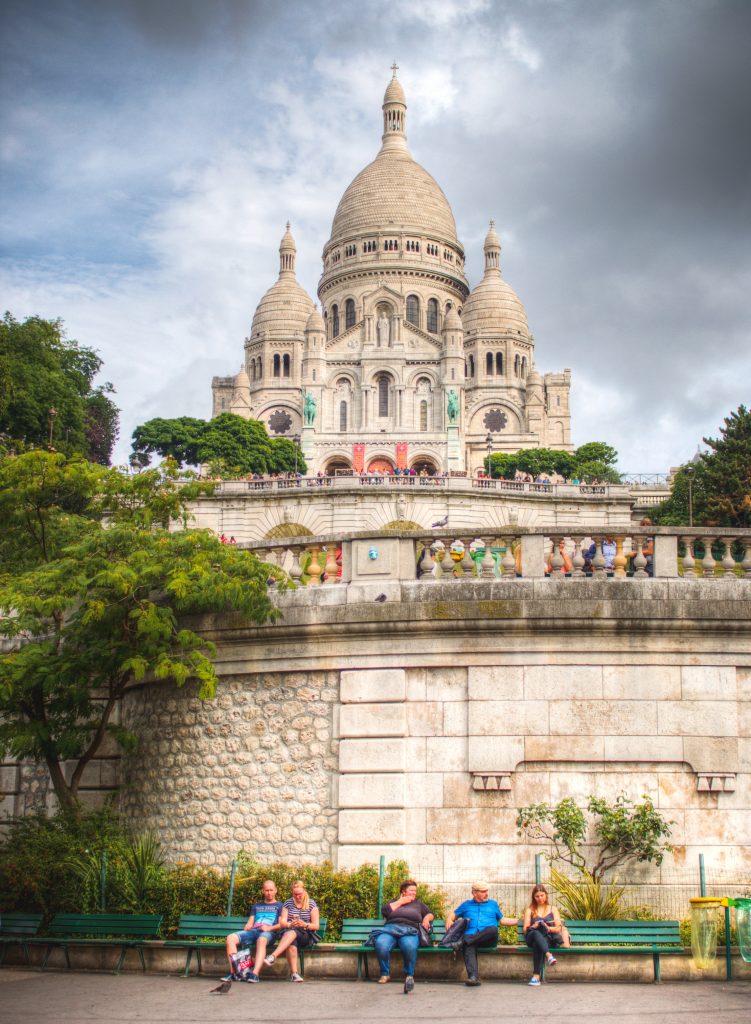 Sacre Coeur is such an amazing, iconic landmark. It's incredibly picturesque, and sits at the highest point in the city, so it's visible from all over Paris.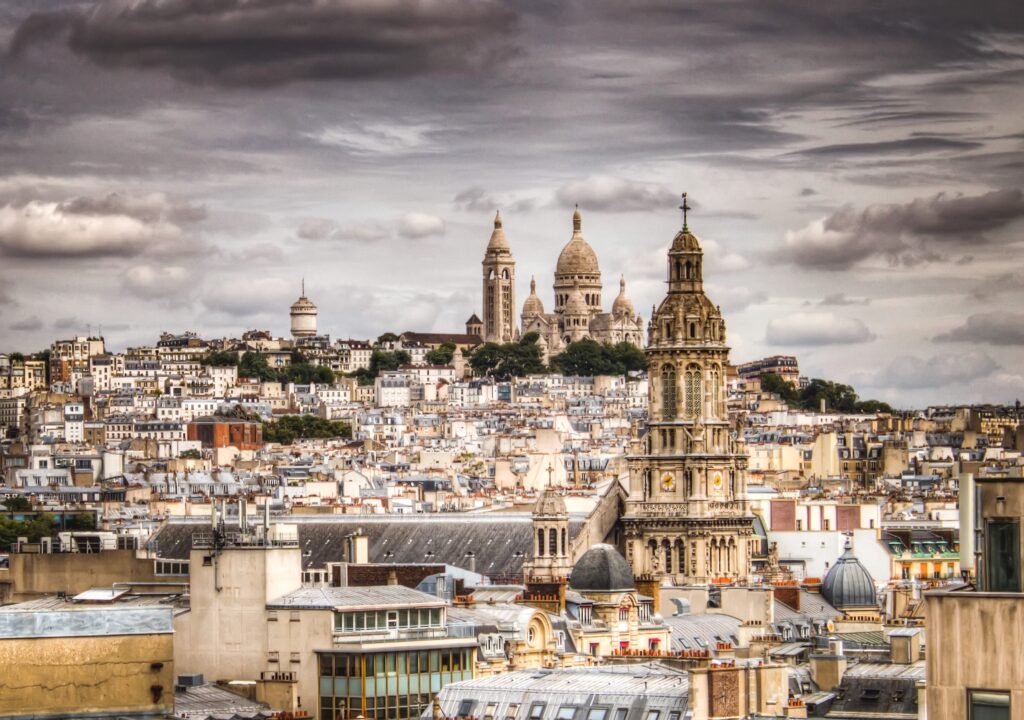 I love how Sacre Coeur pops out from around corners when you walk through Montmartre. You never know when you're going to get a glimpse of it.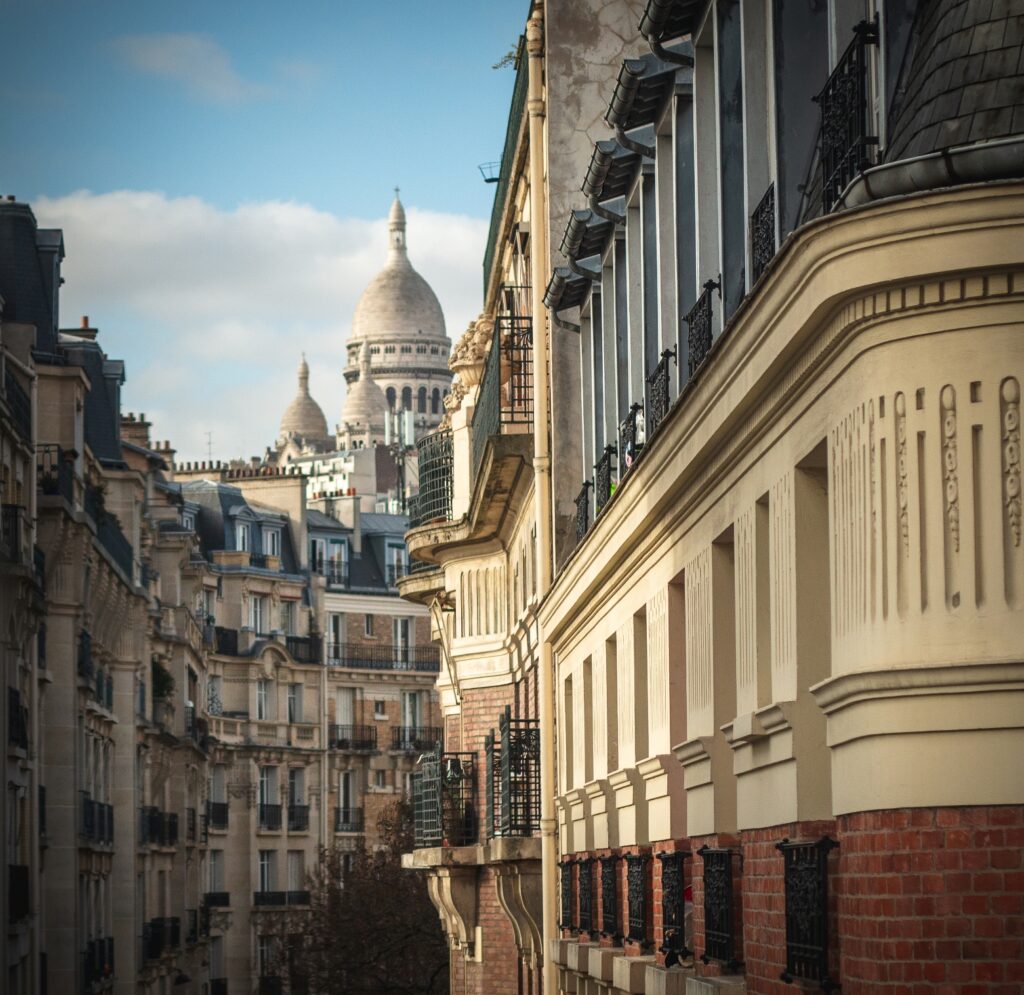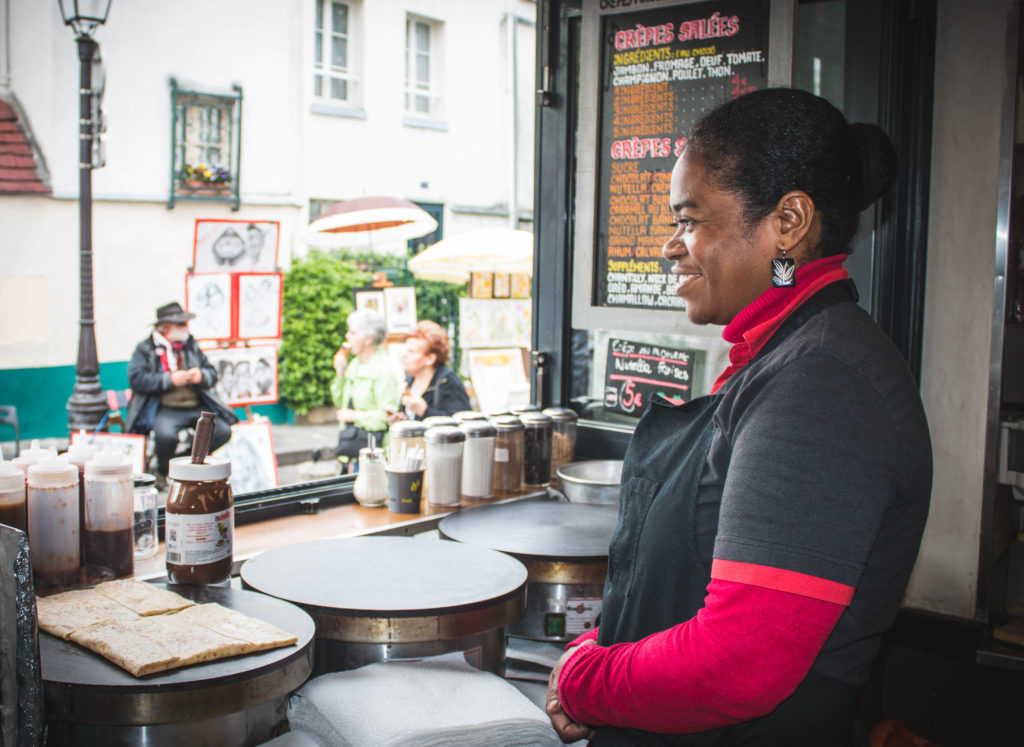 I also take pictures of my food when I travel. It's a good way to add – ahem – flavour to your photos.
Strangely, I can never get my own crêpes to spread out this nicely – it's likely because she's a pro and I have no talent whatsoever.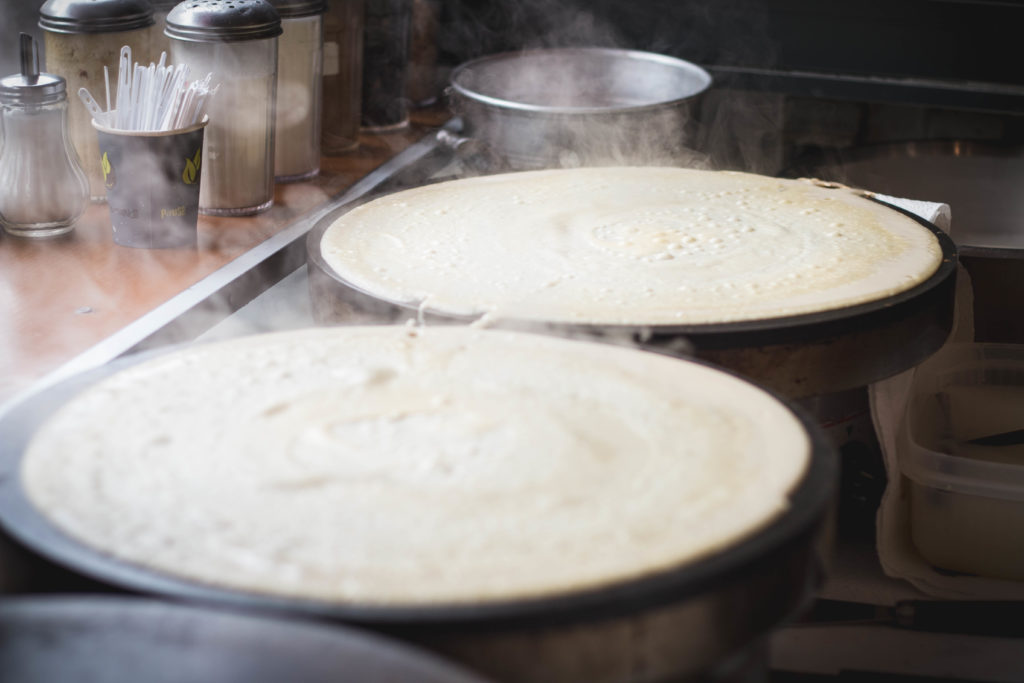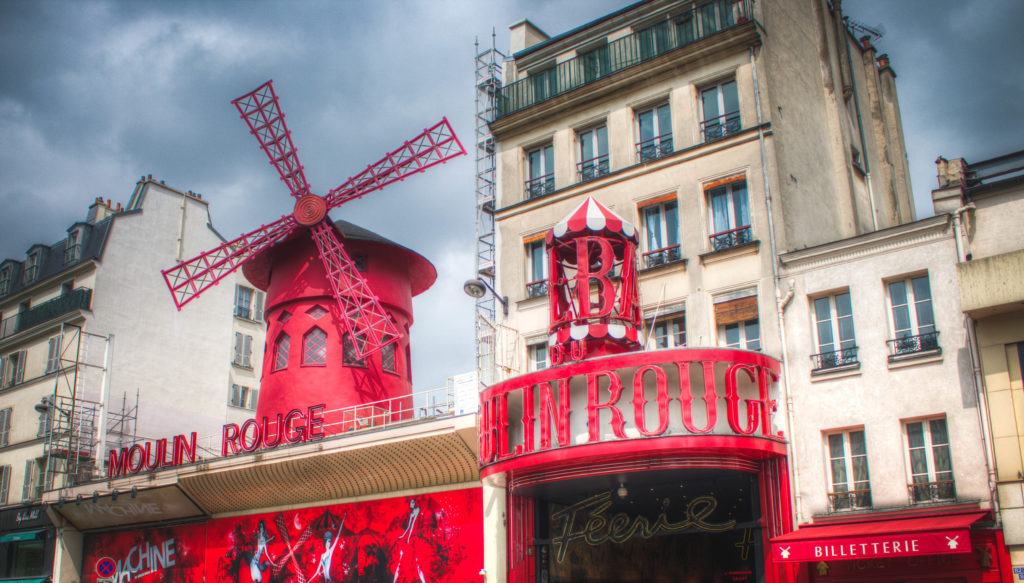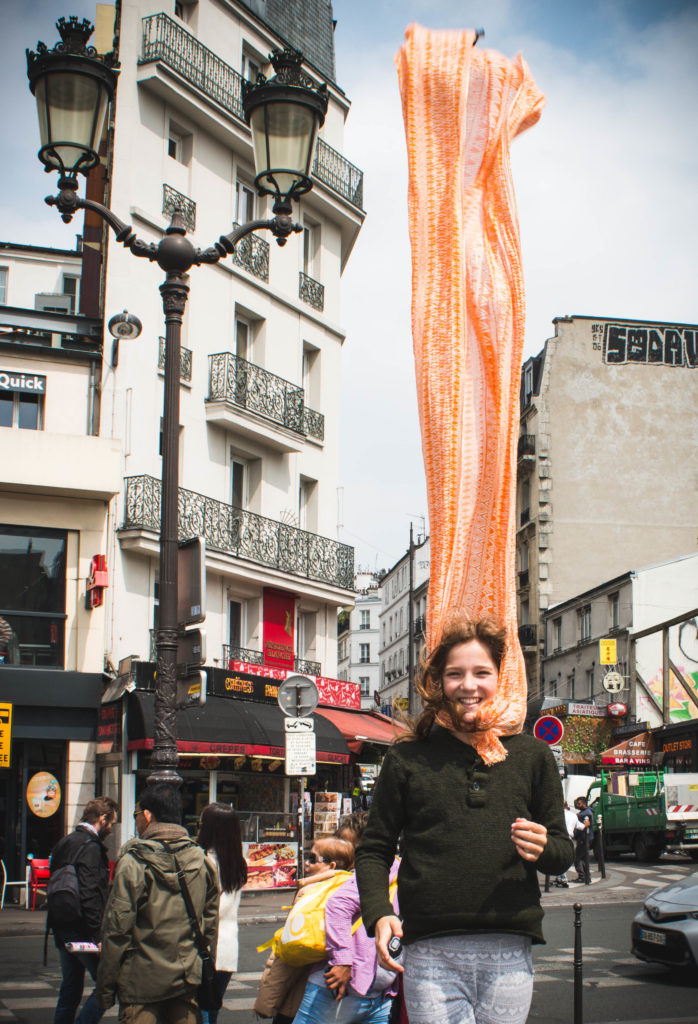 Parks and Gardens
Parks and gardens make Paris a mecca for those who love their outdoor space. This is a very green city, one that encourages people to get out of the house.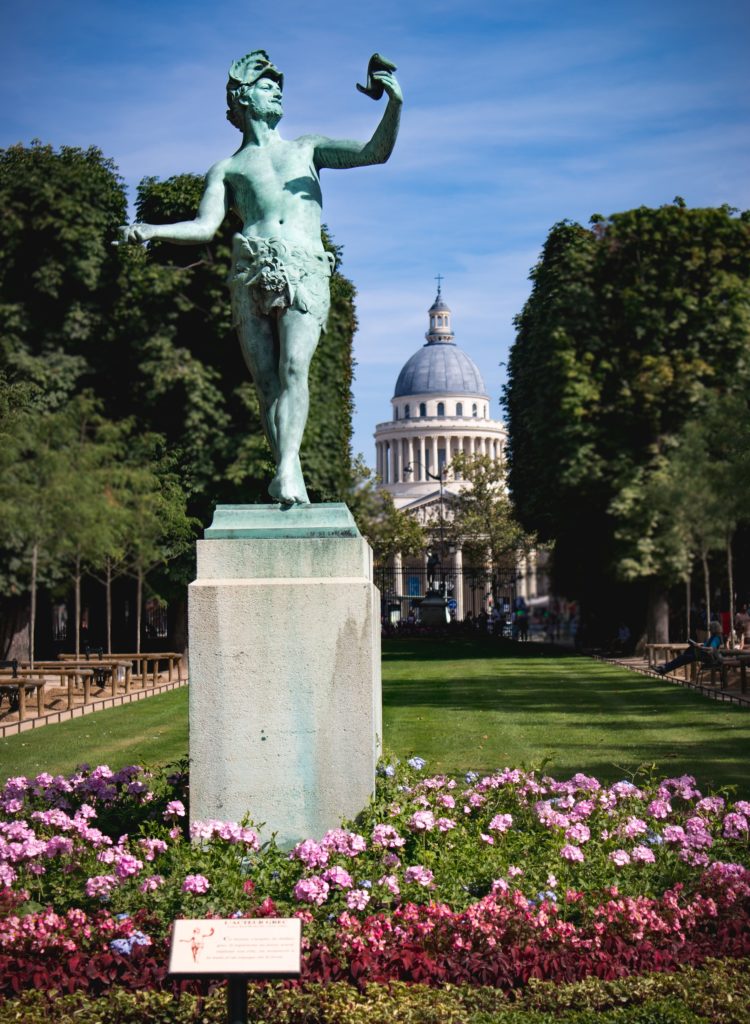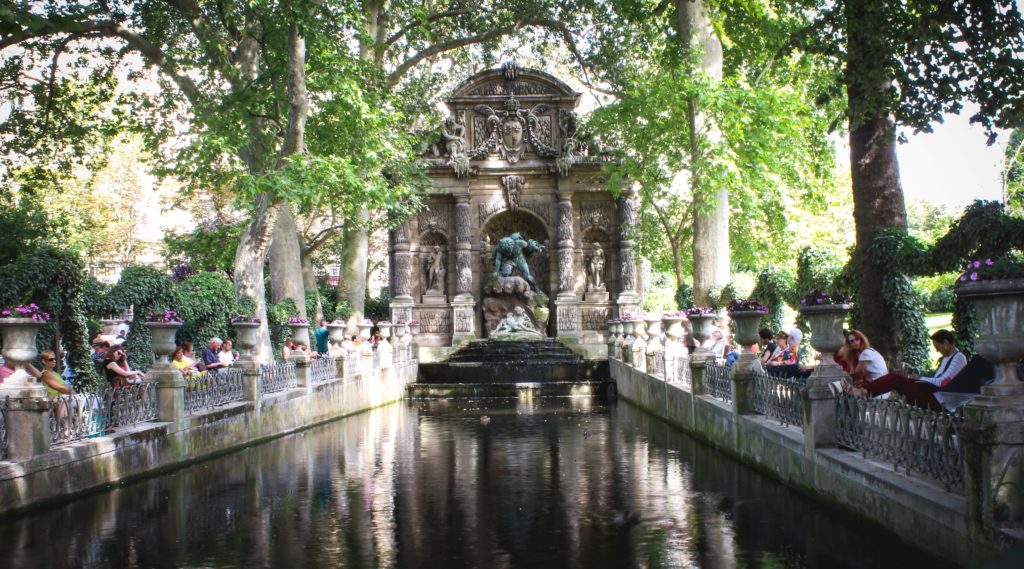 One of the best spots for wandering and shooting is along the Seine. You can shuffle along, use the bridges, and find a heap of good vantage points for capturing the city…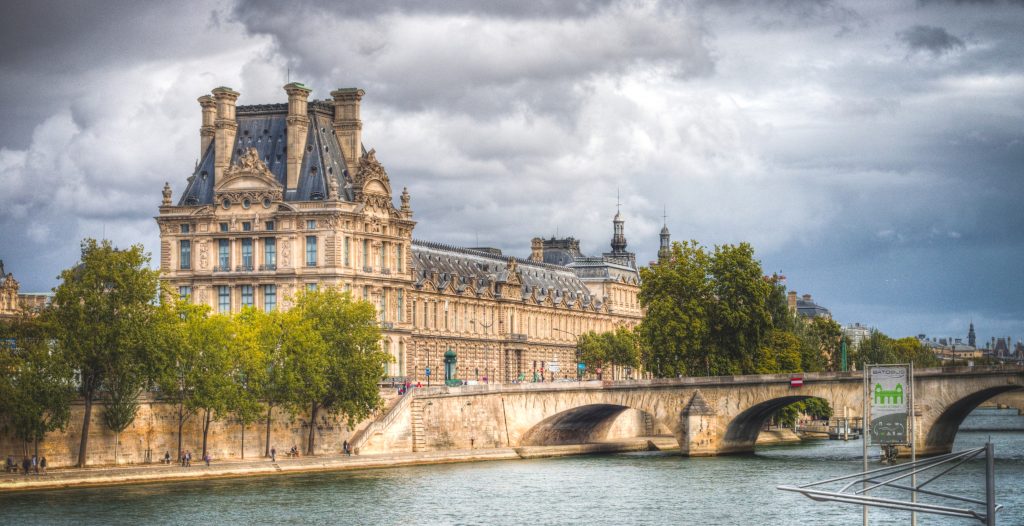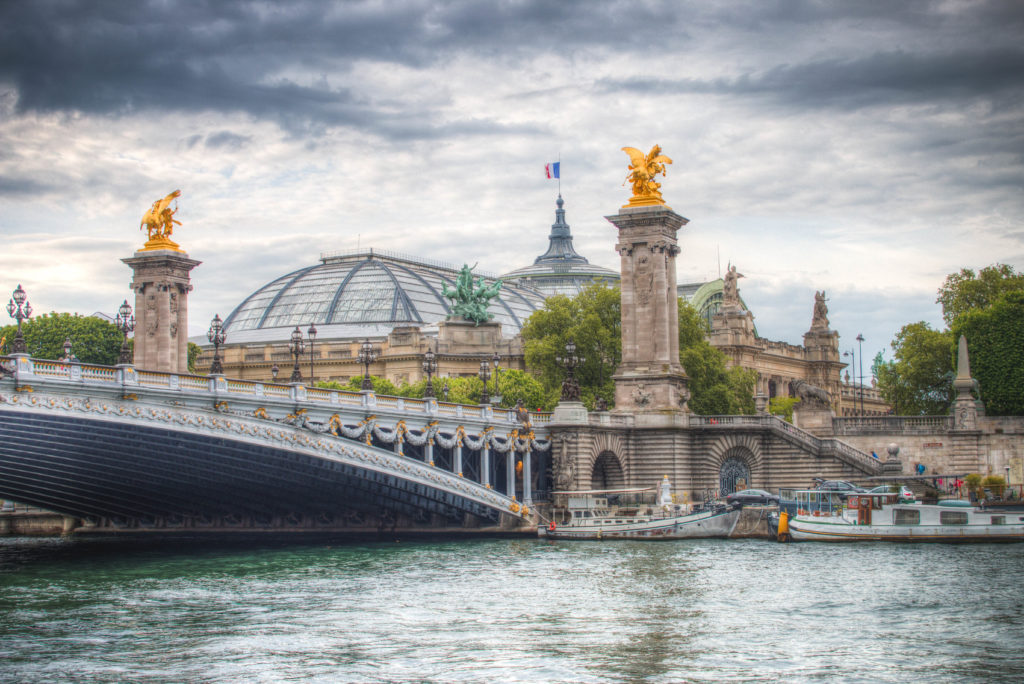 The Seine can be quiet and serene, or full of energy and bursting with colour. We went for a walk on a Sunday night and came across live bands, swing dance groups, and small markets.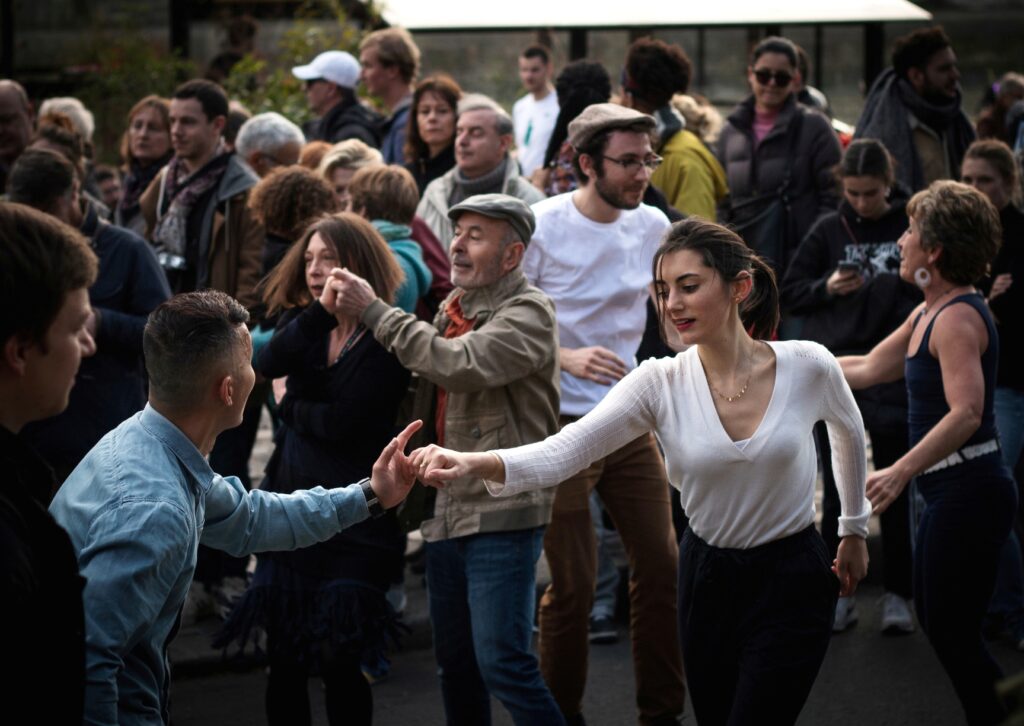 I also really enjoy checking out the book stalls along the Seine. Some of the sellers can be a bit crusty but most of them are okay and I like the atmosphere they help contribute to along the river.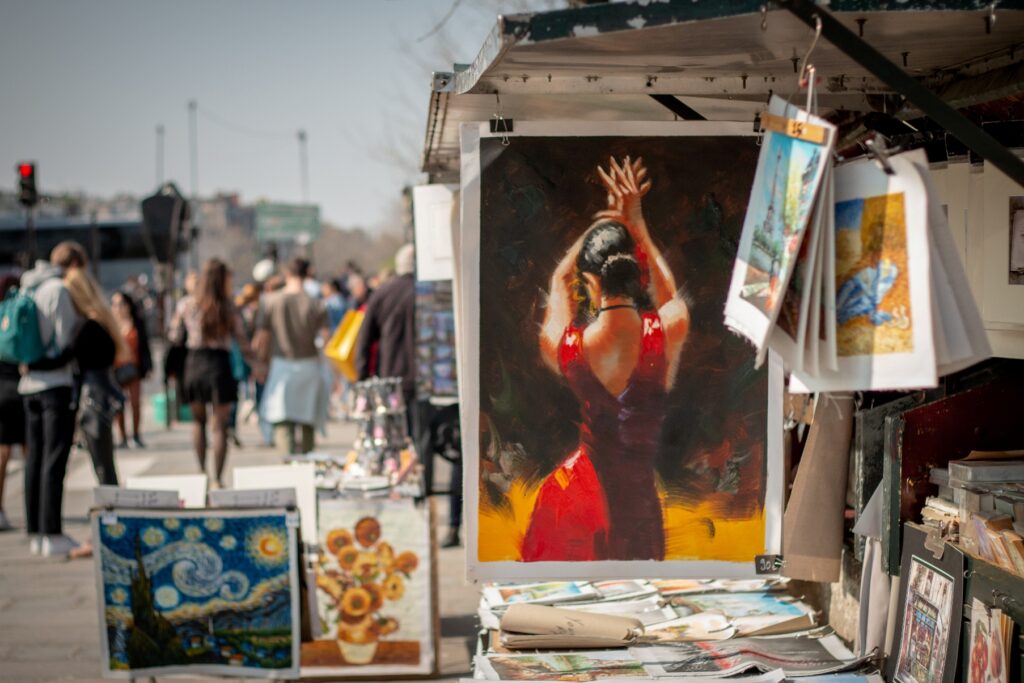 The Louvre
If you're going to Paris, you're going to the Louvre. You know you are, and you'll take a picture of the glass pyramid out front, created by artist I.M. Pei. There's a reason for that – it's an iconic place, it's a great place for photos, and you can tell people you stood right where Tom Hanks stood in the Da Vinci Code. Because I'm a photography nerd I tend to get there quite early so I can catch the Louvre while the sun is coming up with no people around. It's worth it.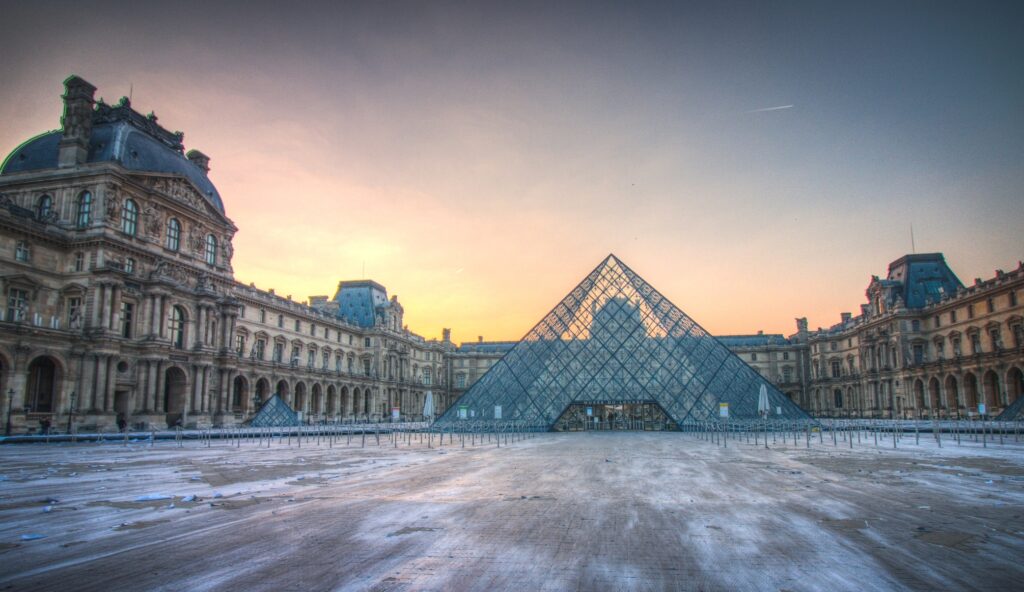 There are plenty of different ways to shoot the pyramid, including from above…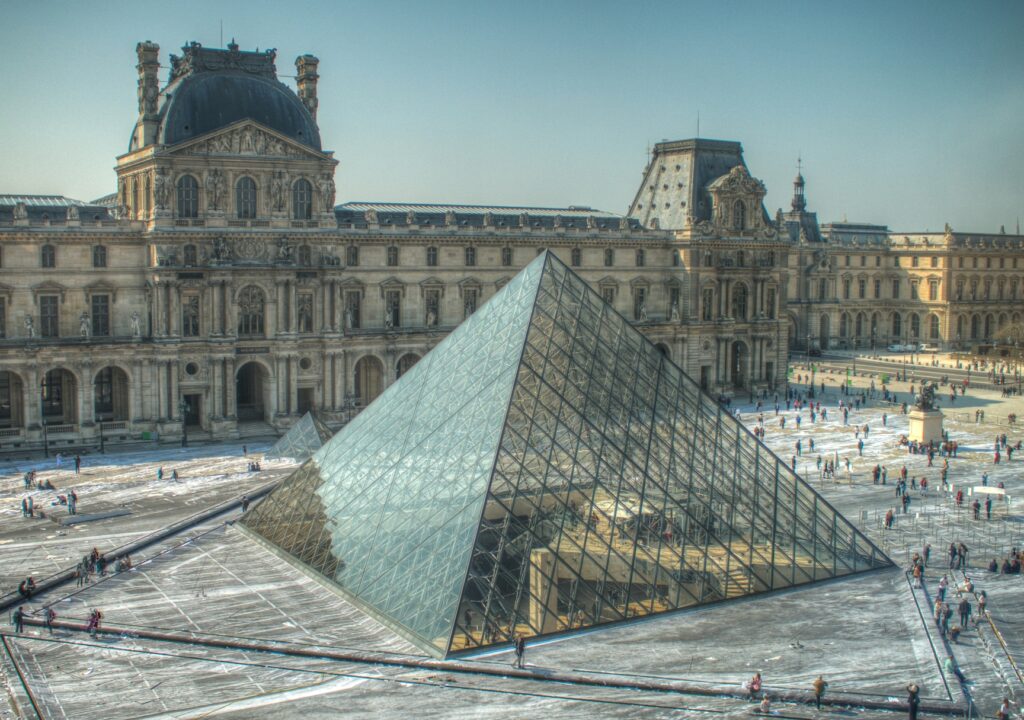 …and from the inside out. When shooting something so iconic, see if you can find creative ways to approach it. You might come home with a different look than everyone else who has been there. Just try stuff – have fun with it!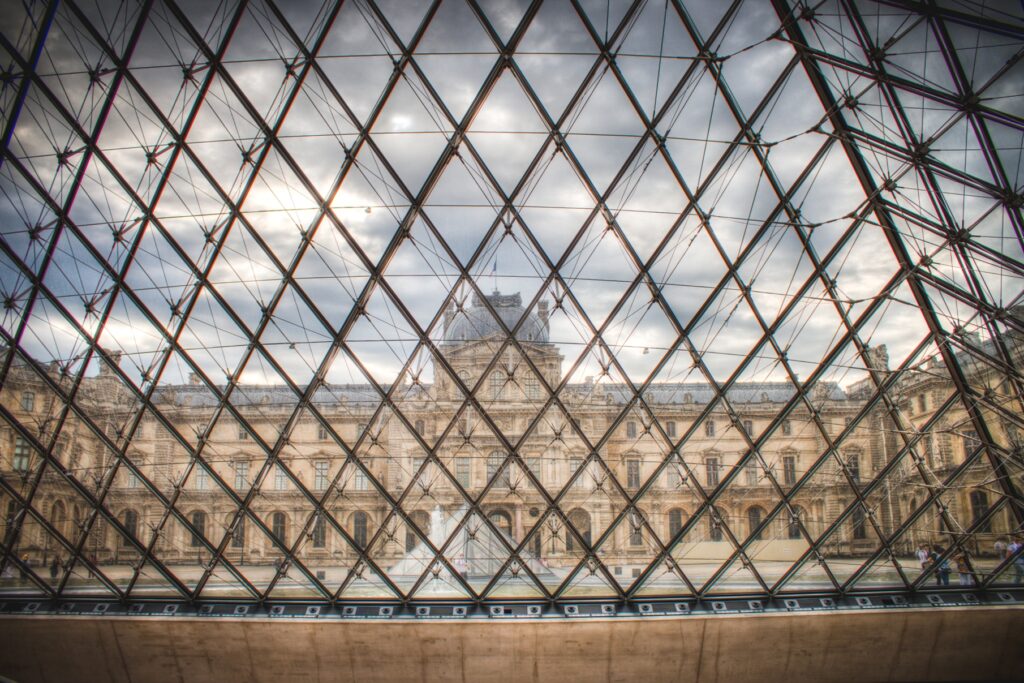 The Louvre also has some neat little nooks and crannies that serve as good backdrops for portraits. Here's the lovely Angela – my travel partner in crime – at the Louvre before the masses showed up.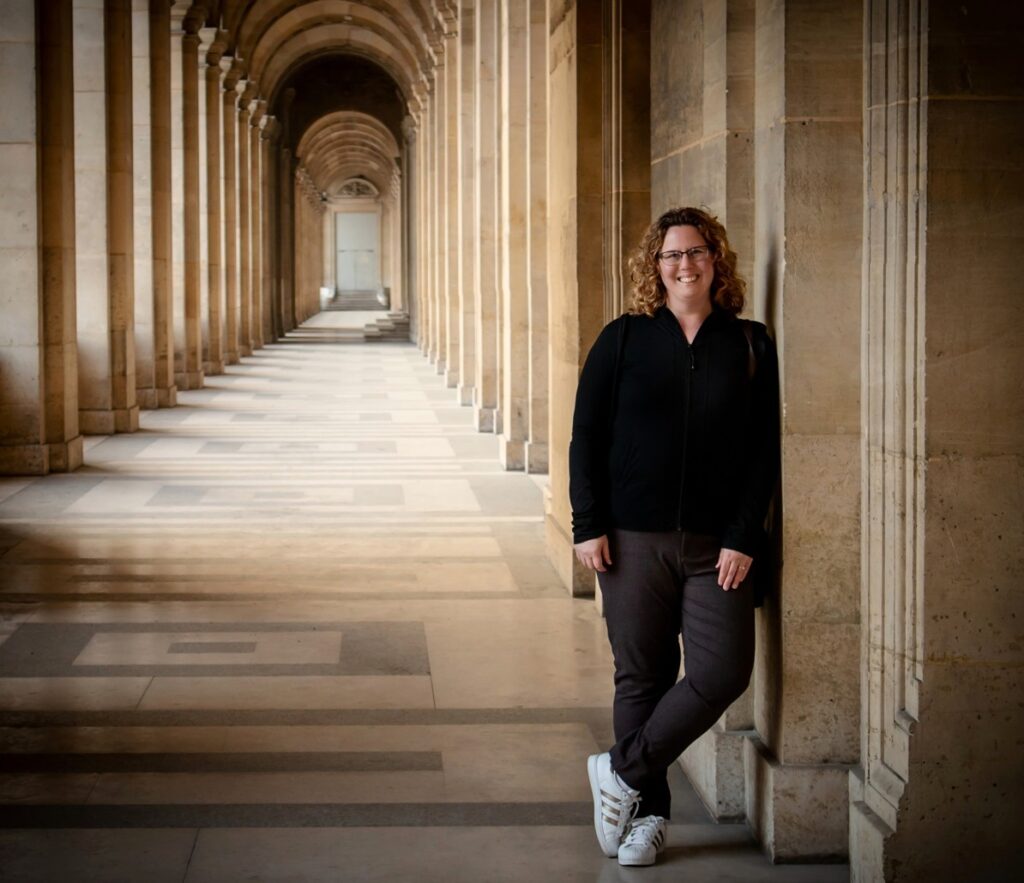 Churches and Cathedrals
Churches and cathedrals provide great subjects when trying to capture the city. My advice would be to explore some of these buildings, take the expected / iconic shot, but then walk around, explore, and see if there's an angle or detail that captures your imagination.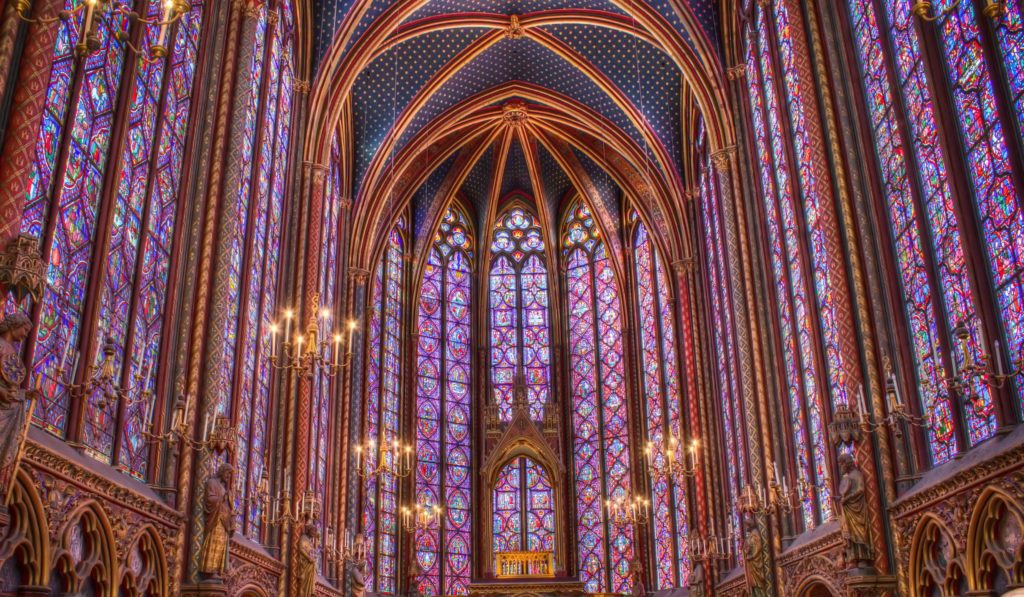 Notre Dame has always been one of my favourite cathedrals, as it is for millions of others. We have visited many times, most recently about a week before a massive fire tore through it, sadly burning much of it to the ground. Thankfully they are rebuilding, and for now I will live with happy memories of my time there.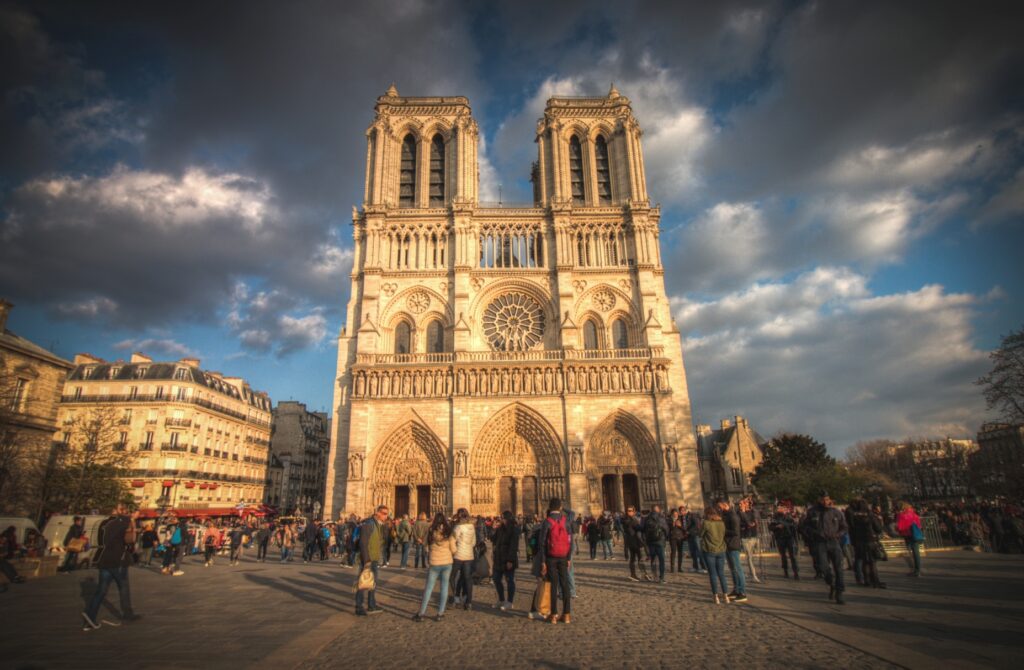 One evening while visiting Notre Dame we noticed how the light was playing on the Seine, looking southeast, away from the cathedral (again reinforcing the idea to look around when you are near landmarks and tourist sites – it's amazing what you might see through your lens!):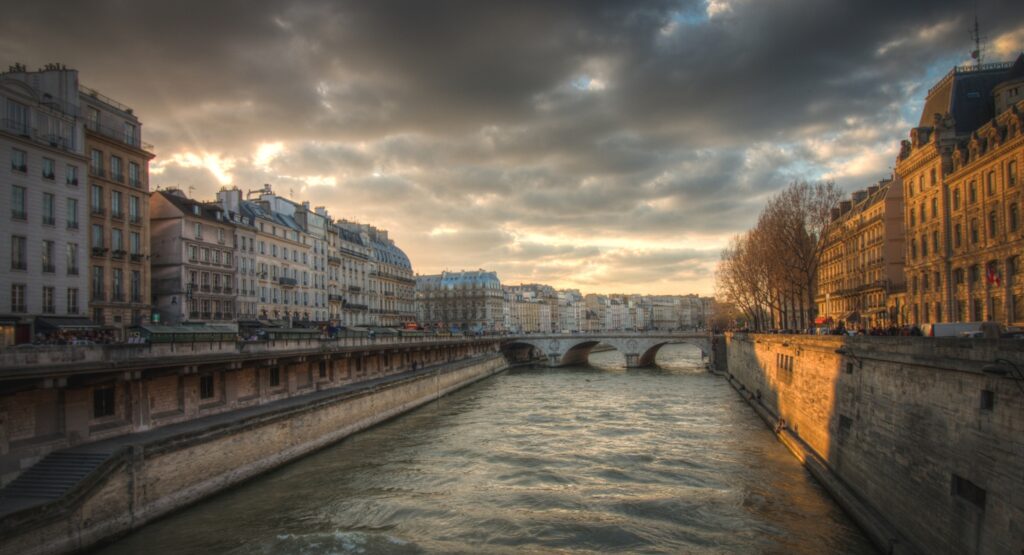 Inside, the cathedral was always a place to inspire awe and wonder. I am not religious, but have always appreciated the cultural and historical signifigance of this remarkable building.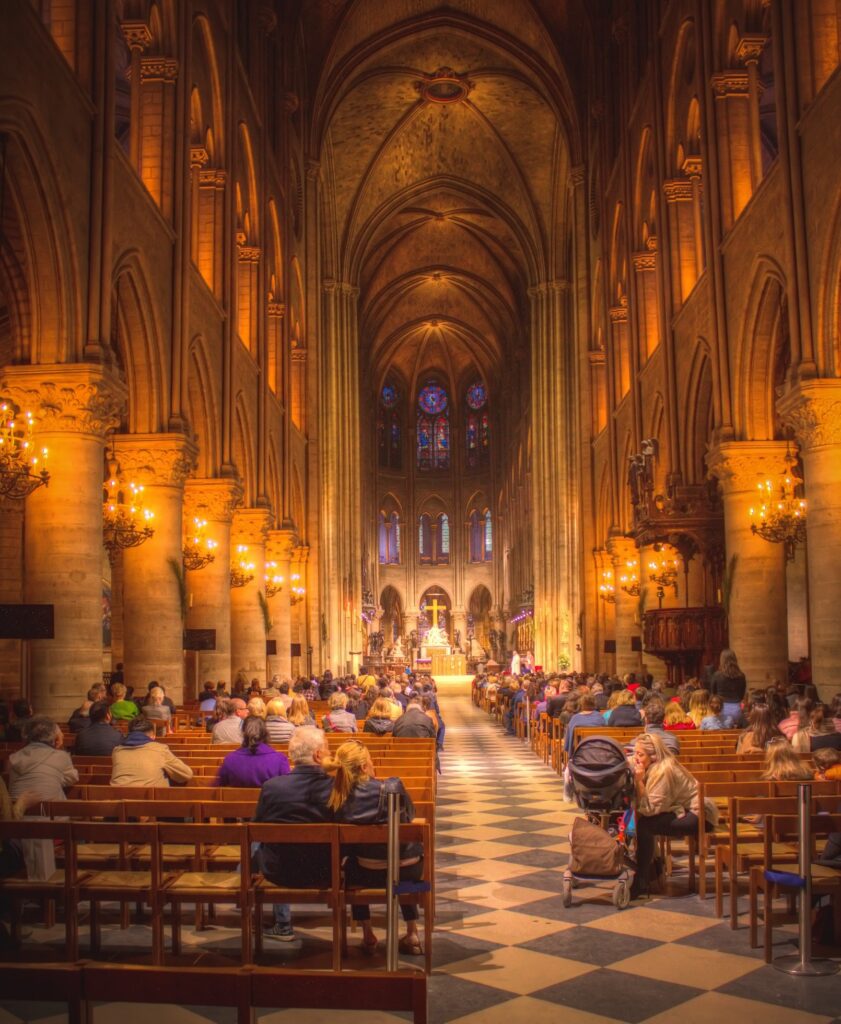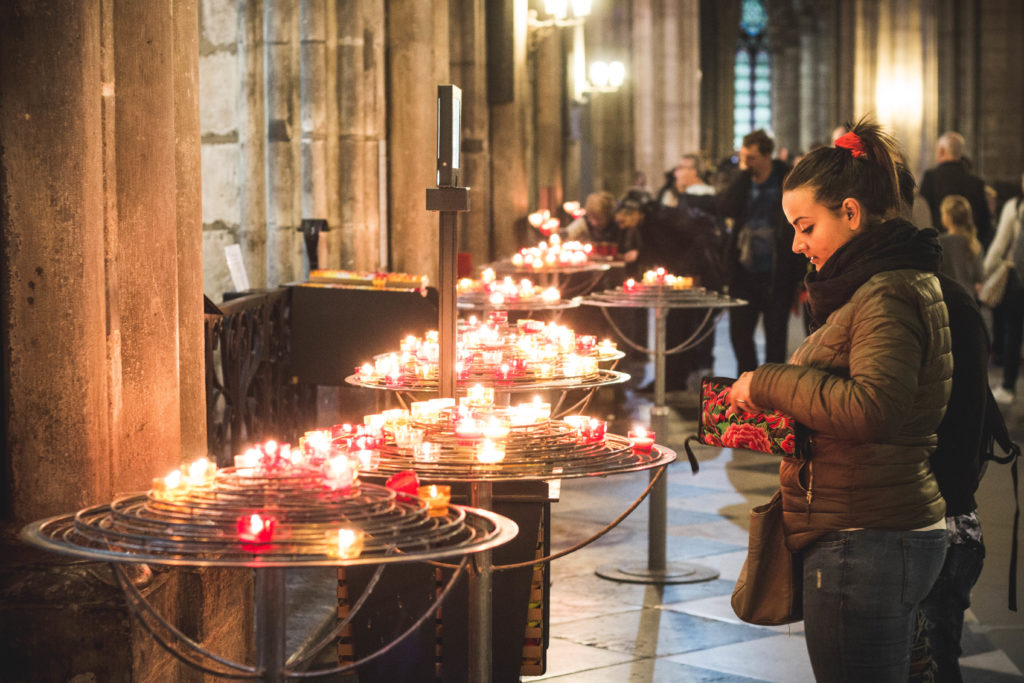 Capturing the Small Details
Another thing I love to do when exploring cities is try to capture small details, things that make a city unique. In Paris there are more than a few of these, from diners on a patio to gargoyles on a building and a million things in between. Here are a few that caught my eye – love locks on bridges over the Seine, and three from the Paris Metro.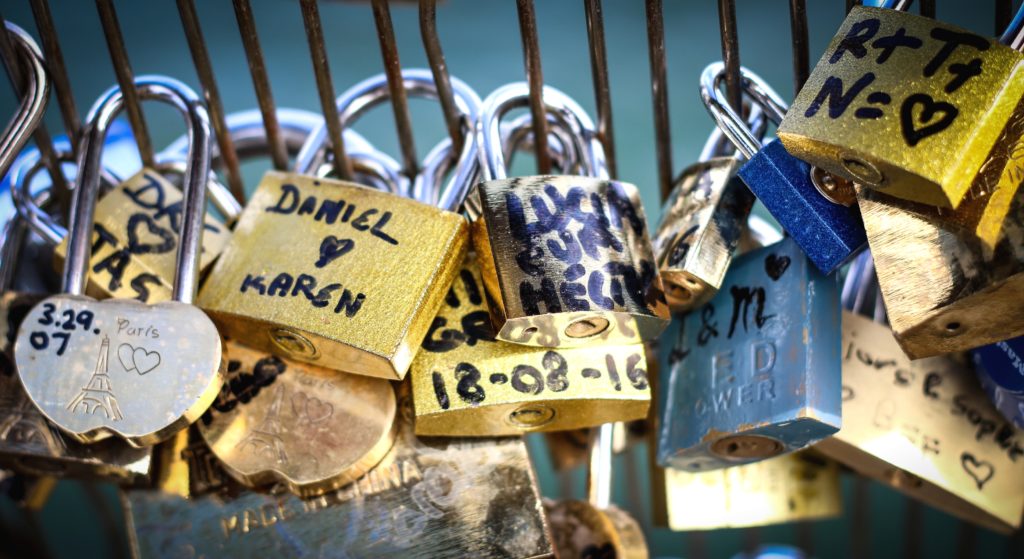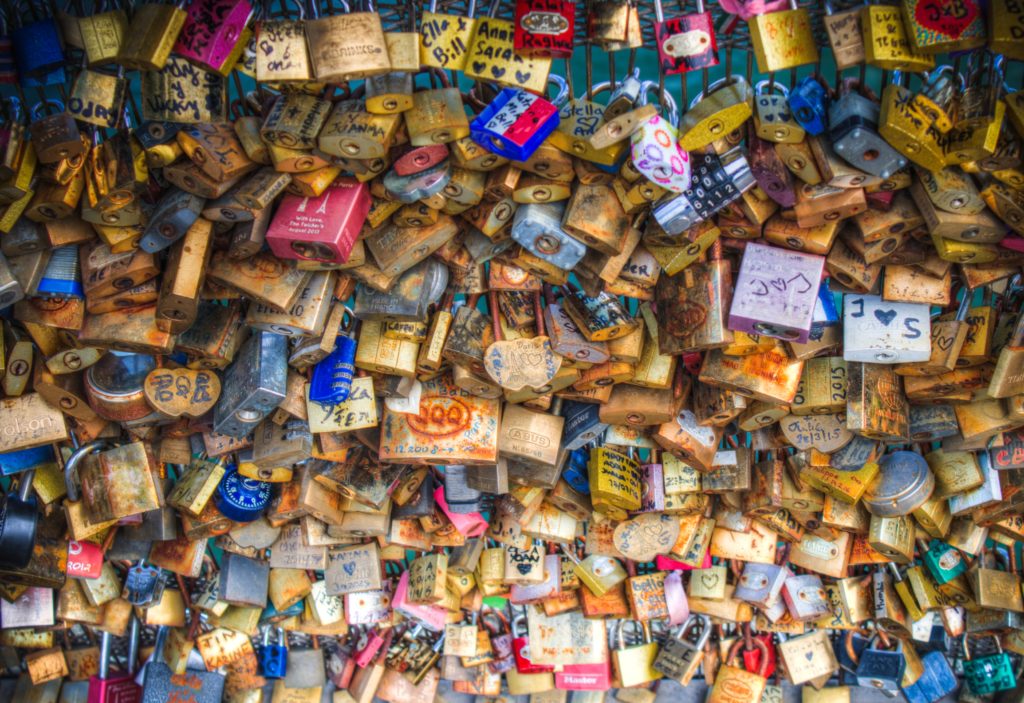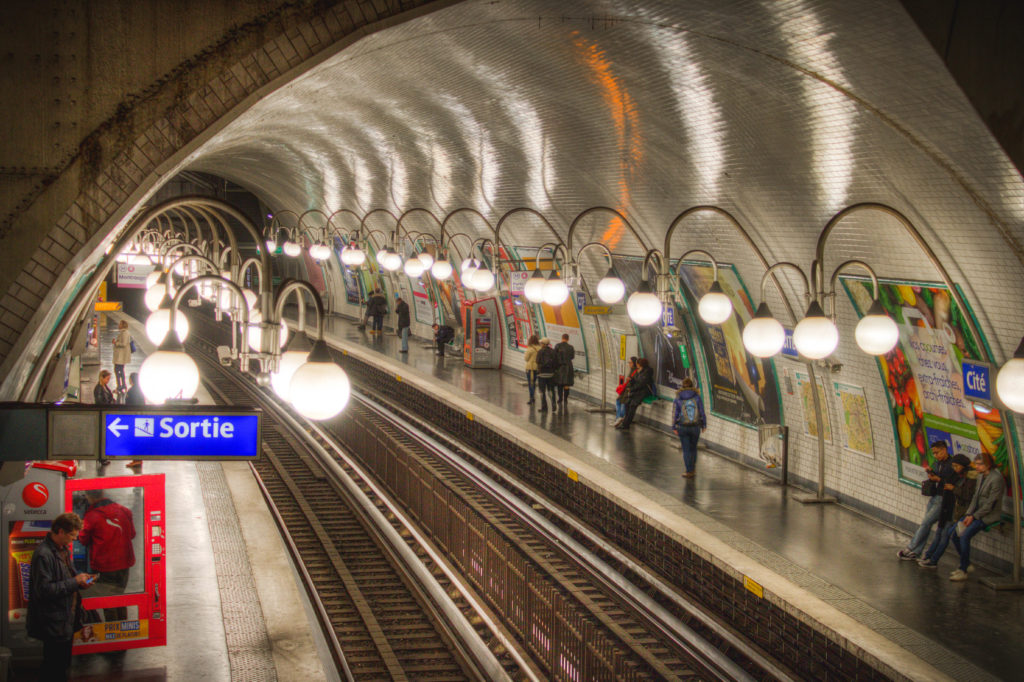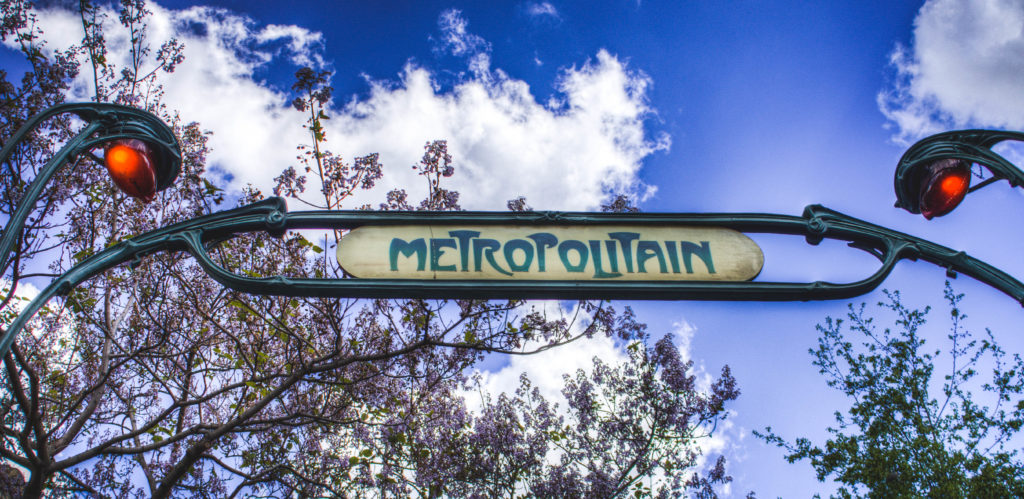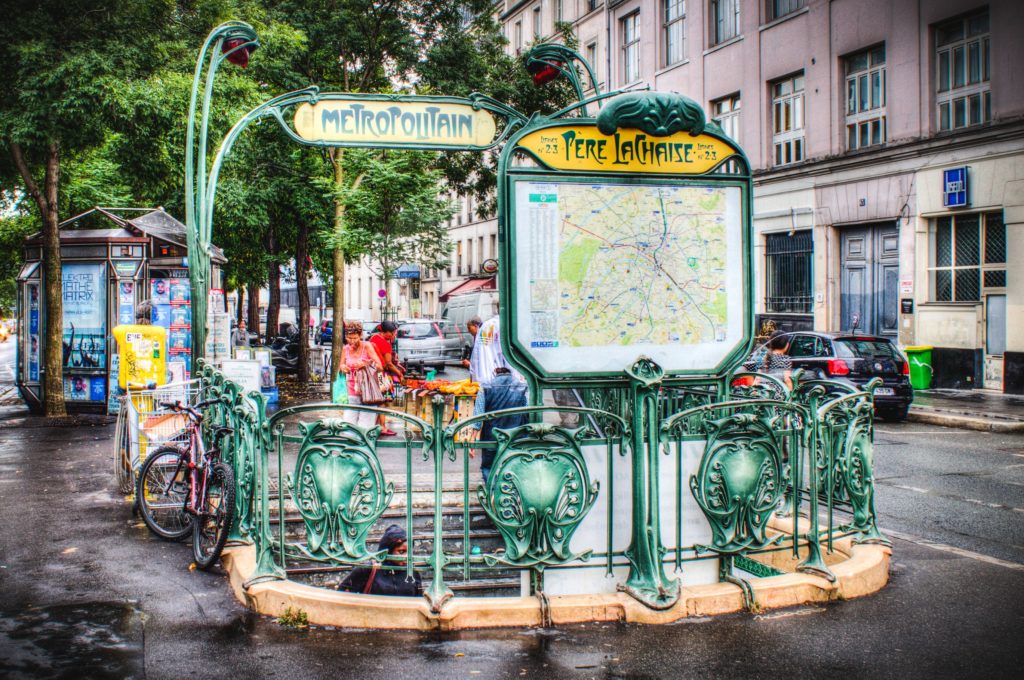 Best of the Rest – Photo Blitz!
I could go on and on about all the amazing places to take photos in Paris, but this post is already longer than most on this blog! So I'll leave you with a final flurry of pics from one of my favourite cities in the world…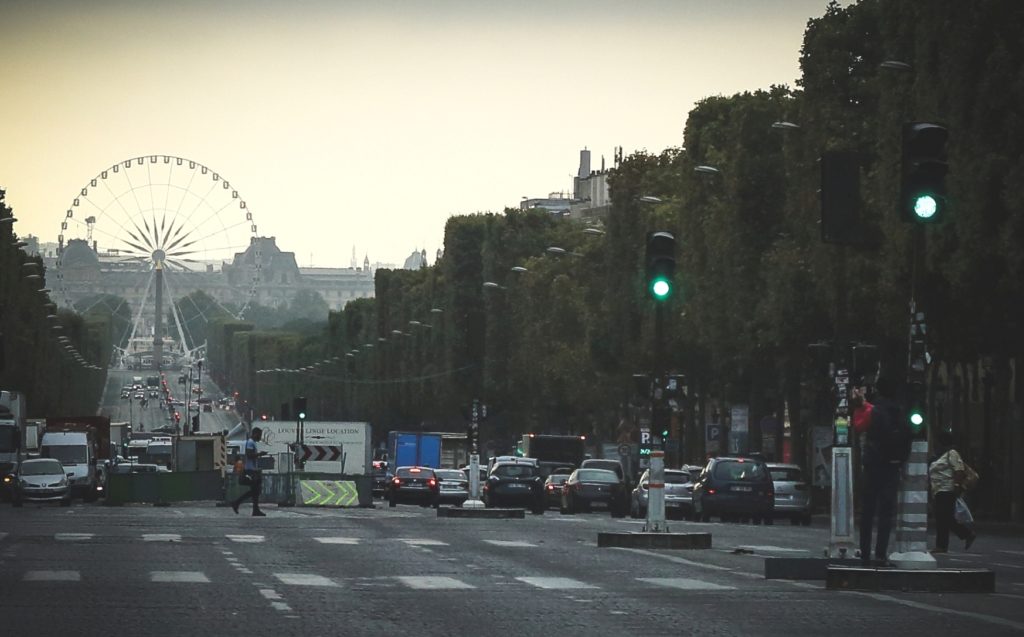 A great spot to get some unique images and dig into some history is at one of the city's massive graveyards where many of the world's most famous writers, artists, and other dignitaries are buried. This image from Père Lachaise Cemetery still haunts me…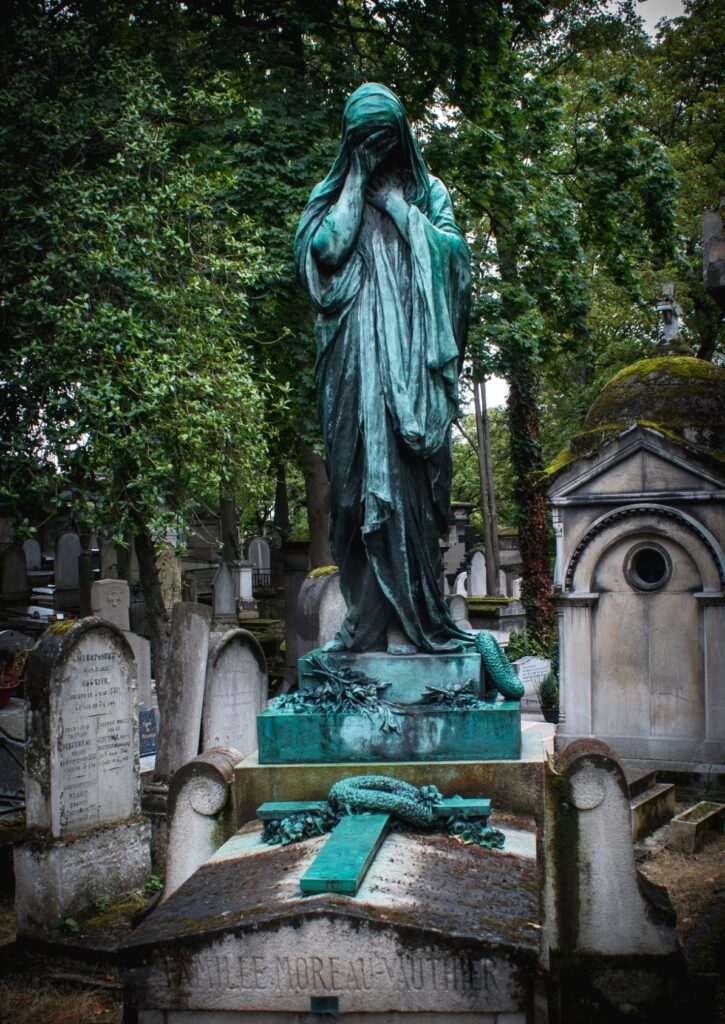 When it comes to Paris, I almost always feel under dressed – it doesn't help that sometimes even the animals are dressed better than I am!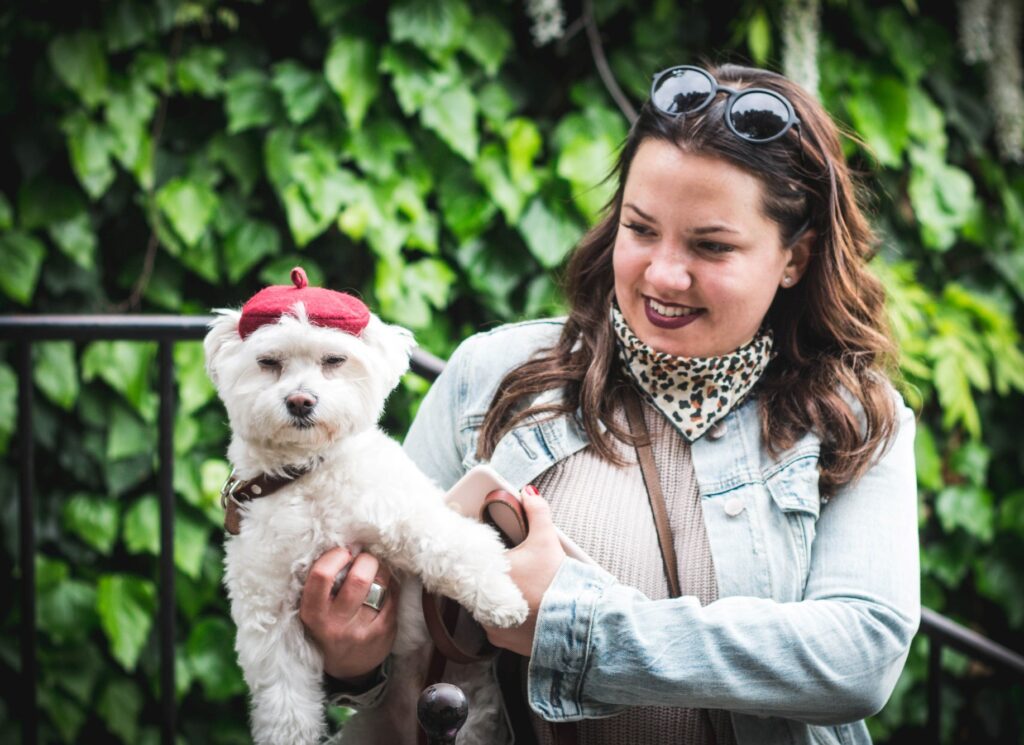 On our last trip we stayed in the Opera area and really enjoyed exploring this building.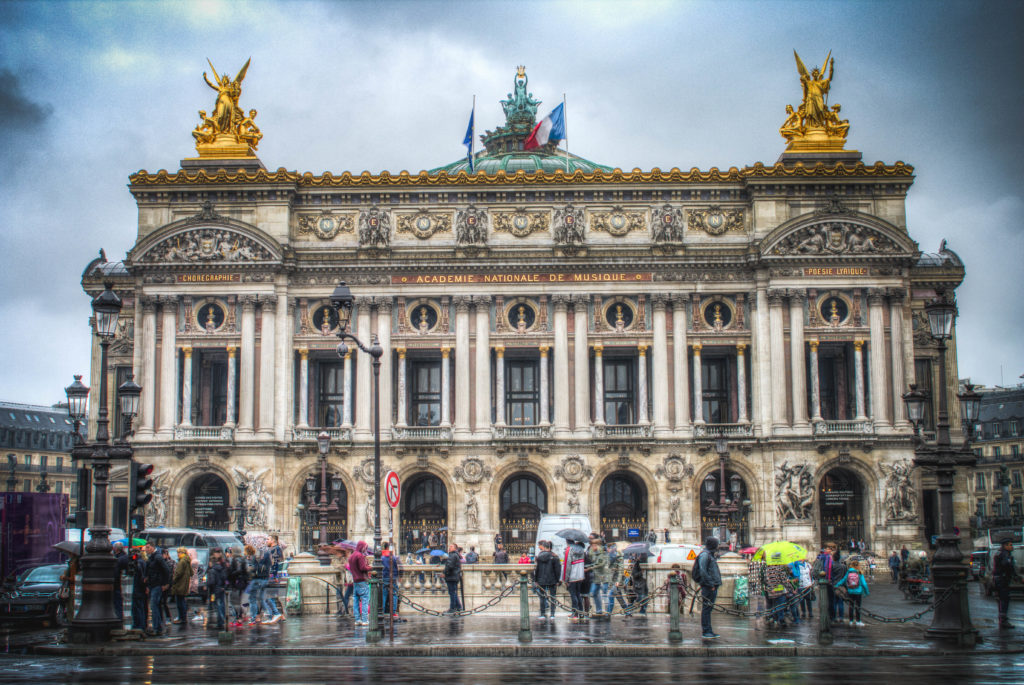 If you're visiting Notre Dame, don't miss a chance to check out nearby Shakespeare and Company, one of the city's most famous book shops.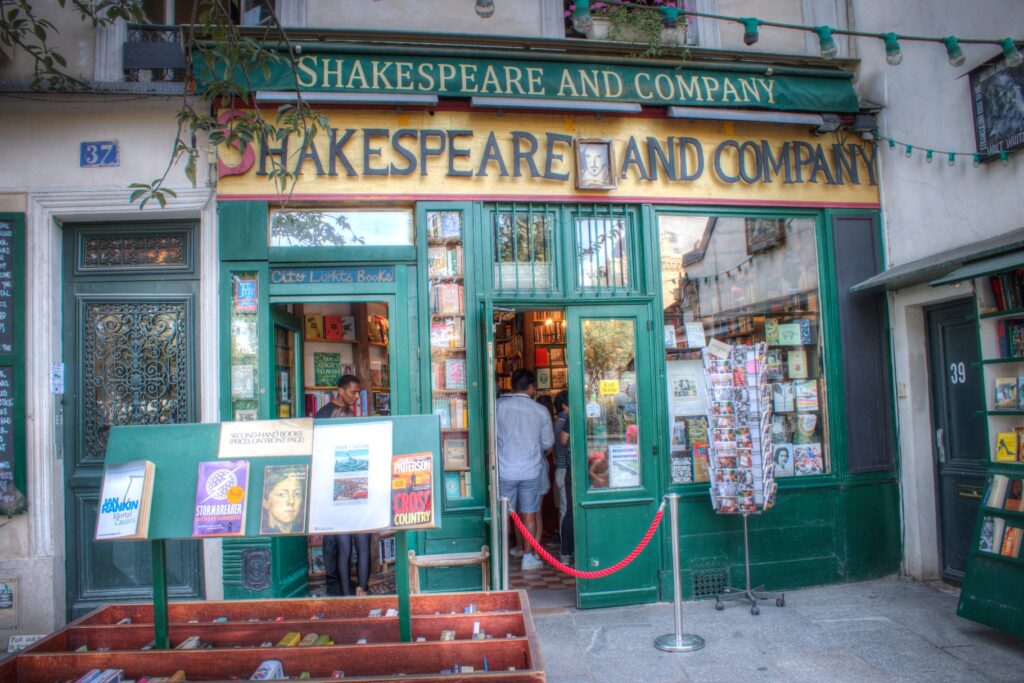 When I'm in a city I love to go up…this is the view from the top of the Arc de Tromphe just after sunset.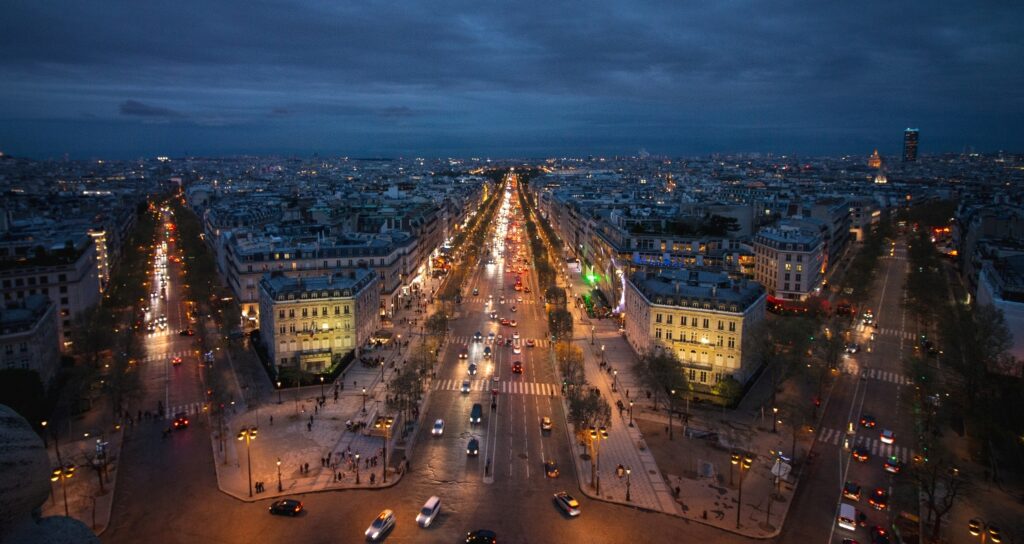 One of the best places for burgers in Paris is undoubtedly Burger Fermier. I loved their burgers so much I actually wrote a blog piece about it.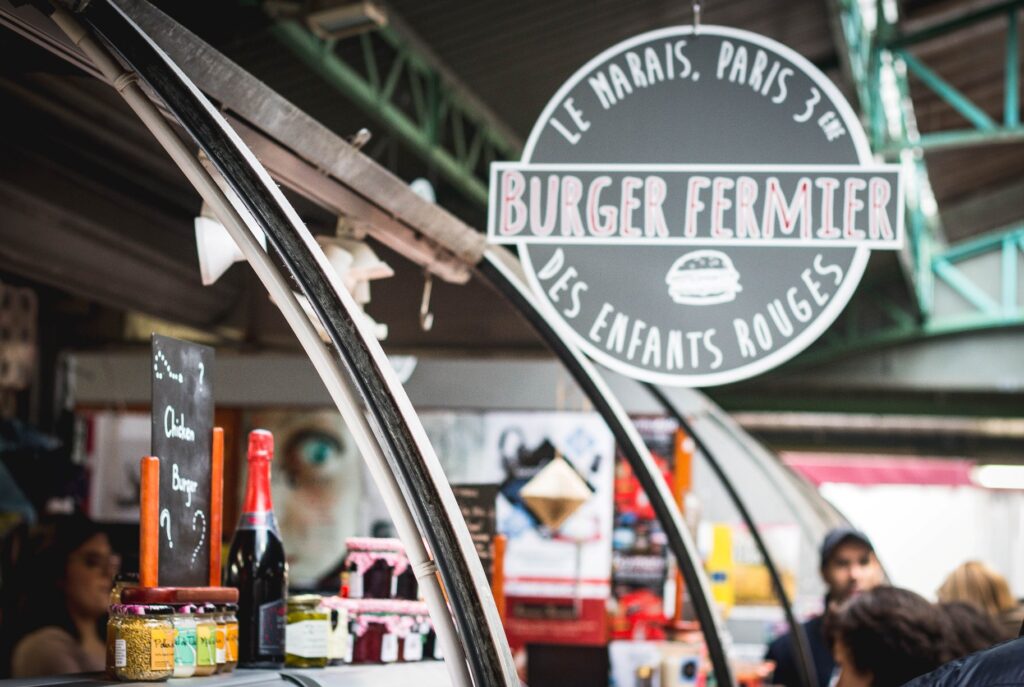 Art galleries are definitely a favourite pastime of mine when it comes to Paris, so here I am, checking out the fine art at the Gustave Moreau museum in the 9th arrondissement.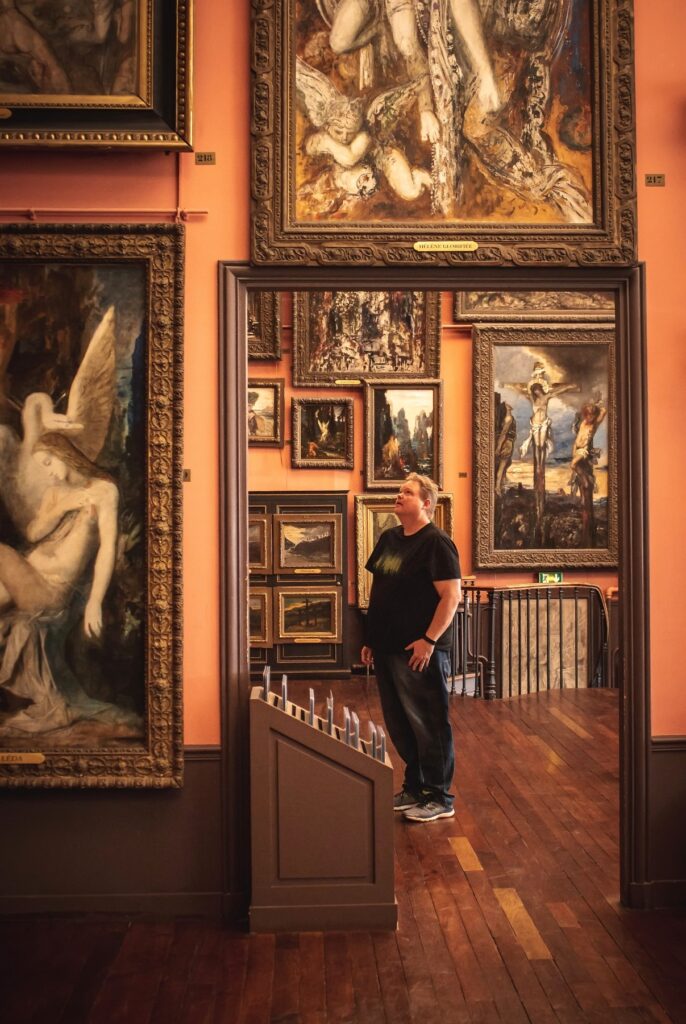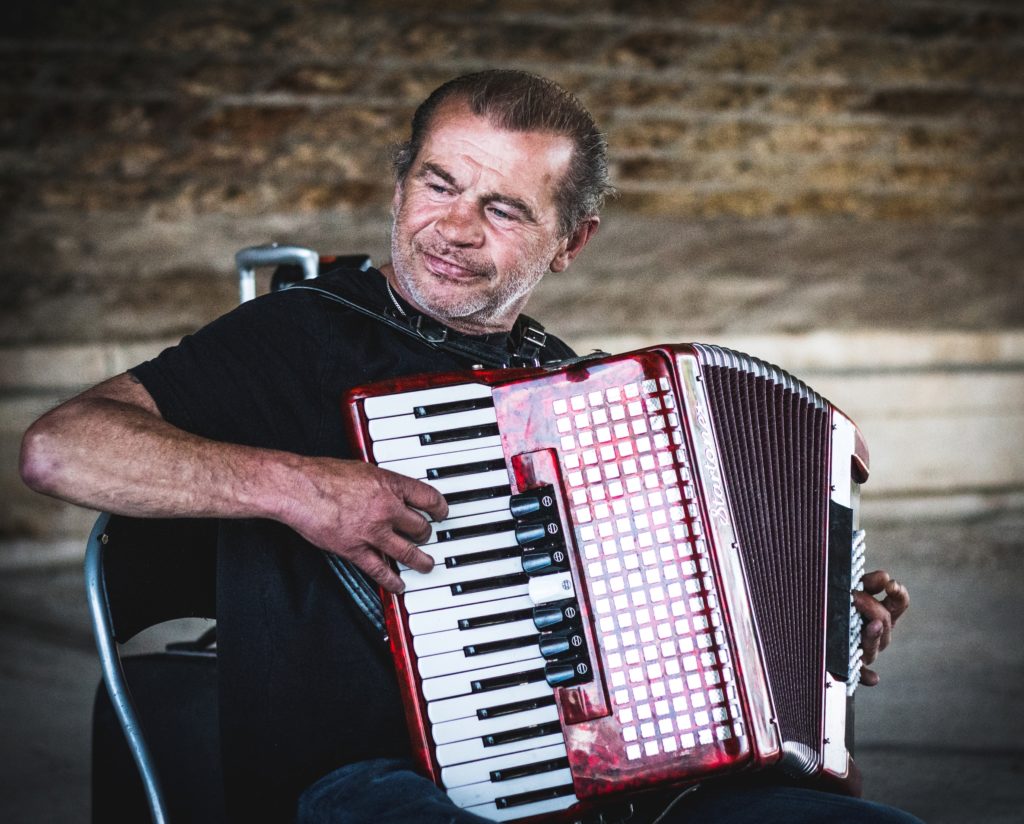 There you have it! More pictures of Paris than you probably asked for. 🙂
Have you been to the City of Light? If so, what were your highlights when trying to capture this brilliant city with your phone / camera? Comment below – cheers!