Since many of us are stuck at home thanks to the coronavirus pandemic, I thought this would be a good time to follow up the popular "Top 15 Movies" post with a list of books that have inspired more than a little bit of wanderlust in me.
Like many of you, I can remember as a kid reading well past my bedtime about my favourite characters exploring the globe, challenging themselves in exotic lands. As an adult, nothing's changed. Travel is phenomenal when you're experiencing it but I find it a close second to read about it, imagine it, and dream about it when you're not; great books definitely help bridge the gap.
So here it is. I've included a few iconic titles that you'll likely expect, and a few others that you won't. I'm also going to cheat a bit and reference a few series I like instead of individual books.
Enjoy, and please comment below with your own additions!
1/ Eating Viet Nam: Dispatches From a Blue Plastic Table – Graham Holliday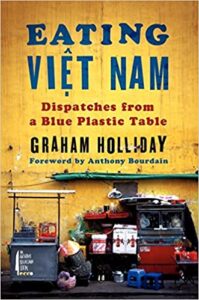 I really enjoyed reading about Graham's adventures (and misadventures) in the quest to find great food in Hanoi and around Vietnam. I have explored Saigon / HCMC, but I've yet to see Hanoi and this book made me want to add it to my next SE Asia itinerary.
Holliday is an entertaining writer, and his descriptions of the sights, smells, and tastes of Vietnam were brilliant.
There's a foreword by Anthony Bourdain, and the book is published on Bourdain's imprint through Ecco Books.
2/ The Longest Way Home: One Man's Quest for the Courage to Settle Down – Andrew McCarthy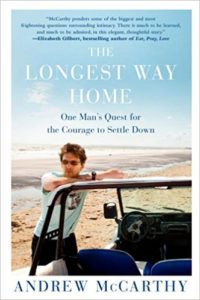 Andrew McCarthy is a very good travel writer. Actually scratch that – he's a very good writer, period.
He does an excellent job weaving in tales of his solo travel to locations like Mt. Kilimanjaro, the Amazon, and Costa Rica with his own personal struggles and demons when it came to committing to married life and spending less time on his own. There were times I was frustrated with his over analyzing and pontificating, but I admired his bravery to lay himself out there in such a public and honest way. I'm definitely not that brave.
This is both a great travel book and a voyage of self-discovery.
3/ A Walk in the Woods – Bill Bryson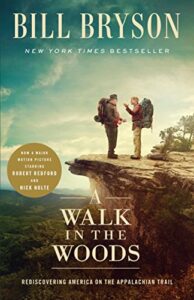 I'll admit that picking one Bill Bryson book for this list took up more of my time than it should have, but in the end I am pleased with "A Walk in the Woods" as the victor.
This is the story of Bill's quest to walk the Appalachian Trail with an old friend. Neither are ready for it physically or mentally and hillarity ensues. If you've ever taken on a long hike or extended journey that pushed you to your limits, you might be able to relate with their plight, and Bryson sprinkles in some really interesting facts about the trail as well as the flora and fauna along the way – he's obviously done his research.
The book was the basis for a movie starring Robert Redford and Nick Nolte, released in 2015.
4/ Turn Right at Machu Picchu – Mark Adams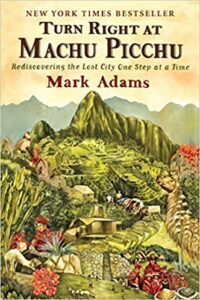 This book was published in 2012 but I just came across it recently when I was contemplating a trip to South America (sadly cancelled due to Covid-19). I was kicking around the idea of covering as much of the continent as I could, and Machu Picchu was high on the list. I love immersing myself in the destinations I travel to, so I dug into a reading list that included Mark Adams' account of his quest to follow in the footsteps of explorer Hiram Bingham III, the man credited with "finding" Machu Picchu as well as two other significant archaeological discoveries.
This is an excellent travelogue, often funny, and certainly inspires wanderlust. There's plenty to learn from Adams about Peru, and it just might motivate you to unleash your inner Indiana Jones.
5/ Paris On Air – Oliver Gee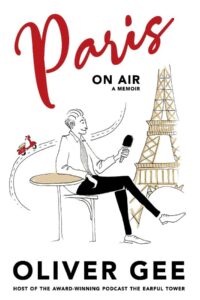 My wife, Angela, and I have spent more than our fair share of time in Paris over the last four years. It's a city I have come to love, and when I'm not there I feel like I should be planning a trip back. Angela turned me on to a podcast called "The Earful Tower" hosted by Oliver Gee. Oliver wrote a book about his experiences moving to Paris, including his adventures adapting to French culture, navigating the (occasionally baffling) Parisian bureaucracy, and carving out a life in the City of Light.
This is a fun, easy read written by someone who actually followed through on the statement we all eventually make – "wouldn't it be great if we could move to Paris?"
6/ Poke Rafferty Series – Timothy Hallinan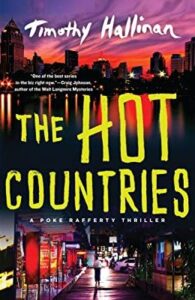 The next two book series are based in Thailand, but aren't "travel" books in the traditional sense; they do, however, paint vivid pictures of a place I love to visit. So it's rare for me to visit Southeast Asia without taking a Timothy Hallinan or John Burdett novel with me.
The first, a series written by Hallinan, is the "Poke Rafferty" series, excellent thriller novels centered around a travel writer who lives in Bangkok. Hallinan has spent a number of years living on and off in Thailand, so he writes about the city from the perspective of someone who obviously loves Bangkok but he doesn't shy away from the darker side of Thailand's largest city.
The main character, Poke, is an American living with his Thai wife, Rose, and their adopted daughter Miaow. The novels are fast-paced, well written, and they bring me back to the Land of Smiles every time I pick one up. Poke definitely gets into more scrapes and action-packed situations than any travel I know. Books in the series (in order) include: A Nail Through the Heart, The Fourth Watcher, Breathing Water, The Queen of Patpong, The Fear Artist, For the Dead, The Hot Countries, Fools' River. 
7/ Sonchai Jitpleecheep Series – John Burdett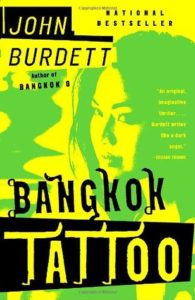 Completing my duo of "Thai-centric" (for lack of a better term) authors is John Burdett. I read Bangkok Tattoo on my first trip to Thailand way back in 2005, and I was hooked. Reader beware – Burdett's books aren't for the squeemish. These books are dark, sometimes violent, sexy, lurid – they certainly aren't bland. If you can get on board with that, you'll find a whole fantastic world to enjoy.
His main character, Sonchai, is a Bangkok police detective who works hard to remain one of Bangkok's few honest cops. He's also a devout Buddhist, which leads to many interesting conflicts in Sonchai's journey.  Some might take issue with his characterization of both the Thai people and Buddhism in general, so it's up to you to form your own opinion here. I've just never read anyone who writes quite the way he does, and his characters are some of the most unique fictional characters I've read.
If you're interested in crime noir and the darker side of life in Bangkok, these books will be up your alley. Titles include Bangkok Tattoo, Bangkok 8, Bangkok Haunts, The Godfather of Kathmandu, Vulture Peak, and The Bangkok Asset.
8/ A Moveable Feast – Ernest Hemingway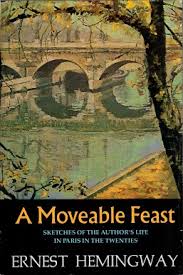 I have to include a true classic to offset the Karl Pilkington book that is next on the list. 🙂
Seriously, though, I've always enjoyed Hemingway's writing – his ability to paint a picture and describe a scene pulls you in and allows you to wrap yourself up in the world that he has created.
In this case, that world is 1920's Paris – a pretty fantastic place to escape to. Hemingway recounts his time in the City of Light, as well his interactions with many notable artists and personalities of the time. If you liked the movie Midnight in Paris you'll find a number of parallels, as the movie used A Moveable Feast as inspiration for many of the settings and characters in the film.
9/ An Idiot Abroad – The Travel Diaries of Karl Pilkington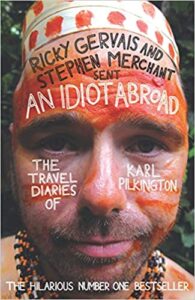 This is the anthithesis of A Moveable Feast. It has basically no literary quality, and appeals to those of us who enjoy quick, goofy travel stories and anecdotes.
The book is the written follow-up to a television series Karl did with Ricky Gervais and Stephen Merchant. Ricky and Stephen are friends with Karl and recognized him for the curmudgeonly malcontent that he is; their idea of humour was to send him to various locations around the globe and set up situations they knew would make him uncomfortable.
To be fair, Karl is a gamer, he manages to cover a good chunk of the globe, and his deadpan delivery is quite funny. He's an acquired taste, but if you can get on his train it's a fun ride. The television series that originated the "Idiot Abroad" concept aired on Sky One (U.K.) from 2010-2012.
10/ Lord of the Rings – J.R.R. Tolkien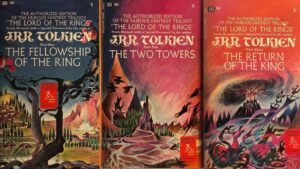 I don't know what I can say about the LOTR trilogy that hasn't already been said, except to mention that it inspired in me a sense of adventure from the first time I read Tolkien's work as a kid. To me, LOTR and The Hobbit are the quintessential adventure books that everyone needs to read once in their lives. I know that some people find the books a bit long, but growing up I found them to be the epitome of imagination and wonder.
11/ The Beach – Alex Garland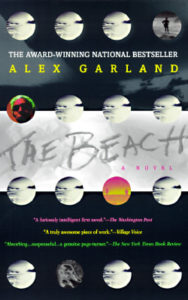 This is another one that makes both the "best travel movies" and "best books list".
The book differs a bit in sensibility from the movie but that doesn't matter – I really enjoyed this novel and think for anyone who wants to read about the pure wonder of exploring Thailand before most of the islands were overrun with tourists, this is your book. It's an extremely well written story, tackling the theme that humans love to create a perfect fantasy world and then inevitably rip it apart.
This was Garland's first novel – amazing stuff.
12/ Ava Lee Series – Ian Hamilton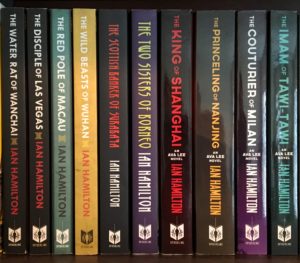 The Ava Lee series captured my attention because Ava is such a strong character and she's based in Toronto – my hometown. She's a Chinese-Canadian forensic accountant who recovers debts for clients when those clients have nowhere else to go. Ava kicks ass and takes names in a very precise, methodical fashion. Her relationships with her mentor Uncle, the triads, and different power players make for interesting reading; and the book is set in some fascinating locations around the globe. If action and world travel are your thing, Ava is for you. There are currently ten books in the series, pictured at left (or above in mobile version). I met the author, Ian Hamilton, at a book reading once and he explained to me that the locations were based on places he visited through his work earlier in his career, so there's a definite aura of authenticity to his writing.
So there you have it! Twelve book ideas for pasing the time until you can board your next plane and start your own adventures.
What books fire you up to get out there and explore? Comment below – cheers!