We stood out in the cold, a light drizzle falling in the early Spring air, waiting for the sun to set on Mont Saint-Michel. I had been waiting for this moment for years, ever since I saw my first picture of the island village on the coast of Normandy. Standing there felt surreal, like we were living in a Tolkien novel. As touristy as Mont Saint-Michel might be at times, once the tour buses leave there are moments when it feels absolutely magical.
I set up my tripod on the rocks off to the side of Le Mont and snapped the shutter on my Canon. There were only a handful of people around, so it made it easy to shoot away. For an avid photographer, this was like visiting Fenway Park for a baseball fan. After shooting for a few minutes I stopped and just took it all in. Angela was a few feet away, doing the same. It's the kind of place that leaves an impression on you if you let it…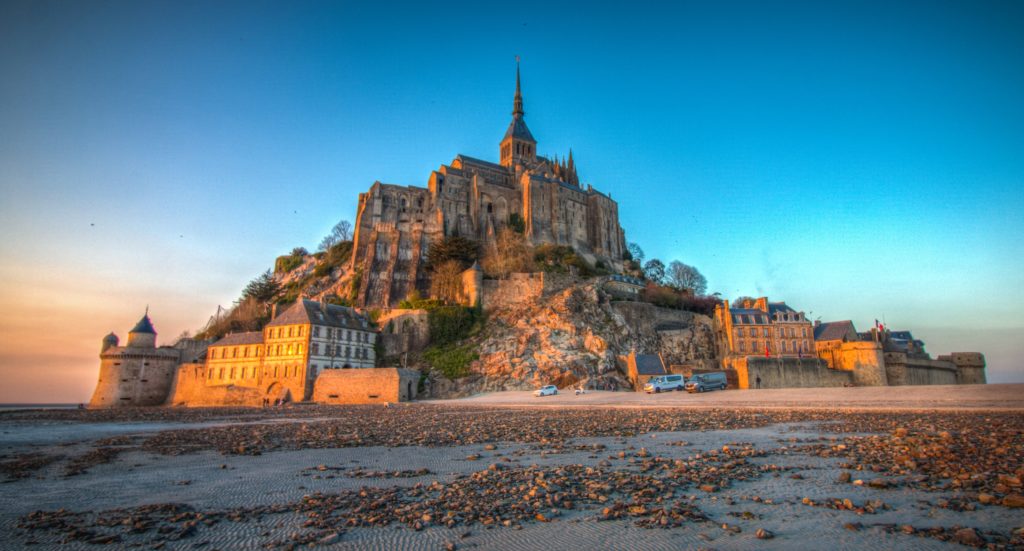 Our three day trip to the Normandy and Brittany coasts began in Paris early that morning. We had booked a train from Montparnasse station to Villedieu-les-Poêles, and from there a short bus ride to Mont Saint-Michel.
The train was scheduled to leave at 7:38 am from Paris, so we were up early to check out of our hotel and take a bus from near the Gare de Lyon to Montparnasse. It all went very smoothly, despite it being rush hour, and we arrived at the Montparnasse station with time to spare.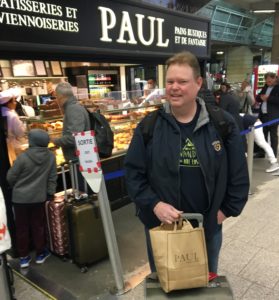 This was a good thing, as we were starving, so we grabbed a croissant and a few snacks from one of the Paul pattisseries near the platforms (which always earns my business, as my name is Paul, and I'm easily swayed like that), and made our way to our train.
The train was one of the high-speed TGV trains, making our ride quick and comfortable. They're not kidding when they say high speed – that thing moved. We arrived in Villedieu-les-Poêles less than three hours later, but not before a woman who was a bit off her game got on the train a few stops before Villedieu, and was making quite a scene by continuously ranting at her kids. Well, we thought they were her kids the way she was talking to them incessantly, in a high-pitched non-stop drone that sounded like a mix between lecturing and whining. She never stopped, on and on, all the other passengers wondering when she would quiet down, when we got up to get off the train and saw it wasn't her kids at all that she was verbally assaulting, but her DOGS.
She spent more time talking with her two canines than most people do at a week long family reunion. The two dapper dogs were accessorized to the hilt, and were clearly dressed better than I was. Then again, I always feel under-dressed in France, so I guess I shouldn't be surprised at being put to shame by the local chiens.
At Villedieu-les-Poêles we walked straight off the train and on to a waiting bus. The bus took us for an easy ride through the countryside, eventually reaching the coast. It took less than forty minutes before we started to see scenes of Mont Saint-Michel in the distance. Everyone "oohed" and "aahed" when it made it's first appearance, which was kind of fun.
We were dropped within walking distance of our hotel, so we meandered over, our luggage in tow. We had booked a great deal at the Hotel Vert, a super clean budget hotel on the main road leading to Le Mont. Our room wasn't ready yet, but they checked our bags, I grabbed my camera gear, and we headed out to see Mont Saint-Michel in all it's glory.
There are local shuttle buses that run back and forth from Le Mont to hotels on the main drag, but we opted to walk. There is a good roadway with a boardwalk that makes for easy walking, which is a nice option. It takes about twenty-five minutes if you're not stopping every six feet to take pictures, so in reality it probably takes double that because trust me – you'll be stopping for pictures every six feet.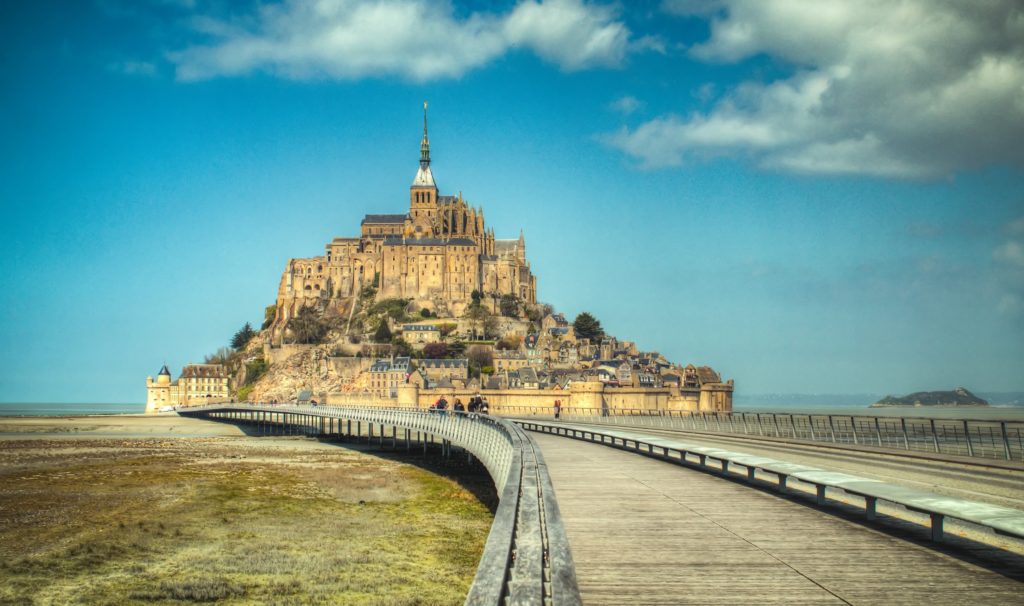 It was a gorgeous early spring day, about 16 degrees, and the sun was shining. Buses and tourists teemed all around the main site, with a huge grouping of students from schools all around Europe. Considering this was the off-season, it was a pretty busy spot – I'd hate to see it in the summer.
We walked through the gates into the main village and began the winding journey upwards, towards the abbey at the top. The main road (or "La Grande Rue") is made of old-school cobblestones, and they've done a nice job keeping all the stores and signage on theme. A note to those with mobility issues – there are 350 stairs to the top of the village, where the abbey is located, so if cobblestones and steps are not your thing, you might want to keep this in mind.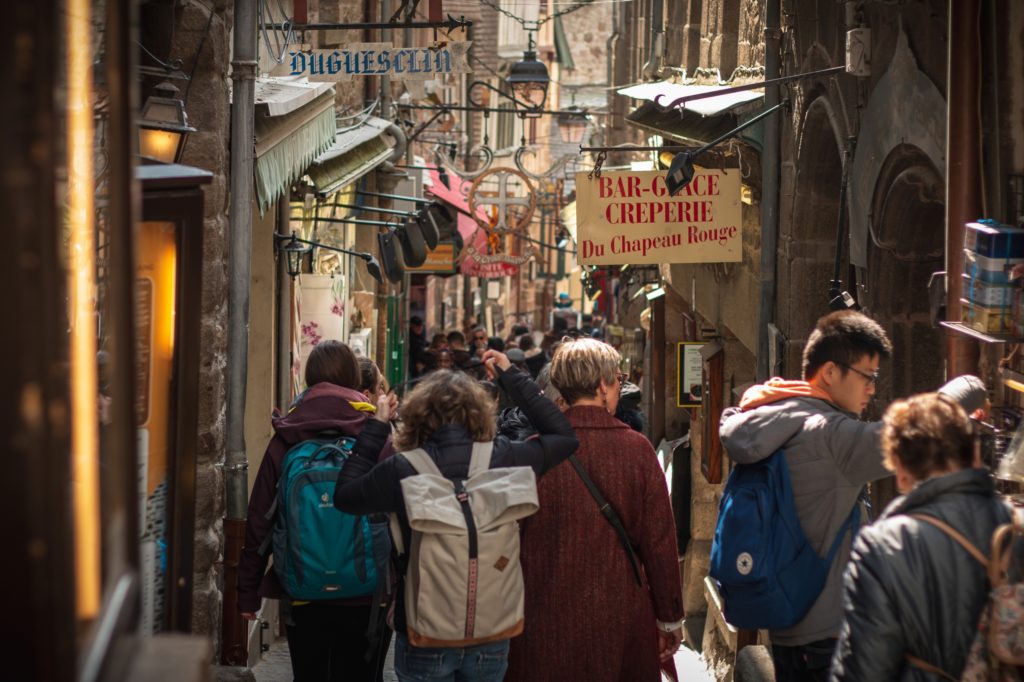 Signs, signs, everywhere signs. They're quite cool and fun to look at…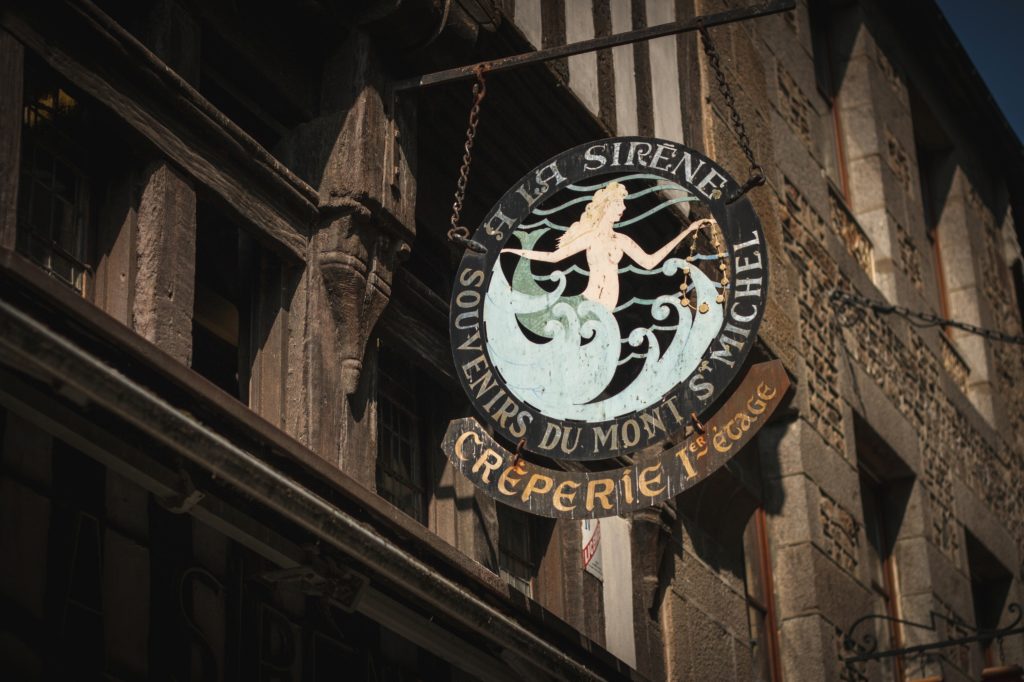 It was midday, so the sights and smells of food were everywhere. Crêpes were on offer around every corner it seemed, but we were having too much fun taking everything in to stop. Either way, they smelled amazing – cooking them along the edge of the cobblestone path is a solid marketing tactic.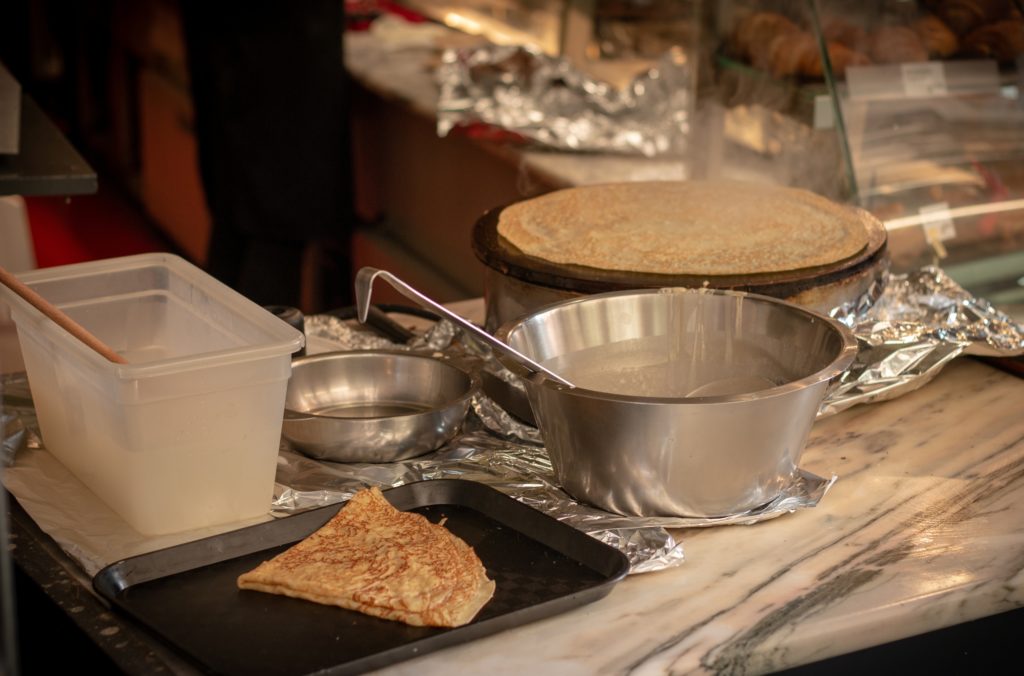 Winding upwards, we found the number of shops and restaurants thinning out. We could start to see views out to the Atlantic, and the famed abbey at the top of the village was coming into sight.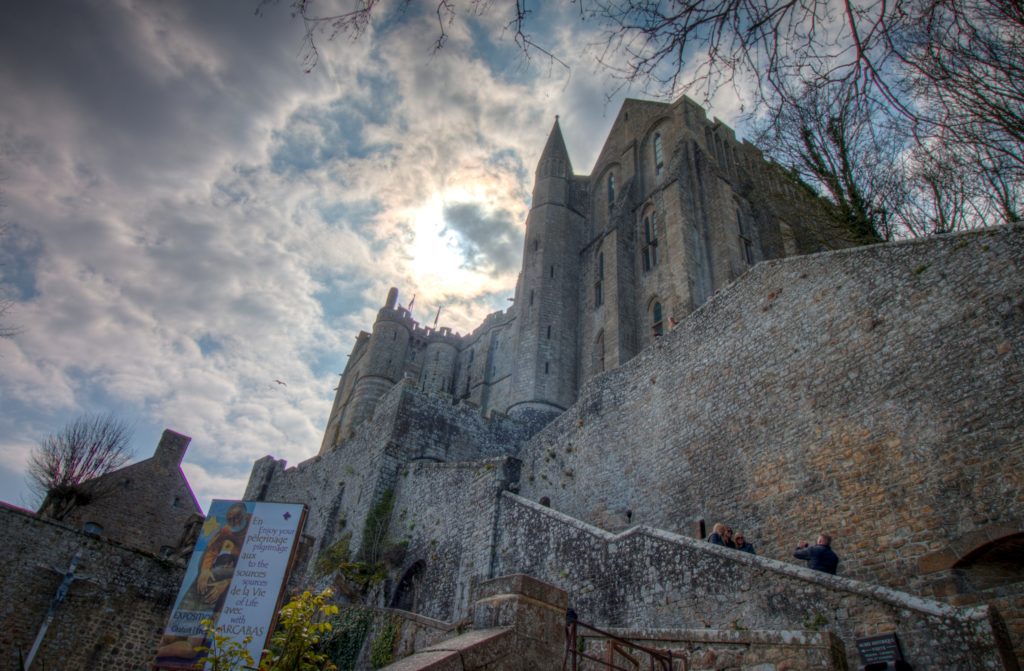 Instead of heading straight up we veered off to the right where you can look out over the ramparts and take in the view of the Atlantic and back towards the town on the mainland.
The views are spectacular. We hung out there for a while, enjoying the light breeze as birds flew over our heads and tried to steal a sandwich from a little kid nearby. The kid was savvy to their antics, though, and always pulled the prized sandwich away at the last minute.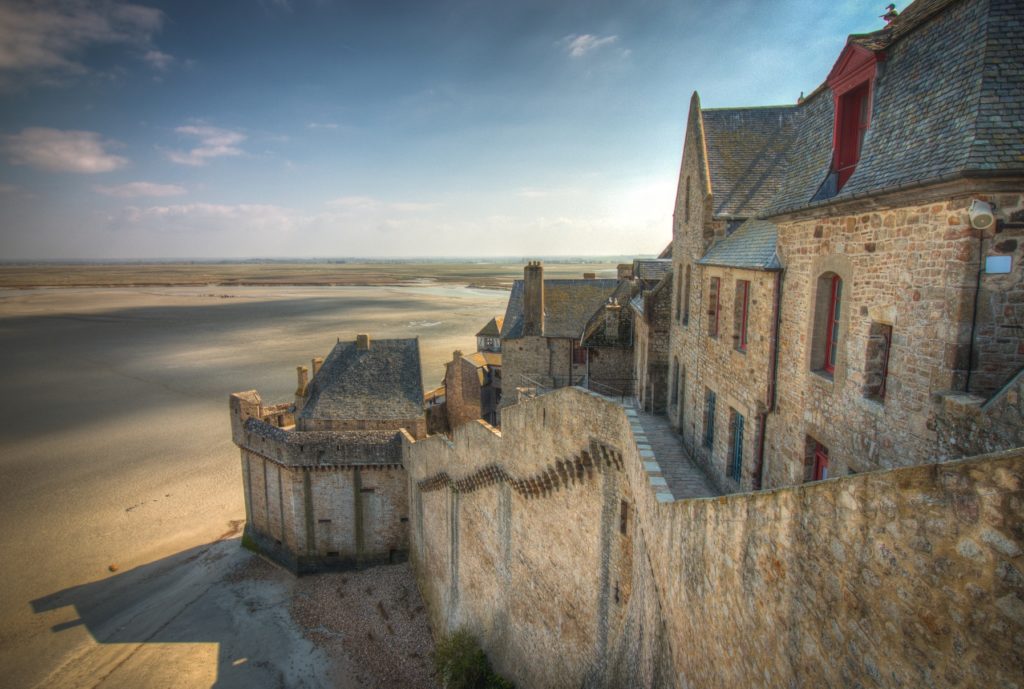 After our break we soldiered on, climbing the final steps up to the abbey. We opted not to go in, but I do hear it's a good option for those who want to explore it. While entrance to the village of Mont Saint-Michel is free, there is a cost for entering the abbey – as of May 2019, the rates are: €10 for adults, €8 for 18 to 25-year olds, and free for kids under 18 (and it's also free for EU citizens or permanent residents of France up to age 25).
Once you reach the abbey you work your way down the other side of the village, which moves faster as there are fewer people and distractions. There are still plenty of places to stop and enjoy the views, though, and if you're into taking selfies and Instagram-able pics to share with the masses, Mont Saint-Michel is your place.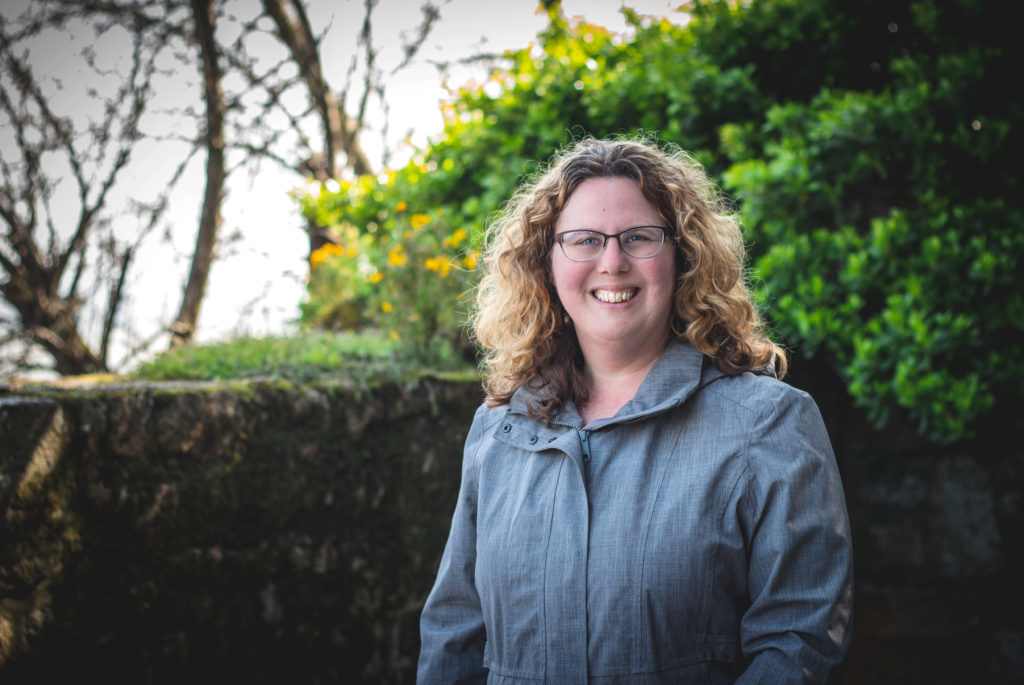 If you follow the expected path you'll end up at the front of the walled village, looking back on the road that brought you out from the mainland.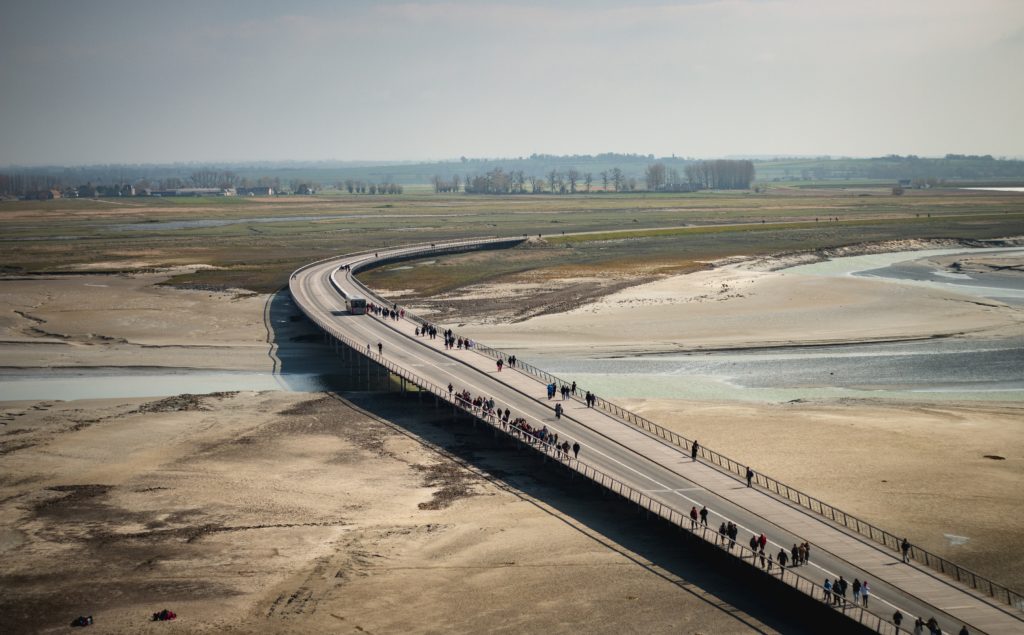 It's a brilliant, relaxing spot to hang out and talk to the birds. Ever since I witnessed the old lady having a conference with her dapper dogs on the train, the idea of talking to animals has grown on me…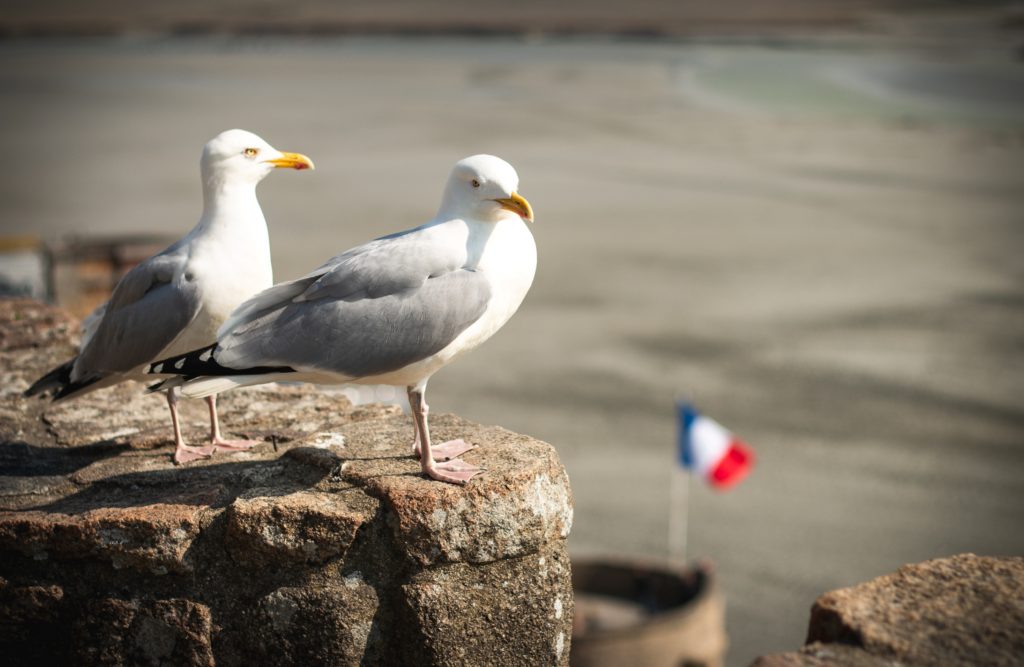 It was getting late in the day, so we could see the tour buses starting to leave the parking lot down below. There was no shortage of entertainment, though, as a school group waiting for their bus were playing a heated game of hackey-sack and a kid of about sixteen took a spectacular dive into the mud. He was absolutely covered. I made a mental note not to engage in competitive hackey sack adjacent to medieval castles when the tide is out. I'm happy to say that to this date, I've kept that promise.
The sun was setting so we went down to the area near the front gate to wait for the big yellow ball in the sky to dip down to the horizon. The village had mostly cleared out by this point, so it was kind of fun to wander around the cobbled streets with no one around. We had the place to ourselves, save a few other stragglers like us. We had made the decision to stay for the night near Mont Saint-Michel so we could enjoy it during the day, at sunset, and at sunrise the next morning. It was a decision I am really happy we made, as we got to see three very different versions of this magnificent place.
Eventually the sun did set, and I got all snap-happy. The village and the abbey all lit up are brilliant, and for those of you thinking about zipping in to Mont Saint-Michel for the day and zipping back out before nightfall are missing a pretty awesome sight.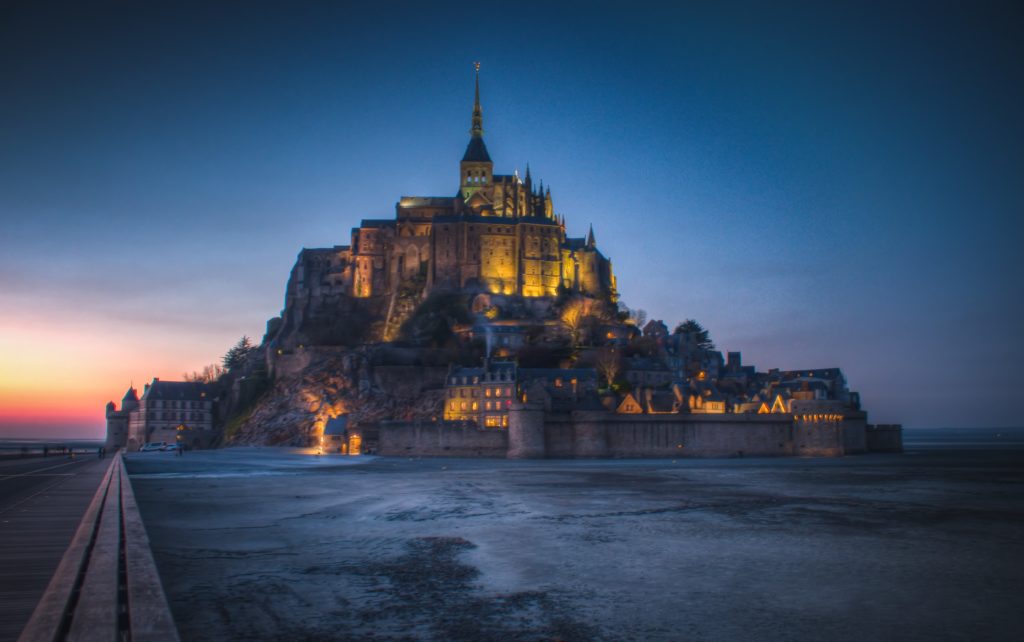 We had had a fantastic (but long) day. We trudged back to Hotel Vert and crashed quickly.
The next morning I woke Angela up at the crack so we could catch the sunrise. Aside from a couple of other very early risers, we had the landscape to ourselves. It was a bit hazy, but we discovered if we ventured off to the right of the boardwalk (to the east) there are some packed trails you can walk along between the grasses. The sun never did give us that warm orange-y glow I value in a sunrise, but it was a peaceful morning with gorgeous views, so who could complain?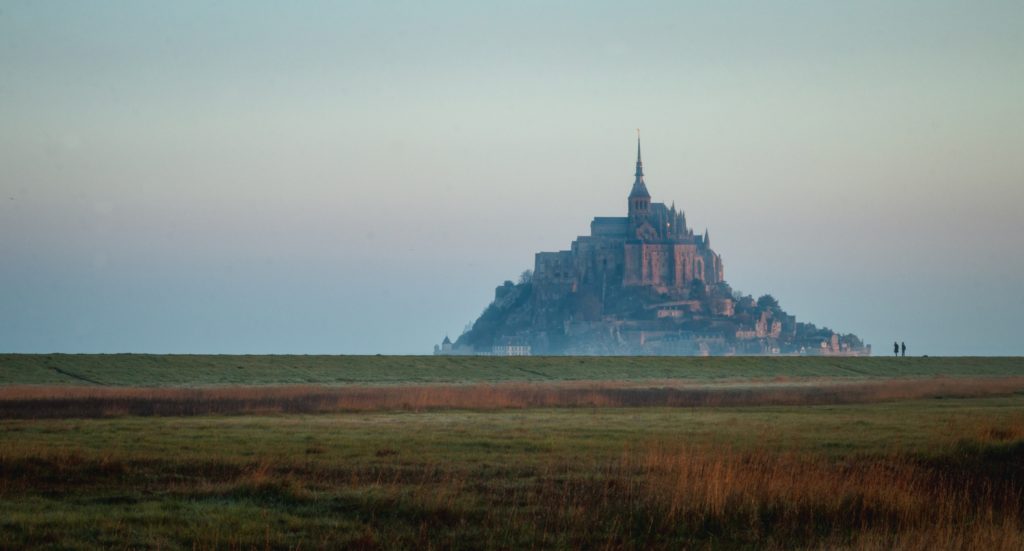 Looking east, the sun seemed to just hover there for a while, and although orange when you looked right at it, it never seemed to cut through the haze around the village of Mont Saint Michel. Even so, it was pretty spectacular.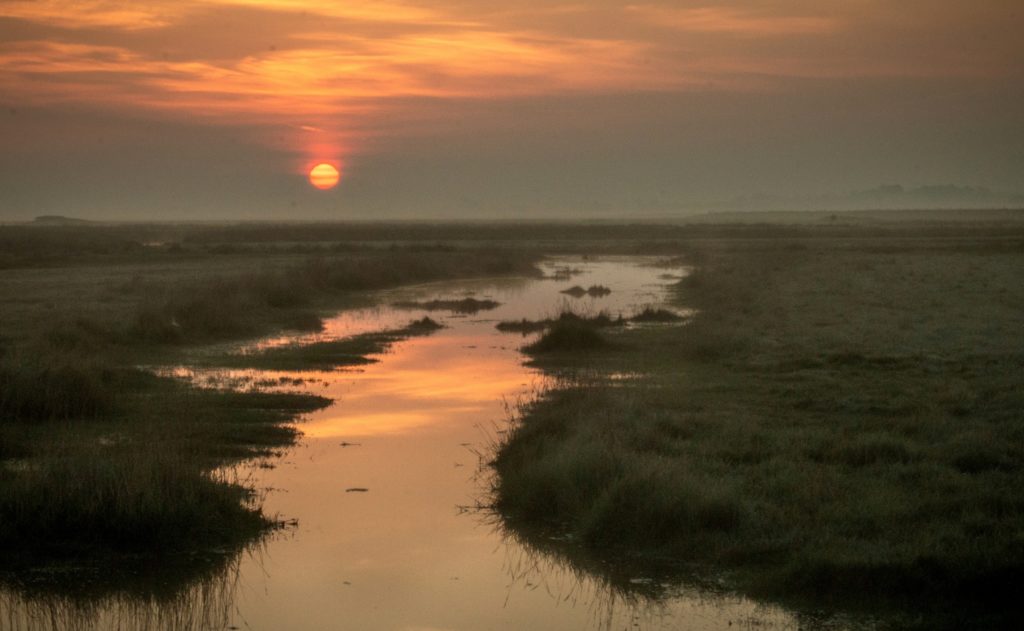 Once the sun was getting high enough in the sky that we couldn't really call it "sunrise" anymore, we ventured back to the main road and crossed over to the other (west) side, where there are a number of good viewing spots.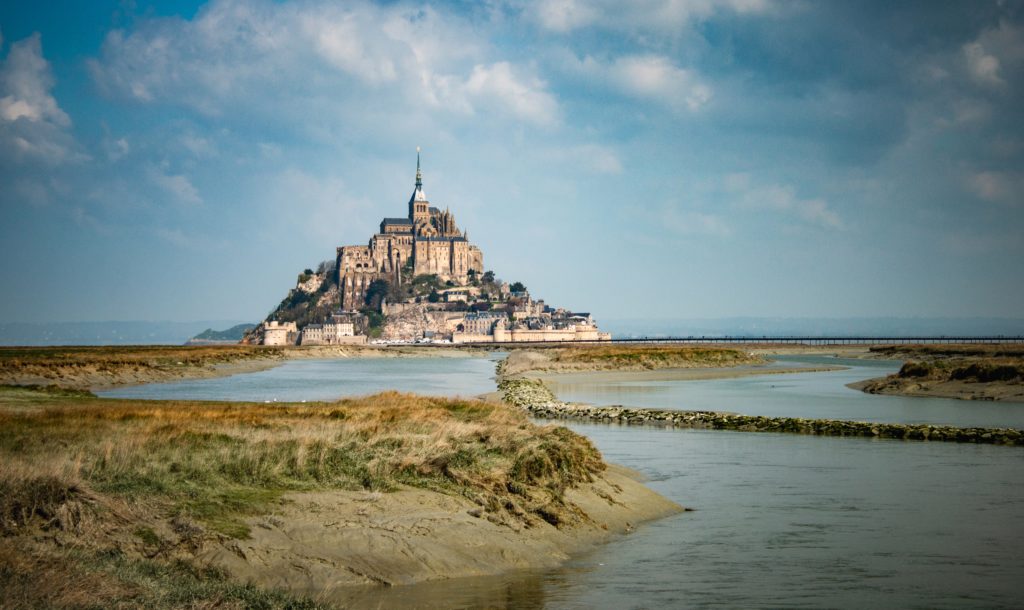 It was getting close to lunch, and we would need to catch our bus to Saint-Malo soon, so we went back to the hotel and checked out. The bus was in one of the huge lots just a few minutes' walk from the hotel. We had booked the night before on the Flixbus website and gotten an unbelievable deal that wound up being just less than 5 euro each, from Mont Saint-Michel to Saint-Malo direct!
Overall, we spent almost exactly 24 hours in Mont Saint-Michel. I've heard people argue about whether it's worth it as a day trip from Paris, or whether it's too touristy…on those points I'll say this – I've traveled a whole heap in my lifetime and I've never seen anything quite like this place. Yes, it can be touristy in the middle of the day, but if you go during the off-season and plan to stay overnight you'll see Mont Saint-Michel in your own time, from all kinds of vantage points, and you can take your time to enjoy it.
If you do go, dig into the history a bit, which begins way back in the 5th century. It has an incredibly long and interesting back story, so when you climb your 350 steps and look out at the Atlantic ocean, you will be one of millions to have done the same thing over hundreds of years. Allow the history wash over you as you breathe in the sea air; feel the camaraderie of generations of explorers, travelers, and conquerers as you stand upon the ancient stones in the Atlantic…then go eat a crêpe.
What are your thoughts on Mont Saint-Michel? Please comment below – cheers!  
Coming soon: Saint-Malo and the Brittany Coast