ICELAND – PART 1
Our plane touched down in Reykjavik on time, 6:40 am, bouncing along the runway. A smooth landing in Reykjavik, I'm told, is rare, and this was no exception. Stirred but not shaken, we breezed through Iceland passport control, picked up our bags, and got ready to hit the road.
Then we saw the line for car rentals at Avis, where we had made our booking. The line was 25 deep, and it wasn't moving. It took an hour to get to the front, and then we understood why – processing each vehicle takes time when they try to upsell you everything from sandstorm and ash insurance to GPS and mobile wifi modules. Things can happen in Iceland, so you have to consider your options, but it's a slow process up at the counter. Avis eventually put us into a VW Polo, a small but feisty hatchback.
We had no plans to hit Reykjavik on the first day, so we blazed past the city, heading northwest for the Golden Circle, and Þingvellir National Park, our first stop. It was cloudy, with some occasional light rain, but the scenery was fascinating. There are hundreds of miles of open terrain, rolling hills with very little vegetation. Every now and then, though, you round a corner and bam! Gorgeous lakes and snow capped hills in the distance.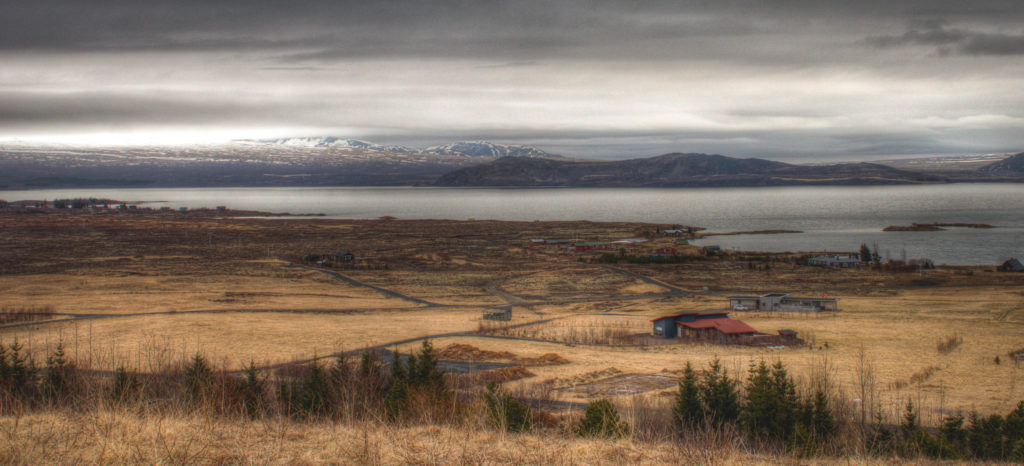 We made it to Þingvellir around noon, behind schedule a bit, but it doesn't matter much when you're on the road; with no hard timetable or work to be done, fluidity of schedule is one of the things I love about travel. We bought our parking ticket from one of the ticket machines and started exploring.
Þingvellir is an important place in Icelandic history. It was the location for Iceland's parliament from the 10th to 18th centuries, and it hosted the world's first parliament in 930 AD. In addition to a long and and interesting history, this park sports spectacular views. The first view most people see when making their way to the entrance from the parking lot: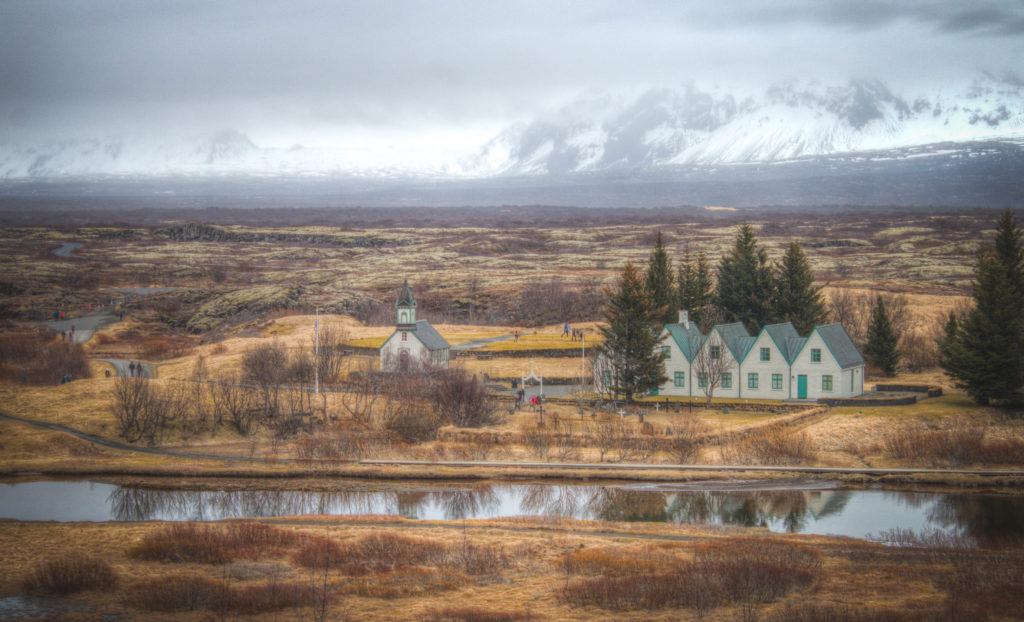 If you turn away from the Shire-esque views you'll find yourself looking straight into Mordor. Due to the crashing of tectonic plates, there's a very cool rift that has formed, creating unique black rock formations.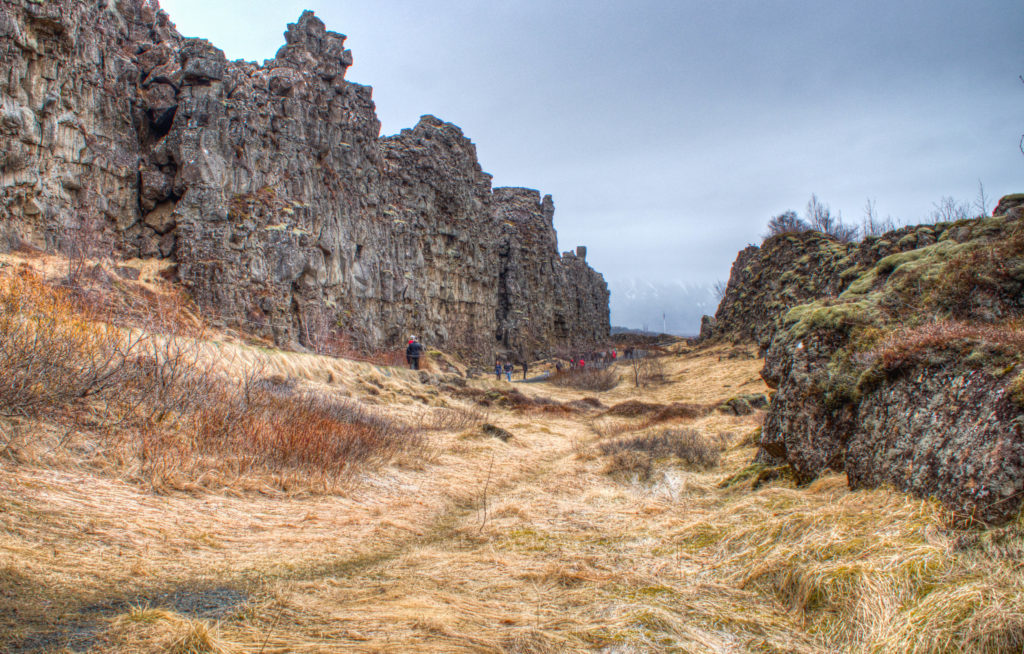 There's a spot in the park where you can scuba dive or snorkel into the Silfra Fissure. We didn't dive today, but on a future trip I would love to. We hiked for about an hour, taking in the views. No matter where you turn, you'll find something beautiful to look at. It's like living in a fantasy world.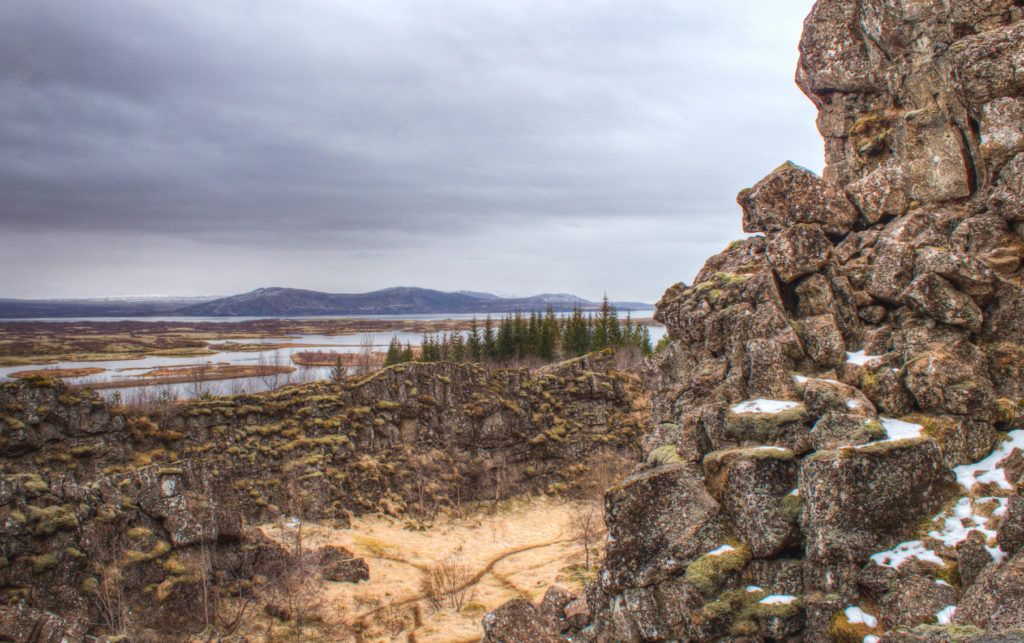 Tip! – if you're not used to hiking up and down hills, it might be a good idea to prepare before visiting Iceland – this park, and many other parts of the country, will test your hill-climbing prowess!
Back in our little VW Polo, we began the journey north towards Geysir, the second major stop on the route. About twenty minutes in Angela yelled out, "Icelandic horses! Stop the Polo!" Never one to skip an opportunity to meet an Icelandic horse, I pulled over.
The horses were wandering on a massive plot of barren land – aside from the fence keeping the horses off the highway, I couldn't see any fences in any direction. No buildings, no people around for miles.
The horses are fun to look at, their horse-mullets the envy of horses everywhere. I expected Van Halen to start blaring out of some hidden loudspeaker as they made their way over to us.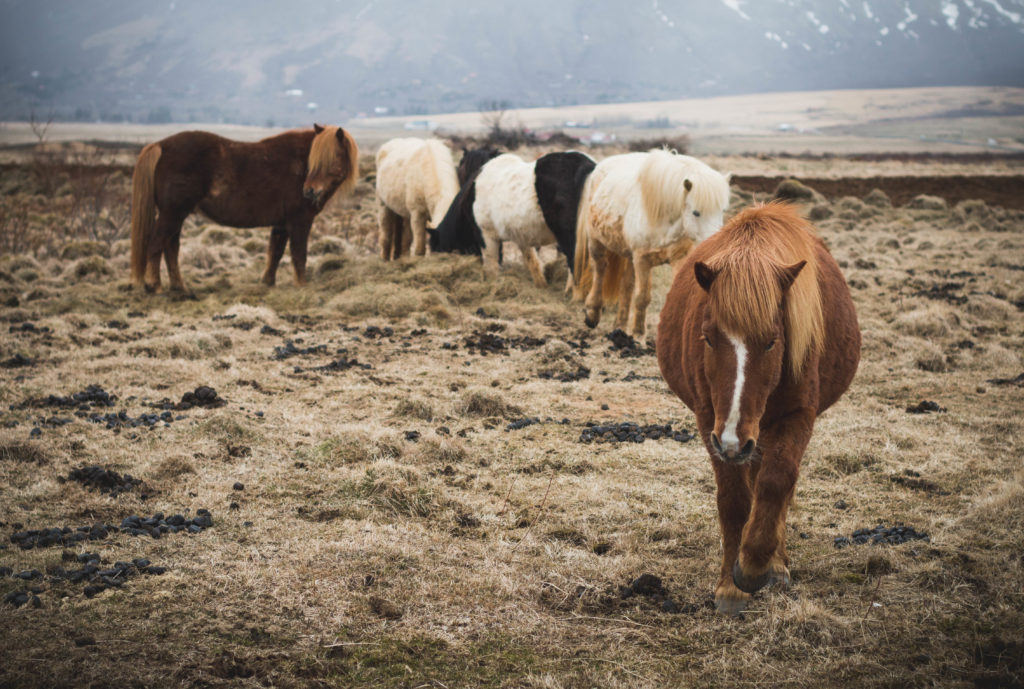 The blonde one was the ring leader (I called him Axl). He was sure I had sugar or some other delectable horse treat for him. I didn't, so we had a nice moment hanging out without the expectation of a transaction going down. I'd like to feel we had a connection, but a few other travellers pulled off the road and busted out the sugar before they were at the fence line. Axl's eyes lit up and he was off, our connection forgotten.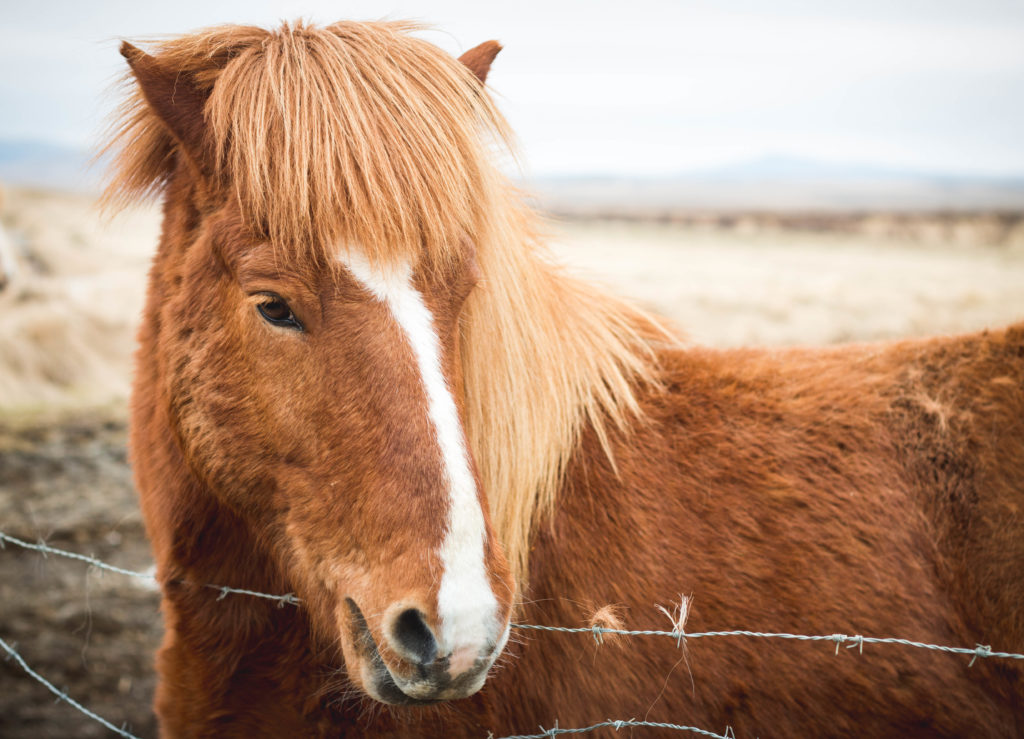 Feeling jilted for the price of a sugar cube, I trudged up the fence line, making my way to the Polo. As I passed Axl he looked away from his new benefactors and nudged me with his nose. Feeling all was right with the world, I made it back to the VW brimming with confidence, ready to tackle the rest of the Golden Circle.
Back in the car, we drove through rain and some brief snow, arriving at the Strokkur Geysir (geyser). You can see the geyser before you get there, plumes of steam, water, and debris blasting skyward as you drive up to it. This geyser comes with a full support system – restaurant, shops, parking lots, and restrooms. The lot was almost full, which was surprising, as we hadn't seen any other cars for almost an hour. I guess they were all here.
When you walk up towards the main geyser, there are dozens, it not hundreds, of small bubbling pools, the water heated to between 80 and 100 degrees C.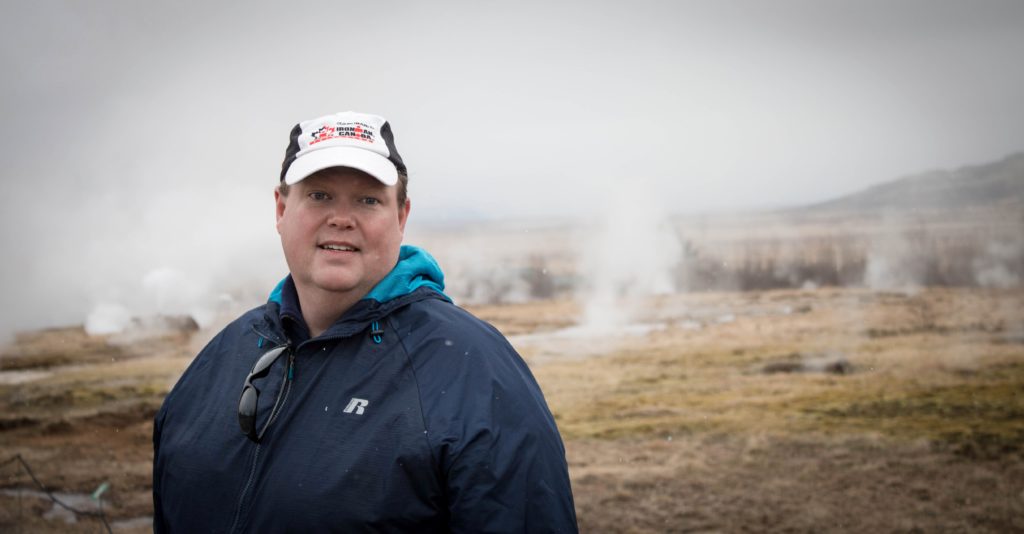 There are multiple signs saying that the water is hot and that it's a pretty good idea not to touch it – after all, the nearest hospital is 62 km away. Even so, we saw at least six people do it, each of them exclaiming something like, "Yow! That's HOT!"
The geyser itself is best served by video. I took photos, and they're okay, but I think video better expresses the power of this stop's main attraction. I'm not a great videographer yet – I'm learning – but I thought I'd give it a go. The video below opens with a few shots of hot pools, followed by the geyser:
When the geyser erupts there's this great release of energy and everyone watching claps, laughs, or cheers. The smell of sulphur fills the air, and you might get a bit wet depending on where you're standing. It was snowing pretty steadily while we were there, so a bit more moisture didn't matter much.
After checking out the gift shop (nice, but like everything in Iceland, prohibitively expensive) we jumped back in our trusty Polo and headed further north for Gulfoss.
Arriving there about twenty minutes later we were tired, and the rain was coming down pretty hard. But we were excited because I'd seen pictures of Gulfoss and really wanted to experience it for myself. Despite the rain, we weren't disappointed.
There's a bit of a walk from the parking lot to the main viewing area, but it's well worth it. This waterfall is stunning.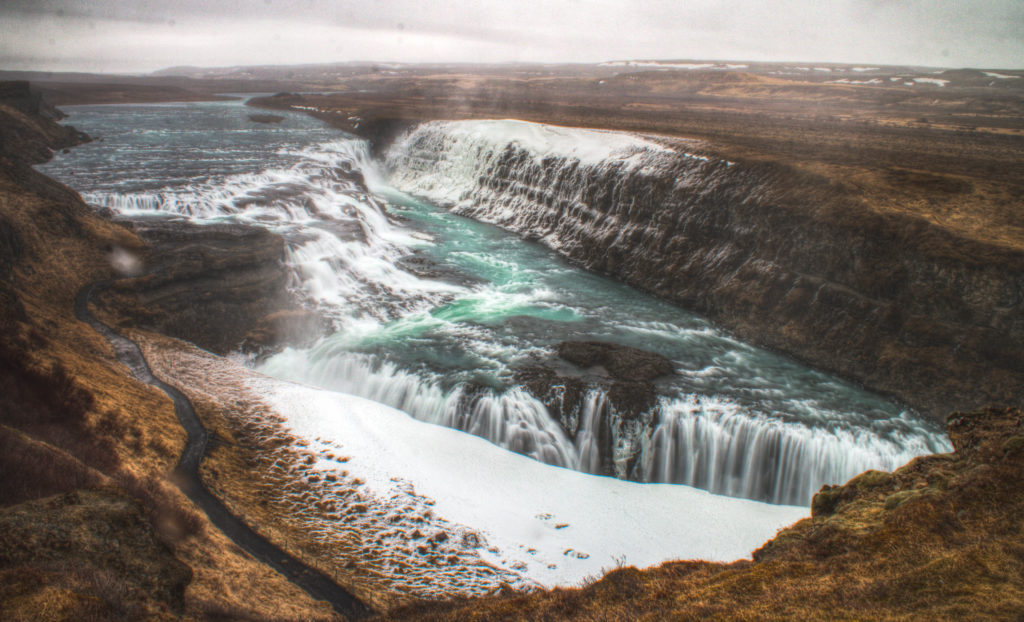 You have an opportunity to view from a few different angles and levels if you're willing to hike a bit. No matter where you view it from it just feels epic.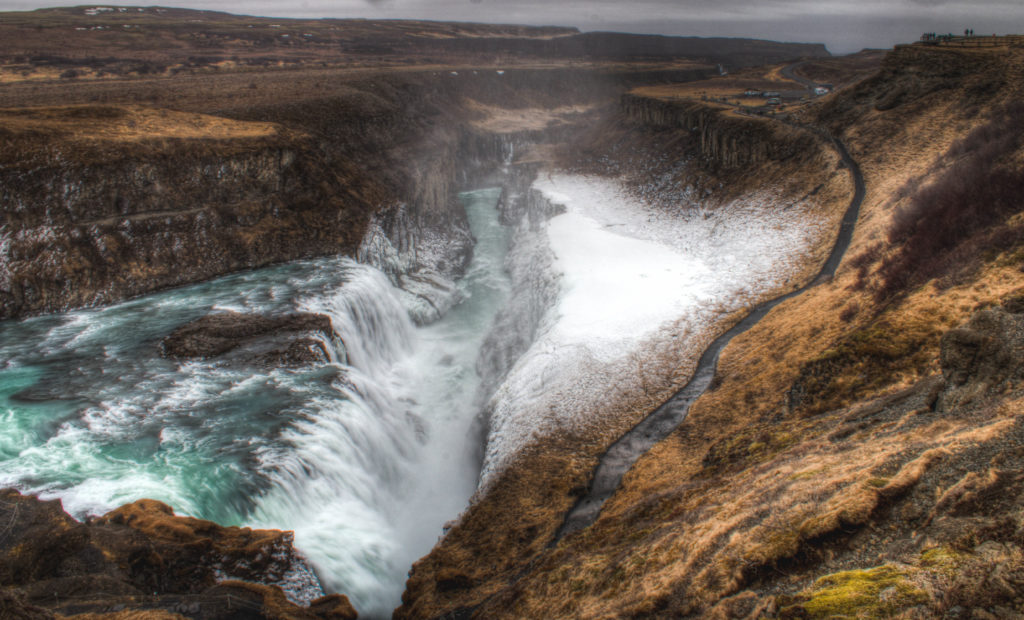 Gulfoss didn't disappoint. I put my camera away for a bit and Angela and I just enjoyed hiking around the falls and taking it all in. We snapped photos for other couples, spoke to a guy from Vancouver wearing a Colorado Avalanche jersey, and hiked up and down the pathways. One rule I've instituted with each place I visit now is this: put away the camera, and enjoy the journey. It makes you appreciate each place that much more, and the photos you do take will have more meaning.
Our time at Gulfoss done, we hopped back in the Polo and headed south for the Kerid Crater Lake. There was only one problem – the directions we were given were wrong, and we wound up taking a wrong road. Since there are hardly any highways in Iceland, I felt fairly stupid for having made the mistake, but we righted the ship before too long. It was dark now, though, so we decided to skip Kerid and head on to Selfoss where we had an Air BnB booked for the night.
After being awake for thirty-six straight hours, we were exhausted, Our first day in Iceland was incredible, and we couldn't wait to get some rest so we could launch into day two.
Next up: Iceland's south coast and the journey to the Jökulsárlón glacial lagoon!
Have you explored Iceland's Golden Circle? What did you think? If you haven't, what about it interests you? Comment below!