"Do you want to head out to Giverny? See Monet's Gardens?" my friend Brendan asked. "It's a great day trip from Paris."
We were sitting down to a killer dinner of raclette, and had some time to chat while our cheese melted in tiny pans over small burners in the middle of the table.
"Tell me more."
"About an hour away, you can see the gardens he painted. We can borrow a car from a friend."
We were staying with my best friend of many years and his lovely family in their apartment just outside the city.
"Sure, why not."
I obviously didn't know anything about the gardens before this. I don't typically go hunting for large displays of flowers when I'm on the road, and the only thing I'm good at when it comes to plants is killing them. But I'm a curious guy and I knew enough of Monet's work for the idea of the gardens to pique my curiosity. Plus, I always dig seeing new places I've never been to before and Brendan had never steered us wrong in the past. Angela was also keen, so the next day we were up at the crack of ten and out the door.
The drive out to Giverny was relaxing, mostly because I wasn't driving, and the weather was perfect. The French countryside rolled by as we made our way west (and a bit north) out of Paris, the density of the city giving way to rolling hills and large farms. We were five, including Angela, myself, Brendan, and his two brilliant kids. The trip took about an hour and twenty minutes, and we only got lost once, so that was a win.
Parking was a gong show, with tight lanes, scarce signage, and little direction from staff. Eventually we found a spot in a field across the street from the Monet house, but it was done with no small effort. If you do drive out to Giverny to catch Monet's Gardens, do so with patience when it comes to parking – apparently other people know about the gardens, too.
Car stowed for the day, we went in hunt of food and found a hot dog and galette stand near the Monet site. French hot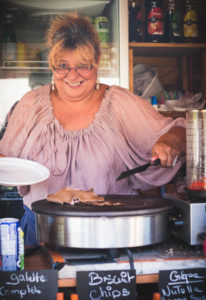 dogs are quite cool – they take a long, fresh half-baguette and jam it onto a metal stake, which creates a skinny hole through the middle of the bread. They then add your condiments, squirting ketchup, mustard, etc into the hole. Finally, they grab a wiener, about a foot long, and stick it into the baguette's center. I'd never seen anyone do it like that, and had to admit I was impressed to see a new way to throw a hot dog together. We got some 'dogs and savoury galettes, and sat down in the shade, happily munching, fueling up for our day.
The lovely lady pictured was our server. She was friendly and understood enough of our French to get us the food we had been hoping for.
Fed and fired up to get our Monet on, we headed across the street to the house where they were selling tickets for the gardens and joined the snaking line that was roughly seventeen football teams long.
We waited in the hot sun, trading jokes and riddles, passing the time, when a staff person for the gardens came by and pulled everyone from the back of the line to a super secret entrance around the side of the house. She was brilliant, and easily my favourite person in the world in that moment. We paid our entry (about 10 euros each) and began exploring.
Monet's Gardens are actually two very distinct gardens you can walk through and enjoy, along with his house if you're so inclined. On one side of the street is the water gardens, on the other, the regular flower garden and orchard also known as the Clos Normand. He moved into the house in 1883, started improving the existing flower garden soon after, and bought the land across the street for the water garden ten years later.
It was here, the water garden, where we began.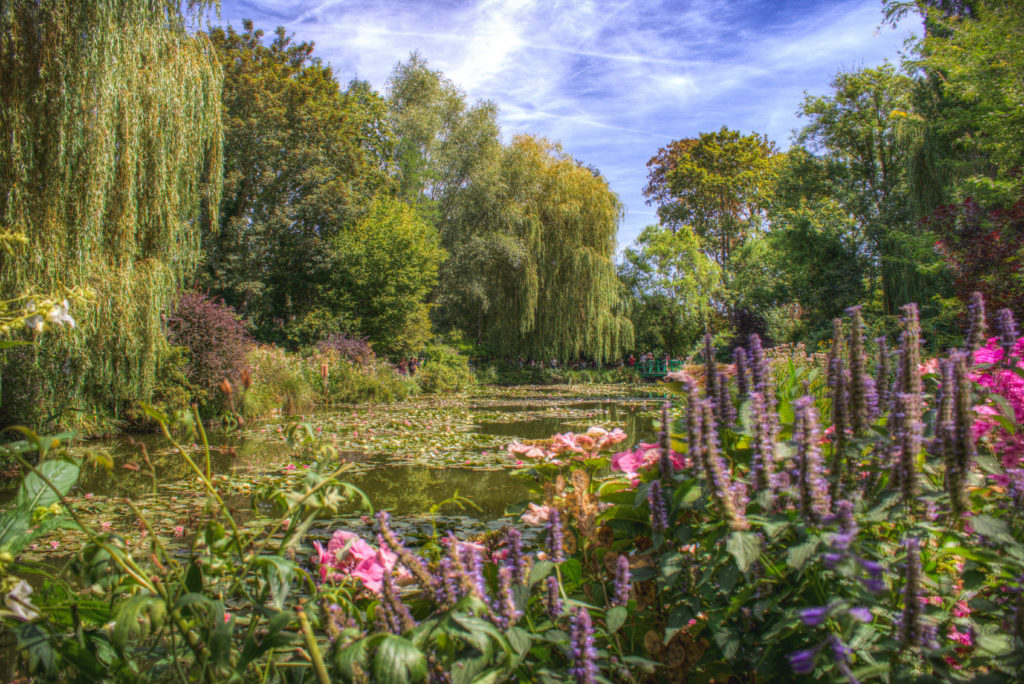 It's easy to see how the gardens inspired his style of painting, and it's easy to see why he was inspired to paint in this ridiculously gorgeous and serene environment. Of course, there's a bit of a chicken and egg thing going on here, because he had the gardens and pond built to his specifications; so he, the architect of the water garden, was then inspired by the water garden to paint, so he painted it. I didn't know that before this trip, and found it kind of fascinating.
Walking around the water garden feels like you're walking through history. If you've ever seen Monet's work, it feels like transporting yourself through time and into a space that is still owned by the impressionist master.
I had appreciated impressionist art before this trip, but seeing one of the places that Monet used as the driving force behind many of his paintings helped me to understand it at another level. In short, these gardens were meant to be painted in the way they were painted.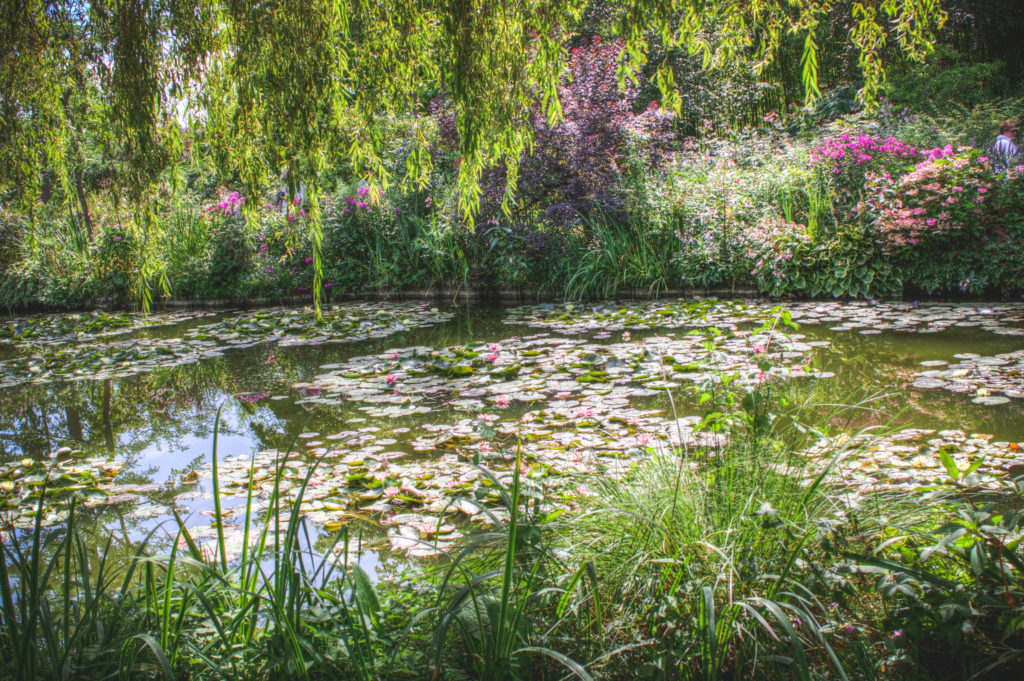 We really enjoyed the water gardens, each scene a bit more gorgeous than the last.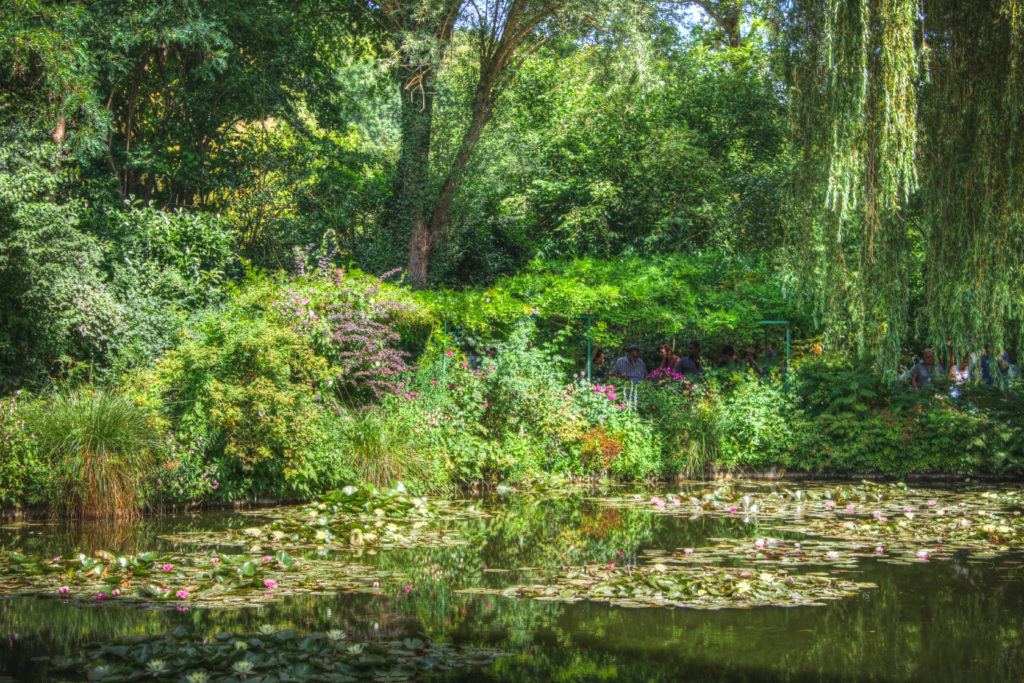 If you're into macro photography, you could easily shoot flowers here all day long. It's not really my thing, but there were plenty of macro enthusiasts zipping about.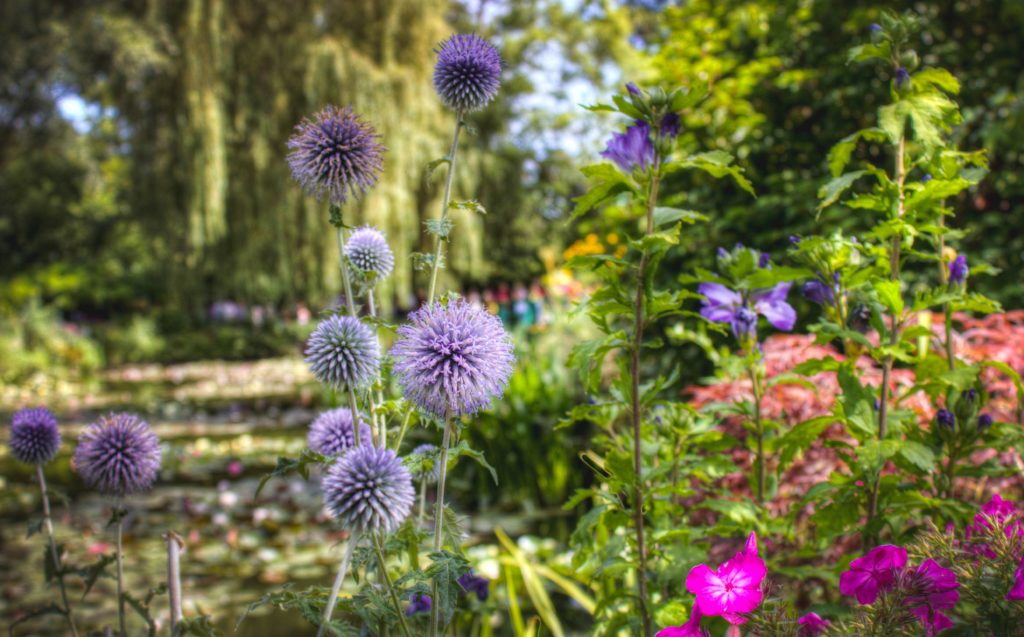 It took us about an hour to walk around the water garden, time well spent. I would have been impressed if the water garden had been the whole thing, but the gardens at the house awaited.
We crossed the street to the flower gardens at the base of the Monet house, navigating our way through the crowds. You can't go through every row of the garden, but they have excellent paths around the outside and the views are fantastic. I wasn't expecting much, really – I felt like the Clos Normand would be like a consolation prize after the stunning water garden, but I was pleasantly surprised – this is one mother of a garden.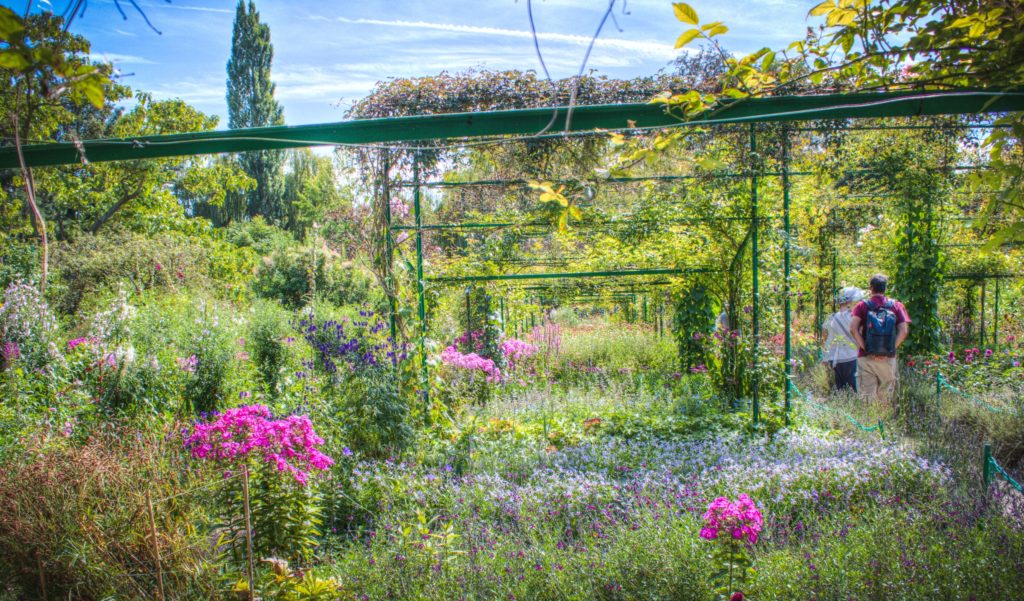 Wandering through feels a bit like living in a fantasy. I wanted to drink in the colours and sip mild herbal teas while Scarlett Johannson narrated Harry Potter novels quietly in my ear. It's the only time I've ever had this craving, so that must be saying something. I don't even drink herbal tea.
In the garden's center there's a wide path where a wedding party was stopped for photos. I am guessing there were plenty more following this one – I can see this garden as being wedding party crack.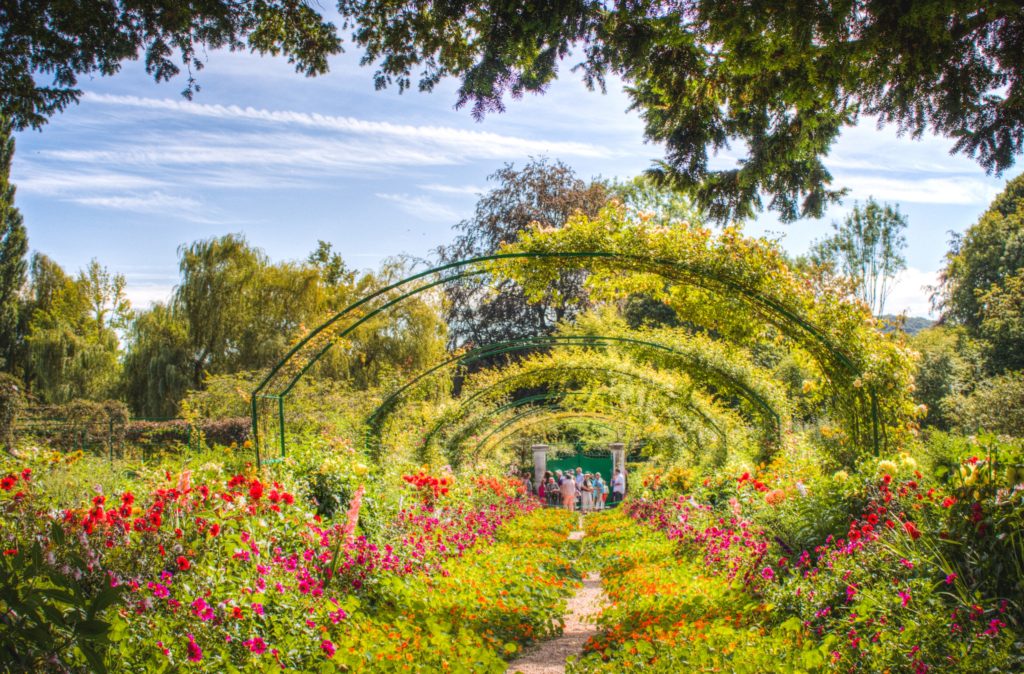 There are a few fantastic, massive trees on the property that I really appreciated. I overheard a guide saying that the trees were left there for Monet's wife; she liked the trees, and he likely would have replaced them with some rare bed of flowers if he'd had his way. I'm glad she fought for them – they add a whole other dimension to an already impressive space.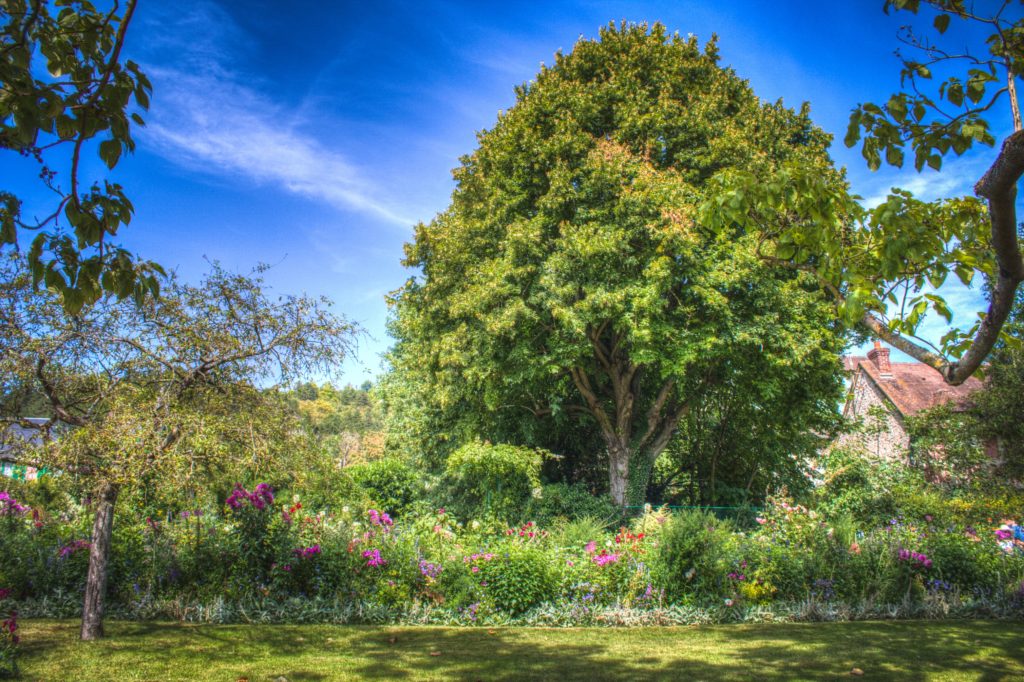 Finished wandering around the gardens, we took a look at the line to tour the inside of Monet's house. It was at least an hour long, and we had really only come for the gardens anyway, so we declined. Tired but happy, we jumped back in the car and motored back to Paris.
I went to Monet's Gardens without knowing what to expect. In the end I found it well worth the trip. If you're an art or history buff it will have extra special meaning, but it's quite a sight either way. My advice? Get there early, pack your camera, have a hot dog, and expect to move slowly through the crowds – at first it might be a bit of an annoyance, but it forces you to really take in all of the gardens, and that's a good thing.
How about you? Have you checked out Monet's Gardens? If so, what did you think? Comment below – cheers!