ICELAND – PART 2
Our first day in Iceland had been fairly epic, so when we awoke on day two we were fired up to get out there and explore. Our Air BnB hosts in Selfoss, Ethna, Chris, and their family, made us a tasty waffle batter for breakfast, so we cooked up some quick, delicious waffles and packed up. They also sent us off with a goody basket full of treats, so we were well stocked for the long day of driving ahead. We were thrilled with our stay there, and if you're looking for a great Air BnB option in Selfoss, this is your place.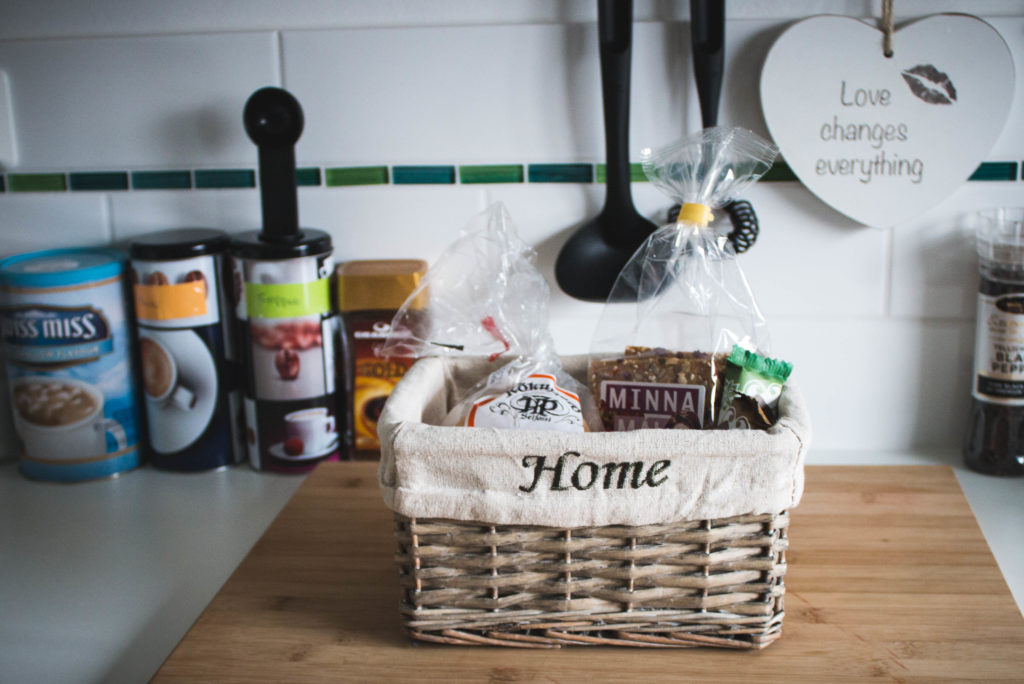 We hit the road around nine, making our way out of Selfoss, heading southeast on our way to Skogavoss, Vik, and ultimately the Jokusarlon Glacial Lagoon. We needed gas, so we stopped in Hella to fill up the car and hit a grocery store. It's good idea to keep your tank full at all times – in Iceland it can be hours between service stations, and the weather can be pretty ugly at any time of year, so manage your fuel well lest you get caught on empty in the middle of a snow / rain / sand / ice storm.
Everything you've heard about how expensive food is in Iceland is true – it's absolutely unreal. We knew this going in, so we had brought peanut butter and a bunch of Clif and Power bars with us. In Hella we got some bread for sandwiches, water, and a few other odds and ends. It was a good move – peanut butter sandwiches became a staple for us in a land where a bowl of soup costs $20.
Once leaving Hella things became very rural. There really wasn't much to look at for the first bit, but the terrain changed quickly about half an hour into the ride. We started to see water, black sand, and hills rising on the horizon. And then Seljalandsfoss unveiled itself.
"Foss" is the Icelandic word for waterfall, and as you drive the south coast you'll see dozens of them. We had been on the lookout for the famous Skógafoss falls, but as we saw a massive set of falls fill up our windshield, we knew it was too early for Skógafoss – we wouldn't hit it for another half hour.
"What falls are those?" Angela asked, her eyes wide.
"Not sure, let's find out."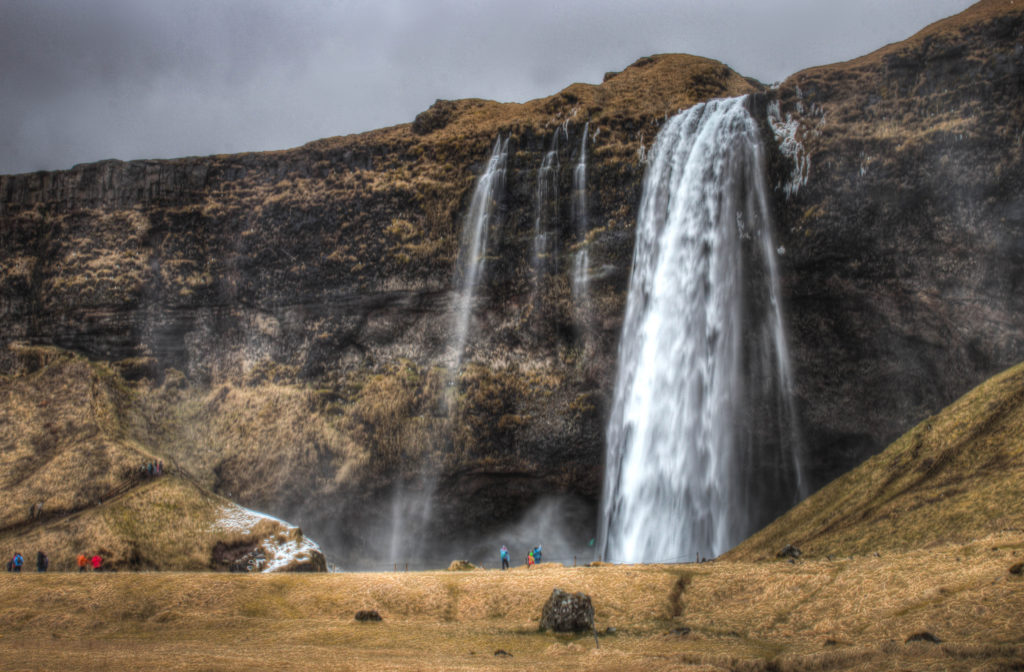 Seljalandsfoss is located about twenty-five minutes west of Skógafoss. People don't talk about these falls quite as much as they do Skógafoss, but these falls are pretty magnificent, and well worth the stop. I hadn't written Seljandsfoss down on our trusty map, so I had kind of forgotten about it after leaving for Iceland, making it a "bonus foss" of sorts for us.
You can explore for a few kilometres, where you'll actually find three distinct falls, well marked trails, and an opportunity to venture behind the main falls. If you do this, know you'll get wet. Not a little bit wet. Super wet. Think "blue whale doing a belly flop into your backyard pool while you stand in the shallow end" wet.
After about forty-five minutes it was raining pretty hard, the wind had kicked up, and it was cold. I didn't mind the weather much, but keeping my camera dry was a bit of a trick. I failed, it got wet, but it survived like the rest of us.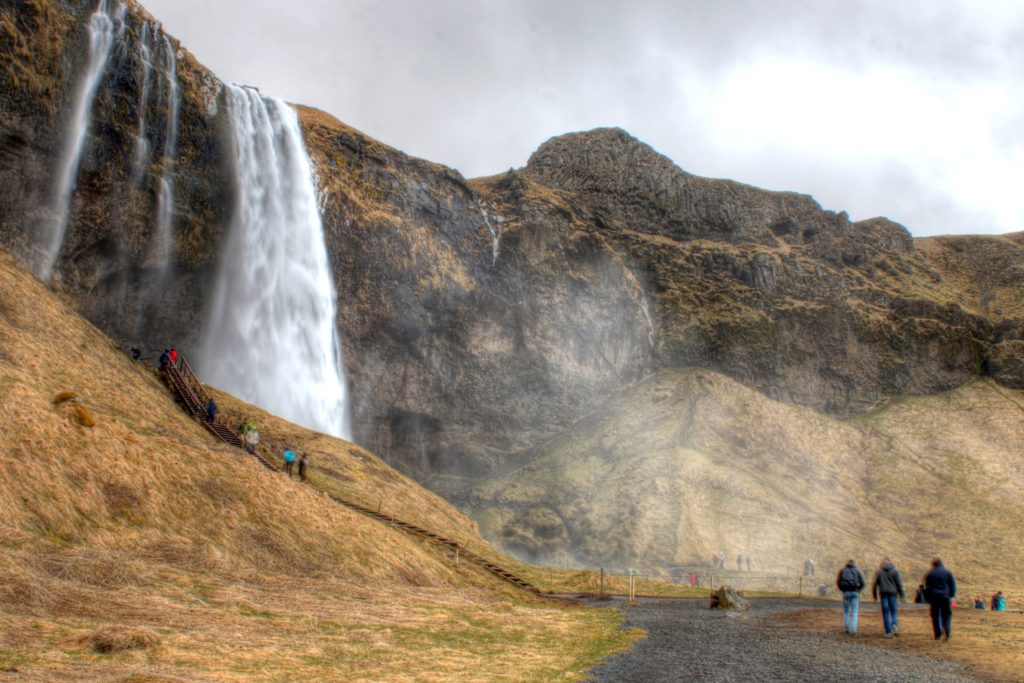 We jumped back in our trusty VW Polo, blasted the heat, and powered through the rain towards Skógafoss.
"If those falls aren't the most famous around here," Angela said, "I wonder how magnificent Skógafoss will be?"
The answer? Pretty damn magnificent.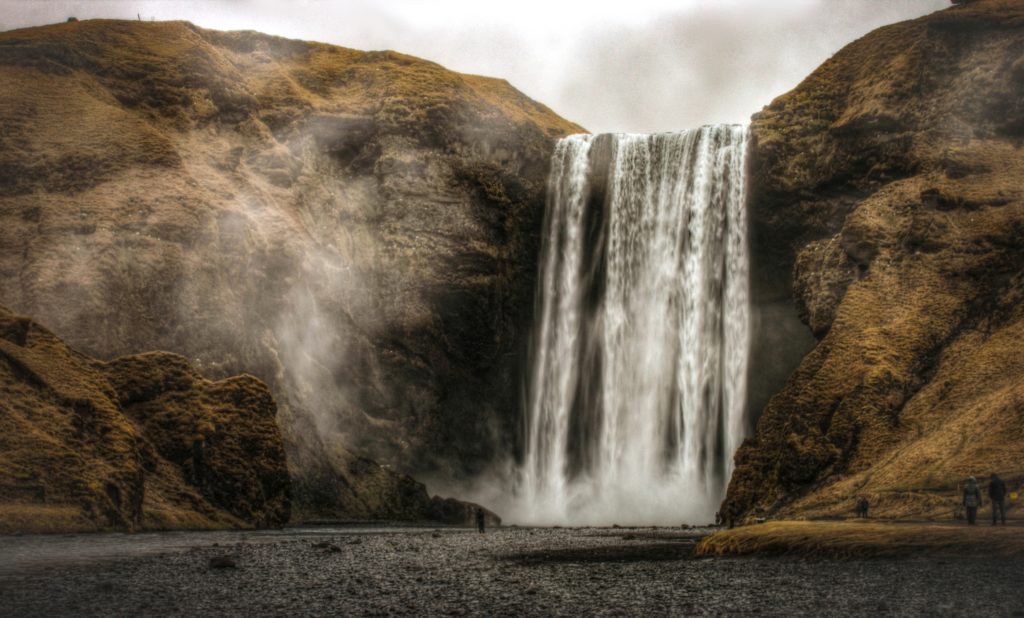 These falls have a width of almost 50 feet and a drop of about 200 feet. As you approach the base of the falls, the noise slowly ramps up, from a dull roar to a sound akin to rolling thunder. As outdoor nerds, we love falls like these, but this was not the day I was hoping for. It was pouring. I was admittedly disappointed, as I'd thought about shooting these falls for weeks, but the rain made it almost impossible. The reality in Iceland is that weather is always a factor, so you have to take what you're given. Angela and I loved Skógafoss anyway, even if we had to battle the elements. A bad day at Skógafoss is still a pretty great day.
Soaked, we got back in the VW, dried off as best we could, and took off for Vik, our next planned stop.
Along the way we watched the terrain change, cliffs and waterfalls on our left, water, black sand beaches, and some really fascinating hill formations on our right (south). The road started to climb, and we made our way through some rolling hills with respectable, steep grades. Around 2 pm we rolled down from the hills and into Vik, a small coastal town with some very cool scenery.
The first thing you see when you enter Vik is a small church perched upon a hill. This church looks out over the town below and the North Atlantic to the south.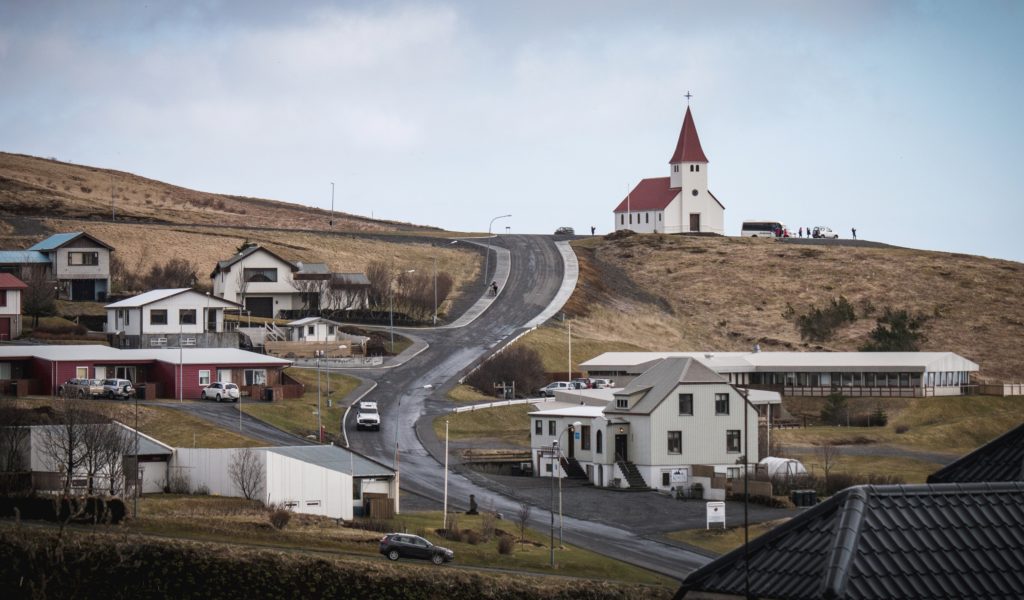 Making our way down the hill and around the corner, we caught sight of the North Atlantic, a massive black sand beach, and most importantly, an N1 gas station where we were in need of water and another fill-up for the Polo. Getting out of the car I turned to my right and looked into a scene straight out of Pirates of the Caribbean.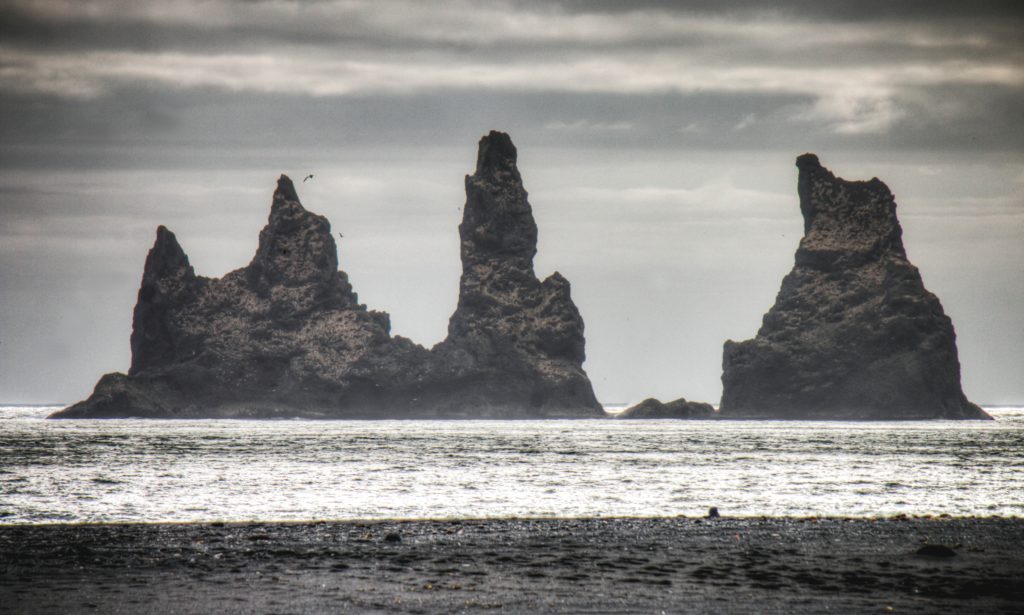 The black sand on the beach looks muddy, but it's amazingly light and doesn't leave any residue on your hands when you pick it up.
We walked the beach for a bit, enjoying the waves of the North Atlantic as they crashed into the shore. The rain we had been experiencing earlier was gone, giving us a (short) reprieve.
Fuelled up and good to go, we began the long stretch to Jökulsárlón.  We had been told that the total drive time from Selfoss to Jökulsárlón is about four and half hours. The reality is quite different, because we (and I imagine most people), stopped over and over again when we came across something awesome. And awesome in Iceland happens a lot.
The other thing slowing you down is weather – we had heaps of rain, a bit of snow, and even a short sand storm. It's tricky driving, and there's no space to move. The highway is okay, but there are no passing lanes and no shoulders, so things are tight. Bridges are single lane, so if someone is coming from the other direction you have to decide who's going to go first. I called it "Icelandic Bridge Chicken" but I'm not sure if that's the official name.
We stopped for a few more unknown but brilliant falls and to take some other photos. It's hard not to stop all the time when the landscape looks like this: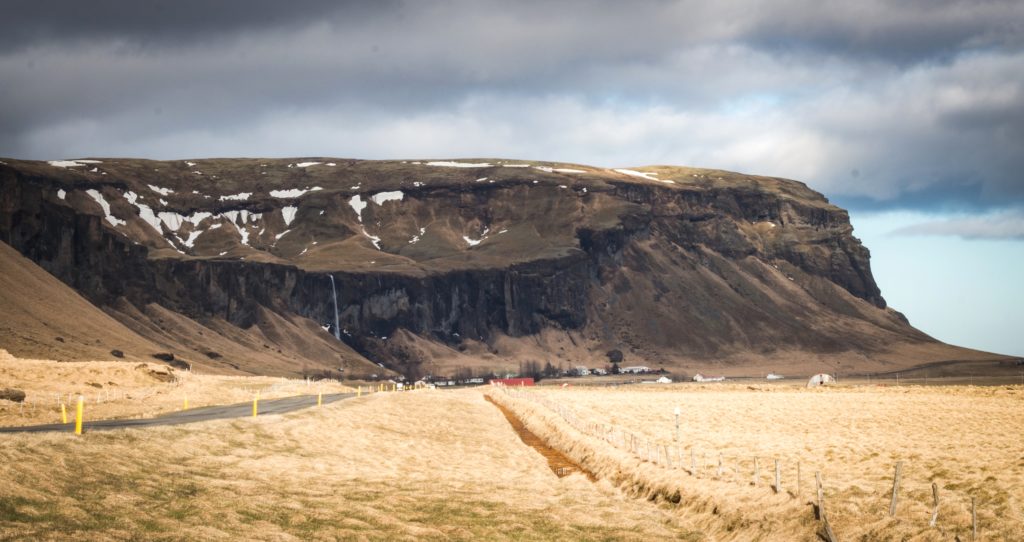 Motoring along, we passed villages like Hof, which, when we had seen it on the map during our research, looked bigger. I thought maybe there would be a hotel or a few guesthouses in Hof; driving by, I learned why there weren't many options. You can count every structure in Hof on your fingers and toes. To call Hof a small town is to completely neglect words like "miniscule" and "microscopic". It looked like a very nice little village, but don't expect Hof to bail you out if you need gas or a place to stay.
There's a long stretch of fairly boring driving at the end of the trip towards Jökulsárlón (despite the scenery); by this point we were tired, it was the end of the day, and we just wanted to get there. We saw a few cars pulled off to the side of the road, so we did the same, grabbed our gear, and hiked over a large hill to get to the lagoon. To say our enthusiasm was reignited is an understatement – at the risk of spouting a cliche, the lagoon was breathtaking.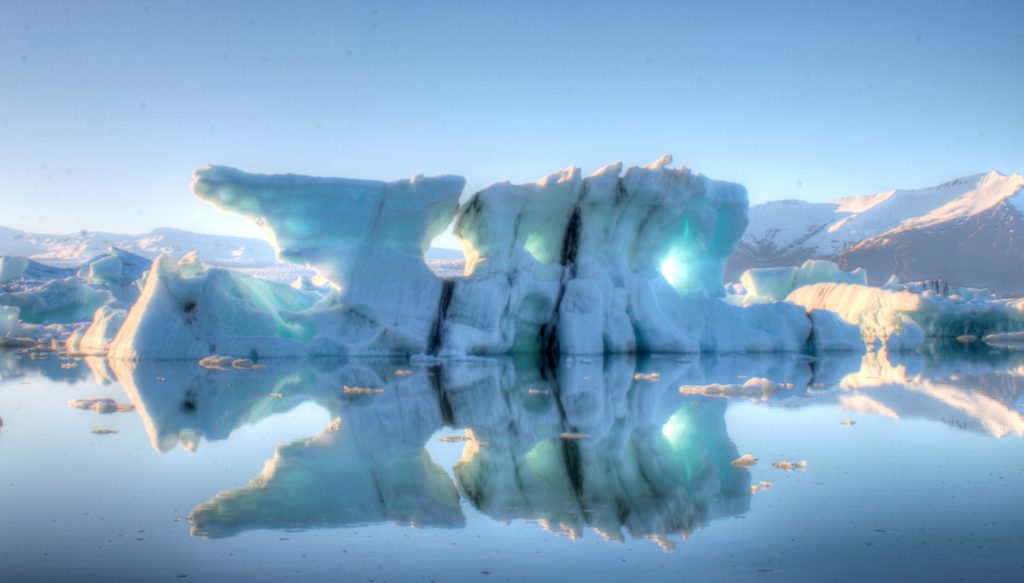 We were in a bit of a rush, as we needed to get to our guesthouse at Skalafell to check in, but I didn't want to leave. I knew we were coming back the next morning, but still, the weather was good so I wanted to stretch my time out as much as possible.

The light was continually shifting and changing as the sun set. Every now and then a large chunk of ice would flip, crashing into the lagoon, creating a sound like rumbling thunder.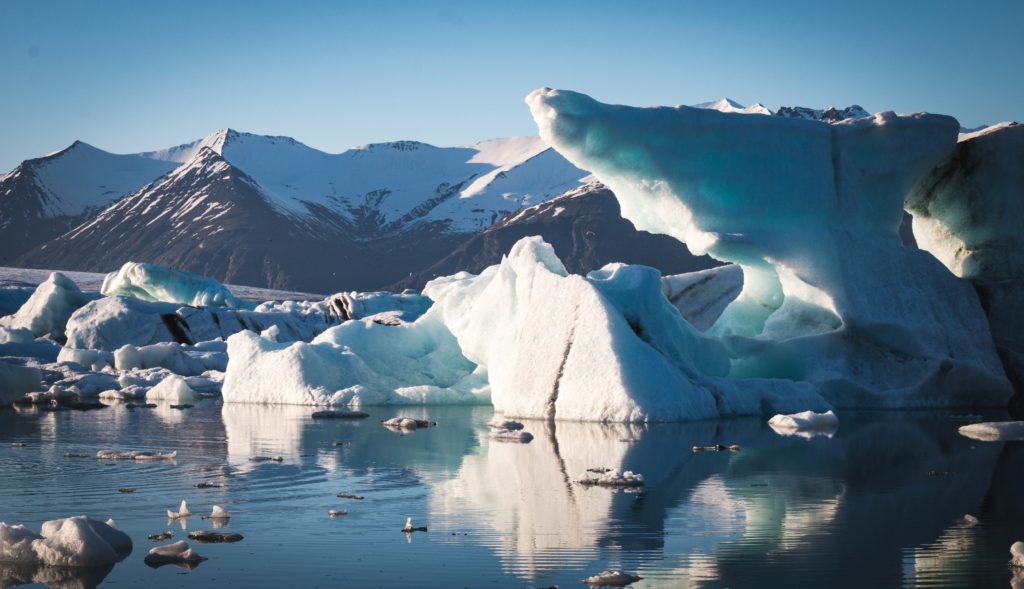 As it was late in the day we were the only ones there. It was quiet, aside from the moving ice, a serene and magical place to spend the end of our day.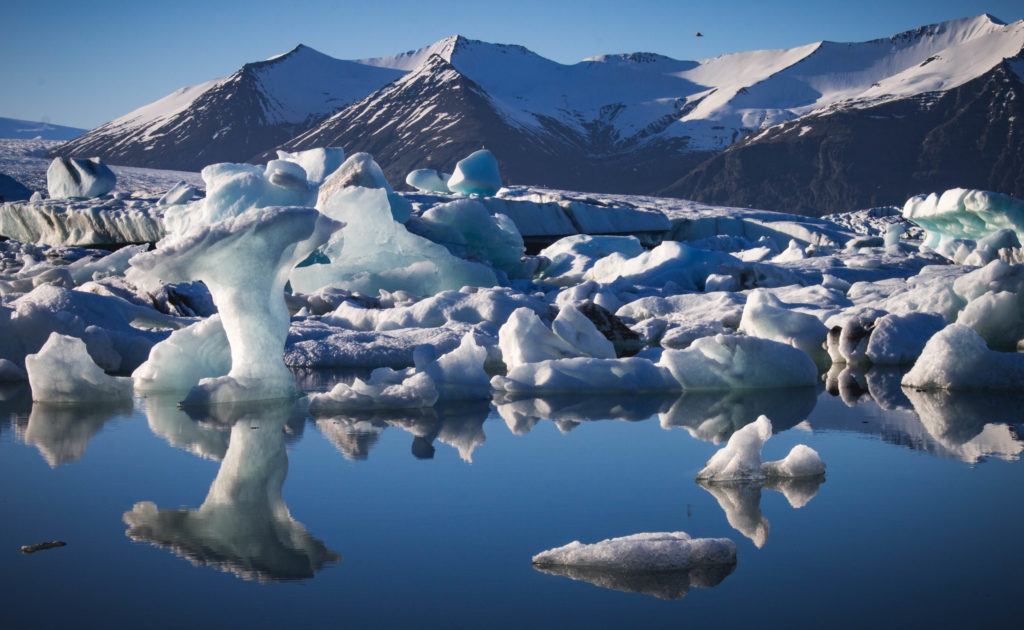 It was amazing how quickly the sun set. Our light faded quickly, telling us it was time to head out soon.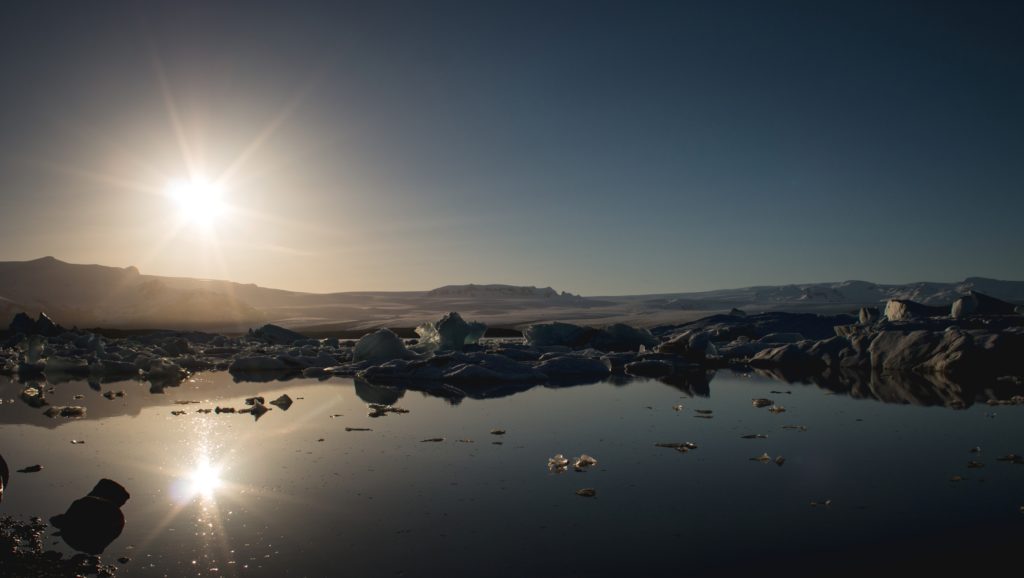 We took our last look, hiked back to the Polo, and zipped out to our guesthouse at Skalafell. Once there we checked in to our tiny cabin, had a drink, and stayed up through much of the night looking for the northern lights (no luck). I can't imagine a more perfect day (unless we'd seen the lights). 🙂
Next up! More from Jökulsárlón, and exploring Reykjavik!
How about you? Have you travelled the southern coast of Iceland? Been to the glacier lagoon? Leave comments below – cheers!