Less than two weeks ago I stood in front of the Cathédrale Notre-Dame de Paris (from here on in referred to as Notre Dame), enjoying the iconic gothic architecture and letting the sense of history wash over me. I studied European History in university, and I've always loved the grand cathedrals of the world.
I first visited Notre Dame when I was 18 years old. It was pouring rain, and we walked miles to get there, but I couldn't have been happier – to me Notre Dame was the quintessential French icon. Through the years both Angela and I have been back many times.
On this trip (late March, early April 2019), we were extremely fortunate to visit Notre Dame on a few different occasions, as we were staying in locations that often had us passing by. We had no way of knowing what was to happen just a few days after we left Paris.
On our first day in Paris we were staying in a hotel in the 12th arrondissement, quite close to the 4th. It was about a half hour walk to Notre Dame, an easy stroll along the Seine. Angela and I didn't have anything on our schedule for the day, so we wandered along the river and made our way to the cathedral. It didn't take long for the back of Notre Dame to become visible. No matter which side you see it from, it's pretty spectacular.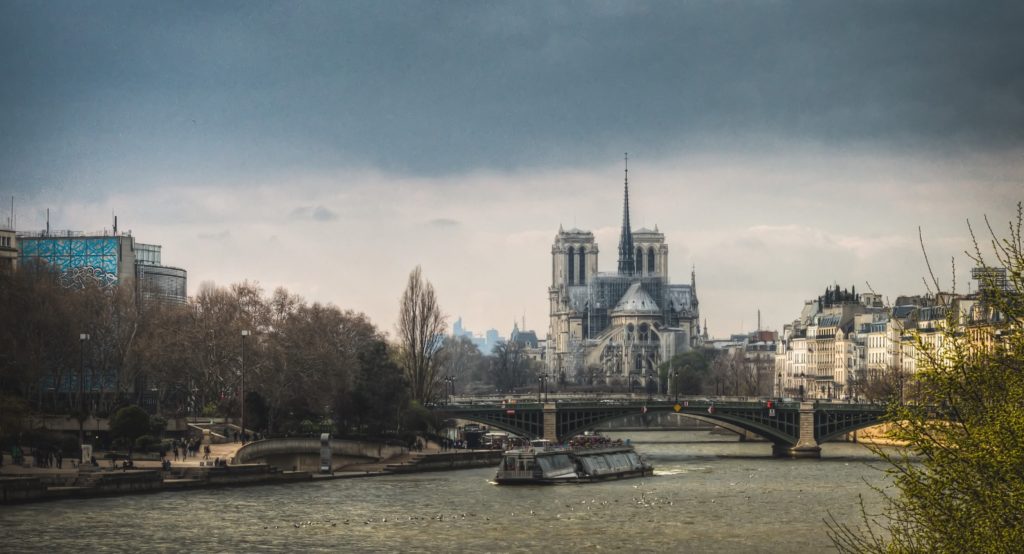 It was a Sunday night and there was non-stop activity along the Seine. We stopped to watch a live jazz band who seemingly attracted a horde of swing dancers. Either that, or the swing dancers attracted the jazz band. Or they were all in it together…but I digress. The important point is that there was a jazz band playing and swing dancers dancing. I chose not to dance (as a service to others, I never dance in public), but did enjoy watching groups of enthusiastic Parisians with old-timey hats and impeccable timing.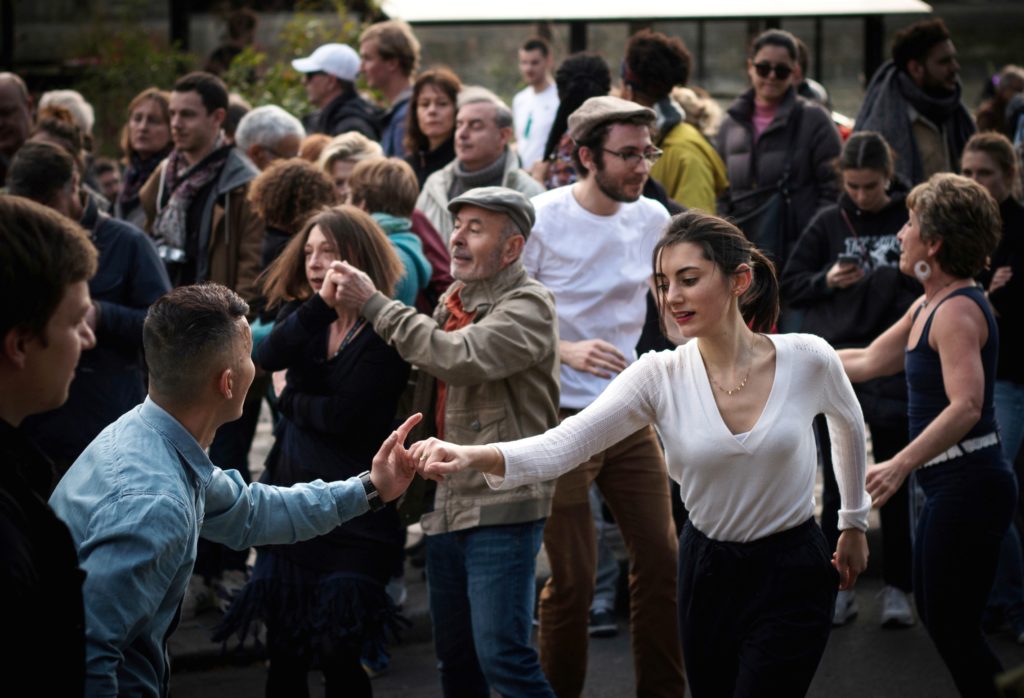 Our swing dance quotient filled, we kept walking, making our way to the cathedral. It was a perfect night, warm, and everyone was in a good mood. It wasn't too busy but there was a nice energy around the parvis, the square in front of the cathedral. It was getting late, so we opted not to go in, but we enjoyed watching the sun set as people happily posed and took selfies.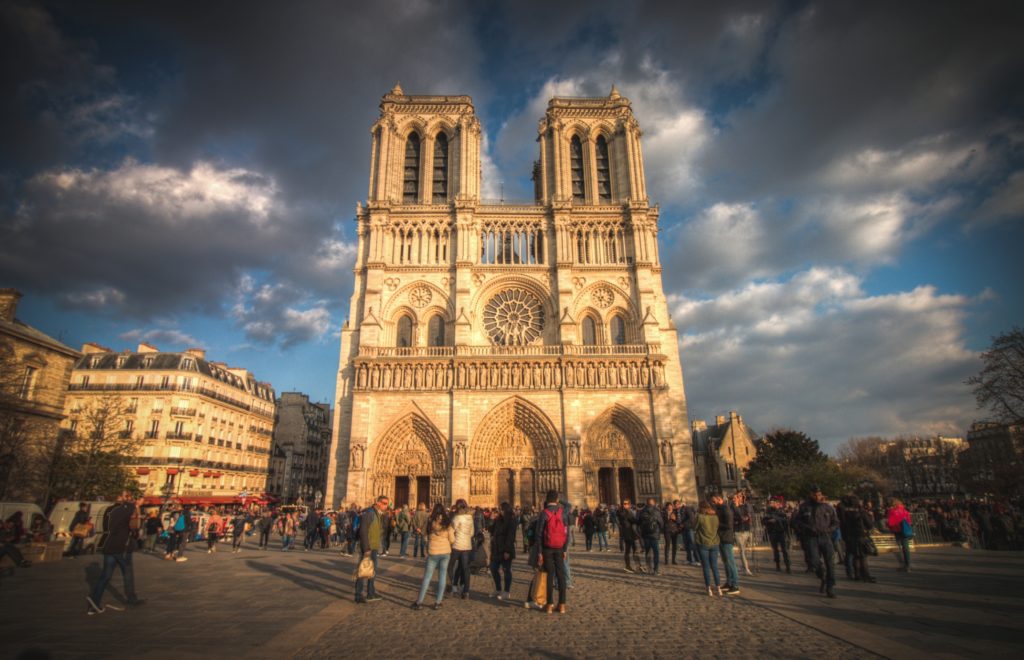 Turning in the other direction, the Seine looked serene in the diminishing light.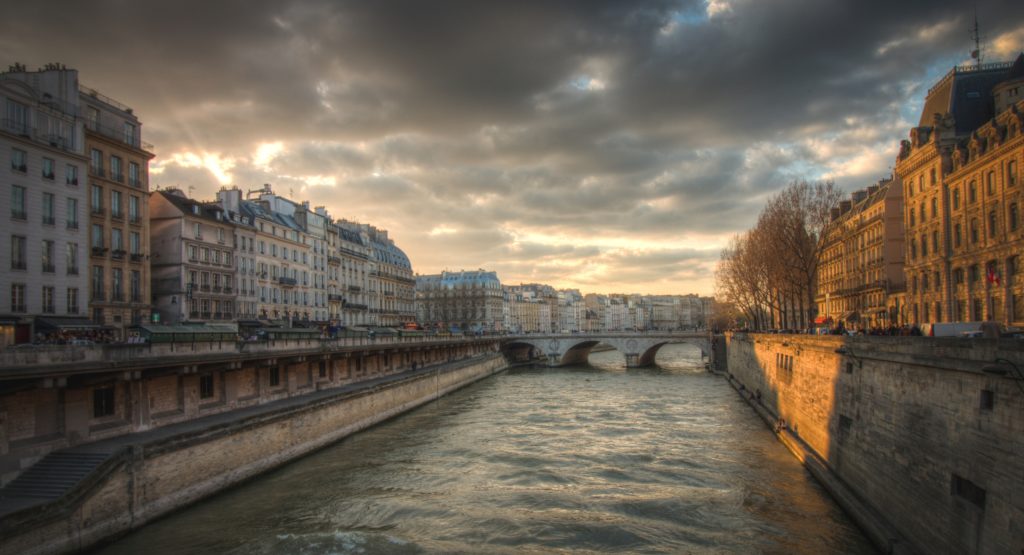 We were hungry, so we wandered a bit, finding our way to the Latin Quarter. A fun little pizza place beckoned so we chowed down on some wood-fired thin crust pizza. Feeling good, we decided to make our way back to the hotel. Re-tracing our path along the Seine we looked back, giving us one last look at Notre Dame, all lit up from the back.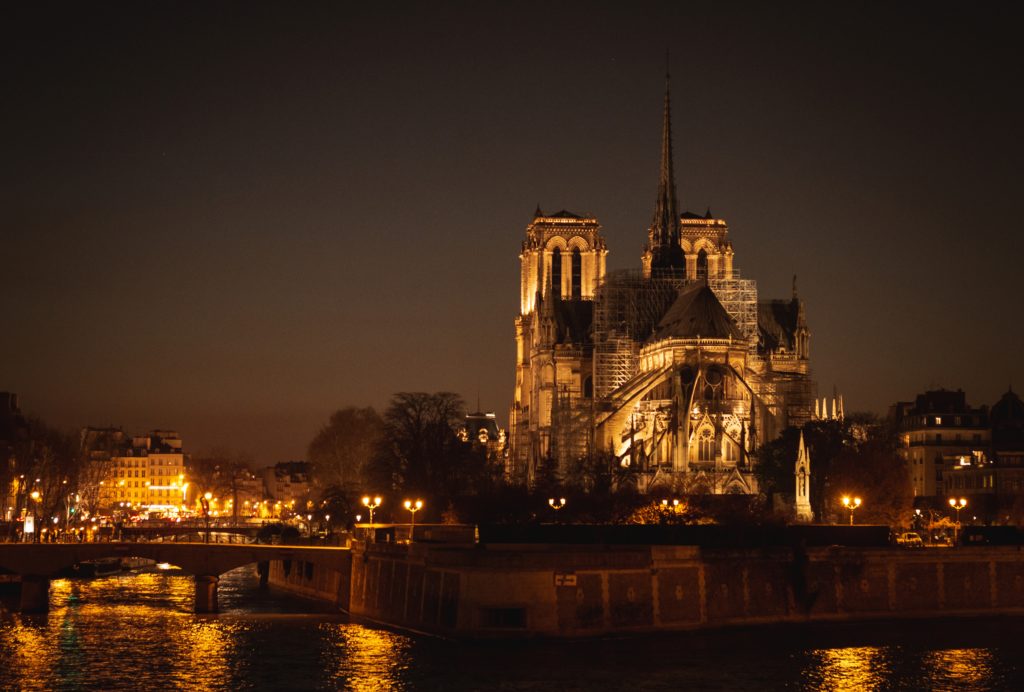 It would be a couple of days before we would return, time which we used to explore as much of the city as we could. Other posts will recount those adventures, but let's just say pictures were taken, French was spoken, and pain au chocolat was eaten.
Our next visit to Notre Dame followed a show we attended at La Nouvelle Seine, a comedy club on a boat in the Seine that sits – literally – in the shadow of the cathedral. This time we had an opportunity to go inside, where a mass was taking place. Whether you're religious or not (I'm not), to see a mass at Notre Dame is pretty unique. The cathedral is a massive, captivating place that carries with it a gravitas that is impossible to ignore.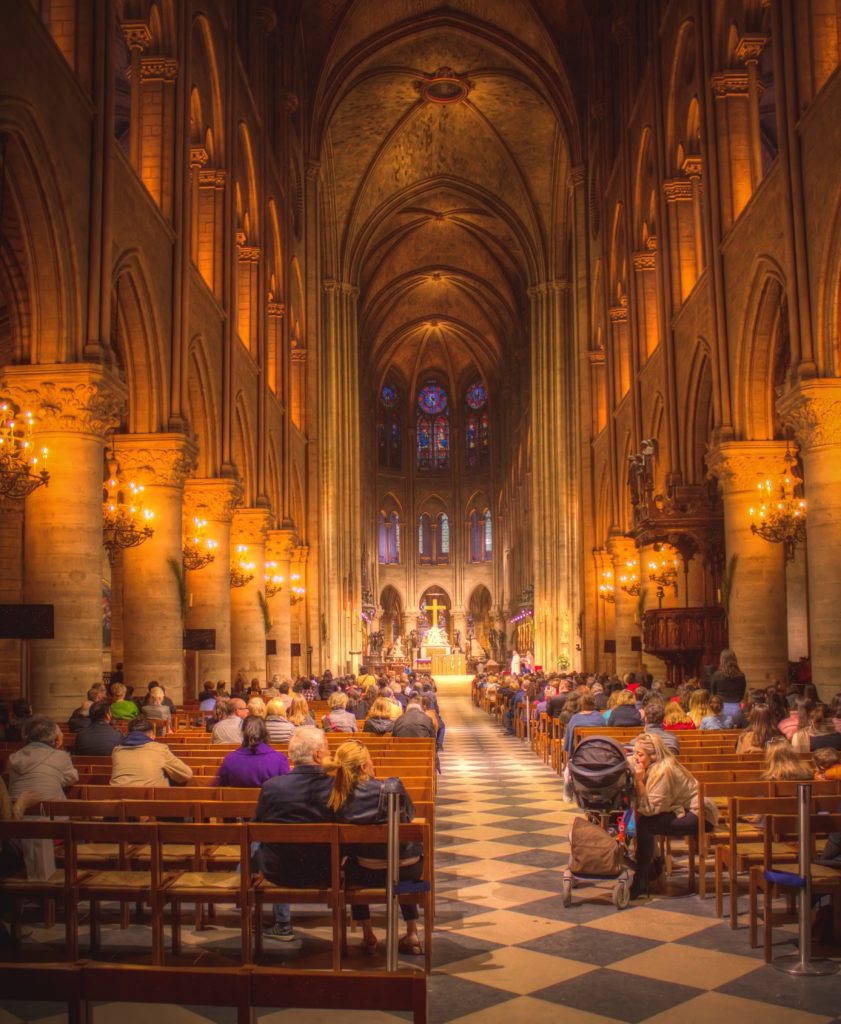 Some family members had asked us to light a candle for them, so we were happy to do so.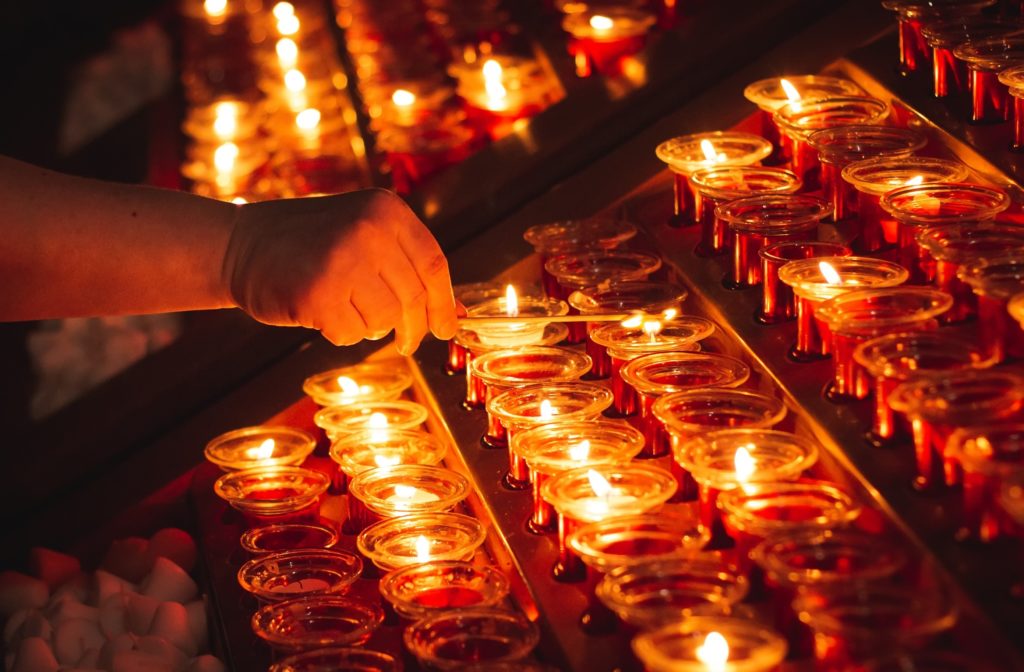 A few days later we were back. Angela was on the hunt to find a French novel that she had been looking for, so we decided to try some of the book sellers along the Seine. Some of those guys are grumpy bastards while others will happily chat with you all day.
She didn't have much luck (although she did find it a few days later at a store in the Marais), but it was a gorgeous spring day, the birds were singing, and some of the trees were starting to flower. It was almost 20 degrees C, so we partook in the time honoured tradition of grabbing a bench and just enjoying the day. We sat in the shadows of Notre Dame and just took it in, no hurry, no cell phones, no stress. It was an easy, relaxed afternoon that I wish I could replicate over and over again.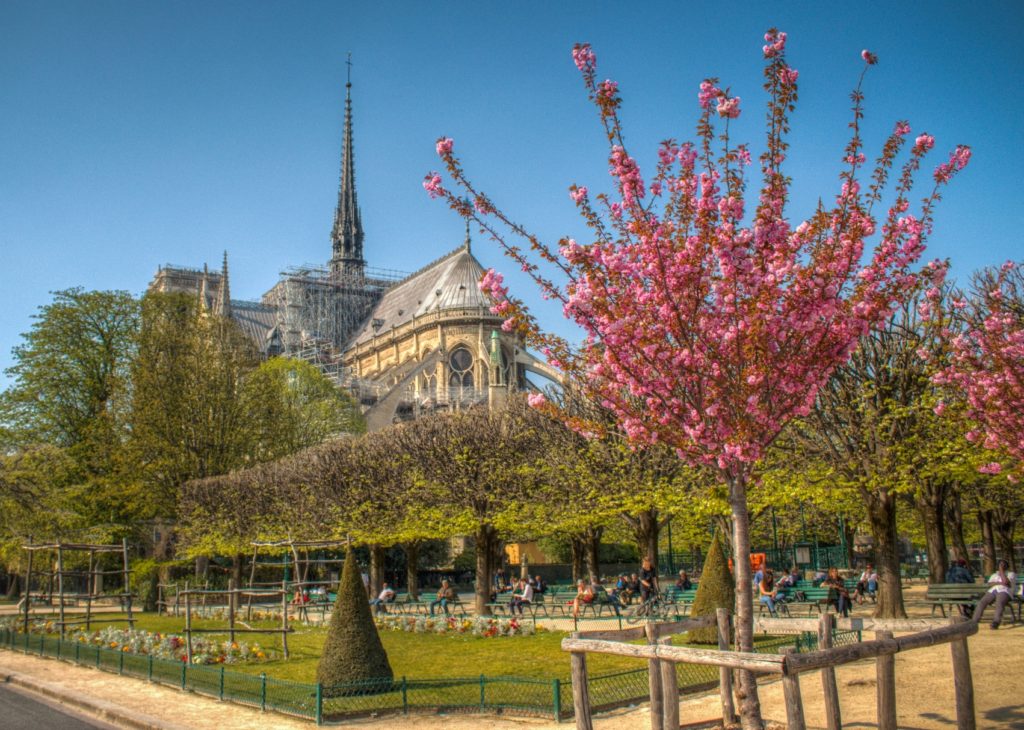 That would be our last visit to Notre Dame, an excellent way to remember it as it was.
When we arrived back home in Toronto we were still unpacking our clothes, delicious comté, and decadent chocolate when we learned that Notre Dame was on fire. We watched in horror as the church we had just been standing in burned. The steeple crashed through the roof, and it looked like the entire structure was going down, when it was managed by the hundreds of brave and well-trained firefighters who were on the scene. They saved the two main towers at the front of the cathedral, and much of the main structure. Donations have poured in from around the world, and Notre Dame will be saved…but it will take years. Millions of visitors to Paris over the next decade won't get to experience what we did just days ago.
It shows how random things are, how we need to be a bit more present, and enjoy things while we have them. I consider myself fortunate to have enjoyed Notre Dame when we had the chance, and I'm looking forward to visiting a newly risen Notre Dame in the future. This is a cathedral that is much more than just a Catholic church – it's a French icon, a place for families and visitors from all over the world to gather. It's a spectacular piece of Gothic architecture and a place where people can sit under a tree, eat a baguette, and contemplate life in a spot where others have done the same for hundreds of years. Notre Dame will be back, and so will I.
Have you visited Notre Dame? What were your memories of visiting this iconic cathedral? Please leave any comments below – cheers!