Chiang Mai has become one of my favourite cities to visit in Southeast Asia…but I didn't always feel that way.
The last time I was in Chiang Mai was November of 2015. I was at the end of a long trip, wasn't feeling well, and my time in CM was rushed. So I wasn't in the best space to fall in love with the city that so many seem to adore. I liked it, but decided to reserve my judgment on this northern capital until I could return with the right mindset and plenty of time to explore.
Fast forward three years. I returned to Chiang Mai a few months ago, this time for ten days. I had nothing in particular on my schedule, nothing I had to do; I could sink my teeth into Chiang Mai and truly immerse myself in all of CM's northern Thai goodness.
Another difference? This time I was visiting with Angela, who was exploring Asia for the first time, so I was thrilled to show her around. I love Southeast Asia as if it's my home away from home. Every time my plane touches down at Suvarnabhumi I feel comfortable. Happy. Like eating a really good home-cooked meal. I wanted to share this incredible place with her, and we had a whole month to do it, starting with Chiang Mai, then moving on to Koh Samui, Bangkok, and Siem Reap.
Sadly, she had to work for most our time in Chiang Mai, leaving me to explore the city mostly on my own. But I'm good on my own, I'm used to it, and we would get to catch up every night.
So here it is – the full 2018 CM trip report. It's longer than my other posts (much longer, so grab a Singha and settle in), but I've always enjoyed the epic, detailed TRs that so many others have shared through the years, so I am happy to provide one as well. Enjoy!
Day One
We started the trip off with one of the few activities we could do together – a trip up to Doi Suthep. We woke up just after 5 am in the hopes we would catch the sunrise at the top (we didn't – it turns out you need to be about a half hour earlier than we were). Despite that, we had a fantastic time exploring one of Chiang Mai's best known attractions. It was a perfect way to set the tone for our time in CM.
I won't hit you with all the details, as I covered this journey in this post. Having said that, we really enjoyed the tranquility of being there early in the morning, and I loved all of the golden Buddhas, shrines, and monks chanting. I am not religious, but I do enjoy learning about other cultures and I find Thai culture and Buddhism in general fascinating.
If you're on the fence about visiting Doi Suthep, just go. It's a gorgeous spot, and a unique experience, even for seasoned temple-goers. One piece of advice – go early so you can avoid the crowds and enjoy the serenity of the mountain-top temple before it becomes overrun. Doi Suthep is known for having horrendous crowds, especially during the middle of the day during peak season. Like so many attractions in Thailand, your enjoyment may come down to your timing.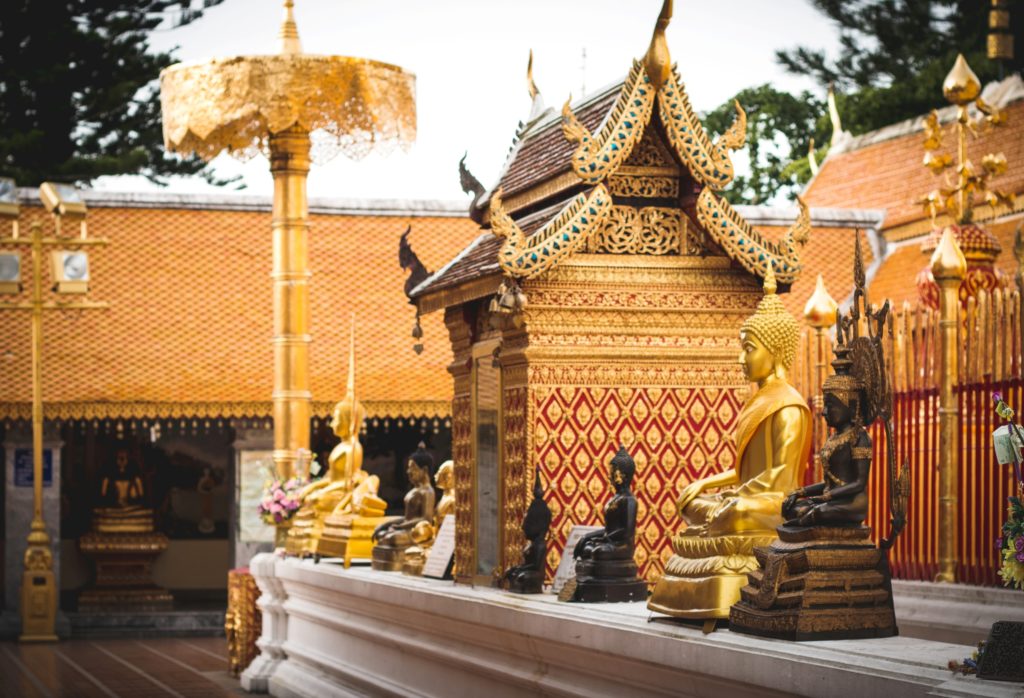 We returned to our hotel in late morning, which was perfect timing as it was starting to heat up outside. Some aircon and a good Thai meal couldn't have come sooner. We were staying at the Duangtuwan, a centrally located hotel on Loi Kroh Road near the Night Bazaar.
The Duangtuwan is a bit dated, but it's a reasonably nice spot to spend a week and a half, and the pool is absolutely fantastic. There's a laundry place across the street, plenty of restaurants, bars, and massage places nearby, and no shortage of things to do. You can walk to the Night Bazaar in five minutes, and the Old City in about twenty-five, so it's a nice spot to be. If it's too hot to walk there are always a heap of songthaews (red trucks) and tuk tuks around to give you a ride.
Just be sure to negotiate clearly and firmly with drivers – I found their rates to be cheaper than Bangkok or on the islands, but they're also prone to "misunderstandings". On two different occasions I had drivers pretend like we negotiated something different than we did – be sure to be very clear from the beginning so there's little room for misinterpretation.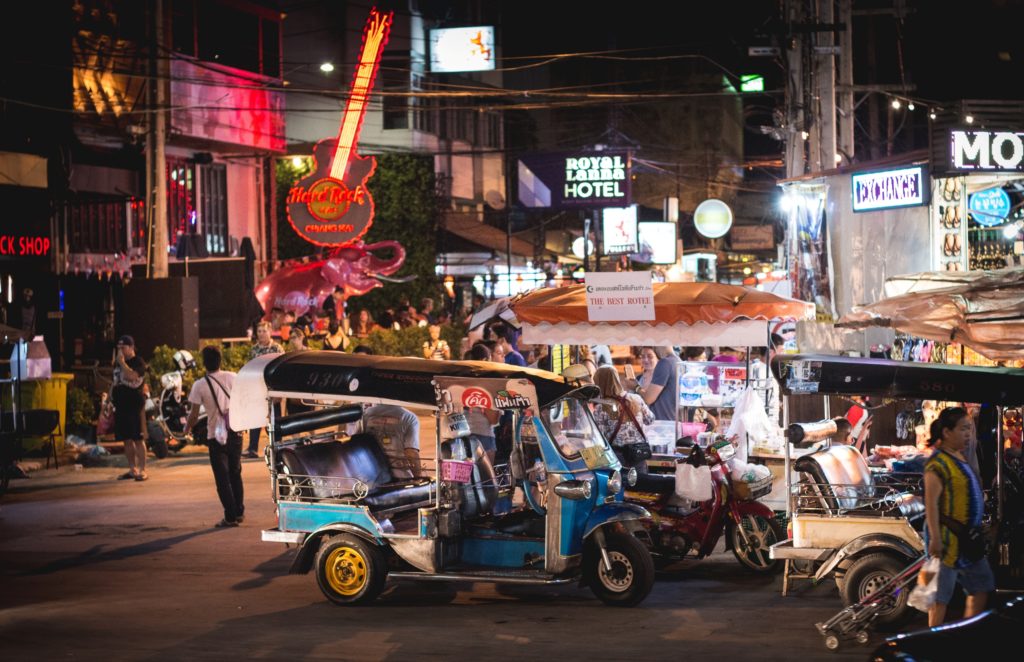 That night we went wandering around the neighbourhood and checked out the Night Bazaar, a spot we would return to a few times as it was just a few minutes from the Duangtuwan. Here you'll find loads of good food, as well as miles of touristy trinkets, loud music, and cheap beer. It's a fun, active spot to kill a bit of time.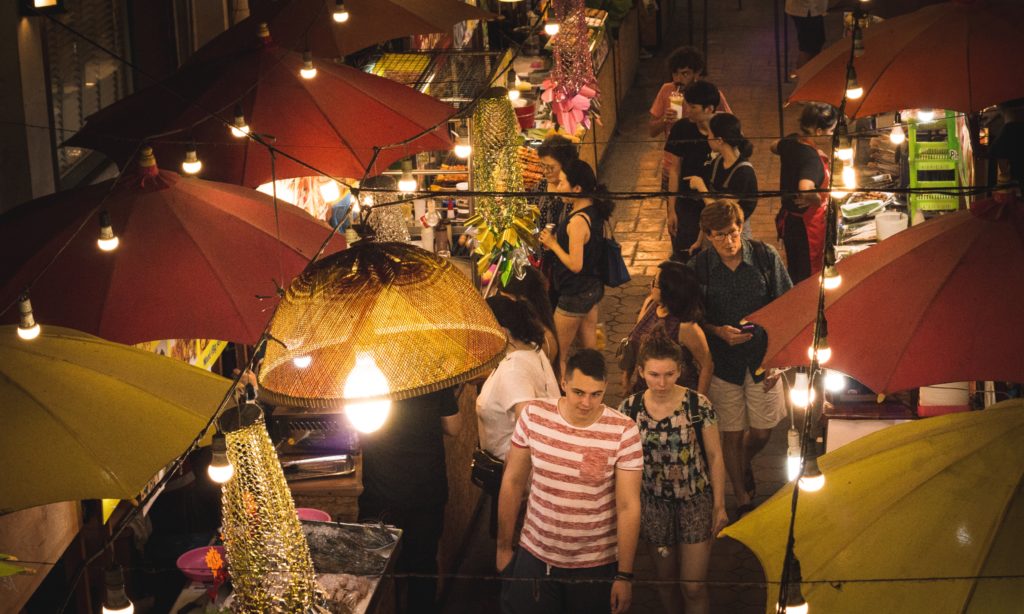 We ate, people watched, explored. One thing I've always loved about night markets in Thailand is the activity, the smell of the food, the colour of the lights. It's an assault on the senses.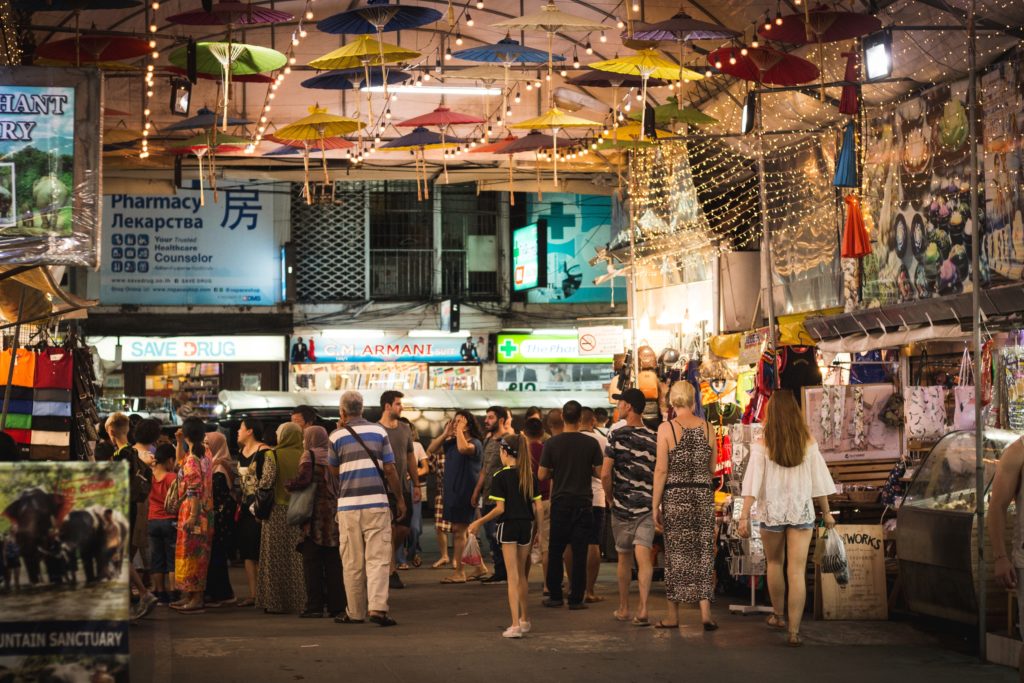 We didn't stay out too late, as this was our first day in Asia and we were feeling a bit of jet lag, so we took it relatively easy and zipped back to the hotel before midnight. We hit the bed only to find it hard as steel. I'm not kidding – Thais appreciate a hard bed, but this thing was the hardest I'd ever slept on. I didn't even know you could make a mattress that hard. Regardless, we were exhausted, so sleep came relatively easy…so did back pain the next morning.
I love to walk and explore when I'm on the road. I can walk for hours just checking out neighbourhoods, taking pictures, getting the lay of the land. I like to do this early in my stay so it gives me context for what's in the area around where I'm staying. So day two was really an exploratory day.
Around the Duangtuwan there are a ton of services, and we had already taken a walk down Loi Kroh Road towards the old city, so we knew what was available to us down that way (restaurants, laundries, bars, massage places, and of course, a 7-Eleven).
I decided to head in the opposite direction, east towards Charoen Prathet Road and the Ping River. I was actually doing double duty, as there's a Super Rich money exchange place on Charoen Prathet, and I needed to trade some Canadian cash for some baht. Super Rich is the place to go if you want to change money in Chiang Mai – they usually have the best rates, and they have locations sprinkled throughout the city.
I got my money changed and headed back towards the river. The Ping is not the nicest river you'll come across, but it's a tranquil, quiet spot to wander a bit. Loi Kroh and the area around the Night Bazaar can be busy, whereas the Ping River, just a few minutes away, is relatively deserted.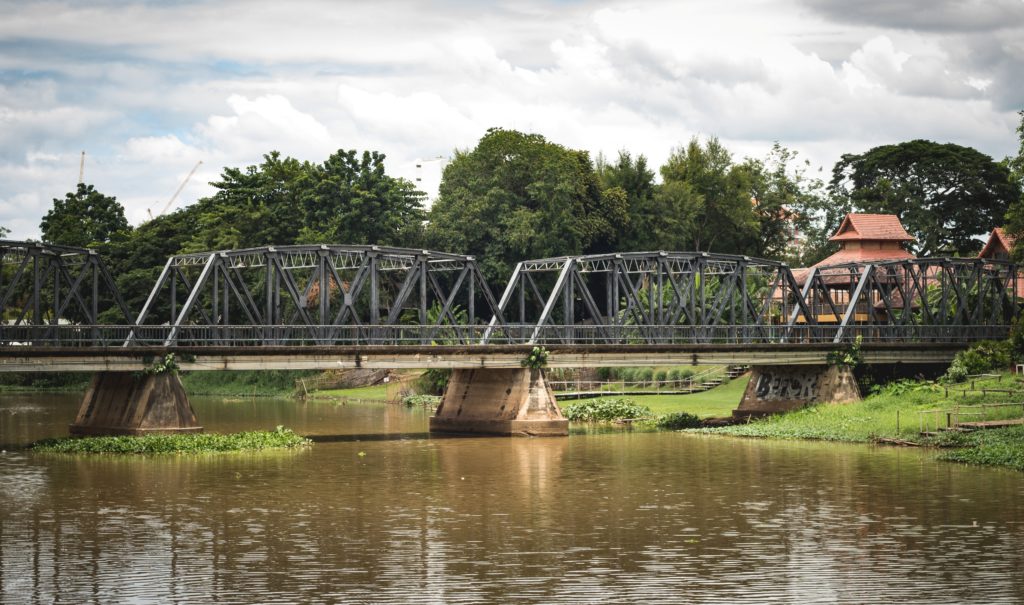 I passed a half dozen tuk tuk drivers, all asleep in their vehicles, as the wind whistled softly through the trees. It seemed like a good place to sleep.
I wandered north (left) on Lamphun Road, staying on the riverside. The breeze made the heat bearable, but I could feel the humidity building. A quick glance to the sky told me that rain was definitely on the way.
I took another left, turning west onto Charoen Muang, crossing the river again.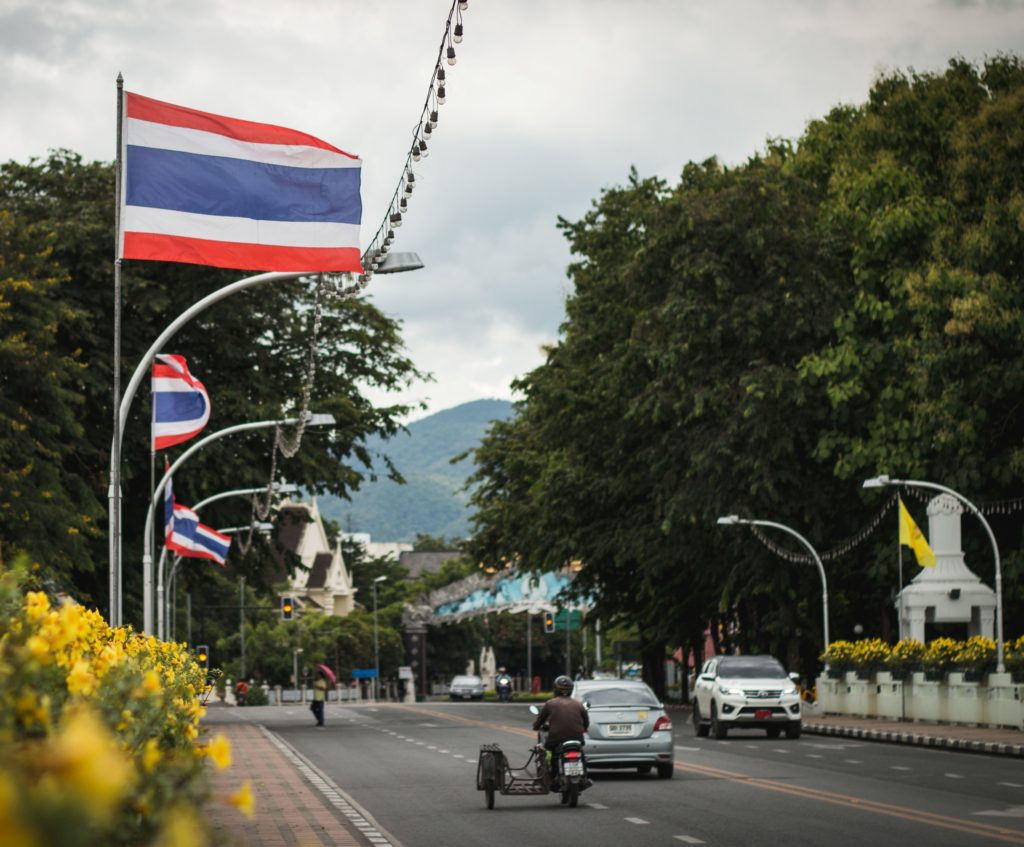 As you come back into the heart of the city there's a great arch / gate that greets you. The hills in the background and dark skies made for a dramatic setting.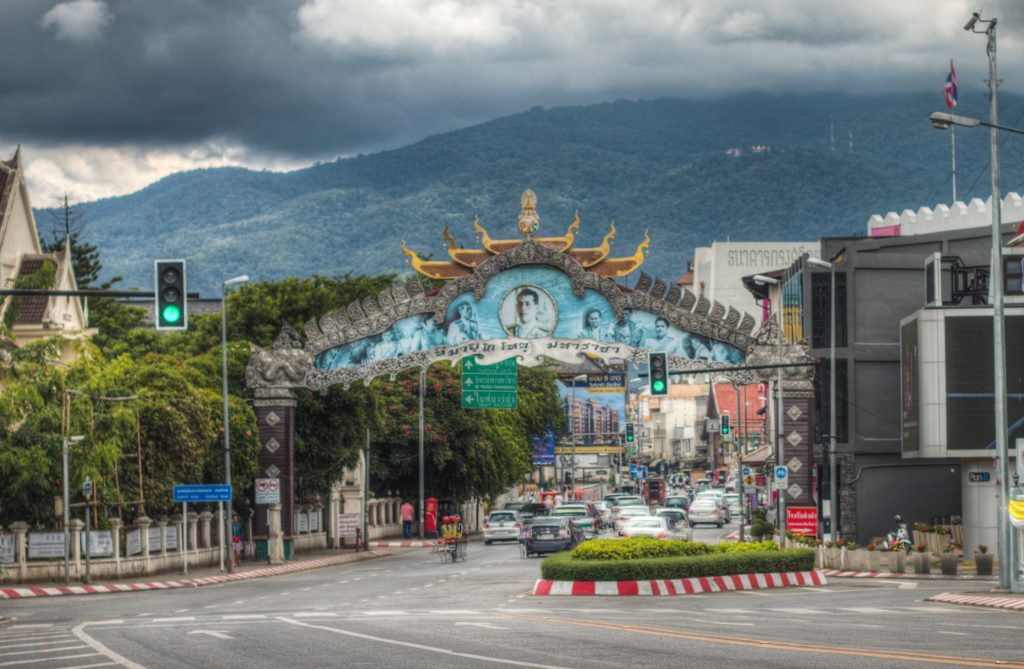 I must have looked hot and sweaty at this point because every few minutes a tuk tuk driver or songthaew pulled over to ask if I needed a ride. One guy in particular was absolutely convinced that I wasn't going to make it without the sudden and immediate intervention of a songthaew lift.  He cut in front of me and proceeded to argue at length about why I needed his assistance.
"So hot," he said. "You need ride. You not make it."
"I'll make it."
"You hot and sweaty. Look at you."
"Thanks for your concern, but I'm a Canadian in Thailand, I'm always hot and sweaty."
I kept walking. He followed me for a half a block and then finally gave up, but not before yelling back at me:
"You not make it!"
I laughed as he sped off. Won't he be surprised when he finds this blog – as I'm sure he will – and learns that I did, indeed, make it. Sweaty guy with the backpack, for the win!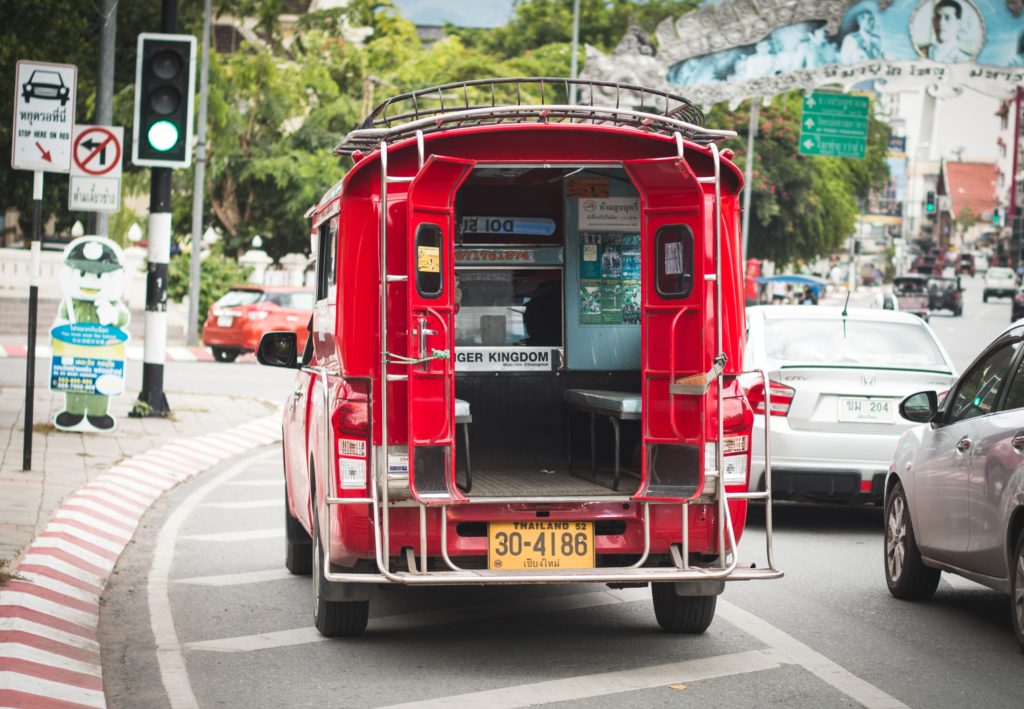 Passing under the gate, I made my way down Charoen Muang (which turns into Tha Pae Rd). There wasn't much activity on this stretch until I got about a half kilometer from the Tha Pae Gate of the old city. It's about there where the hostels, massage places, and 7-elevens start to pop up.
I wandered into the courtyard at the Tha Pae gate and watched as tourists fed pigeons. It was pretty quiet, but I've always liked this little corner of the city.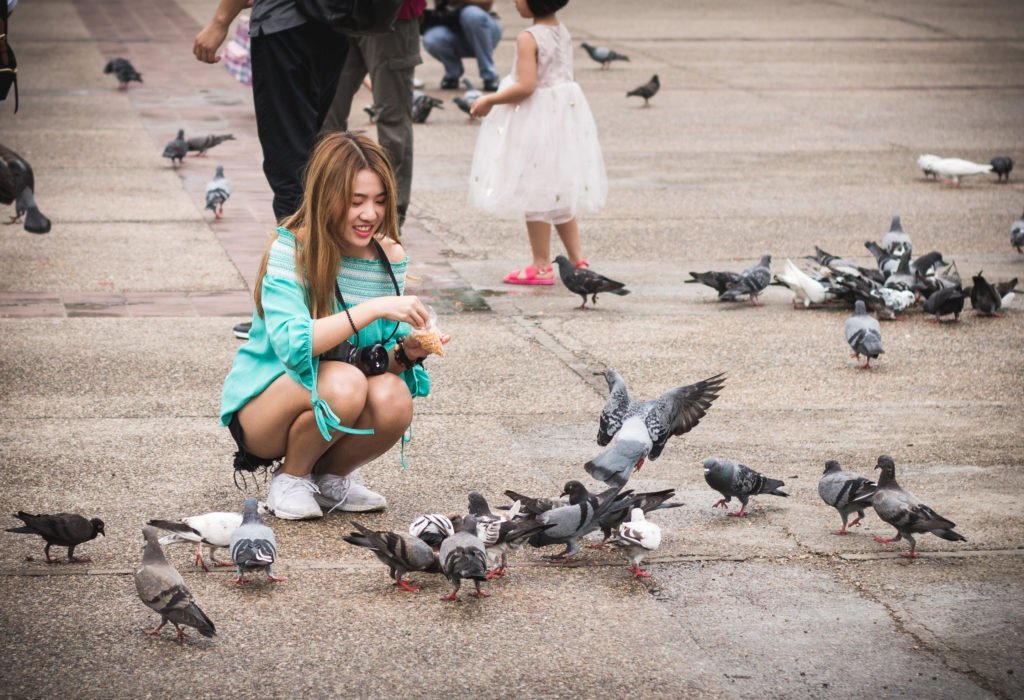 I grabbed a quick lunch and then walked back to the hotel via Loi Kroh Road. All in all, this was a good loop. I cooled down with a swim, hit a local massage place, and then met up with Angela. We wandered over to the Kilare Night Bazaar, where a live band was playing but no one was paying attention because a big football (soccer) match was on all of the TV screens in the large open air food court. I ate some questionable meat on a stick, enjoyed a couple of cold beverages, and just enjoyed kicking back and watching the activity going on around us.
Day Three
On this trip I wanted to explore beyond just the basics when it came to Chiang Mai, so on day three I decided to take a run out to Huay Tueng Thao, a lake and recreation area about thirty-five minutes outside the city.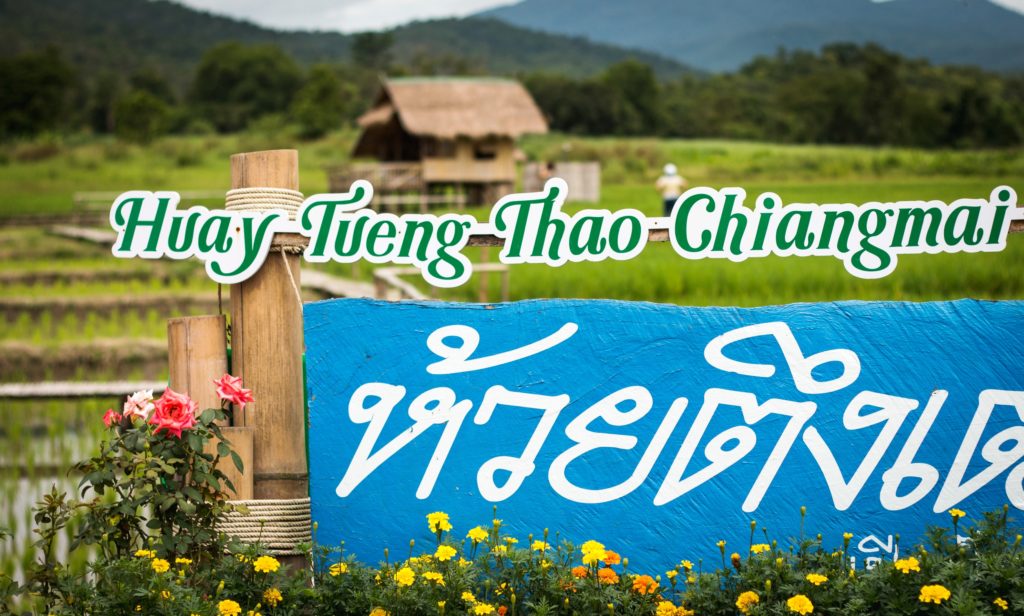 I had heard Huay Tueng Thao was a busy spot on the weekends, with scores of Chiang Mai residents making the trek in order to beat the heat. I made a deal with a songthaew driver, and got out there early on a weekday, which turned out to be perfect as there was no one around. In comparison to busy CM, it was peaceful, relaxing, and I loved every minute of it – there's never anything wrong with having a gorgeous lake, trees, and miles of nature all to yourself.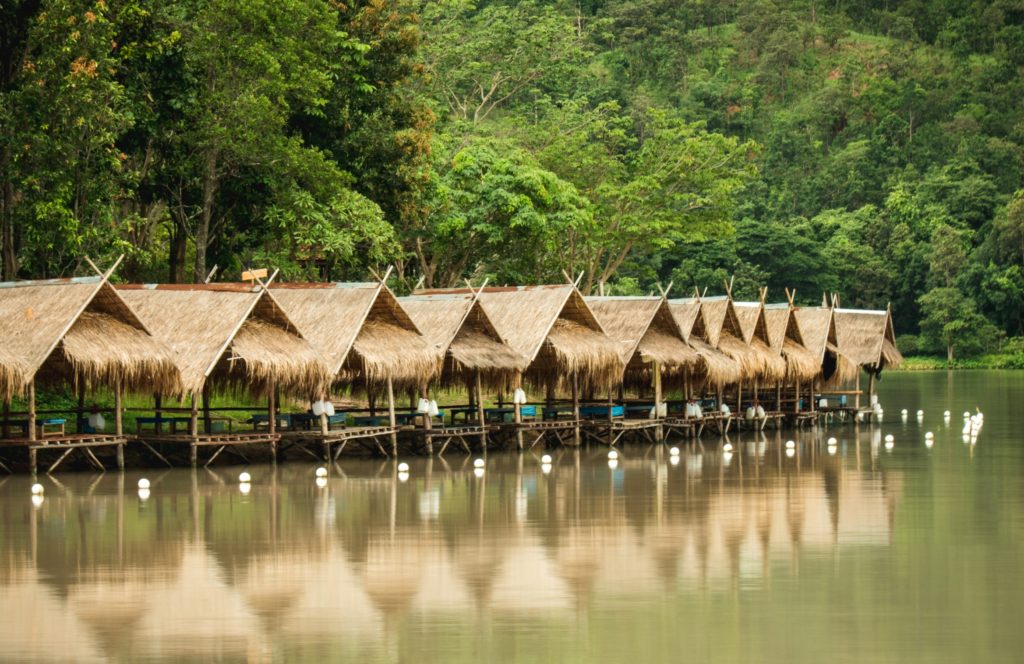 The lake boasts dozens of lakeside cabana style spots where you can base yourself for the day. Vendors come down to your dock and serve you food and drink – it's all very laid back. I spent about an hour sitting at the end of one of the docks, feeling the heat wash over me as a light breeze made its way across the lake. Birds sang, fish jumped…it was absolutely idyllic.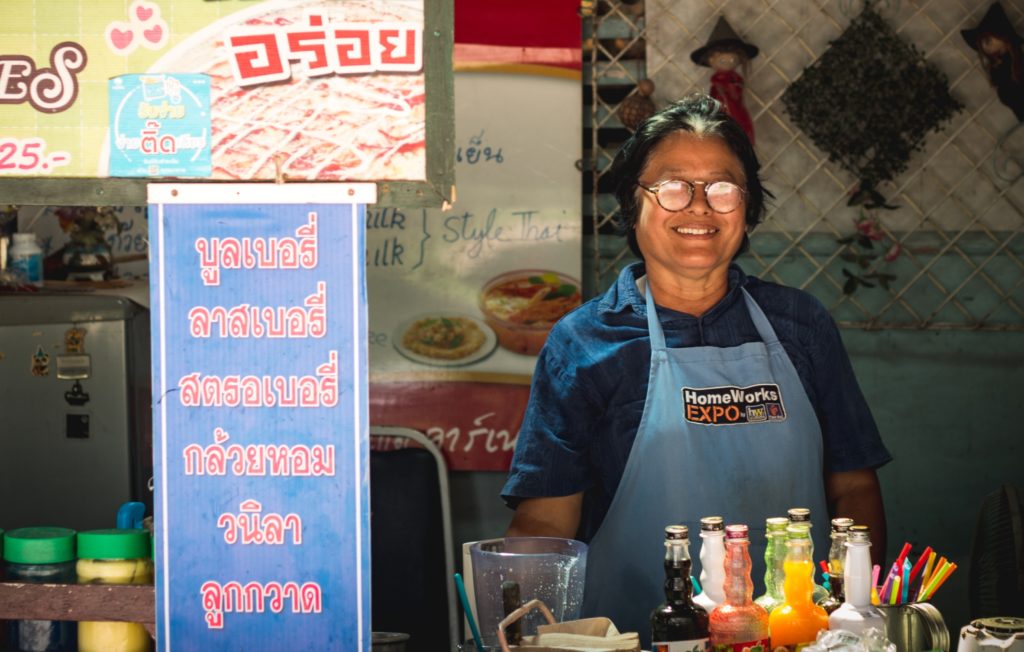 Pulling myself off the dock, I explored the outside of the lake. It's a perfect area to go for a walk / run / cycle, as there's a good ring road that loops around the lake. Along the way you can check out an impressive golden Buddha, rice paddies, and of course, a gigantic hay gorilla (because why wouldn't you have a gigantic hay gorilla?).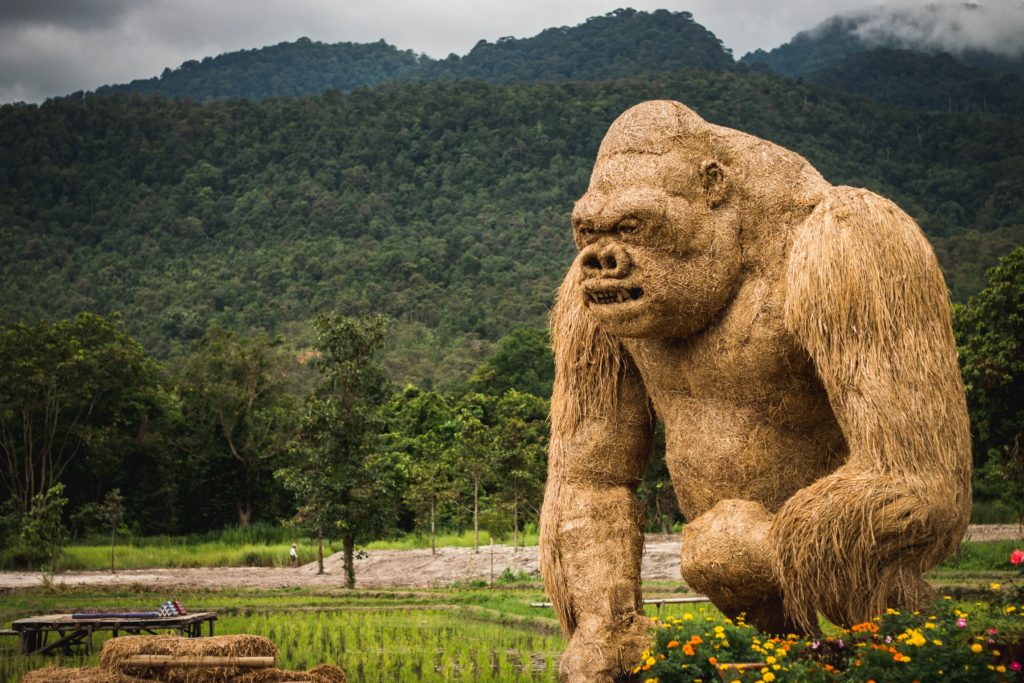 This thing was impressive, and my penchant for sci-fi nerdiness had me well trained not to look away from this seemingly ill-tempered gorilla. The whole situation felt way too much like a Kong: Skull Island situation for me to allow my guard down.
I extricated myself from the area unscathed just as a large cycling group whipped past on the ring road. If I lived in CM, this place would definitely make its way into my regular routine.
The songthaew driver took me back to the city, where I was happy to find some aircon. The heat was rising, so a break from the heat was welcome. I took a shower, processed a few pics from the morning, and then went out to meet Angela once she was set free from her work.
We went out for dinner at Lemongrass, a restaurant that became one of our favourites in CM. It's less than a ten minute walk from the Duangtuwan, just up the road from the Hard Rock Hotel by the Night Bazaar.
Lemongrass has an avid following with both locals and tourists. I noticed many times during our visit that the restaurant next door was almost always empty but Lemongrass was always packed.
Out front they have a great sign: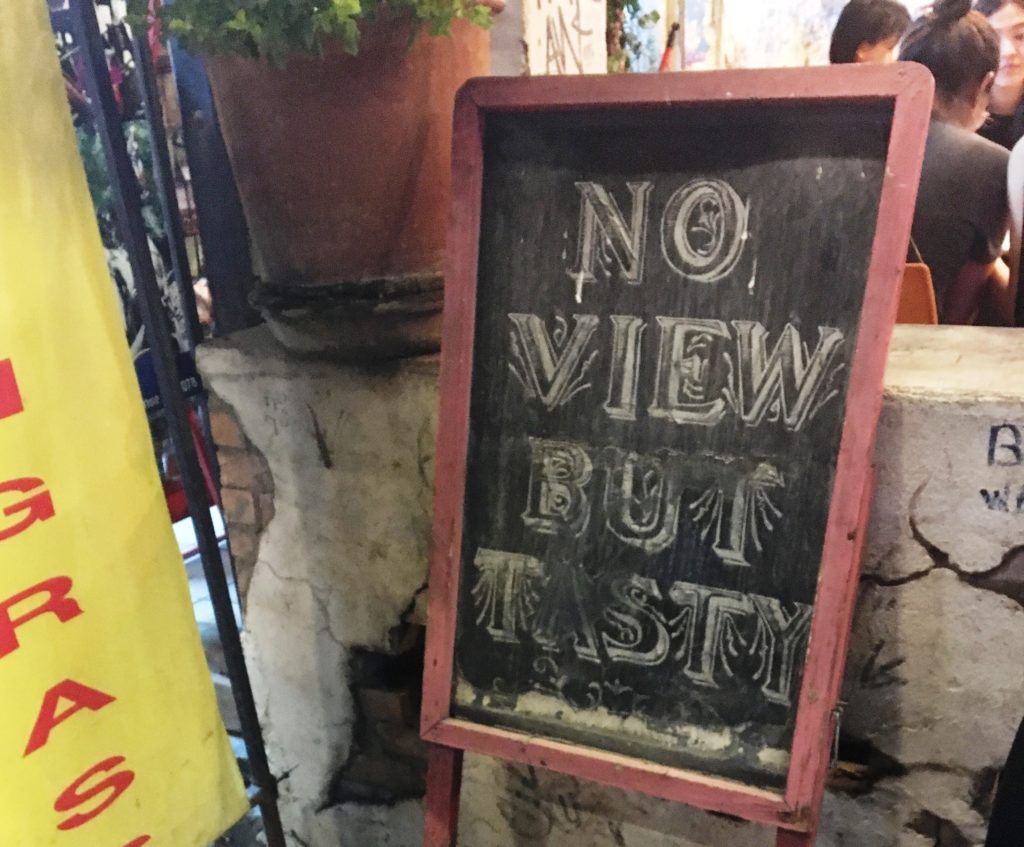 They have delicious Thai food for excellent prices. The service is fast – those servers really move. It's a no frills kind of place, with a funky vibe. Graffiti on the walls adds a bit of colour, and it's always a good spot to people watch. There's no aircon, so be prepared if you're visiting on a really hot day.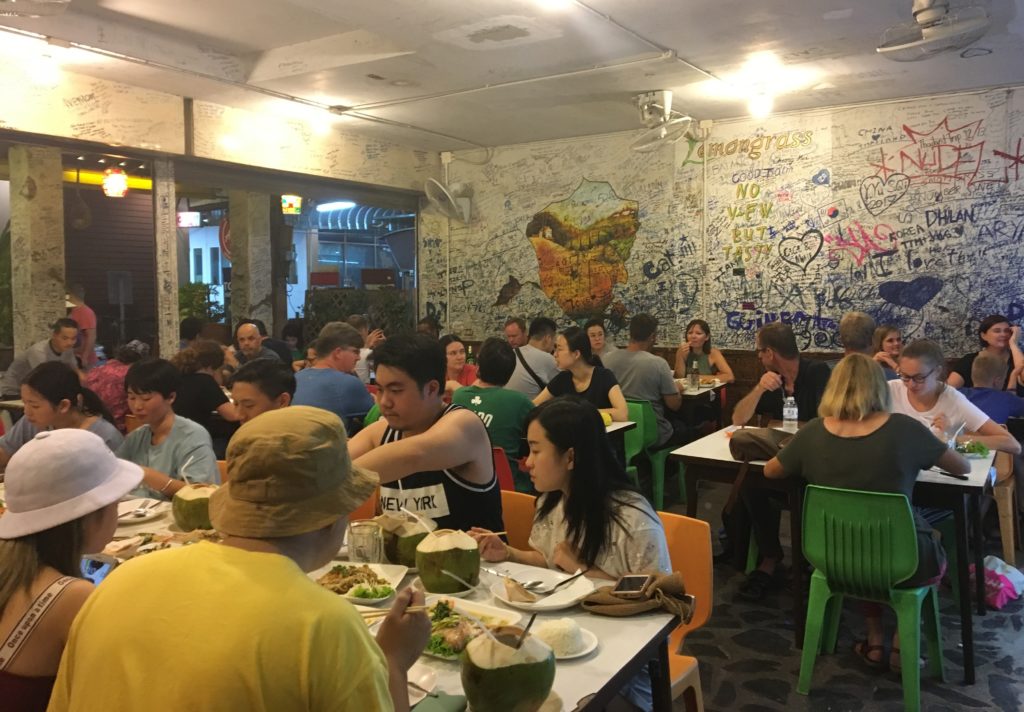 I had a bowl of khao soi (tasty, but not the best in CM – more on this later) and Angela went for the chicken pad thai. Happy and fed, we wandered around the Night Market a bit and then called it a day.
Day Four
The next day I had the opportunity to join Angela on an excursion up to Mae Sa Mai in the Mae Rim District north of the city. I'm planning a full post on that visit, so watch for an expanded post on this topic – that's how much of an impression the village made on me.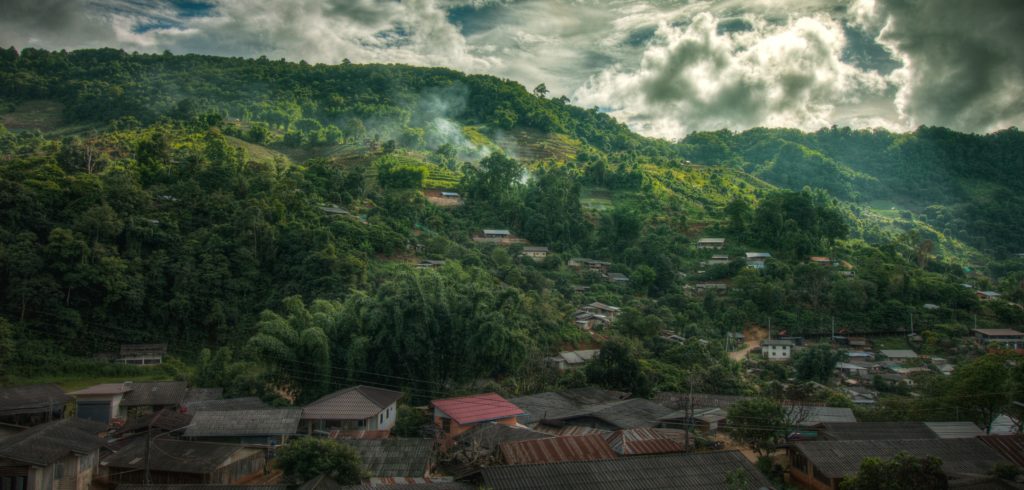 Mae Sa Mai is reached via a steep, winding, and sometimes very tricky road. Navigating our way upwards into the hills, I was in awe of the landscape, the lush green trees interspersed with terraced rice paddies and gardens creating rich visuals that felt quintessentially Southeast Asian.
Mae Sa Mai was unlike any hill tribe village I've ever visited. It's not built for tourists – it's a real local village, and it was a privilege to have the opportunity to visit. We met some fantastic people – here are a few portraits from the day: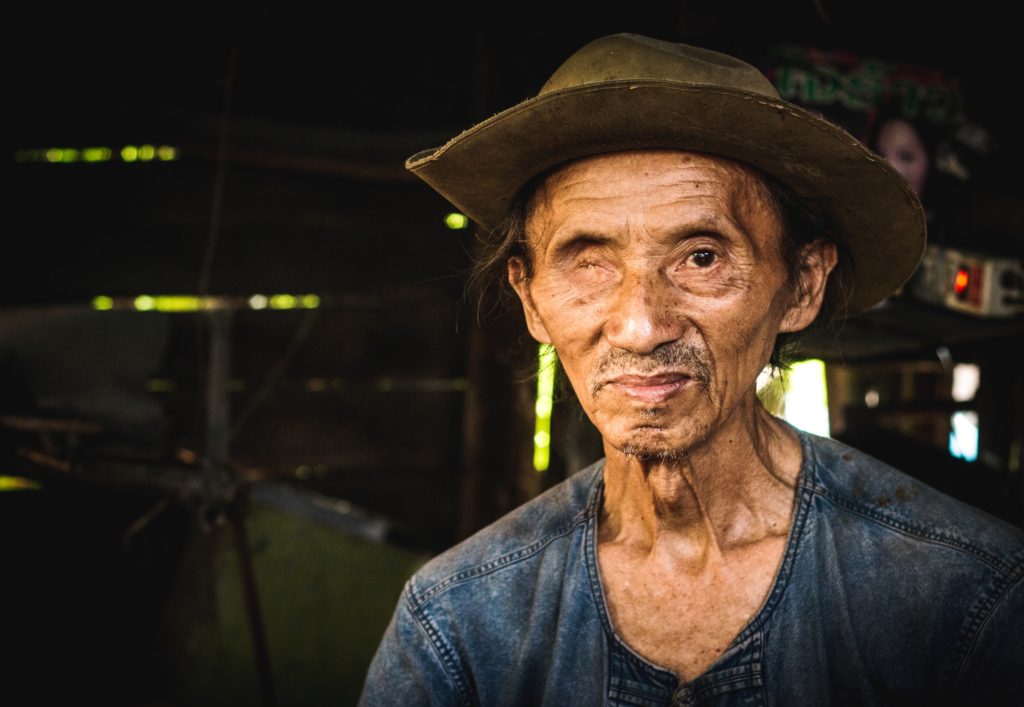 People were amazingly welcoming. This girl was the first face we saw as we entered the village: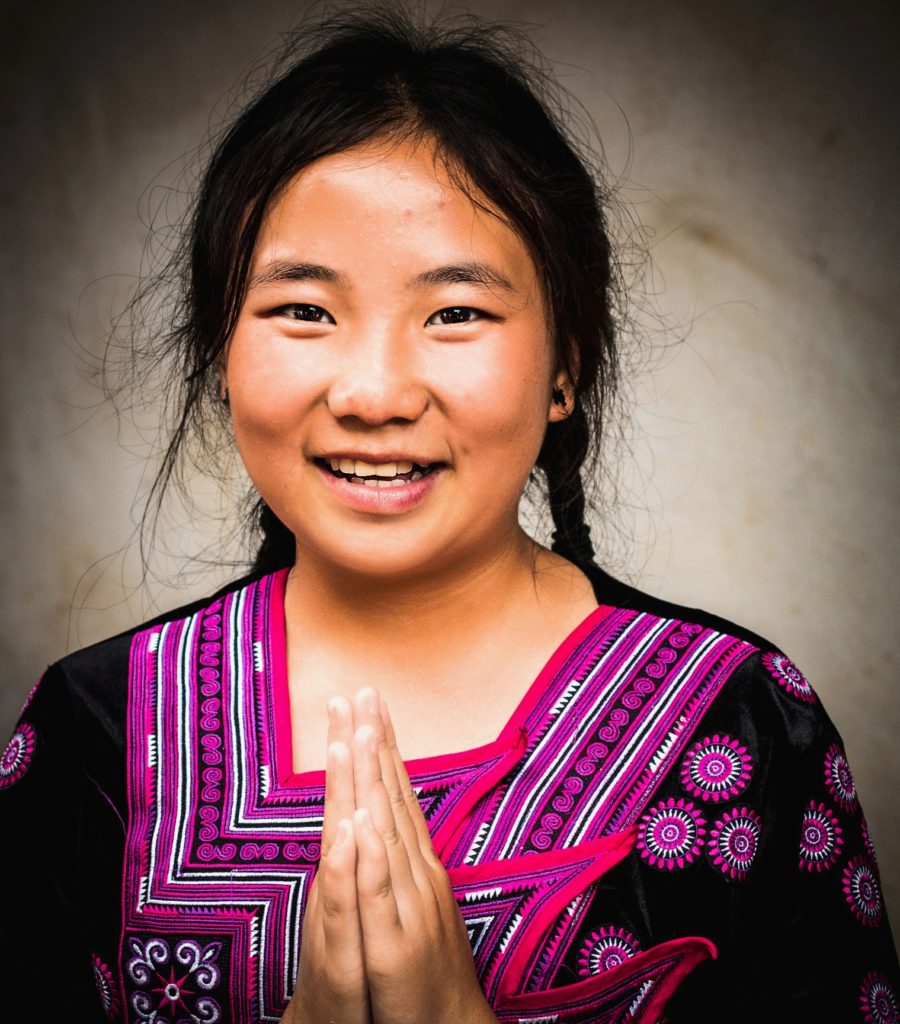 The kids were having a good time…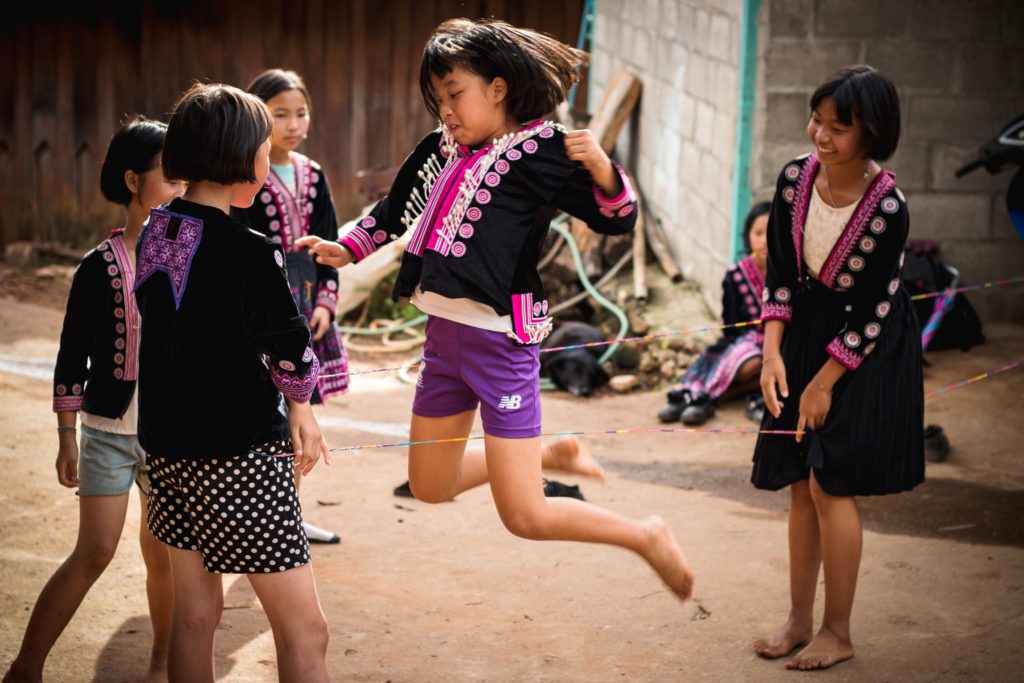 And my favourite – this firecracker of a woman who had to be a hundred years old if she was a day.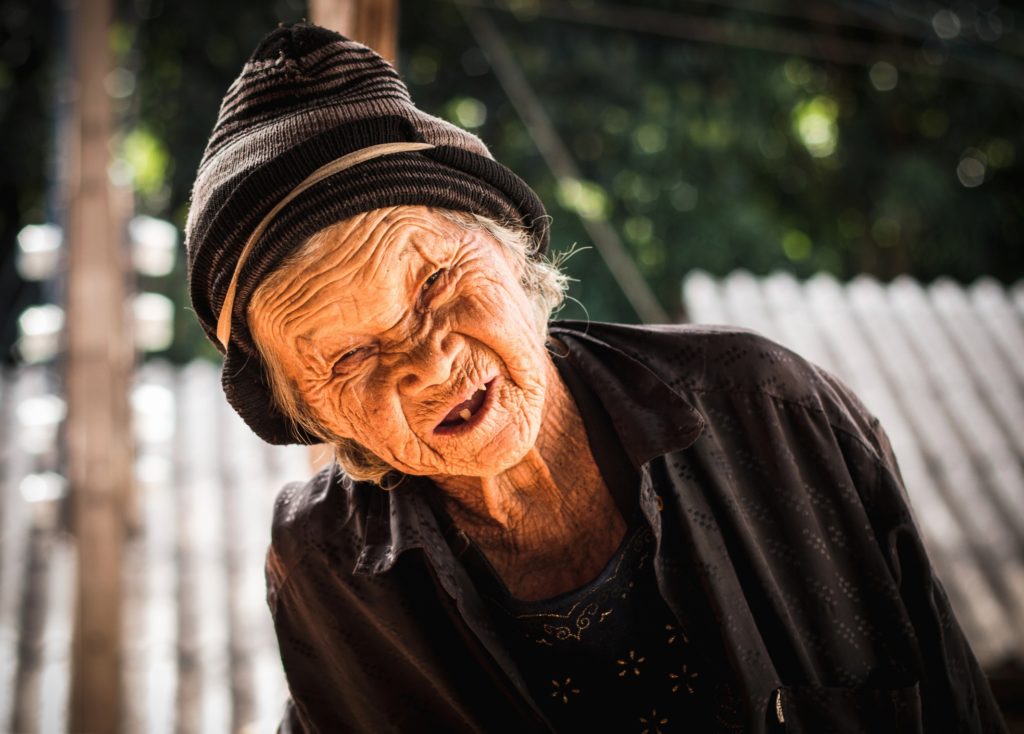 Even in a small village like this one you could find someone cooking up some tasty chicken and noodle dishes.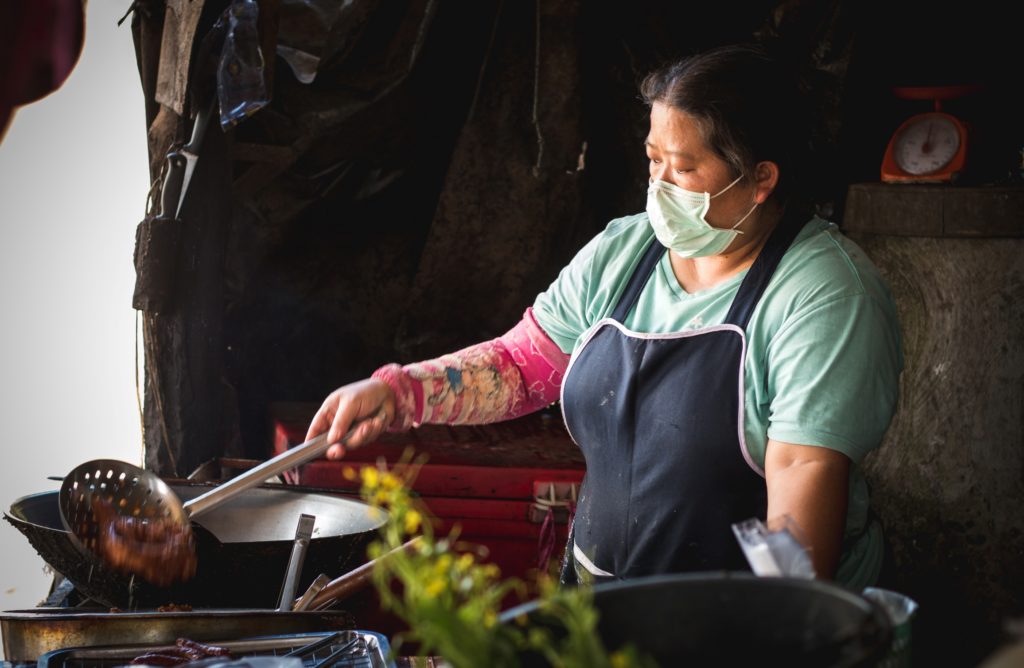 We walked through the village, taking the afternoon to explore and interact with the locals. It's the most authentic experience I've had in one of these settings.
Although the trip was a fantastic way to learn about Thai hill tribe culture – and explore some of the gorgeous Mae Rim area – it was a stupid kind of hot and we were exhausted after a seriously long day. This was part of an excursion through Angela's work, so when they announced we were heading back to the bus, I was happy to get a break from the sun. It turned out it wouldn't have mattered – just as we got on the bus the skies opened and a heavy, tropical rain battered us the whole way back down.
We stopped at an orchid farm where they had a set dinner put out for us. I didn't have high expectations – after all, how many orchid farms are known for their cuisine – but the meal was delicious! I think I was over-tired or over-hungry, or both. Regardless, these orchid farmers knew how to cook. I had a huge bottle of Singha and a mix of stir fry, chicken with black bean sauce, some kind of fish, and some rice. Delish.
After dinner the bus headed back to the city, where we dragged ourselves into the Duangtuwan and crashed.
Day Five
When I travel I often give myself a quest. In Las Vegas it was to find the best hot dog in the city; in Paris I hunted for the crepe of champions; and here my goal was to find the ultimate bowl of khao soi. For the uninitiated, khao soi is a northern Thai dish that features a mix of deep fried and boiled egg noodles in a curry-like soup made with coconut milk. There are usually mustard greens, chilies, shallots, and lime included, as well as chicken. To me, khao soi is perfection in a bowl – it's rich, spicy, and filling, usually for a few dollars or less.
On this day, my fourth in the city, I found the winner. I didn't have much on the agenda, so I decided to go find a place I had heard about called Khao Soi Islam.
Khao Soi Islam is in a small muslim area where few tourists venture. It's located on Charoen Prathet Alley 1, off Changklan Road (about a 15 minute walk from the Duangtuwan). Wandering around, I was glad I could find it on the GPS on my phone, otherwise I would have missed it completely.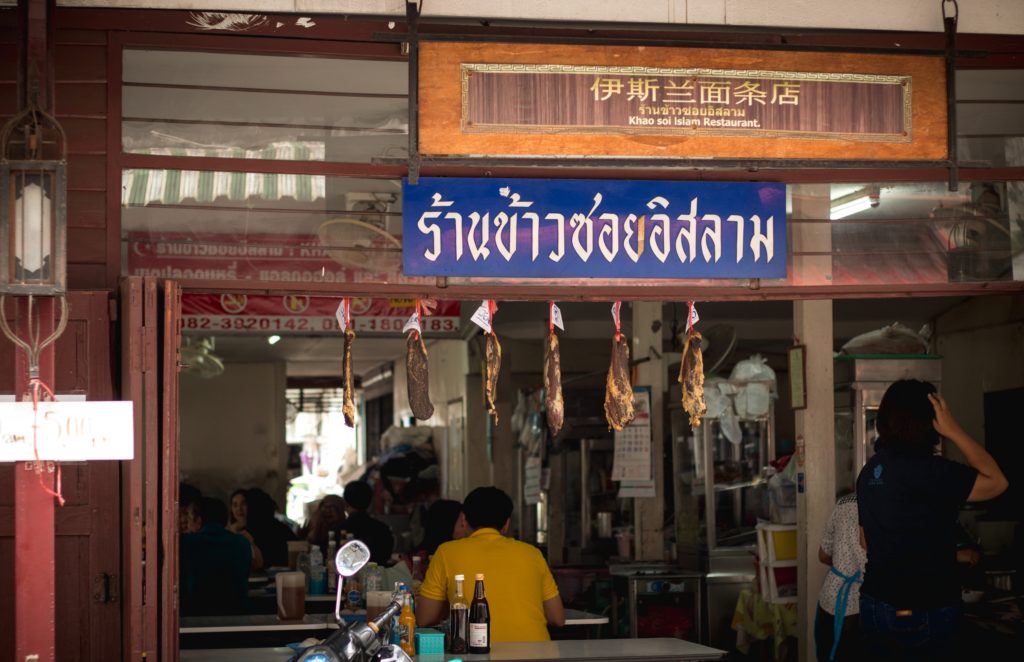 I entered the restaurant. Busy servers zipped past me, people came and went, and I wasn't sure what to do! No one offered to seat me, so I figured I should seat myself. I sat at the front, where I could watch the road. A server came over quickly and I asked her a question – no response. In this restaurant – and this part of town – don't expect western comforts or people to be greeting you in English. I found what I thought was probably khao soi on the menu and pointed to it. I held my finger up – one. "Chicken," I added, hoping to be understood. She nodded and headed off to put in my order.
While waiting I saw a couple of plates of tasty satay with peanut sauce go by. My mouth was watering.
A few minutes later, this is what arrived: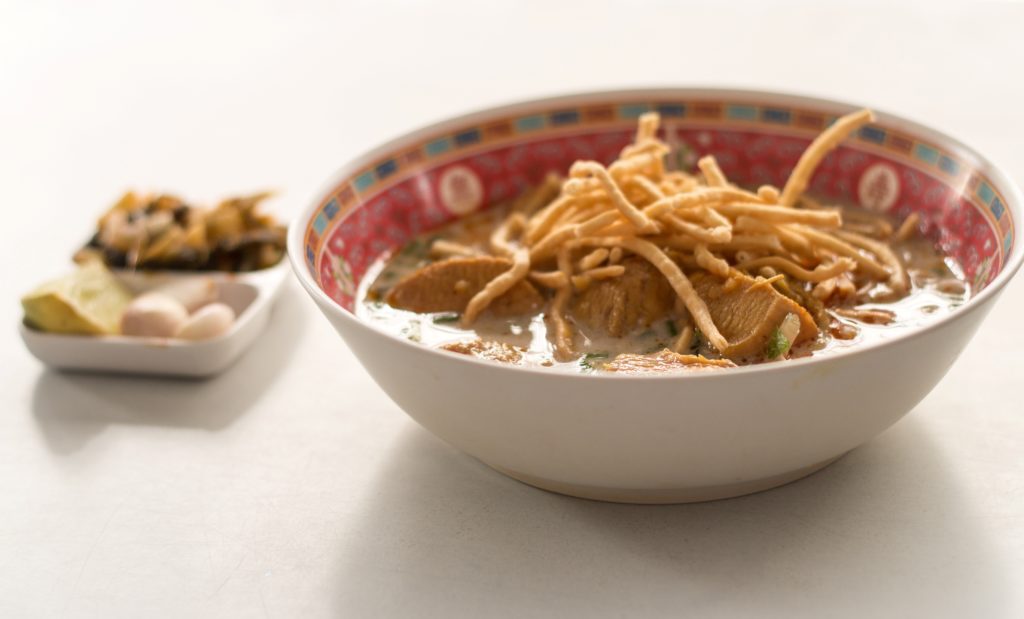 The ingredients were fresh, the curry / coconut soup was delicious, and the noodles and chicken were perfect. The kicker? This tasty concotion cost a grand total of 60 baht, or just less than $2 USD!
I am willing to bet I had half a dozen different bowls of khao soi while in town. While Khao Soi Islam took the top spot, there were many others worth mentioning – Lemongrass makes a mean khao soi, as does the Teak Baan Sathong on Loi Kroh Road. I had a pretty good bowl at Krua Dabb Lob in the old city in the middle of a rainstorm, so it was definitely comfort food as I sat and watched people running around getting drenched. There's something sadistic about enjoying a hot meal and a cold beer while others are dodging raindrops the size of cataloupes, but that's life. I had a great time.
As for the khao soi quest? There was one place that came highly recommended to me, but I never got to – Khao Soi Khun Yai. I've heard their khao soi is ridiculously good. I'll save that for next time.
Day Six
Day six was a Sunday, which meant the famous Sunday Night Market was on tap. I didn't do much in the morning – had my buffet breakfast at the Duangtuwan, went for a swim, got a massage (I know, tough life, right?), and then did a bit of writing before making my way down to the Old City.
I walked down to the Tha Pae Gate, a good starting point for the market. As light gave way to darkness the square in front of the gate was getting busier and busier. A group of demonstrators was creating quite a fuss in front of the gate, making their case for everyone to stop eating meat.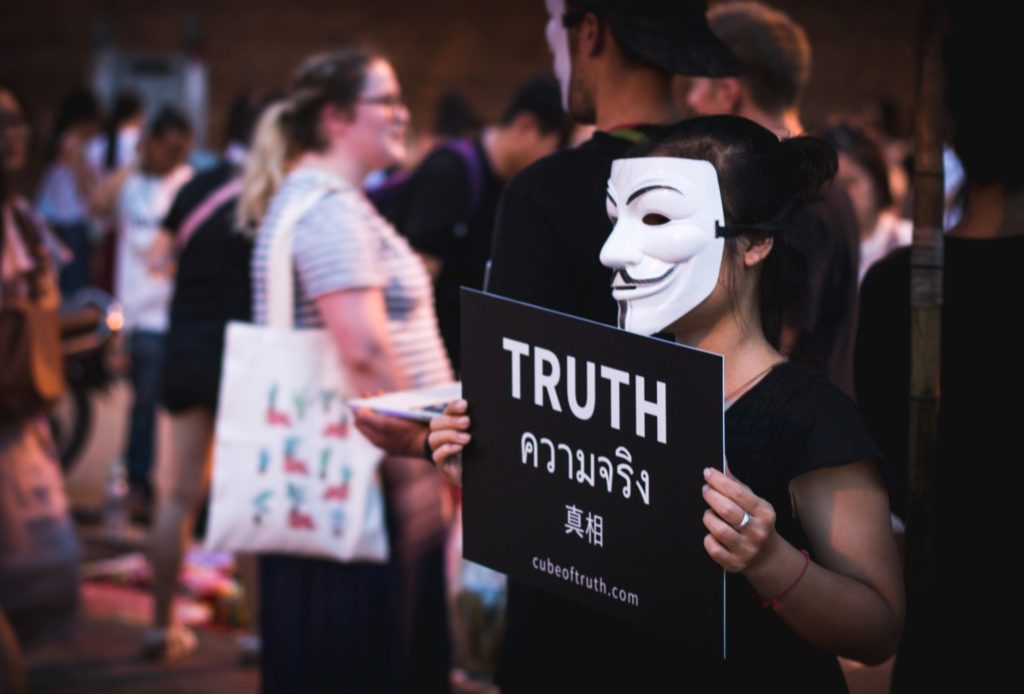 The woman behind the mask was an affable Aussie. She stopped me as I started to walk away, asking me if I was a meat eater. We chatted for about ten minutes. I usually enjoy healthy debate, and this was no exception. She made some good points, but I'm still an omnivore so she wasn't that persuasive. I definitely admired her passion, though.
Leaving the articulate vegans in my wake, I passed through the Tha Pae Gate and jumped into the market.
Ten feet down the main strip, I could feel my personal space evaporate. Shoulder to shoulder, I floated along with the crowd, taking in the myriad stalls selling trinkets, clothes, food, and just about anything you can imagine. Musicians entertained, glassblowers blew, and hawkers hawked. The atmosphere was electric; I found I had to keep my head on a swivel in order to take it all in.
There was no shortage of craftsmen and artists, their wares on display for the world to see.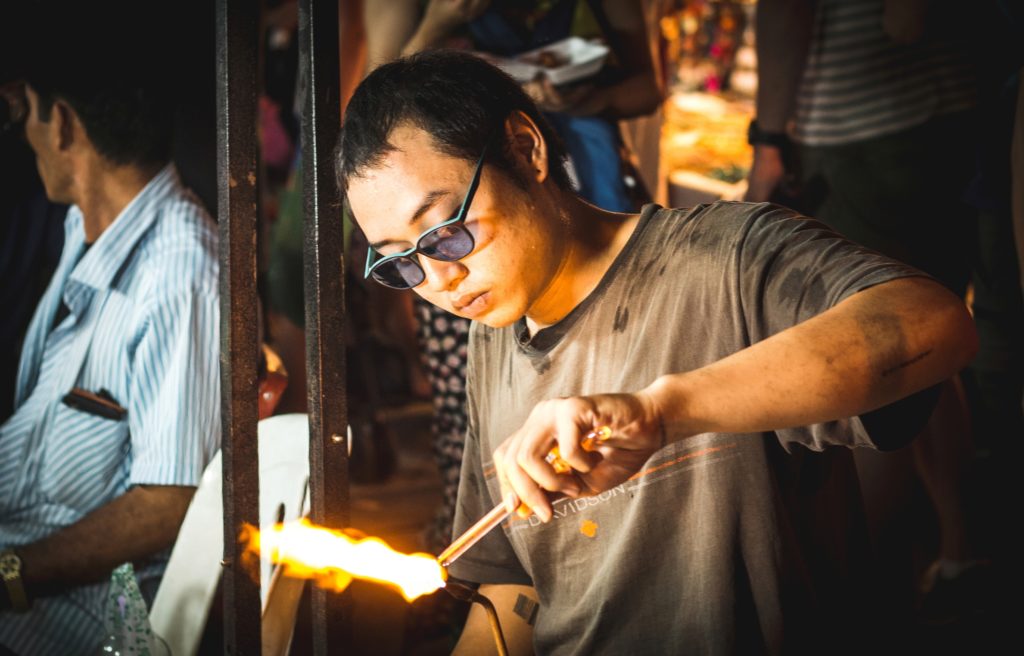 I wandered for a couple of hours, taking pictures, and marveling over the sheer scope of the market. This is one massive mother of a market. The best part? There is food everywhere. I got the sense that people would cruise along, grabbing a snack here, a snack there. Most of the tasty morsels on offer travel well, so it's all been thought out. I made like a local and enjoyed my fair share of meat on a stick.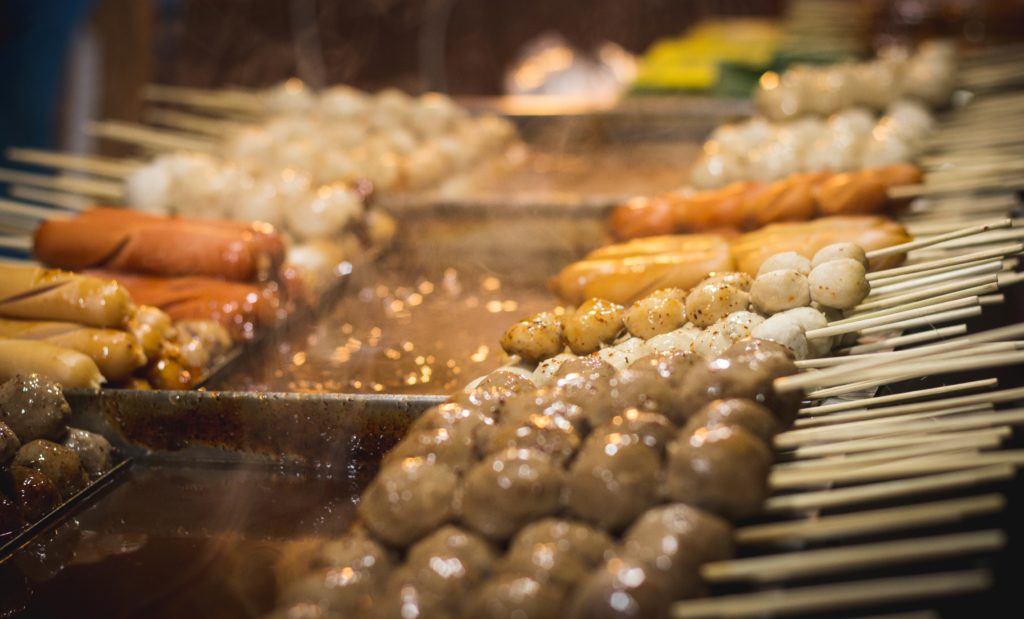 The crowds were heavy – at times it felt like you couldn't move more than a foot or two in any direction.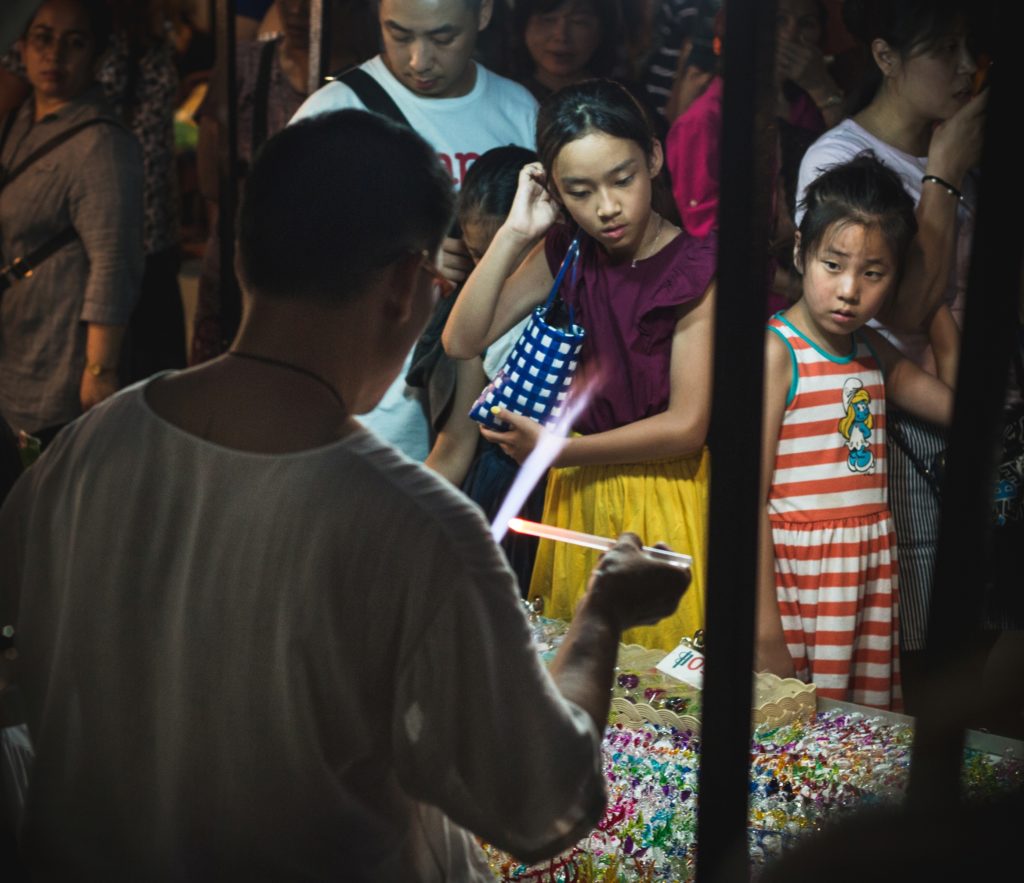 I was texting Angela, hoping she might get sprung from her work commitment so she could join me, when the skies opened up.
I was lucky – when the storm hit I happened to standing right in front of a bar. I quickly grabbed a stool near the front, ordered a large Singha, and kicked back. The rain that came was heavy, bouncing up a foot or more after hitting the pavement. Watching everyone scurry away and race to cover their stalls was entertaining; it was also amazing – these people were not rookies when it came to dodging precipitation. In no time plastic sheets and makeshift roofs covered the entire market.
I thought the rain would die off after a bit, but it was stubborn. One beer turned into three, and when there was no sign that things would improve, I dug into my backpack, found a rain poncho I had packed for just such an occasion, and geared up. I walked through the downpour back to the hotel, about a half hour walk. I could have taken a songthaew or tuk tuk but instead decided to enjoy the rain – there's just something about sloshing around in a rain storm when you have nowhere particular to be and you're well past that point of worrying about getting wet.
I laughed as I was almost back to the hotel – some of the massage girls along Loi Kroh hadn't given up, despite the rain. Soaked to the skin, blue poncho covering me, they called out, "hey, you handsome man!". I was chuffed to know that despite looking like a drowned sheep dog, I was still a handsome man. Now, I know they would call me a "handsome man" if my hair were on fire and my face covered in bees, but I took it, the ego boost a good way to end my night.
Day Seven
The next day was a temple day. It's easy to hit your threshold when it comes to temples in Chiang Mai – there are literally dozens worth a visit, and it's not unusual to stroll down the street and happen upon one that hadn't been on your radar.
I woke up early, went for a swim, and packed up my camera gear. It was a crazy hot day, so I hit the road early, walking down to the old city. I was going to spend a bit of time at Wat Chedi Luang in the hopes of taking part in their "Talk With a Monk" program, but along the way I got sidetracked, as I often do.
First up was Wat Pan On, an easy stop along the way, as it's just a few minutes down Ratchadamnoen Road from the Tha Pae Gate. It was early, so when I arrived a small row of vendors were just setting up their stalls, mostly crafts and a few carved items. I bought some coconut wood ladles and spoons as gifts because I thought they looked unique.
Wat Pan On is a cool little temple in the middle of the old city. I had walked through the grounds while the Night Market was on, but it had been packed; on this morning it was quiet, and there were only a handful of others exploring and paying their respects.
There were workers busily erecting something next to the large gold chedi that dominates the square there, so I couldn't find an angle to photograph it, but there's plenty to see if you take a few minutes to walk around at Wat Pan On.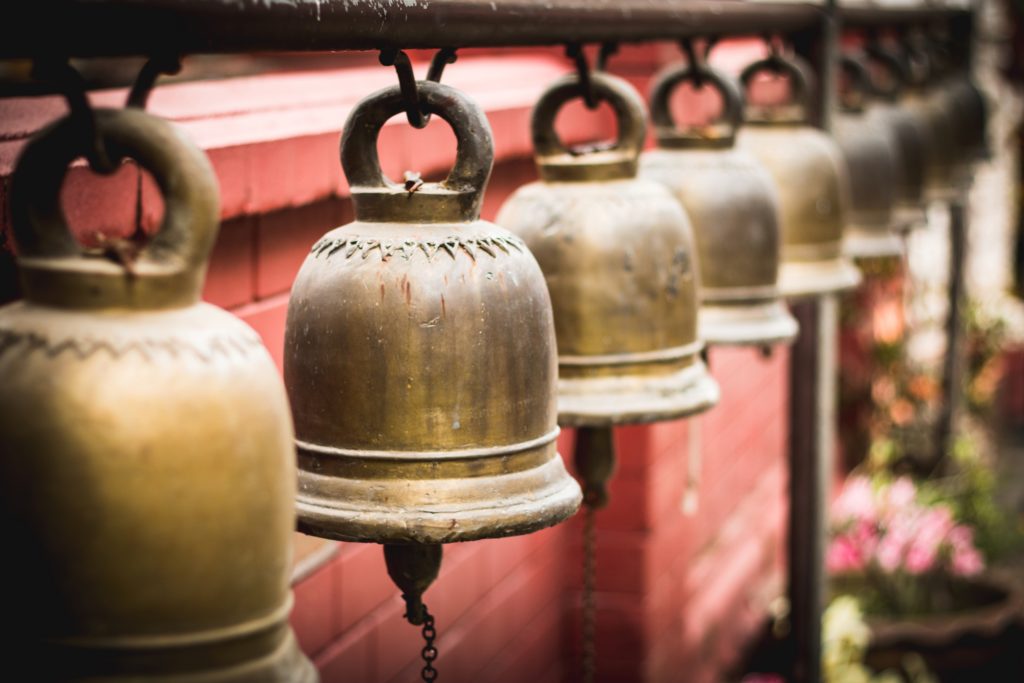 After spending a few minutes I made my way back out to Ratchadamnoen Road, where I got a kick out a French crepe seller, who had the longest line on the block, despite there being so much great Thai food around. I guess when you want a crepe, you want a crepe, and no amount of pad thai will stop you.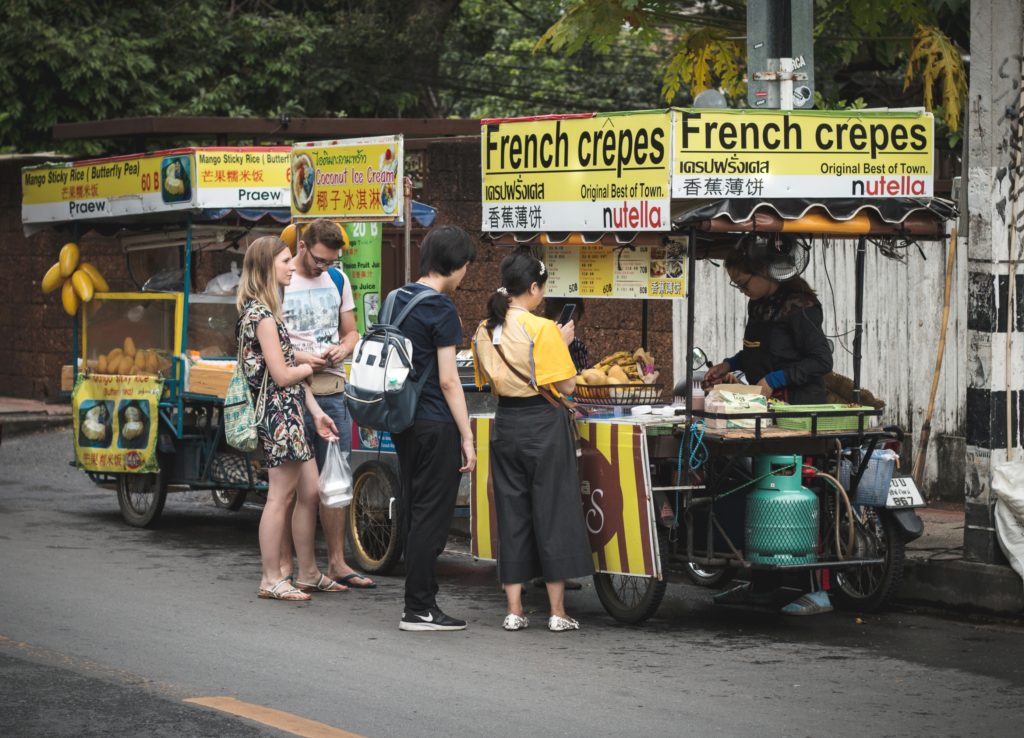 Making my way down the street, I wandered into a temple which I later learned was Wat Sumpow. There was no one around – this one obviously wasn't on the tour bus route. I love the Thai style of architecture found throughout the city (and the country, for that matter).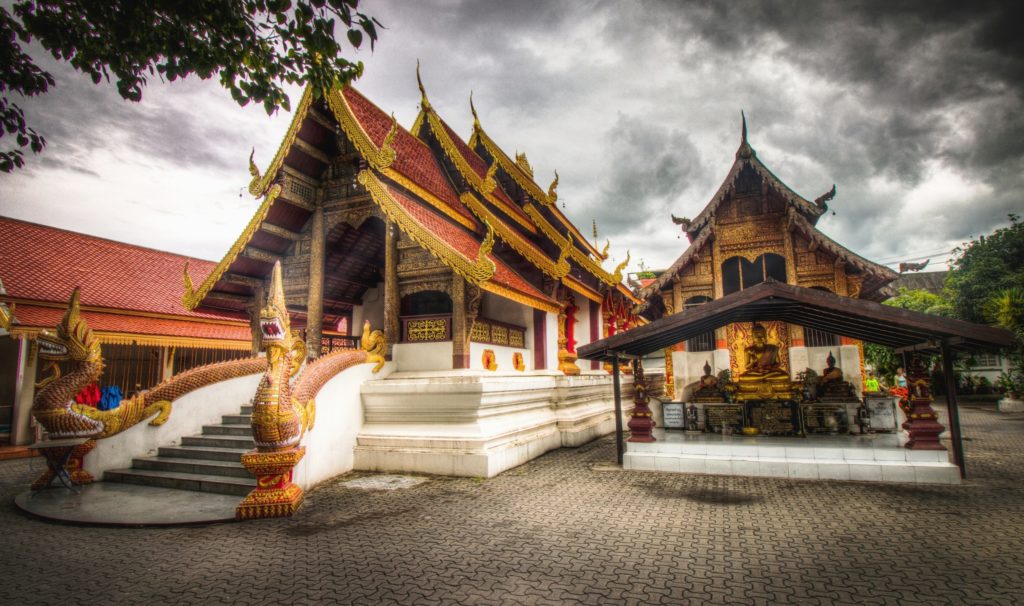 I was testing out a new wide lens on this little excursion and I was happy with how it performed. Sometimes it's tough to get the width of these temples because they're confined in tight spaces – hence the wider lens, which I came to love on this trip.
Walking down the street and taking a left on Prapokkloa Road, I stopped for a short visit at Wat Phantao, a beautiful teak wood temple. It stands in the shadow of Wat Chedi Luang, so many tourists skip it, but it's worth a few minutes.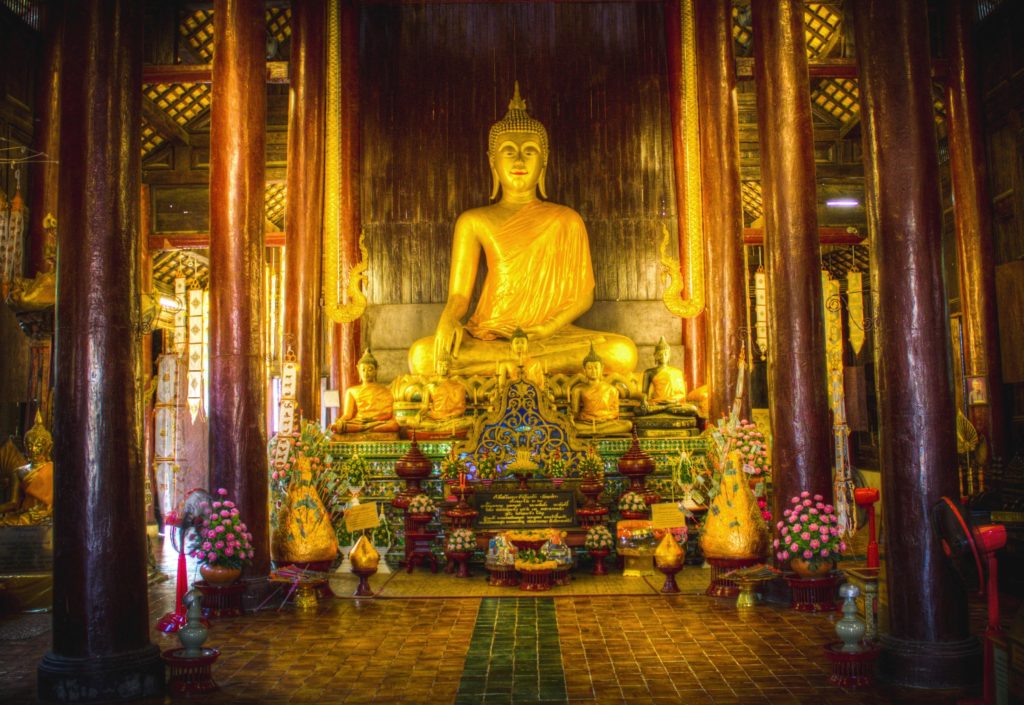 Outside, people were lighting candles and incense, but the wind wasn't always cooperating.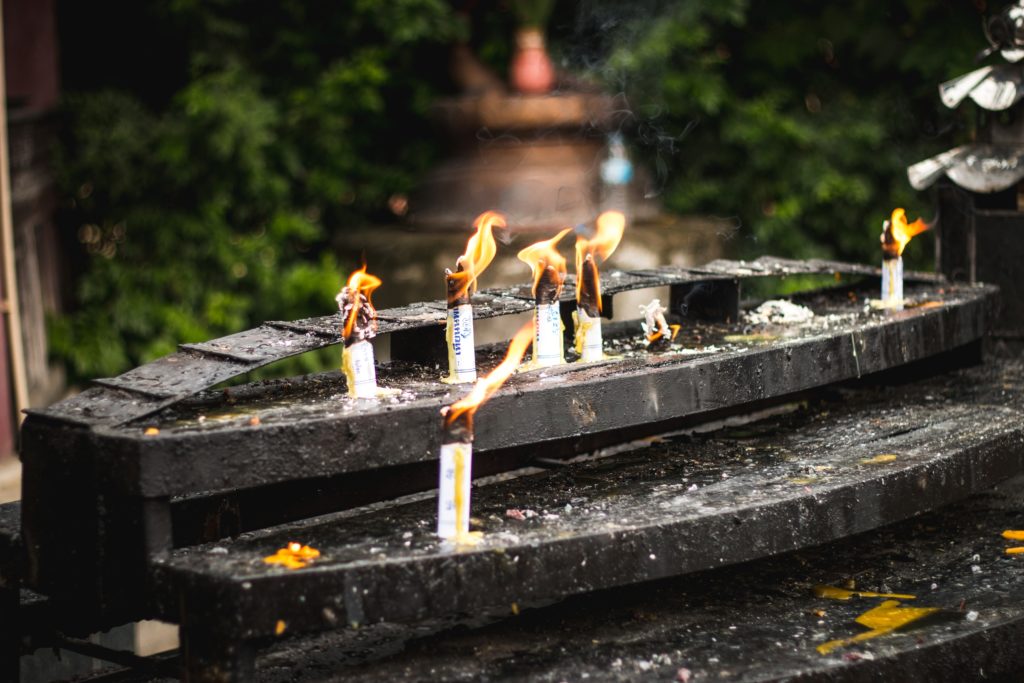 Next up was the famous Wat Chedi Luang. This is a temple that made an impression on me when I visited back in 2015, so I was happy to return. The skies were threatening, and people were talking about rain, but it hadn't hit yet, so I soldiered on, paying my 40 baht entrance fee, and making my way into the grounds.
Constructed between 1385 and 1402, this massive ancient temple is one of Chiang Mai's most well-known attractions. This means, like with Doi Suthep, it's best to get there early. Despite all my stops along the way, I was hitting the temple by about eleven o'clock, which was early enough to dodge most of the crowds.
The grounds are huge, and there's a large, new temple at the entrance, which is certainly worth a visit, but most travelers (I am guessing), are here to see the main temple in the courtyard. As the skies were dark, it was the perfect time to capture that powerful "end of the world" type visual that I love to take advantage of when the conditions are right…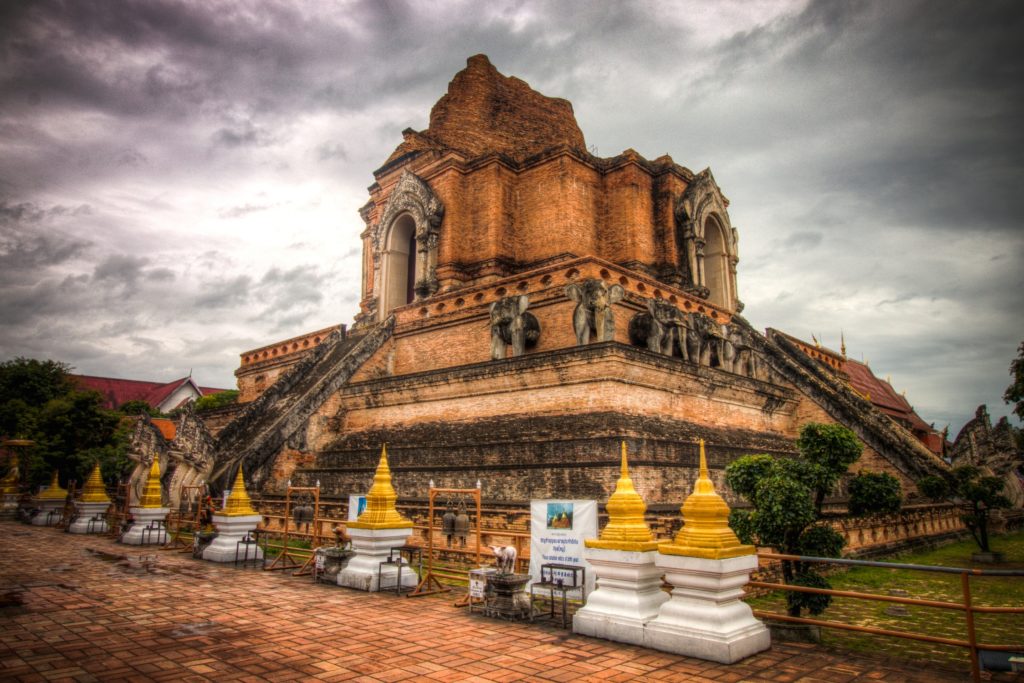 With the grounds not being busy, I could take all the time I wanted to capture some of the finer details around the temple. This, of course, is a dream for a photographer.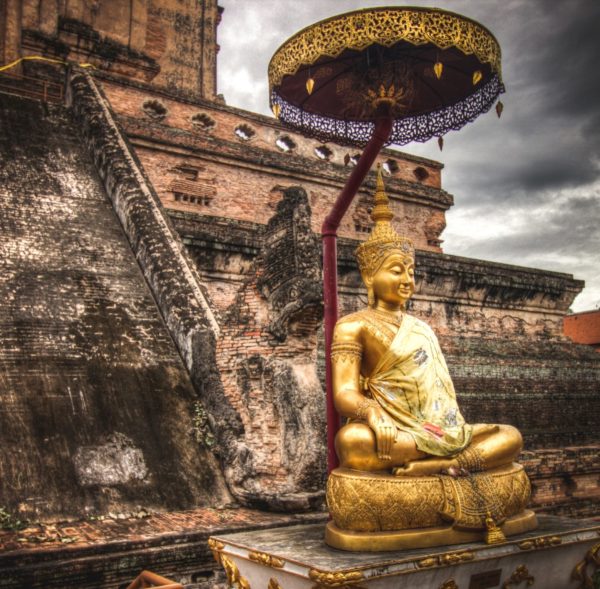 I wandered around a bit, and then made my way over to an area next to a Buddhist school where a senior monk was giving free lectures on Buddhism to a handful of fellow travelers. It was also the spot where you can chat with a junior monk; it's a trade-off – you get to learn about life as a monk, and the junior monk gets to practice his English.
After about ten minutes of the senior monk's lecture, a small group of junior monks emerged from the school. They each found someone listening to the lecture to partner with, and the conversations were on.
I was coupled with a young guy who I learned was seventeen.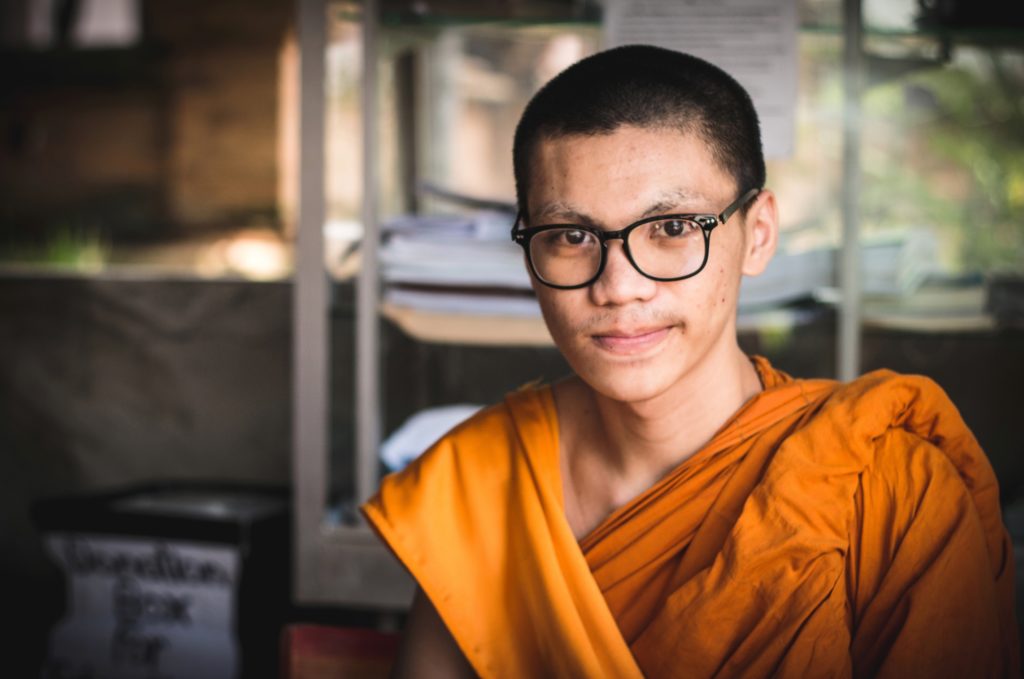 He also became my new best friend. Here's how our conversation went:
"How are you?" he asked, consulting a sheet he had prepared for our encounter.
"Good. How are you?"
He looked a bit confused. 
"How are you?" he repeated, reading from the sheet.
"Still fantastic. How are you?"
He looked at his sheet.
"How are you?"
"As awesome as I've ever been. I can see we're stuck in an infinite loop, though, destined to verbally spar on the status of how each of us are. So why don't I help you pick another question." I point at his sheet to another question.
"How old are you?" he asked.
I told him. His eyes went big, his jaw dropped.
"How old did you think I was?" I asked.
"I think you much, much younger," he replied. "I not believe it! You much younger!"
And that's why he's my new best friend.
We tried to talk a bit about Buddhism, and about his experience at the school in Chiang Mai, but the language barrier was a bit much to overcome. Still, I enjoyed the experience of connecting with him, and would recommend the experience to anyone who visits Wat Chedi Luang.
The sun was high in the sky and the temperature – and humidity – was climbing quickly. I made my way back to the hotel to cool off.
Not much happened that night – dinner at Lemongrass, a bit of a wander through the city, and then I called it a day.
Day 8 
This was the day I was determined to get a massage from a female inmate.
In the heart of the old city there is a small spa where female prisoners learn new skills as a part of their vocational training, providing massages for customers as a part of the program. Much has been written about this, and the spa has excellent reviews, so I thought it would be a good opportunity to support the program and give it a try.
I had heard you have to get there early, otherwise all of the spots book up for the day. "Definitely get there before noon," someone at the Duangtuwan had told me. It was off-season, so I think they opened a bit later than usual – 10:00 am. I got there around 10:45, thinking I was there in plenty of time.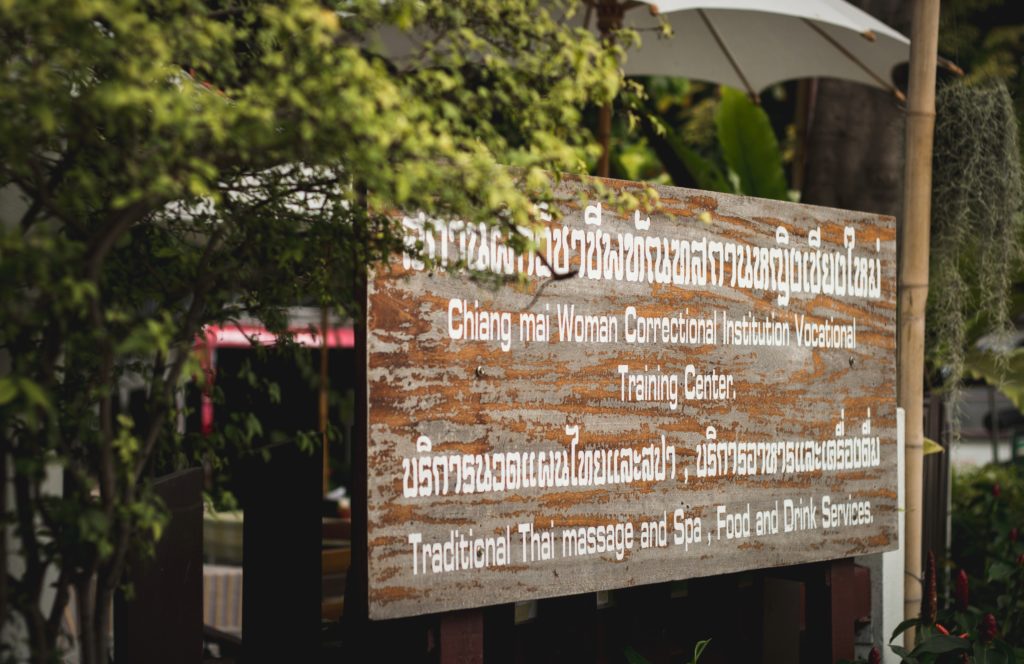 I was wrong. The woman in beige (a guard?) at the receptionist desk very politely informed me they were booked for the entire day. I asked her if she knew if it would be the same the next day and she just shrugged. Apparently it's different every day, and the best thing to do is get there early and hope you can get in.
I walked around the small grounds. They've done a nice job making it look and feel like other Thai spas, putting out small waiting tables, a few food options, and a nice little garden with a fountain.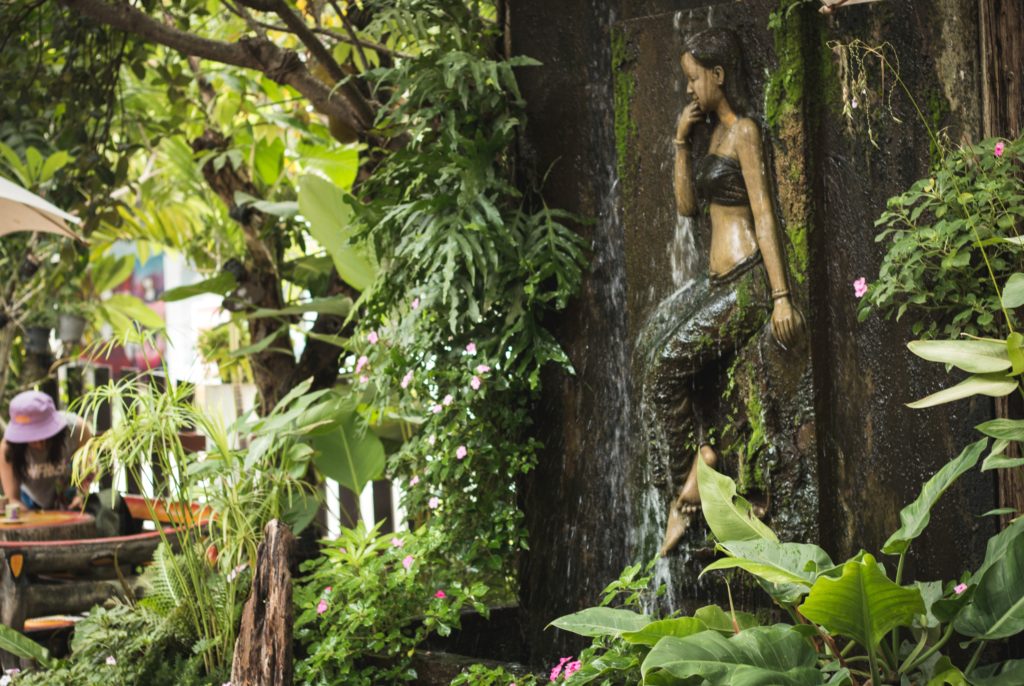 So having struck out, I decided to try another place nearby that I had heard about, Lila Thai. After all, once you have massage on the mind, it's hard to just bail on the idea completely, especially in a city brimming with good massage options.
Lila Thai is run by ex-prisoners, women who have been rehabilitated and are now working in a thriving business not far from the original Women's Correctional Institution Training Center.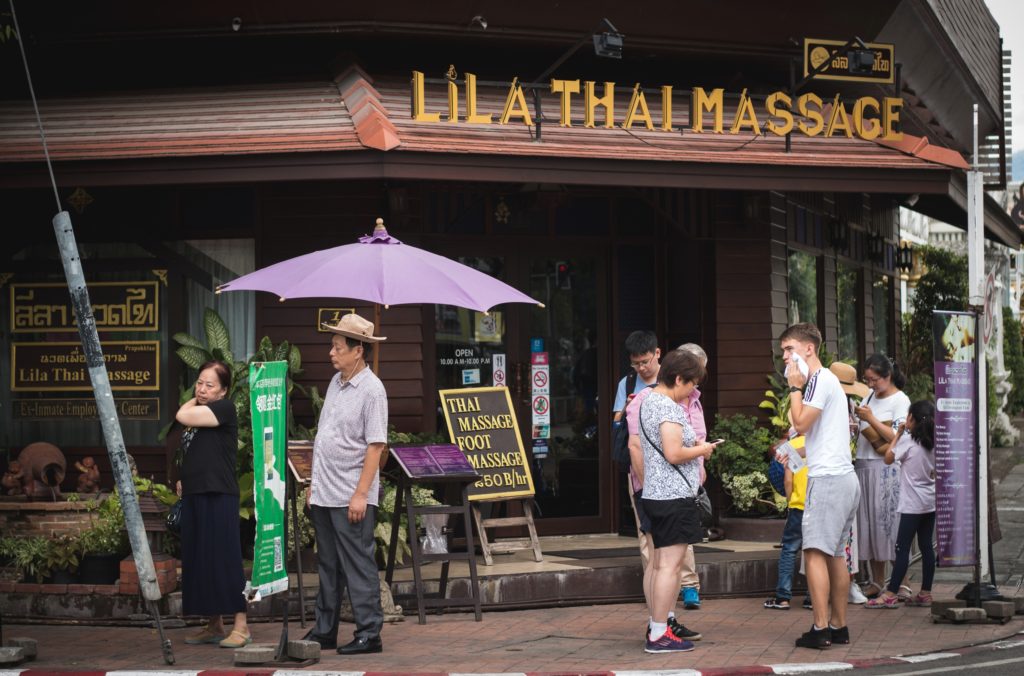 I saw the crowd outside the spa and thought, "uh-oh, here we go again." But my concerns were put to rest as soon as I walked inside. It was quiet, peaceful, even, and gloriously cool. The woman behind the desk smiled politely, gave me a nice wai, and asked me to look through a one page menu of services.
I opted for a one-hour foot and leg massage, a new experience for me as I'd never had just a foot and leg massage before. They ushered me into a small hallway where a staff member came out and asked me to remove my sandals. She then washed my feet and walked me into a room with a number of reclining chairs. It was cool and mostly dark, which I appreciated. Soft music played in the background. She seated me in one of the chairs and gave me a cold towel, which is one of my favourite things in the world when I'm in Southeast Asia. If I could pay someone just to follow me around with an endless supply of cold towels when I'm in that part of the world, I would happily do it.
A few minutes later the masseuse came in, a very nice woman in her late thirties. She began to work on my feet and I started to relax immediately. I usually don't love it when people massage my feet during a full massage, but this woman was a foot expert, and boy howdy did she know how to do it right.
An hour passed in no time, and I enjoyed the foot and leg massage more than expected. When the masseuse has that much time to work a small area of the body, they can really focus and do great things. In addition to the feet, they also work the calves, the knees, and the thighs a bit. She also did a bit around my hands and forearms, which was nice. Overall, it was time and money well spent. The whole thing cost 250 baht ($8 USD), plus tip, so it was an amazing value and a great overall experience.
Legs and feet feeling all gooey, mind calmed, I walked back out into the hot sun. It was seriously cooking out, so I opted to take a tuk tuk back to the Duangtuwan. I met up with Angela, who had managed to free herself for a late lunch, so we had a good meal of pineapple rice and satay at the Fueng Fah Thai Restaurant across the street from the hotel. It was a solid choice, the satay delicious, and the service good.
We had been there on one other occasion for dinner, but had to leave because there was a band on the stage that had a singer with an extremely shrill voice and her mic was way too loud. The kicker is we love live music, but this was something else entirely, an assault on the senses that made me want to take a long walk off a short pier. It was totally unbearable, so we had to relocate to Lemongrass up the road. For lunch, though: no band – so it made for a much better experience.
Sadly we only had a day and a half remaining in Chiang Mai, so I had some housekeeping to do. I spent the rest of the day dropping off laundry across the street, packing up, processing photos (my memory cards were already filling up, so I had to keep processing pics), and dashing off a few notes to friends and family back home.
Day Nine
Elephant day! Angela was free this day, so together we (along with one of her co-workers) took an excursion out to Blue Daily Elephant Sanctuary. I had scoured the interwebs to find the right service provider when it came to elephant sanctuaries, and Blue Daily had some of the best reviews out there. They were known for their ethical treatment of animals, their commitment to the local economy, and their promise to offer quality small-group excursions.
I wrote a post about our experience here, so if you are interested in reading about this trip in detail, please do so. For the purposes of this post, I'll hit you with a few of the highlights.
Our group was a small one, as promised. It was our little triad as well as a very nice family of four from Switzerland. They spoke French, a beautiful, clean, accent-free French that even I could follow. Angela, who is almost bilingual, was thrilled to speak French with them all day.
Our guide, Lida, was happy, intelligent, and obviously loved her job.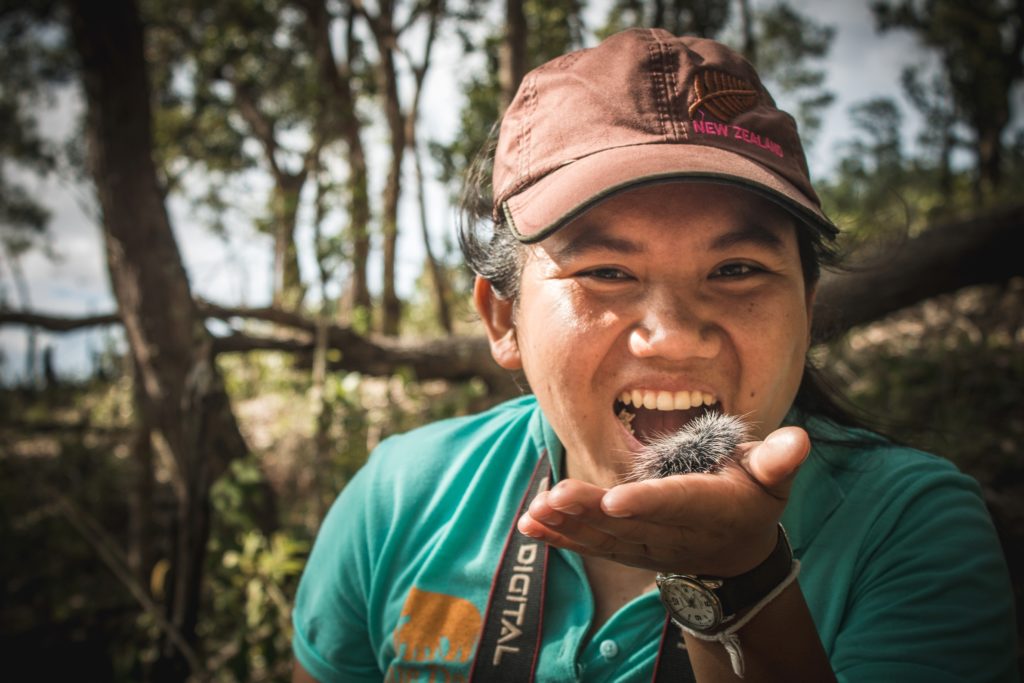 The elephants were the stars of the show, and it was a thrill to feed them, bathe them, and walk with them through the jungle.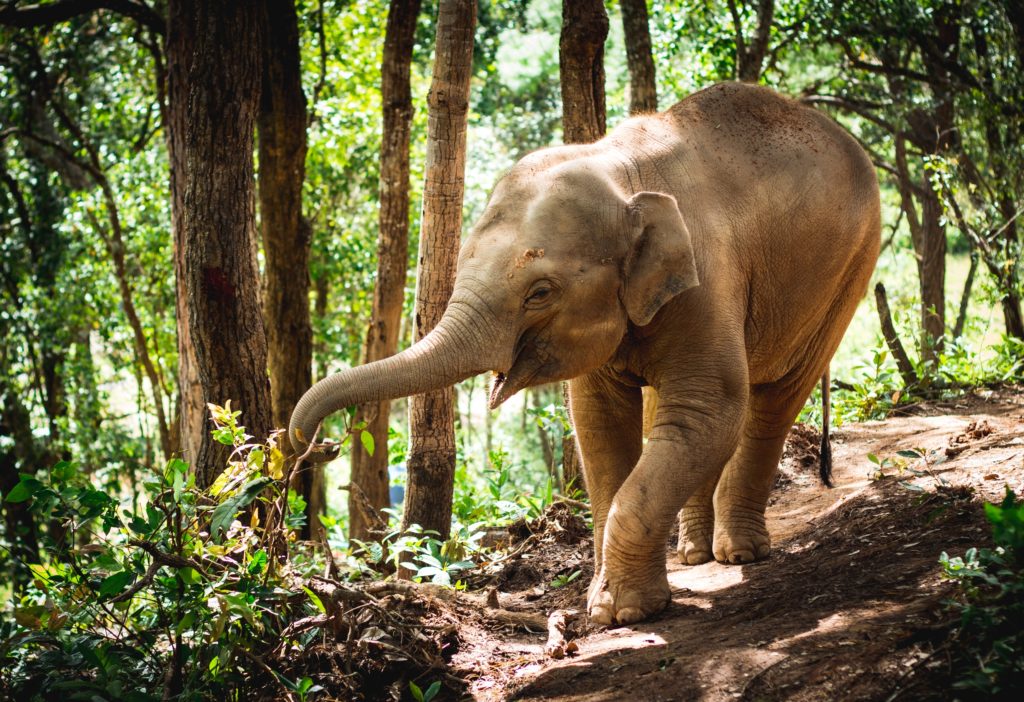 One thing – it was definitely a messy day, which is all part of the fun. The elephants have a sense of humour and love to spray you once you get in the water with them.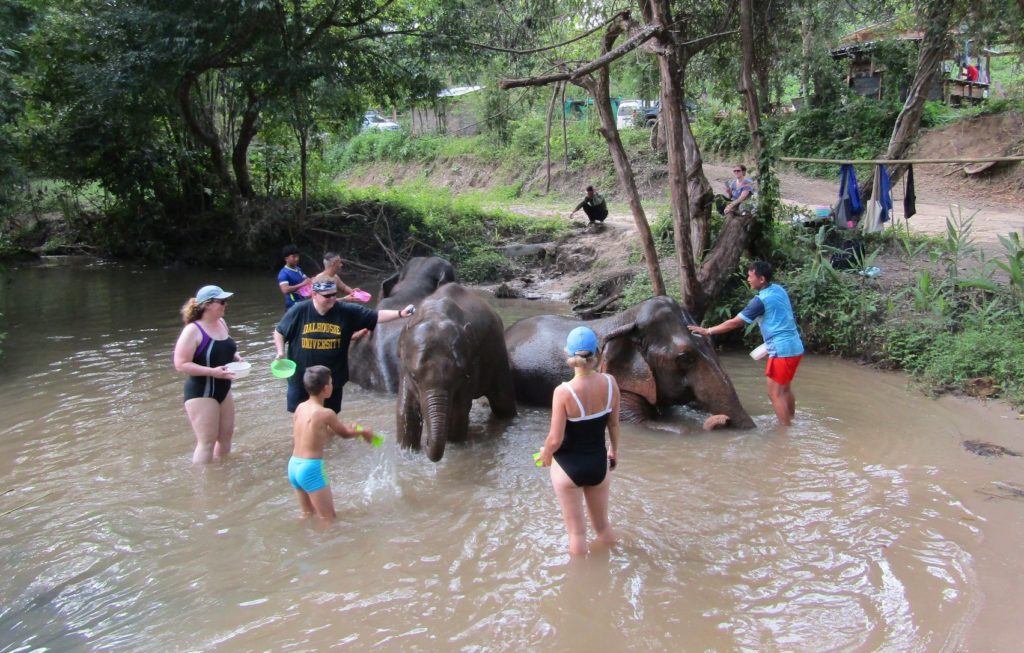 We had opted for the half day excursion, which was a pretty full day in the end. The sun was already starting to set when we waved goodbye to our massive trunk-wielding friends and they lumbered off to do whatever it is that elephants do at night.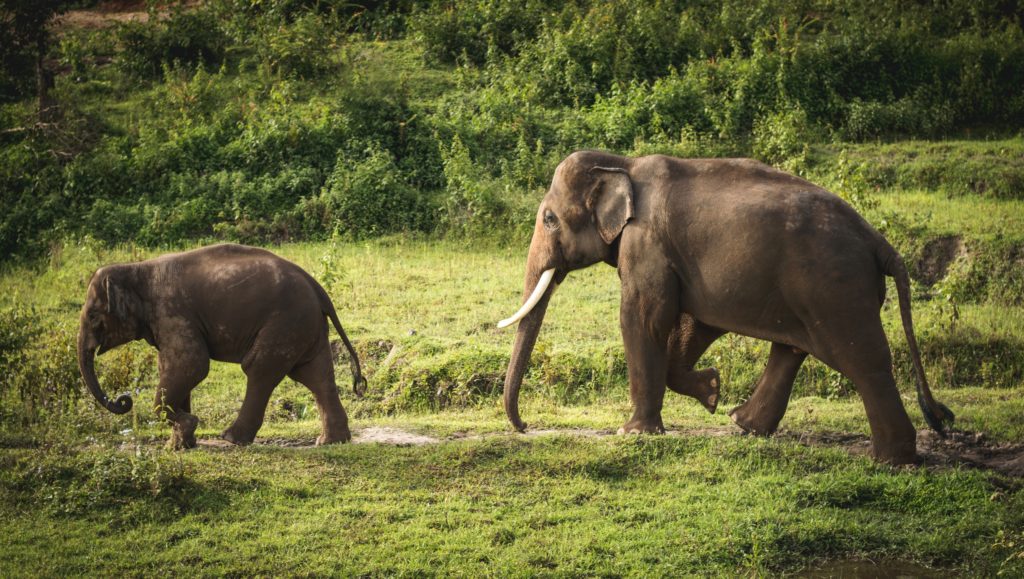 Overall, this was one of the best days I've spent in Southeast Asia. The experience of taking care of an elephant for a day was absolutely magical, and I highly recommend it to anyone who has the opportunity. I have no doubt there are plenty of good elephant sanctuaries around Chiang Mai, so do your homework, but as far as I'm concerned you can't go wrong with Blue Daily.
Nightfall was upon us as we dragged ourselves back into the Duangtuwan. We packed up a few things, watched a movie on TV and hit our bed of steel hard.
Day Ten
This was our final day in Chiang Mai. Not even a full day, as we were leaving in the early afternoon for the airport, and our Air Asia flight to Surat Thani in Southern Thailand.
We got up, had a good breakfast at the buffet restaurant in the hotel and went for a final walk around the neighbourhood. I picked up our laundry, happy to be starting the next chapter of our trip with some clean clothes. We packed up our last few items and checked out of the Duangtuwan.
We jumped on a shuttle that was running between the hotel and the airport. Joining us was a girl in her late teens from the UK. She was heading onward to Bali where she would be spending a month on her own. We swapped travel stories and enjoyed the ride. I love meeting fellow travelers.
Before we knew it we were boarding the plane and our time in Chiang Mai was done. It had been a fantastic ten days, but it was just the beginning of our journey – Samui, Bangkok, and Siem Reap were still to come.
How about you? Have you been to Chiang Mai, and if so, what were your impressions? Comment below – cheers!