"Bloody hell, that tree is massive," she said as we turned the corner and got our first look at the hulking silk cotton tree enveloping the ruins of Ta Promh. "She" was a British tourist standing behind me, but since she echoed my thoughts quite accurately, I thought I would use her words to describe the 100+ foot tree that had grown on top of, around, and inside the outer walls of the temple.
Ta Promh, built in the 1100s as a Buddhist monastery and university, is the kind of place that most people have high expectations for; after all, it's not just a revered temple in a fantasy-like setting – it's also known as the "Tomb Raider Temple" following the 2001 movie filmed there. Add in visions of a sweat covered Angelina Jolie to your already lofty goals of basking in the shadows of exotic Buddhist ruins and towering silk cotton trees, and the bar is set pretty high.
Yet, like other temples in the Angkor region, it managed to meet my expectations – and then some. I was visiting with Angela and our guide for the day, Cocoa. It was our third day in Siem Reap, and our second as temple explorers (on day one we loved Missing the Sunrise at Angkor Wat). Despite having seen a half dozen temples before this one, Ta Promh was certainly a highlight.
If you choose to visit, you'll begin your journey to Ta Promh by leaving your tuk tuk driver by a set of gates along the road, and then you walk in about a half a kilometre. The walk is nice, it's an easy stroll along a groomed path in the shade of tall trees. The shade is a relief if the day is hot, which it will almost certainly be, because, well…Cambodia.
The first view of the outside of the temple gives you a taste of what is to come, the somewhat modest main entrance dwarfed by gargantuan trees: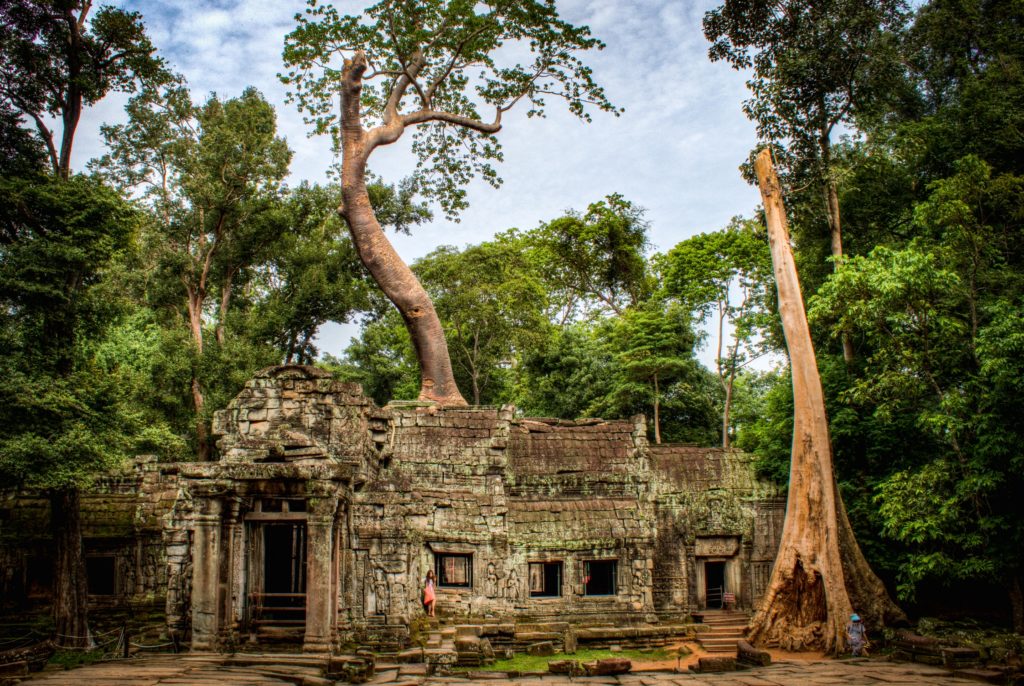 We were lucky with our timing – there were two tour groups trailing us, but only one ahead, so we managed our pace to avoid too much interference with any of them. Of course, it's Ta Promh, so there will always be people around, but if you're patient and choose an off time to go, you can find gaps in the crowds to take photos and carve out a bit of space for yourself.
Passing through the entrance on the right side of the ruins, we were treated to the epic view you see in so many pictures of this iconic temple. We had to wait about ten minutes for the group ahead of us to clear, but then we were given about three beautiful minutes of solitude to shoot away. I loved every second of it, a light breeze in the trees, no one around, just the aura of Ta Promh and the feeling that I was very, very far from home.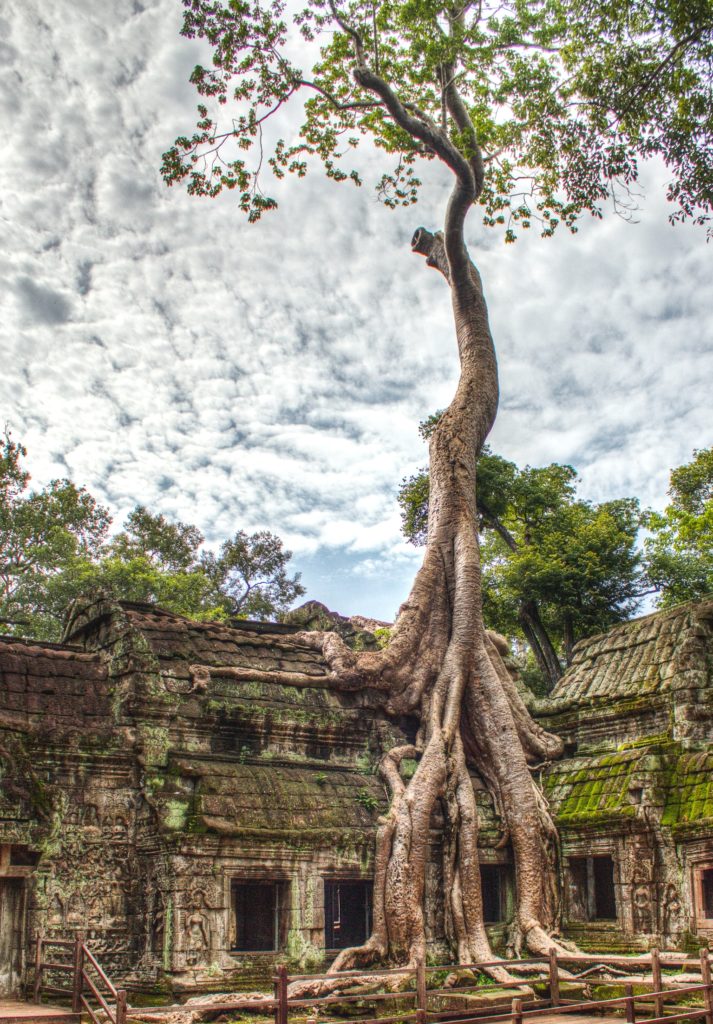 We pulled ourselves away from the opening viewpoint as a tour group arrived, overhearing their guide saying. "this is the first tasty morsel in the Tomb Raider tour, an appetizer, as this is the first taste of Lara Croft's filming locations."
Everyone was buzzing, talking about the movie, entranced by the concept of sharing real estate where Angelie Jolie once stood. The temple, everyone agreed, was pretty good, too.
Satiated after enjoying our morsel, we moved on, navigating our way along rocky paths, between rubble and ruins until we came to a courtyard where a once massive tree must have dominated.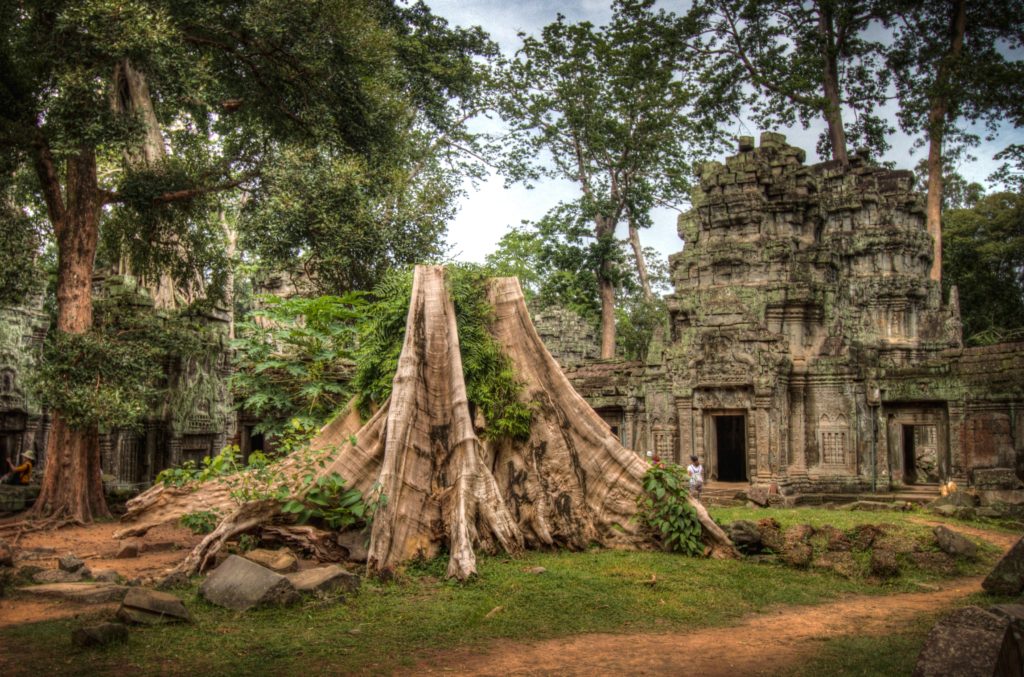 Exploring beyond the courtyard, we came to another one of Tomb Raider's filming locations. A small line had formed and people were waiting patiently until a couple of pushy tourists barged to the front and just started snapping away. People in line quickly confronted them and told them to queue up like the others. Most people in places like this are friendly and follow basic etiquette, but sometimes tour groups take on a bit of a mob mentality and you have to be patient. The good news is that if you are patient, you are usually rewarded.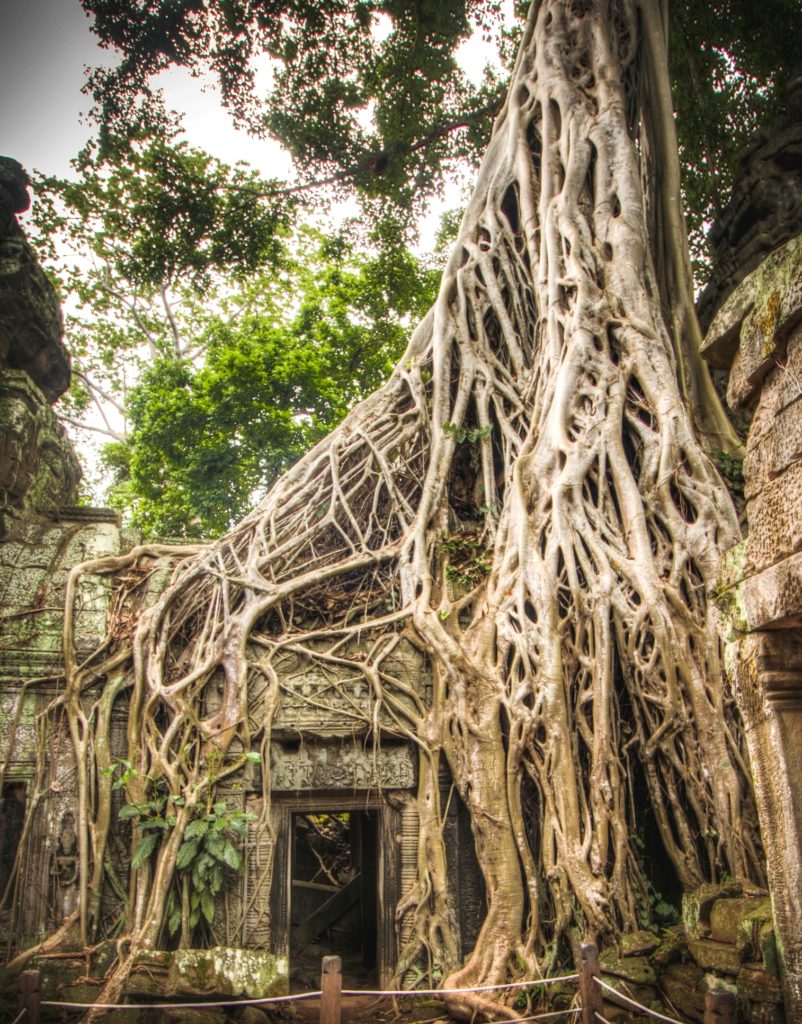 This is a pretty good spot for taking that quintessential Ta Promh selfie or portrait, as well. I think at this point I was feeling a bit goofy from the heat.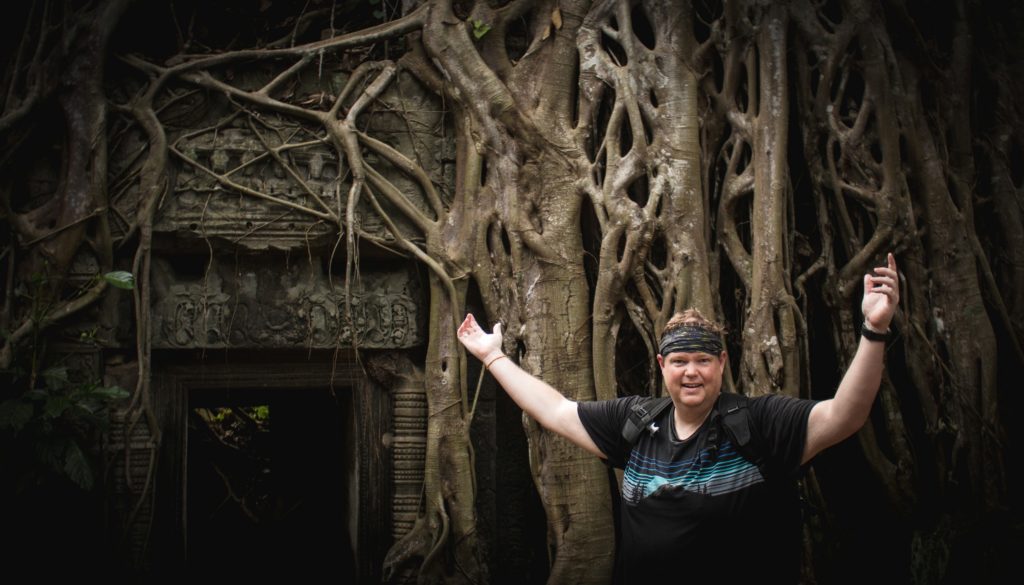 We wandered through the rest of the temple. Ta Promh, especially in some of the quiet corners and down some of the hallways, can have a bit of an eerie feel to it (which added to the experience for me).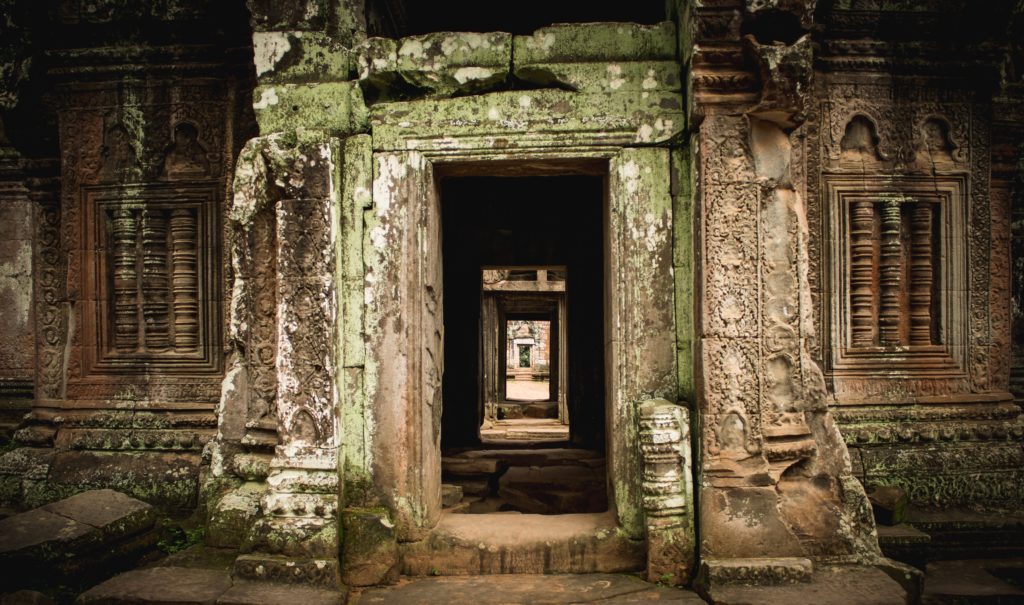 It's the trees make this a truly unique place, and it's hard not to be mesmerized by them as their roots crawl up, over, and through the temple.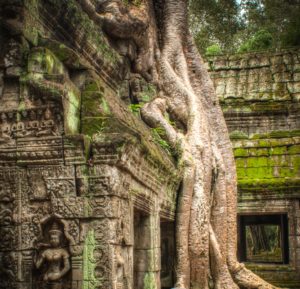 After a bit of combing through the temple we found a quiet spot outside to munch down a Clif bar and have a sip of water. The birds sang, butterflies and dragonflies flew around us. For my first Ta Promh experience, this was pretty magical.
Eventually we pulled ourselves away, making our way out the front of the building and back along the path towards the outer gate. A small group of musicians, waiting for people to walk by, struck up what I am guessing was a traditional Cambodian tune. Honestly, they could have been playing anything, but it sounded nice as we made our way back out to the road.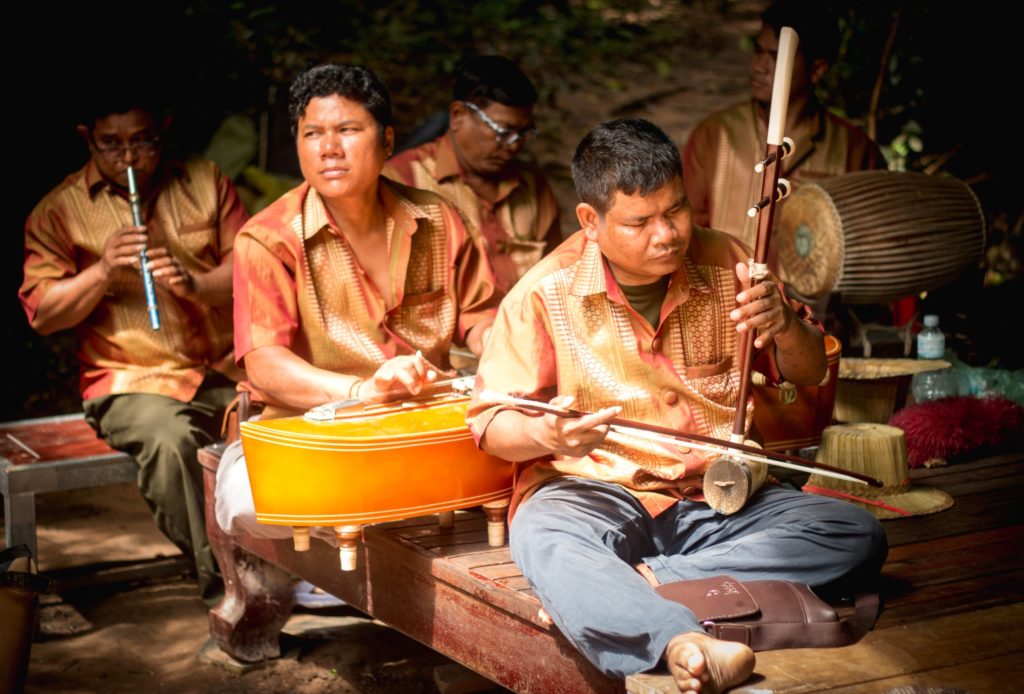 We found our driver, a local guy who liked to be called Galaxy. He had an idea to take us to a small temple hidden in the jungle called Ta Nei, so we zipped off. It's one that is a bit off the beaten track, and we actually got a bit lost trying to find it. When we did, though, it was worth the effort.
Hiking through the jungle we found a number of vines and branches that hung low and made for perfect photo props. Here's our fearless leader, Cocoa: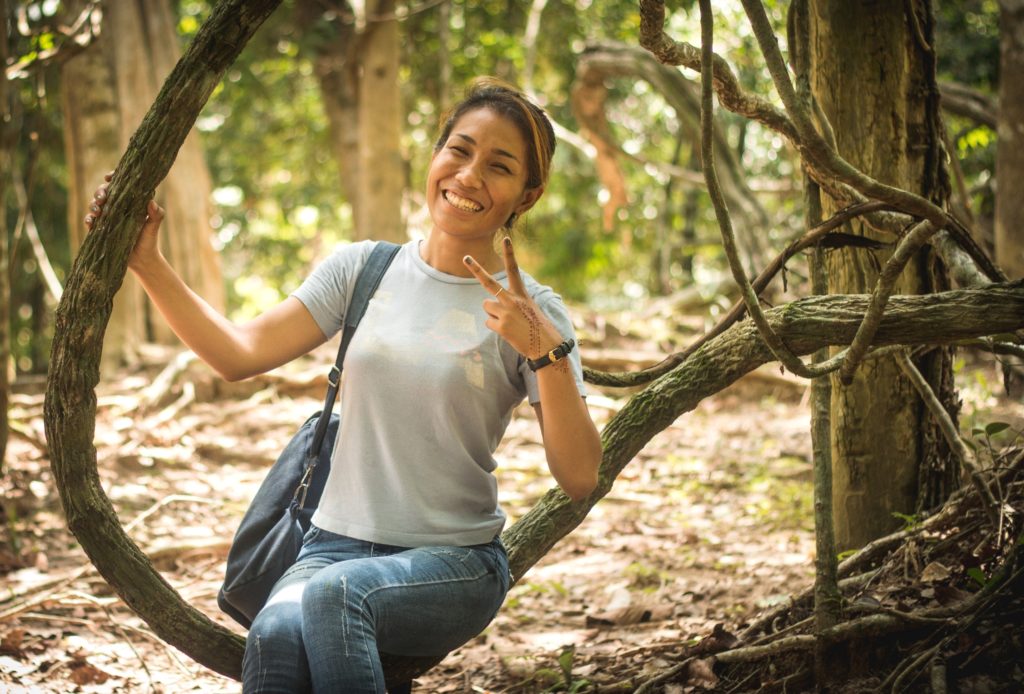 Ta Nei is a 12th century stone temple dedicated to Buddha. It was serene when we arrived, completely deserted; we had the entire grounds to ourselves.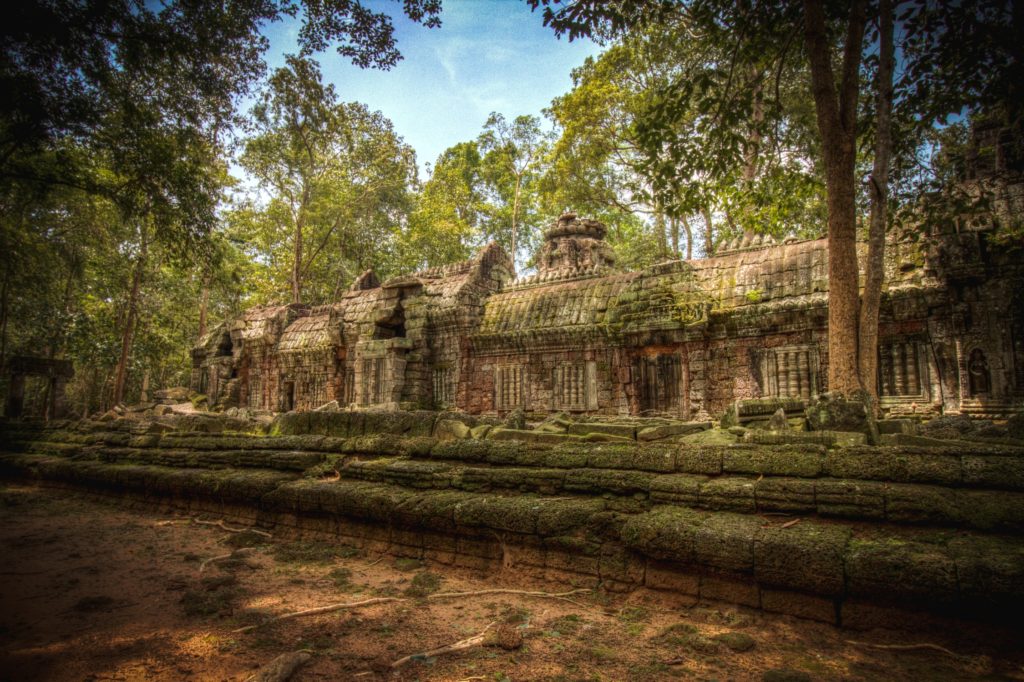 We had a good time climbing over and around the rocks that made up the outer portion of Ta Nei. It was such a treat to have a site like this to ourselves after the crowds at some of the other temples. If you're a history and photography nerd like I am, you'll love finding spots like this to explore.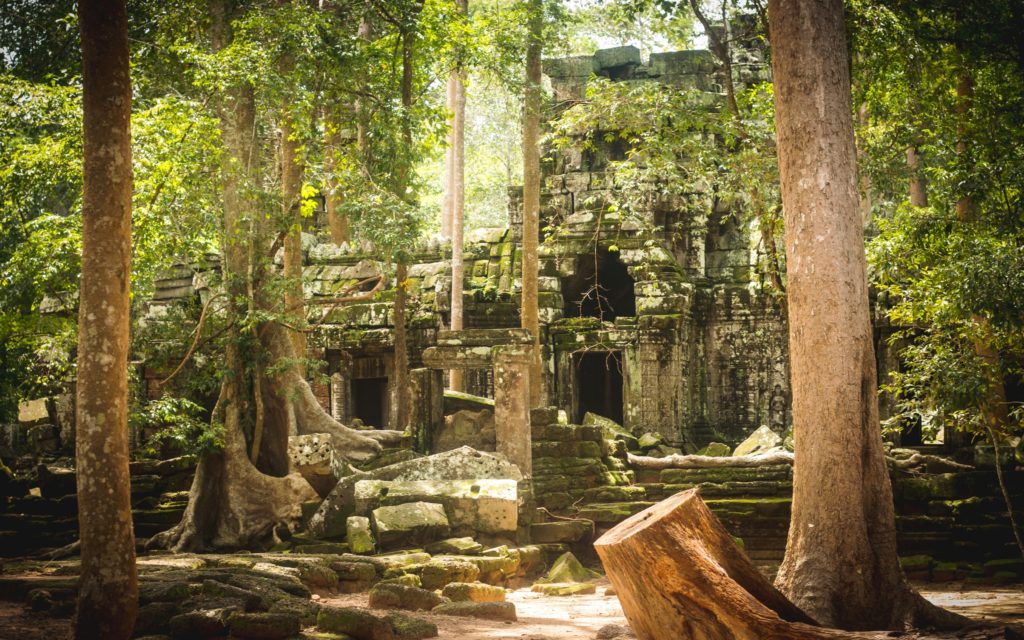 Ta Nei doesn't make it on to most "temple tour" itineraries, but it's places like these that will give you really interesting opportunities to enjoy the jungle, the ruins, and the sense of history that sometimes gets lost when you are swarmed by hordes of bus groups and tour guides.
We spent about twenty minutes and then headed back to Galaxy's tuk tuk. Between Ta Promh and Ta Nei, it had been a great morning, but there was still more to come…
Next up – Bayon!
Have you been to Ta Promh or Ta Nei? What were your thoughts? If you haven't, what would you hope to see if you get the chance to visit – comment below! Cheers!