Who goes to Angkor Wat to see the sunrise and then misses the sunrise? Well, that would be me, but despite my poor sense of timing, it didn't wreck my day at Angkor. In fact, it might have made it better – but more on that later.
Angkor Wat, or, more specifically, sunrise at Angkor Wat, had been a bucket list item for me for more than a decade. So you can imagine my excitement when Angela and I finally made it to Siem Reap, armed with camera gear, mosquito repellent, and boundless enthusiasm.
Our plan was to get out to the Angkor complex in the evening, buy our Angkor pass for the next day, and take in the sunset. If you buy your ticket for the next day after 5 pm, you can catch the sunset that day anywhere you like in Angkor Park. It also puts your ticket in your hand so you don't have to bother with the ticket booth early the next morning, when people will be racing out to the reflecting pools in front of the main Angkor temple. It's a convenient way to do things. That was our plan.
But sometimes plans go sideways. When we got to Siem Reap we connected with a friend of a friend who very graciously offered to meet up with us and show us around a bit. This would mean altering our plan and skipping sunset at Angkor Wat. One of the things I'm trying to work on is to not be rigid with my plans when I'm on the road and allow myself to just roll with things as they unfold. As a result, we missed the Angkor sunset, but did enjoy a trip up to Prasat Phomh Krom, which provided this alternate view of the sunset: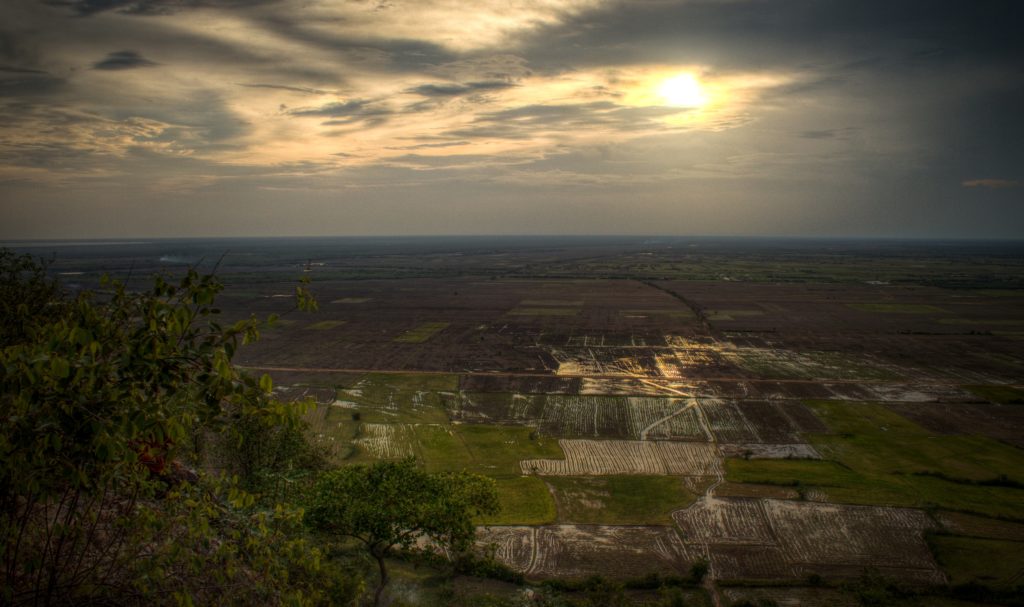 I appreciated the visit up to Prasat Phomh Krom, as it's a place we wouldn't have gotten to otherwise, and it's a place most tourists never get to see. It includes a small section of ruins, a village, and tremendous views of Siem Reap Province, from Lake Tonle Sap, to the city, to the rice fields. We had a nice night, enjoyed exploring, and figured we would still be in fine shape to see the sunrise at Angkor. On advice from others, we arranged a pickup for 5:15 am the next day.
5:15, it turned out, would not to be early enough; if you want to see the sunrise you'll need to be heading out to the complex by about 4:45. That was our fault for not insisting on an earlier pick-up time, but you learn as you go. As we pulled up to Angkor many of the keener early risers were already leaving as we made our way into the park.
The first view of Angkor Wat, once you make your way into the main complex, is breathtaking. You've seen pictures of it, you know what it looks like, but seeing it in person is something else. For me, that first view was like living in a fantasy; it felt awe-inspiring, exotic, surreal.
The walk from the main entrance to the reflecting pools on the left or right of the temple (we started on the left) is a pretty good hike. Having just missed the mayhem of the sunrise, but being there before the tour buses showed up, was a brilliant time to be there. There were no crowds. 
This is something few people ever get to say about their Angkor Wat experience – there was a freedom to move and explore that I was extremely grateful for. I was still feeling like a failure for missing the sunrise (who goes half way around the world to see the sunrise at Angkor Wat, only to miss the sunrise at Angkor Wat?!), but the awesome sights around me made me feel better about myself. 
I picked a spot by the left side pond, set up my tripod, fiddled with my camera's settings, took a breath, and snapped the shutter on my first Angkor Wat pic. I know millions of people have the same picture, taken from the same spot, but for a photography, travel, and history nerd, taking this picture from this spot felt amazing.
I took dozens of pictures, from different angles, some HDR, some not; some long release images to smooth the water, some not. I shot it every way that made sense. Then when I got back to the hotel I processed the first image I took: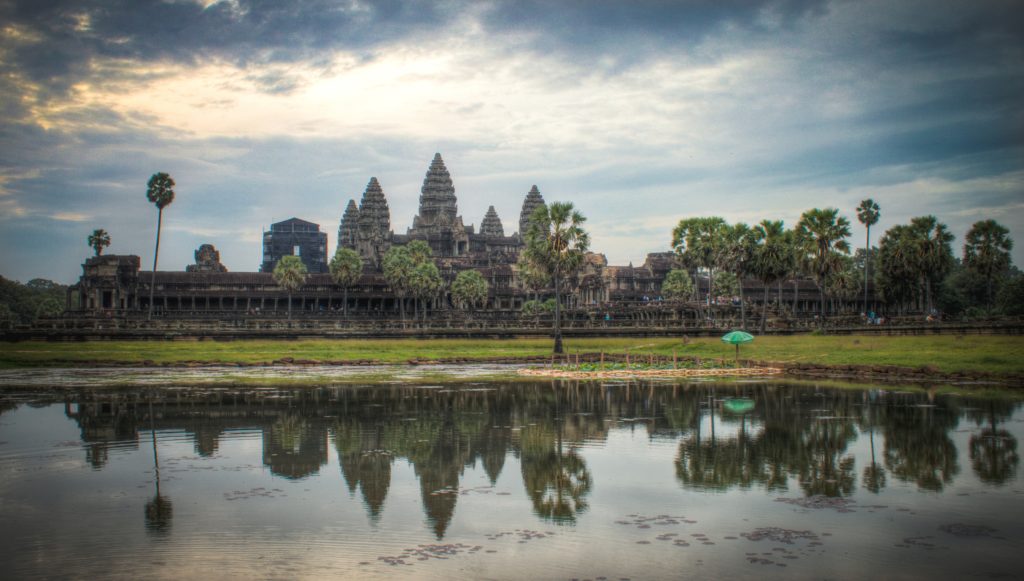 It wound up looking as I had hoped, so I was quite happy with it. There will very likely be better ones, and I'll go through and process the (countless) others, of course, but I was happy to just sit with this one for a while.
Angela and I sat down on the ground and enjoyed our breakfast, a packed meal arranged by the eOcambo Residence, our hotel in Siem Reap. The eOcambo is brilliant, a nice little hotel staffed with the nicest people you could ever hope to meet. I'll write more about the eOcambo in another post. Happily munching down our breakfast while the birds chirped and monks walked past, with Angkor as our backdrop, was magical.
Fuelled up, we tackled the temple. The main Angkor temple is massive, and it's incredibly well preserved. Built in the 12th century, it was originally constructed as a Hindu place of worship to honour Vishnu, but by the end of the century had transformed into a Buddhist temple. The Khmer style of architecture is so distinctive and picturesque, it's like walking around in a painting.
Don't be fooled by the beauty of this place, though – you'll want to stretch, hydrate, and mentally prepare for the workout ahead of you should you choose to visit. There are countless stairs, hallways, rooms, and towers to explore. Chuck in 100% humidity and a temperature hot enough to cook eggs on the sidewalk, and you have a recipe for a long, hot day. Bring an extra shirt, plenty of water, and a fork in case you do decide to cook eggs on the sidewalk. I didn't see anyone doing this, I'm just saying the odds are better than average that you could.
A few minutes into exploring we came across two monks who were giving blessings. I received mine from this novice monk, who despite his diminutive nature had a surprisingly loud voice while he chanted.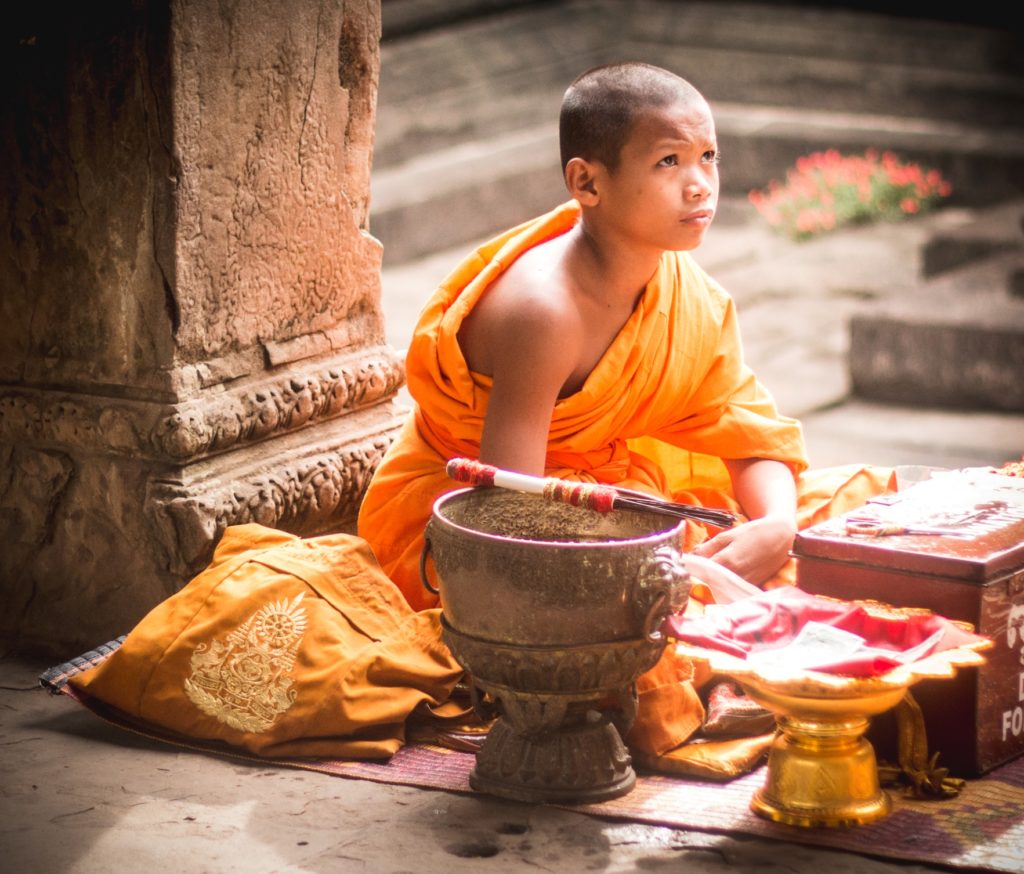 Blessing received, we continued to explore. The sheer size of the temple helps to spread people out a bit, so there were stretches when we found ourselves alone in little corners and hallways of the temple. One thing that photographers will notice is the light is absolutely gorgeous for portraits.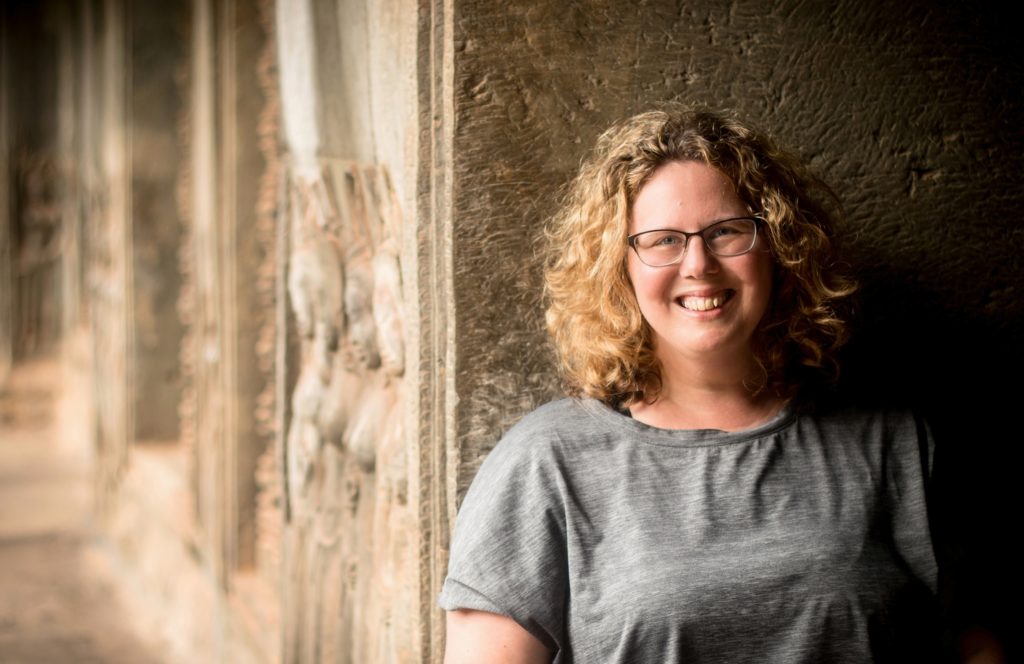 One thing that likely won't translate, neither through photos nor storytelling, is the level of detail that went into the carvings and bas reliefs found throughout the temple. Artwork is everywhere, and I can only imagine the thousands of artists and craftsmen who spent years of their lives working on it.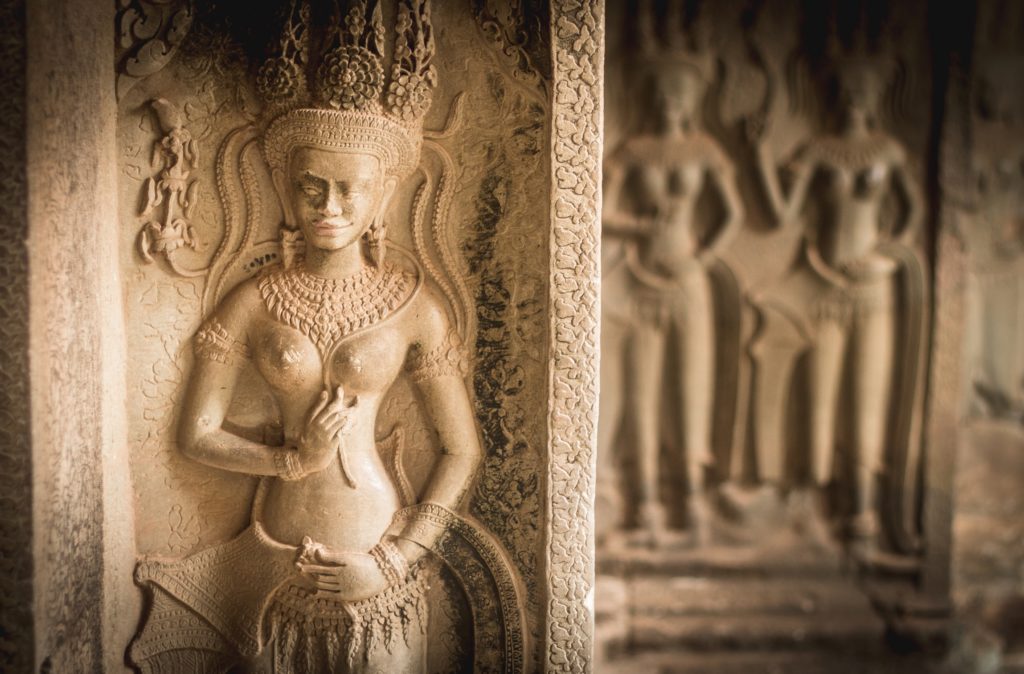 One of the highlights is climbing to the top of the Bakan, the central tower and one of the holiest sanctuaries on the grounds. Staff will ensure you are properly dressed (no exposed shoulders, short shorts, or hats) before ascending the steps. The steps are steep, so be prepared – it's highly entertaining watching people navigate the climb. We were lucky as there was no line to go up – again, when you narrowly miss the sunrise, you're too late for the sunrise crowd, but too early for the tour buses, so it's a sweet spot in terms of timing. I've heard the lines can be up to a couple of hours long in high season.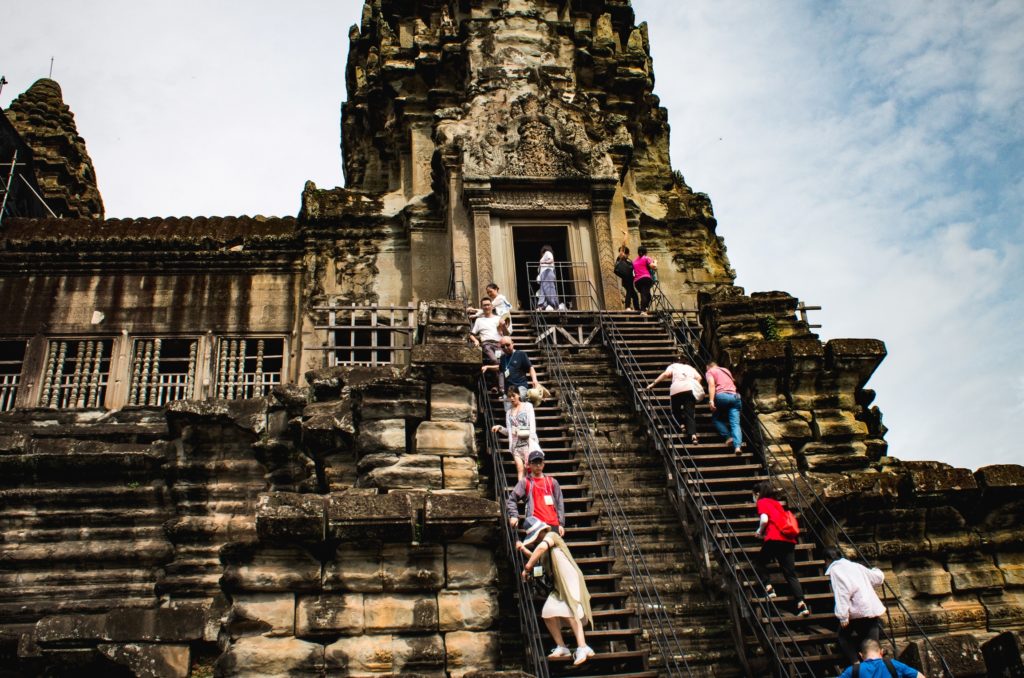 We explored the Bakan and made our way back down, unscathed. We took our time exiting out the back, and just enjoyed walking the grounds a bit. You can choose to go back through the temple to the front if you like, or you can walk around the side. We chose to walk outside, which was nice as it provides some unique views.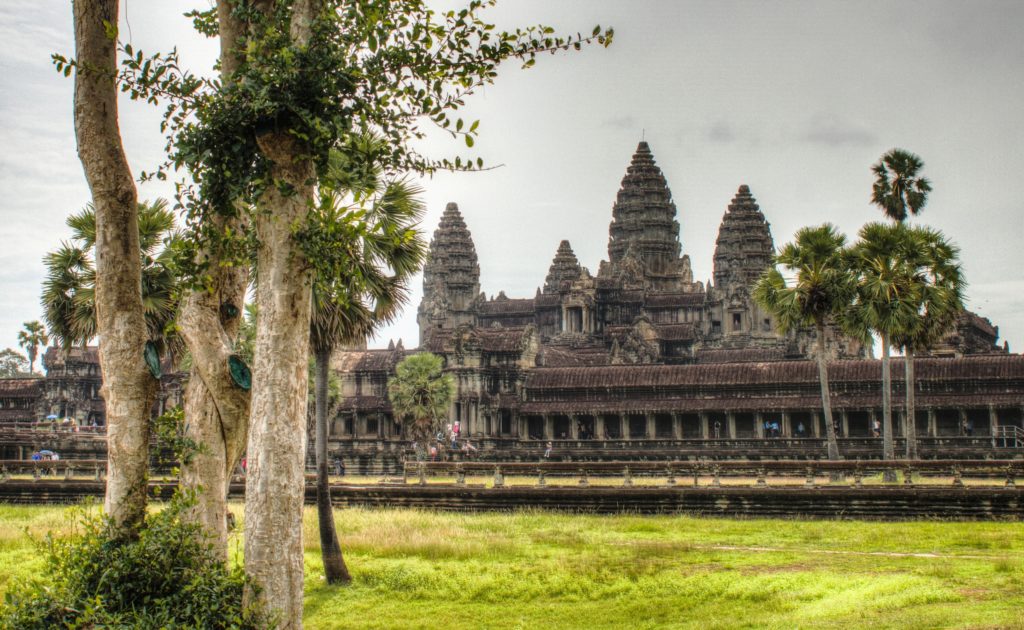 Making our way to the front of the complex, we were met by about a half dozen monkeys. I love monkeys, but I tend to keep my distance as I learned early on that monkeys cannot be trusted. They are fun to watch, though, especially when they have little ones in tow.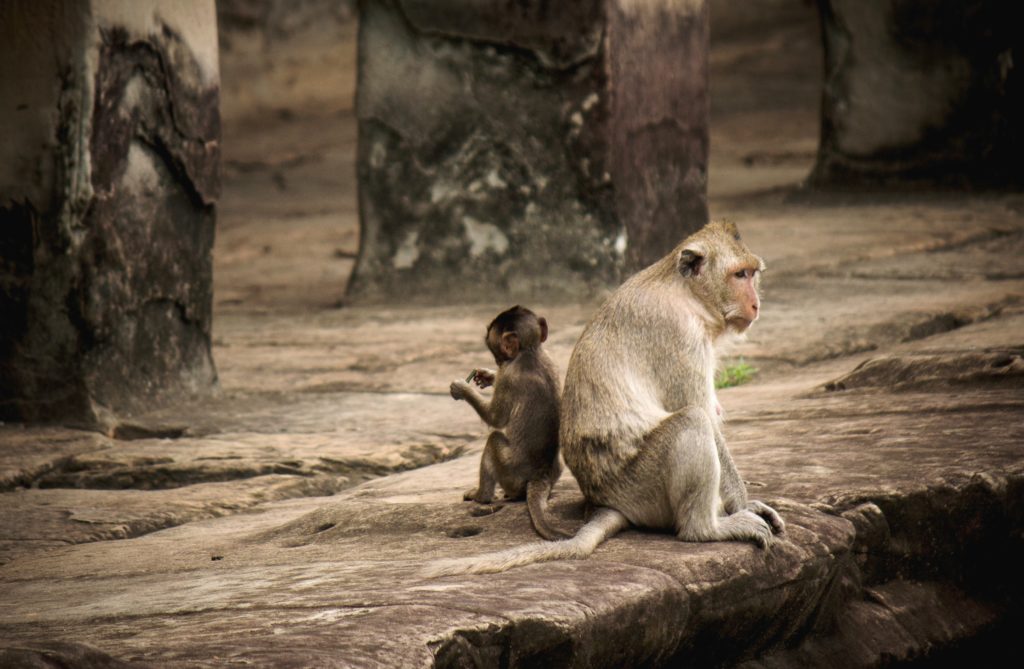 Just another family outing at the temple…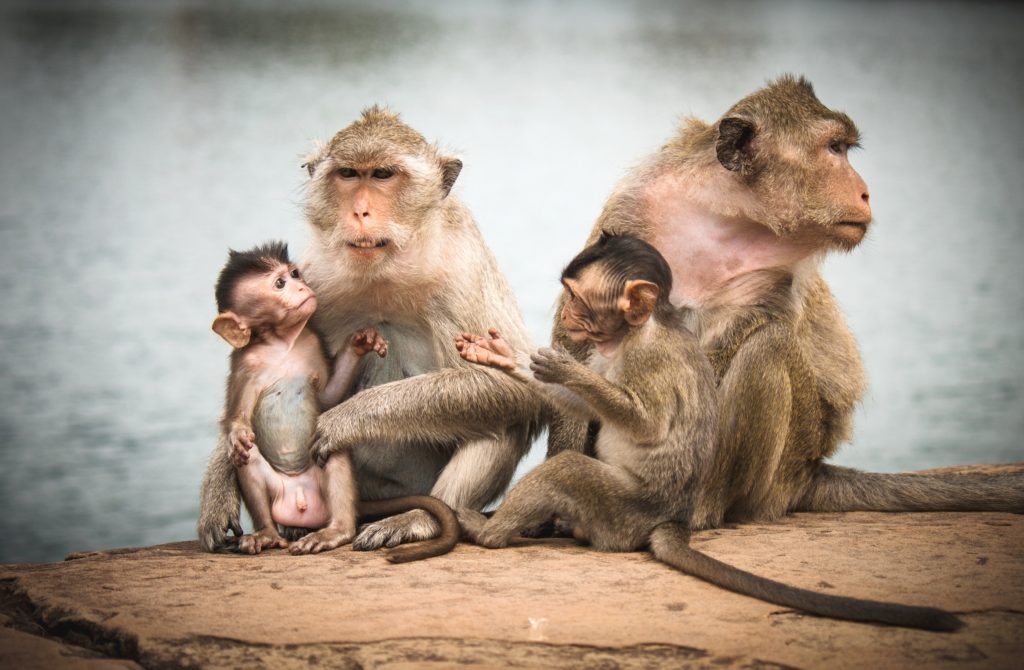 Our morning done, we made our way back out to the gates where we found our tuk tuk and continued on to the next temple, Bayon. Look for the Bayon / Ta Promh post coming soon. 😉
Overall, exploring Angkor Wat was the opportunity to cross off a bucket list item; visiting one of the world's great religious and cultural sites didn't disappoint. If anything, it exceeded my expectations, and despite missing the sunrise, the timing couldn't have been better. With no crowds around, it was the perfect time to visit.
Key info:
One-day Angkor Wat Park Pass: $37 USD
Three-day Pass: $62 USD
Seven-day Pass: $72 USD
You can pay on-site using cash or credit card. My advice – go for the three day pass. It will give you more flexibility and you won't feel rushed as you are exploring the temples. You might not use all three days, but to try and do it all in one day is madness.
Have you visited Angkor Wat? If so, what did you think? If you haven't made it there yet, what are you most looking forward to? Comment below – cheers!