We got up early on our third day in Philadelphia so we would have time to check out the Reading Terminal Market before the day's Context tour. We could have slept in a bit, but when I'm in a new city I always want to tackle it and pack my days. I figure I can sleep when I'm home, or when I'm dead. In the meantime, I want to soak it all in.
So, bleary-eyed and somewhat sluggish, we passed eager joggers and other early risers on our journey to the market. It was a perfect, clear morning, the sun just barely rising above the statue of William Penn atop City Hall.
When we entered the Reading Terminal Market it was chock full of sights, sounds, and smells. The streets outside might have been quiet but inside the market things were bustling with activity.  We entered to find a packed house, the aisles full of hungry locals and tourists. I was surprised at the size of the place, and the quality of the displays. If you aren't hungry before you enter, the odds are pretty good you will be before you leave.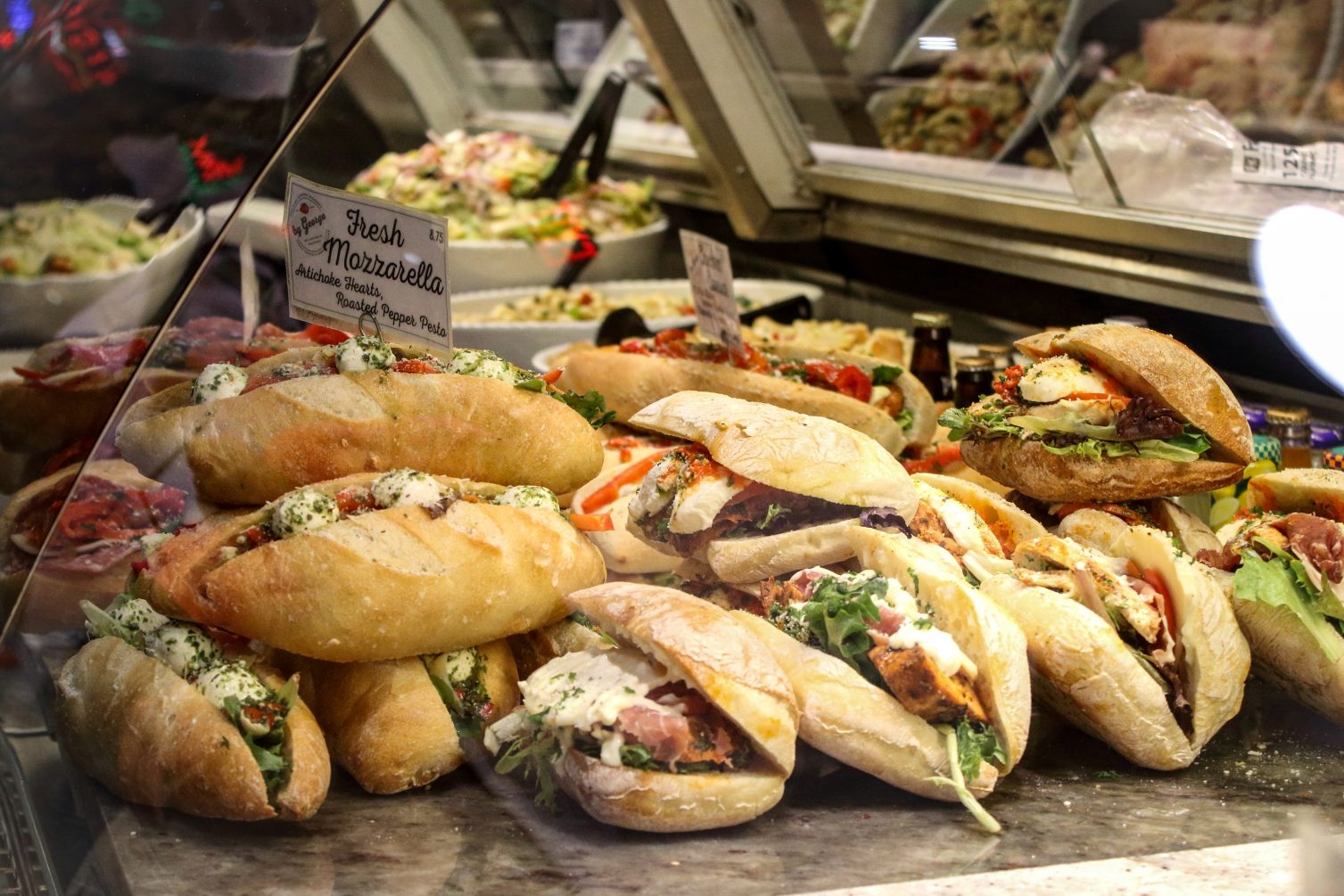 Philadelphians know how to make a sandwich…
Meat, seafood, poultry, produce – food is everywhere. Merchants offer everything from French crepes to Amish delicacies and everything in between. It's a melting pot of cultures and influences, and this being one of those mornings I had decided to skip breakfast before heading out, I was in the right place at the right time.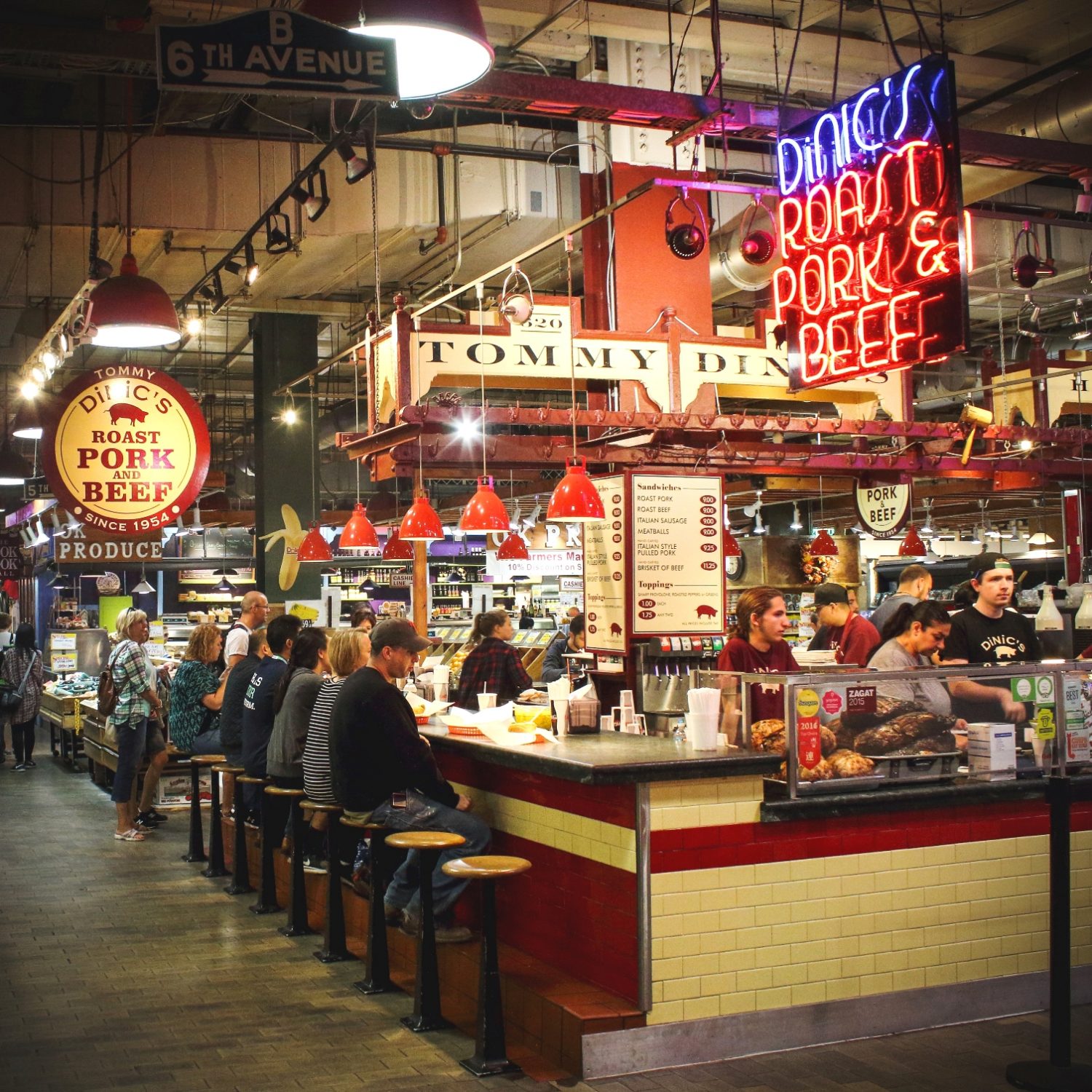 The temptations are everywhere, and I was standing in the middle of the aisle, overwhelmed by the choice, about to scream, "TAKE MY MONEY!" to the first vendor I saw, when Angela spotted the Dutch Eating Place.
There are a number of Pennsylvania Dutch vendors at the market, making me feel somewhat at home. I'm not Pennsylvanian, but I am Dutch, so I figured I was (kind of) a member of the club. The good news was that they specialized in affordable massive pancakes (or as I like to call them, AMPs), so I knew I was in good hands.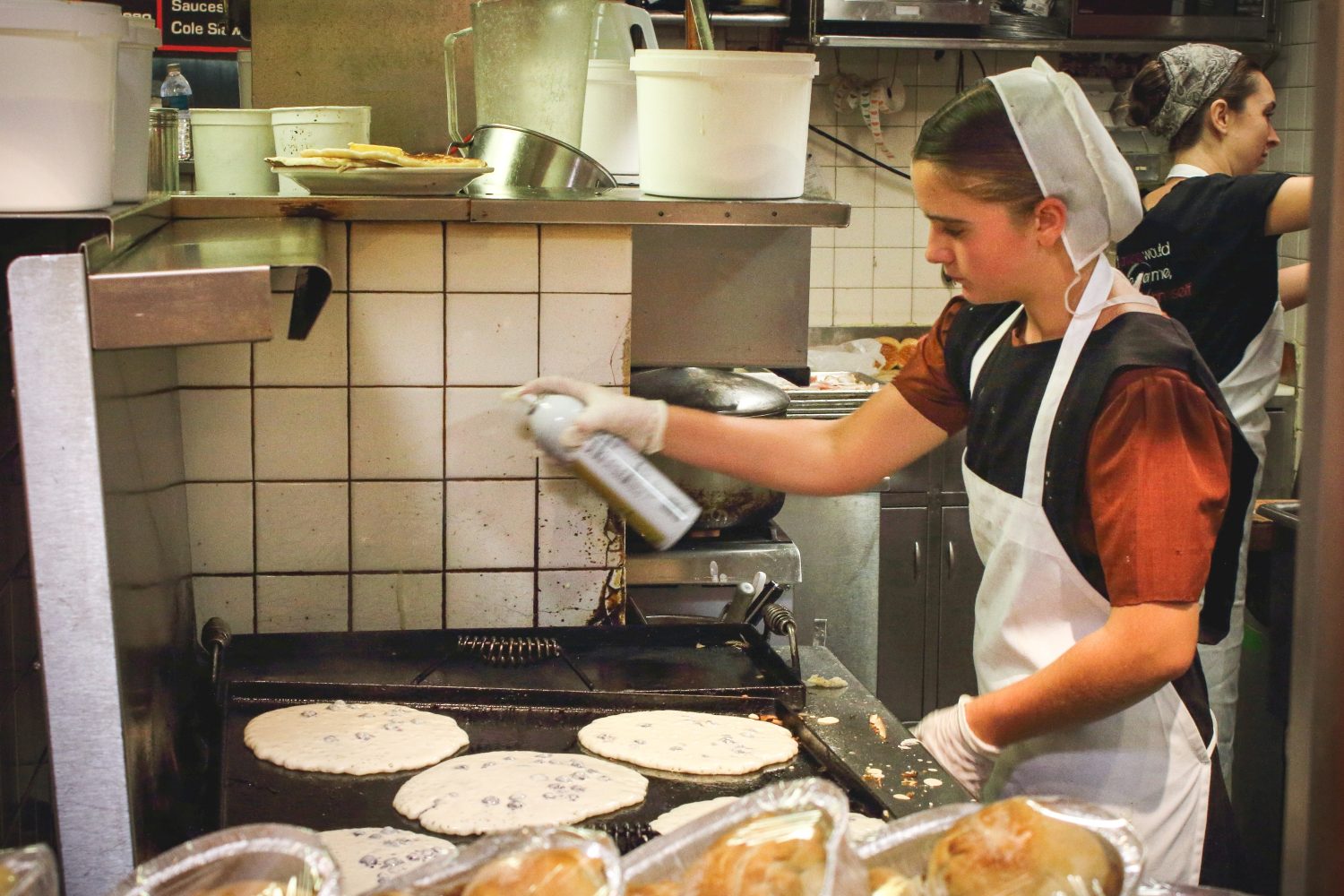 AMPed up and ready to go, we walked through the rest of the market, enjoying the energy. The aisles were teeming with sweaty, hungry runners as a local 5k race had just finished up the street. A good time for us to head out, as we had a Context walk to join and didn't want to be late. As mentioned in my first Philadelphia post, Context was hosting us as a result of my winning a Context photo and essay contest at TBEX Asia in Bangkok. Context had been amazing to us throughout the process, and I can't speak highly enough about them.
We walked the twelve or so blocks over to South 2nd Street, where we met our docent, Justina. We were almost late because a massive protest marching through the streets made our progress a bit sluggish, but we made it just in time. Our Context walk this time was Colonial City in Context, starting at Philly's plaza-scale plan of the city. Here you can see the whole city laid out in its early days, marked out in tiles and grids. Justina skillfully walked us through William Penn's vision for the city, and how the city would grow over the next 200 years.
Justina took us by many of Old City Philadelphia's historic sites, including Carpenters Hall, the First Bank of the United States, City Tavern, Powel House, and many others, including the Merchant's Stock Exchange (below).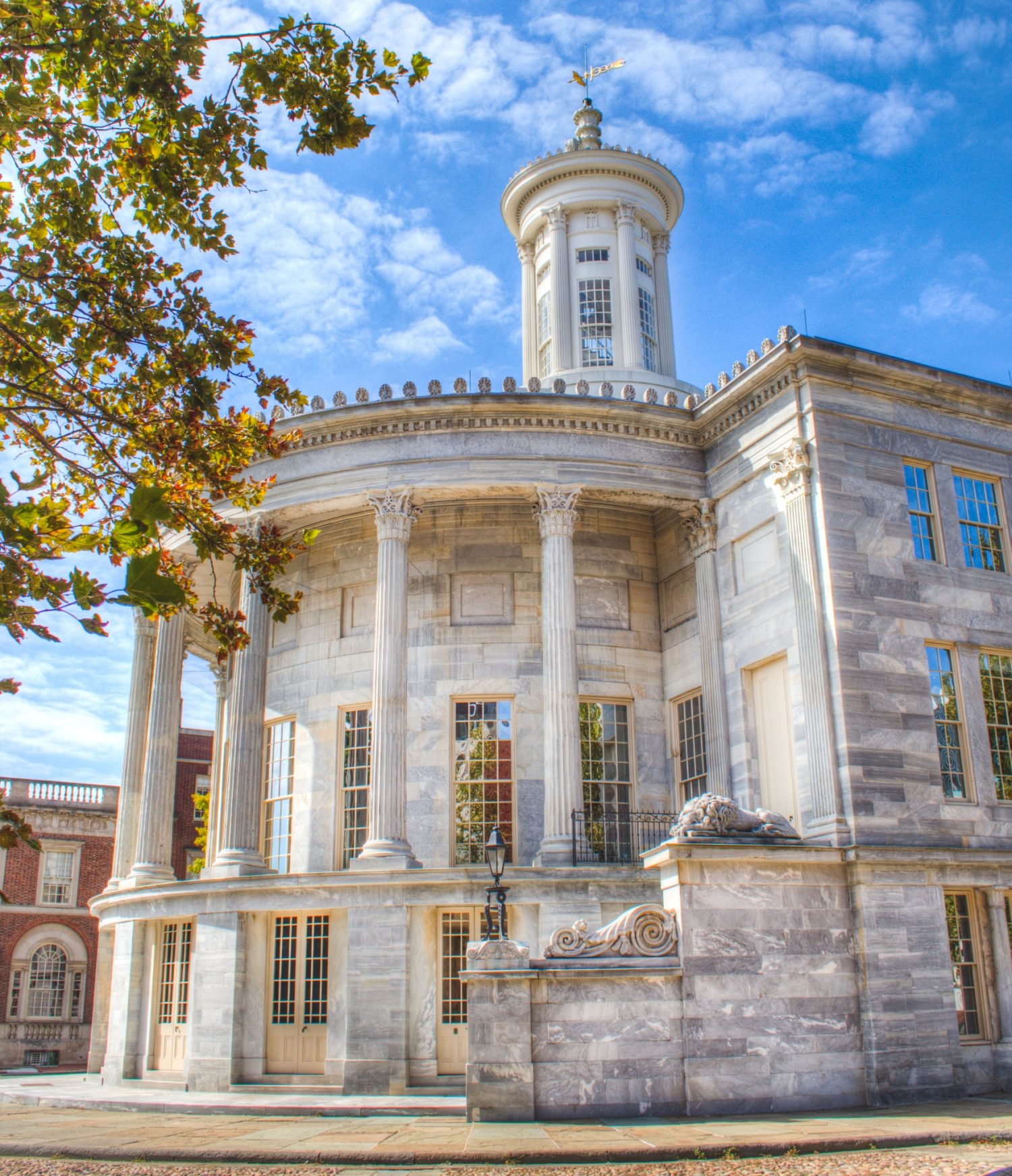 She was extremely knowledgeable, an excellent guide, and we really enjoyed our time with her. We could easily tell she knew her subject well, but more important – and this has been our experience with Context in general – she loved her subject, and that makes all the difference in the world.
One of the highlights was Powel House, an historic home that has been called one of the finest examples of Georgian architecture in the city. Our discussion for the morning had been around key themes that impacted the city in the 17 and 1800's, including trade, religion, Quakerism, and differences between the classes. So viewing the house was great, as it was a perfect example of how a noble family lived in the 1700's.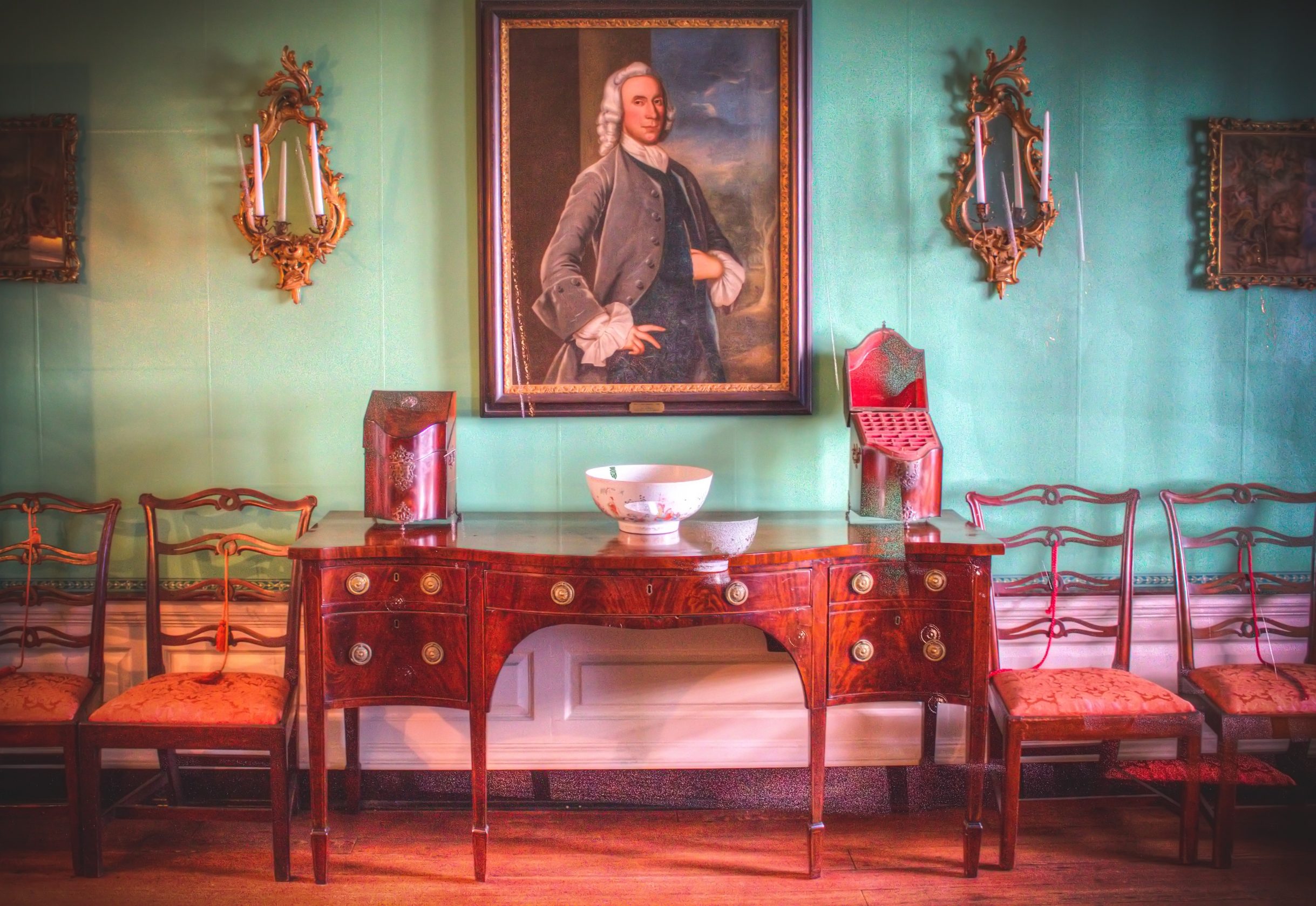 Samuel Powel was a former mayor of Philadelphia, state senator, and "man about town" so Justina regaled us with stories about his interactions with some of the most influential people in American history, including George and Martha Washington, who were close friends. You can imagine the lavish parties and social events in rooms like this one, where pianos, harps, and chandeliers set the stage for hi-so entertaining, 18th century-style.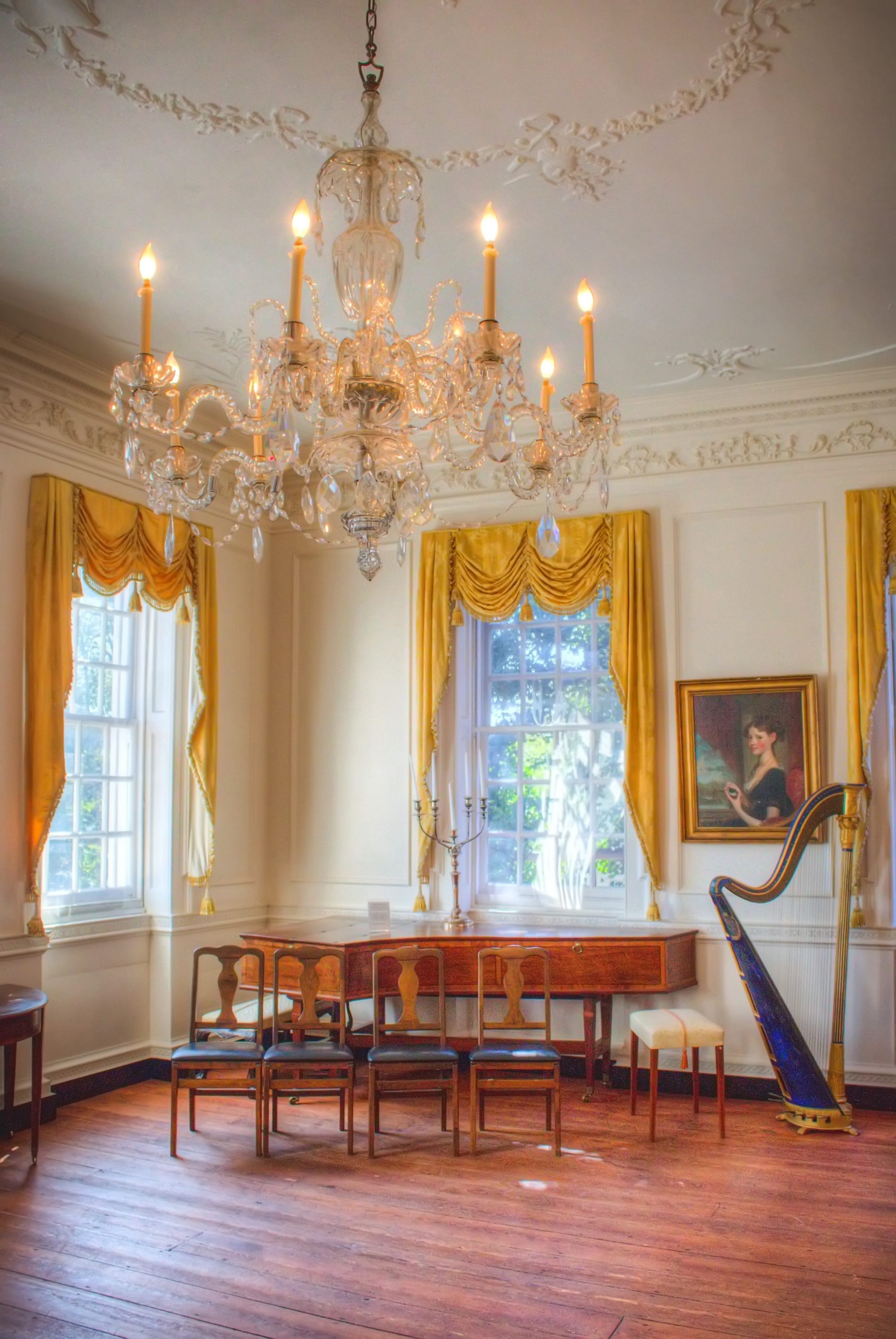 Once we finished up with Powel House we moved on to a couple of other sites and wrapped up our morning. It was an information-packed three hours that both Angela and I enjoyed a great deal. We thanked Justina and headed over to Independence Hall, where we had reserved tickets for a tour later that day. Reserving tickets online is the way to go (it only costs $1.50), as they regularly run out and it's near impossible to get them day-of.
Tickets in hand, we had a couple hours to kill, so we went in search of food. There were a few restaurants nearby, but they were mostly cheesesteak-based and had long lines. Having already gotten my cheesesteak fix on this trip, we kept walking along Market Street until we found a great little Thai place. If I go too long without Thai food I'm pretty sure I'll end up in some sort of chili and fish sauce-based withdrawal, so we were happy to find it.
We didn't eat much, because I had promised Angela we'd check out two Philly traditions for dessert. First up was the Franklin Fountain, an early 1900's-style ice cream shop. Their desserts are insane, there are always lines, and they've got the vibe down to a tee. Awesome food, fun atmosphere. Note – the featured pic at the top of this post is also from the Franklin Fountain.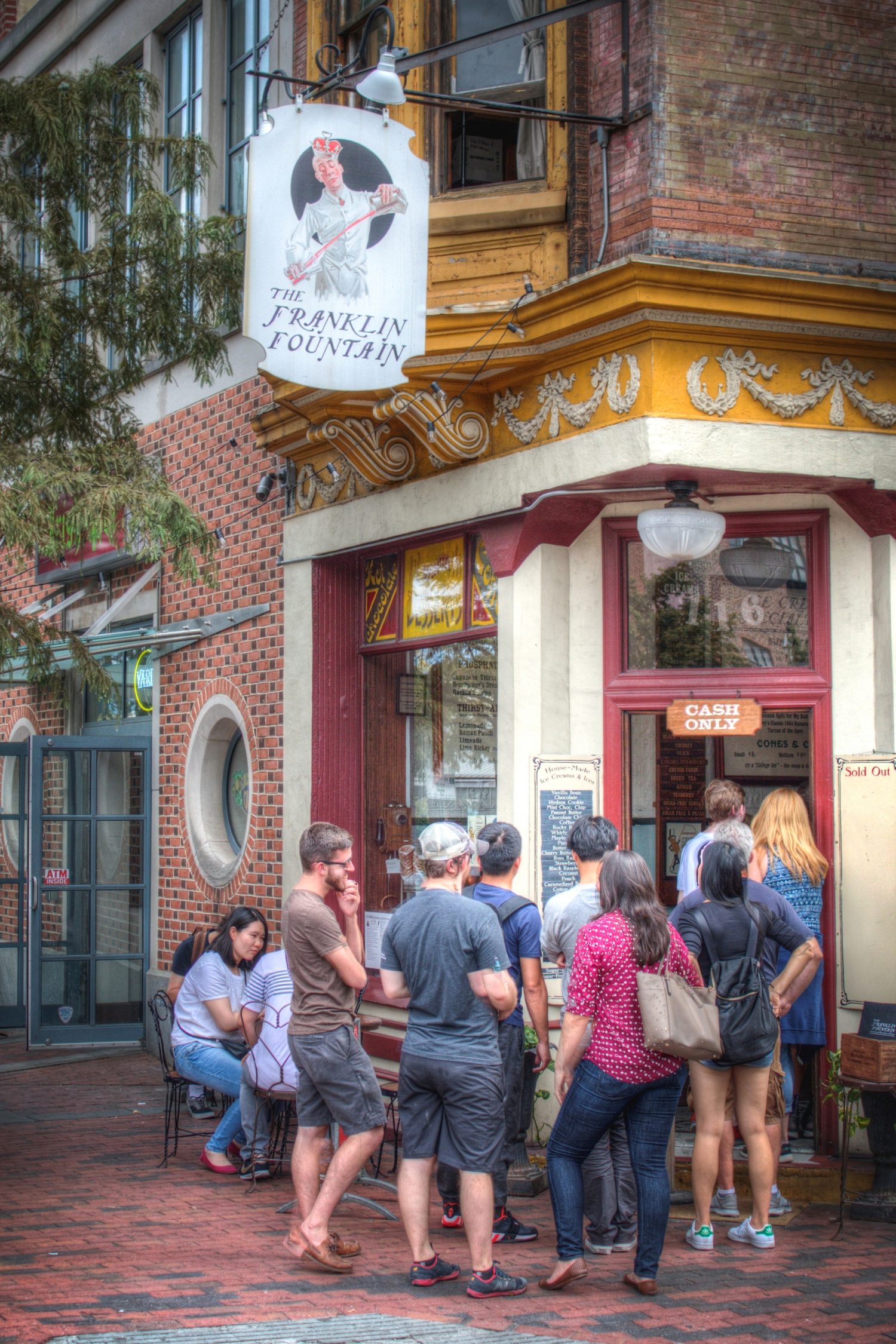 Our interest in sugar and theme-based shops awakened, we doubled down by hitting the Shane Confectionery, an iconic Philadelphia old-timey candy shop. Established in 1911, the shop was sold by the Shanes in 2010 and has been re-worked to look like one straight out of the 1860's.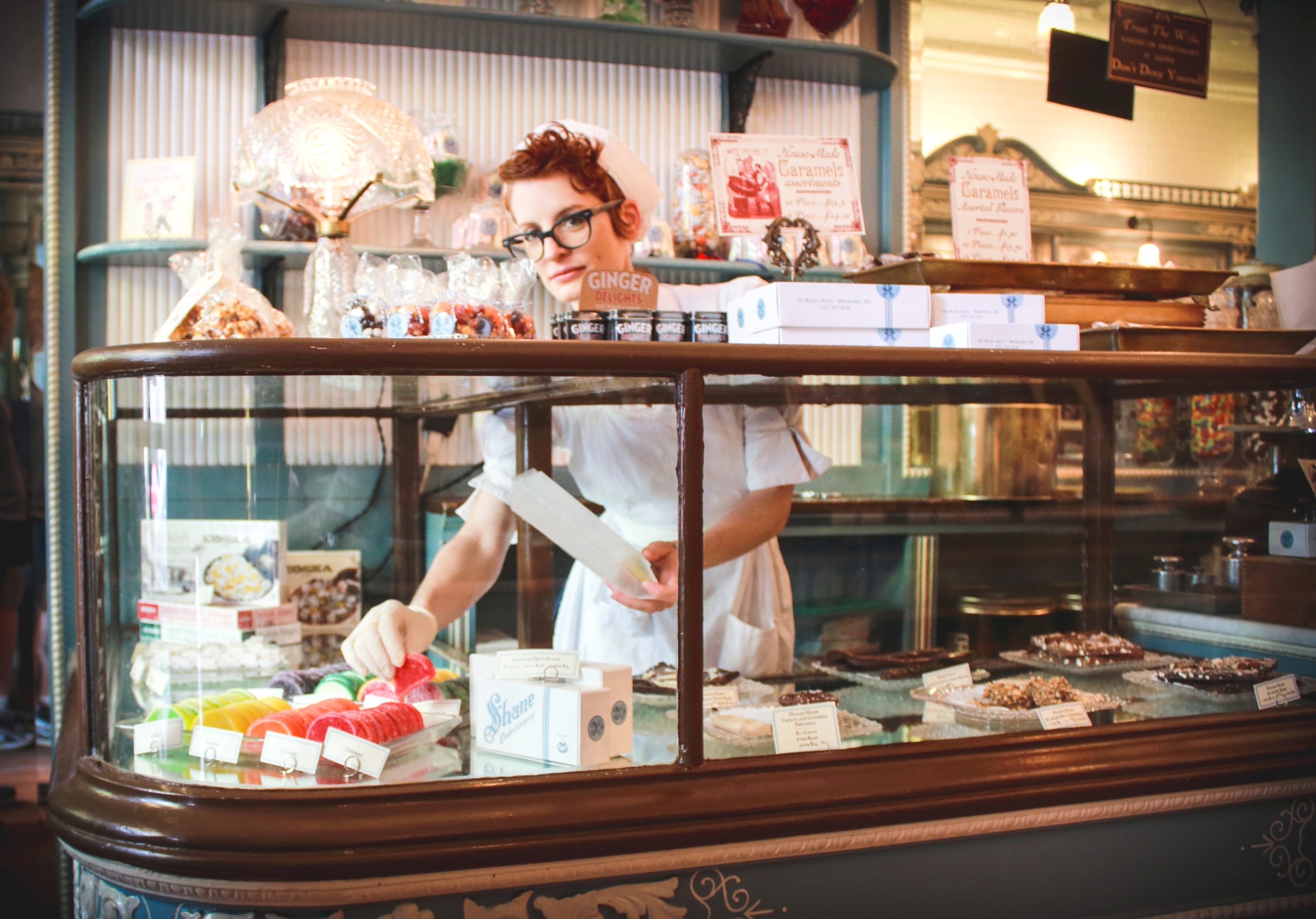 Everything from the staff to the displays are on theme – I've never seen a store quite like it. We felt like kids, excitedly pointing at one sugar laden confection after the next. Angela was digging the soft fruit candies, so she bought a small bag.
Invigorated, and on a sugar high not known since days of Hallowe'en past, we made our way back to Independence Hall where we took the tour millions have taken before us. I won't write heaps about it, as this is a tour covered by everyone and their dog, but I will say I enjoyed the experience of standing in the room where the Declaration of Independence was signed. The tour guide was okay – not nearly as good as Justina from Context – but the attraction was really the hall itself. I loved that at least three National Treasure questions were asked during the Q+A.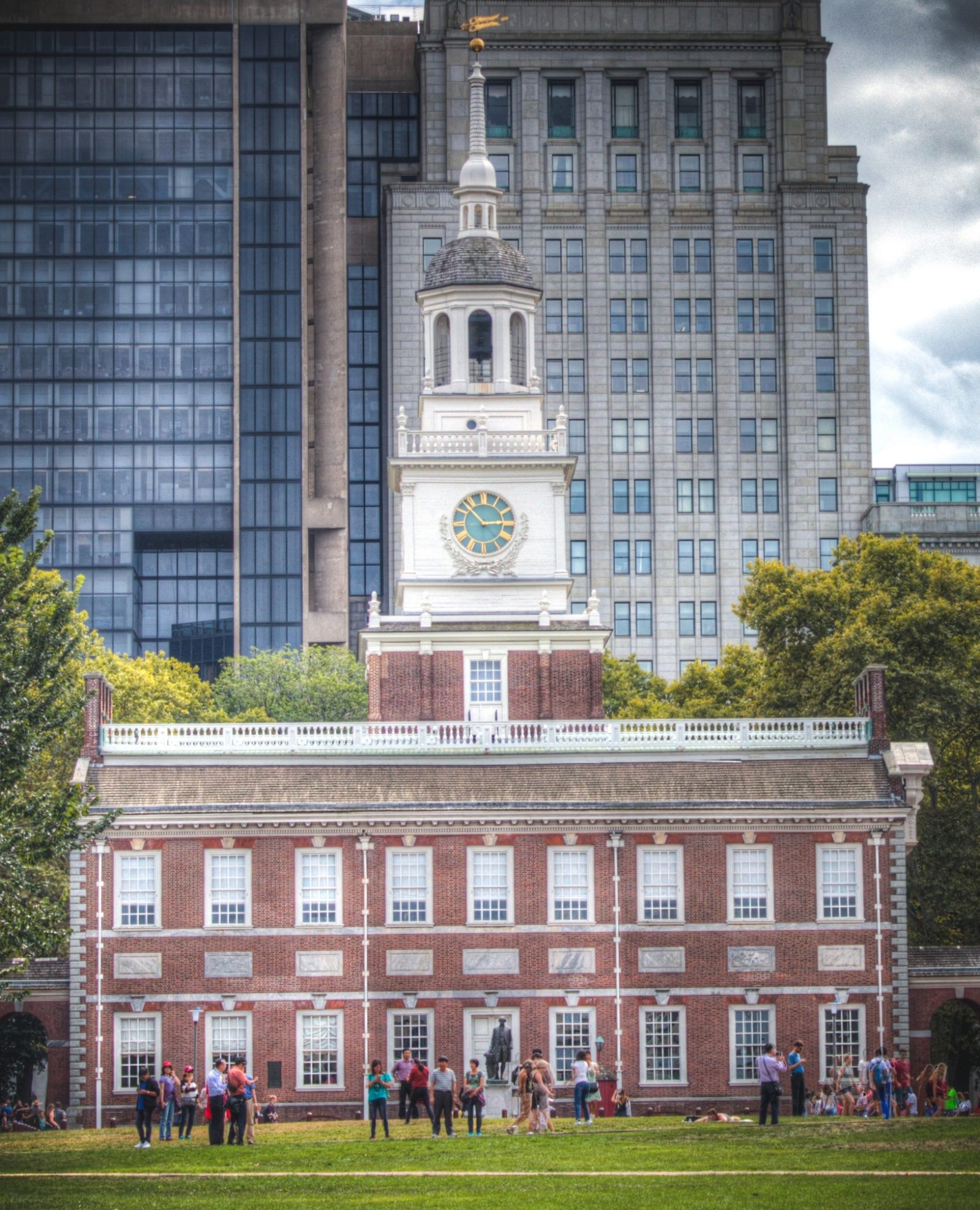 Following that, we had to do the Liberty Bell. Sometimes I get blasted for doing all the touristy things that some other travel writers pretend to shun, but let's face it – when you're in a city brimming with history like Philadelphia, why not soak it all in? We waited through about a half hour line, fought through about 200 boy scouts on a field trip, read through some of the (very good) displays in the hall, and then we had our time with the bell.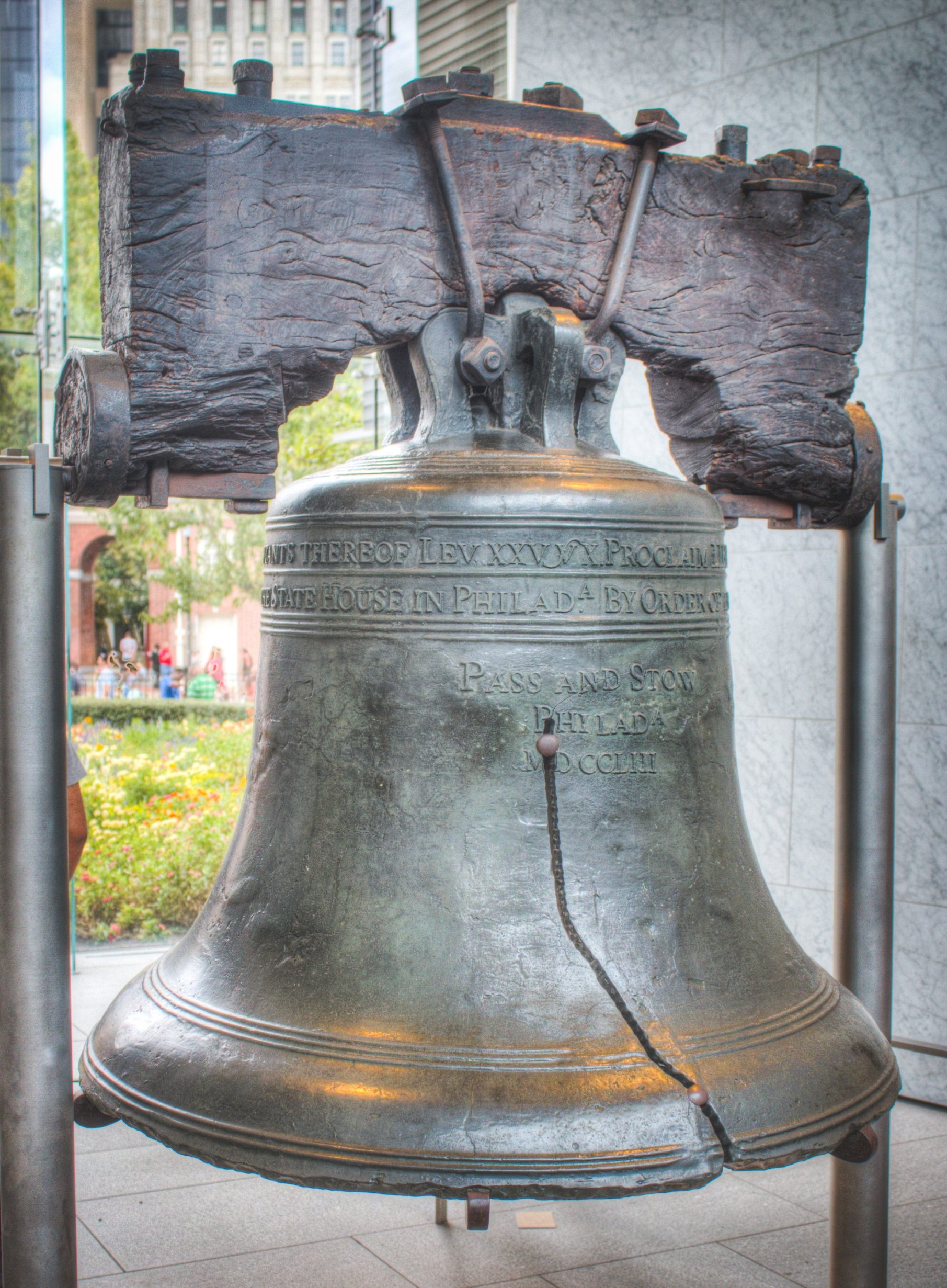 It was a good end to a long day packed with history, sugar, Dutch pancakes, and Thai food.  The next day we would be back in the car for the long drive through Pennsylvania, New York, and on to Southern Ontario. It was a phenomenal few days in Philly, a city we will happily return to.
How about you? What are some of your Philadelphia highlights? Comment below! Cheers –