She was in her late twenties, American, attractive, but sad. I could see she had been crying, looking up at the sky, her eye liner running, while Waiting for the Sun blared out of her iPhone. A light drizzle and dark clouds had me silently congratulating her on her incredibly appropriate choice of song, but I doubted it was a choice that was weather-based. She, along with about ten others, dressed and adorned in a variety of Doors paraphernelia, were there to pay homage at the grave site of Jim Morrison, one of Père Lachaise's most famous. My guess is that this is a scene that replays itself most days.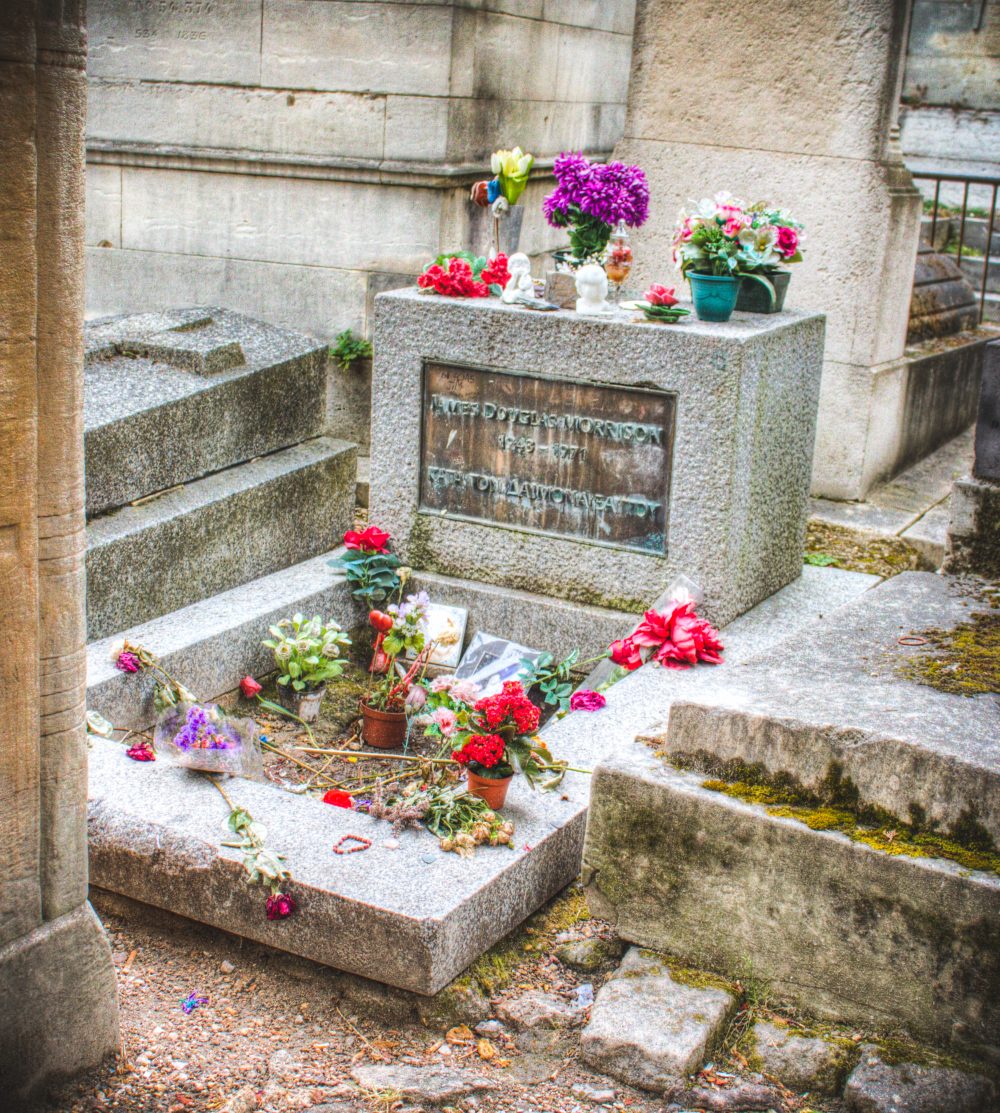 Jim Morrison's grave
Angela and I had been walking through the cemetery for hours, covering (what I am guessing by my trusty fitbit) about three kilometres, before we came across this grieving Doors fan. Jim's grave is neither the most accessible nor the most impressive of the thousands that make up Père Lachaise Cemetery, the largest in Paris, and home to more than a million dead (between 2 and 3 million if you count the adjacent Aux Morts Ossuary). The grave itself is kind of tucked away, and blocked off so you can't actually walk right up to it. You can see it, but that's it.
I hear people talk about Père Lachaise Cemetery usually in the context of Jim Morrison's burial place. It's too bad if it's the only thing they mention because this place is so much more than that, and definitely worth the time if you find yourself visiting. We were there based on the recommendation of Angela's friend, Ida, and as usual, Ida was right on the money.
Père Lachaise is easily accessible via either the Père Lachaise Métro station or the nearby Gambetta station. We got off at Père Lachaise and walked across the street to the gates – super easy. The steps we saved getting there would soon be appreciated.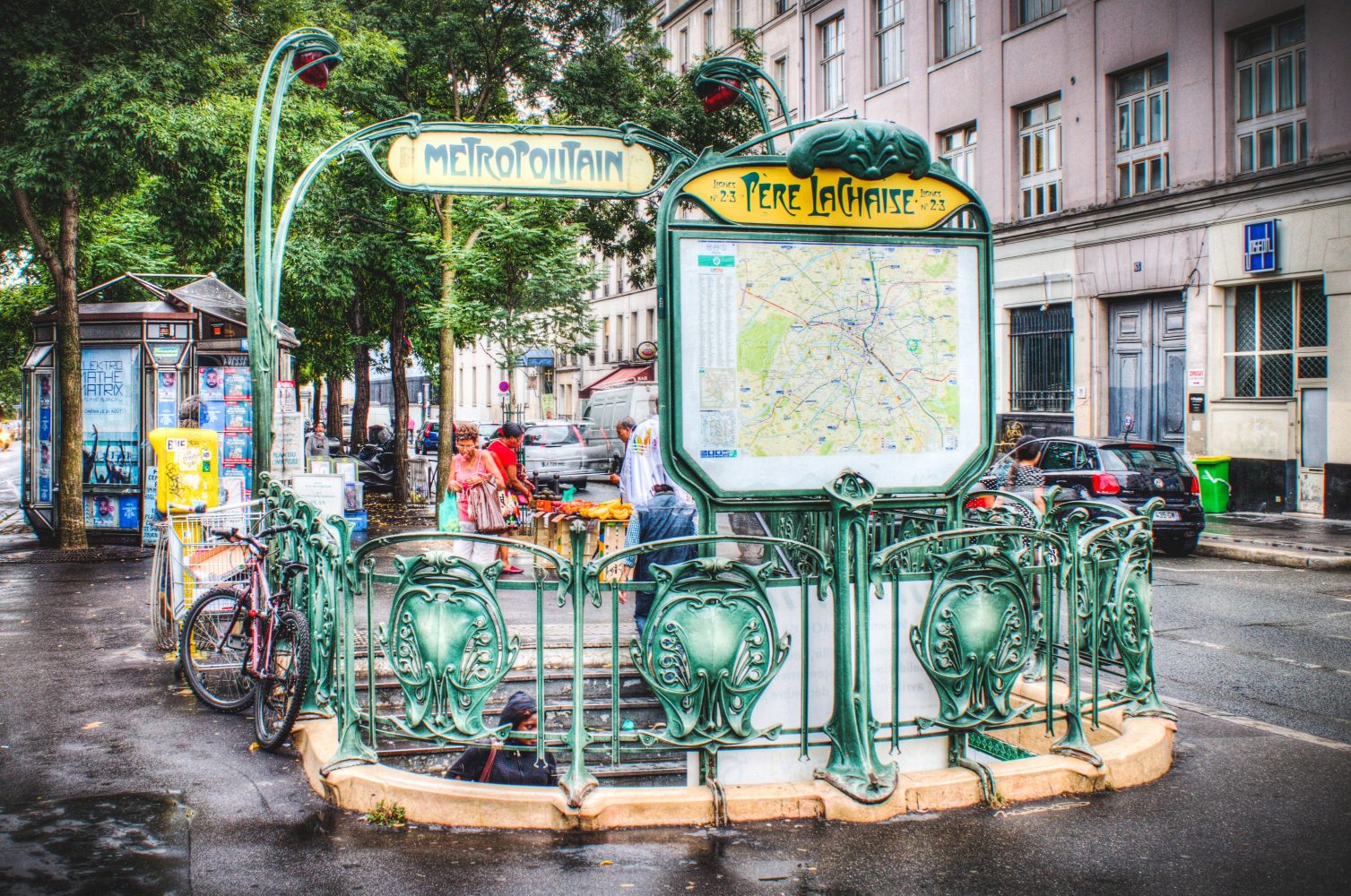 The first thing I noticed when we climbed the stairs across to the entrance was how massive this graveyard was. It covers more than 110 acres, so if you do visit, your odds of covering it all in one day are slim to none. When you enter you can grab a map showing you the outline of the pathways and where some of the cemetery's more famous burial plots exist. If you hope to find them, a map is a must. The map will also remind you just how many artists, musicians, celebrities, dignitaries, entertainers, and other people of note are buried there.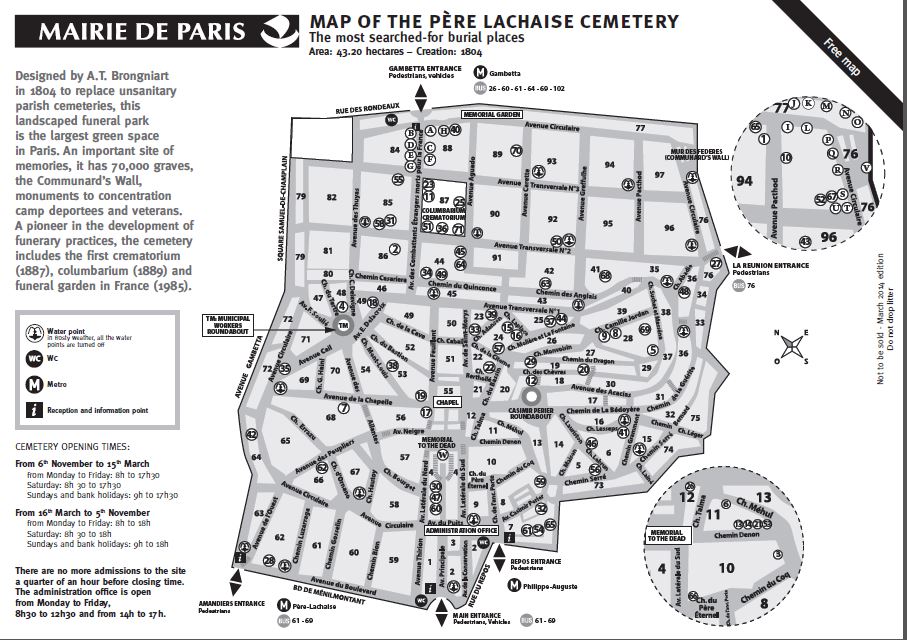 The key with all the numbers is too small to print here, but because I can hear you screaming at your screen, "but which one is Jim Morrison's!", I'll happily bring an end to your suffering by pointing out it's number 46.
Here are just a few of the other names you'll find on the map: novelist and playwright Oscar Wilde; composer Vincenzo Bellini; actress Sarah Bernhardt; composer Georges Bizet; author Gertrude Stein; pianist and composer Frédéric Chopin; banker Edmond James de Rothschild; painter and sculptor Amédéo Modigliani; playwright and actor Molière; famous French mime Marcel Marceau; French singer and icon Édith Piaf; painter Camille Pissarro; writer Marcel Proust; engineer and city planner Georges Haussmann; writer Honoré de Balzac; and scores of others.
If you have an affinity for someone on the list and wish to pay your respects, that's definitely something that will be meaningful to you, but if not, I can say that visiting this place is not about the celebrities. It's a beautiful, occasionally haunting place that I found captivating. Most of the graves and mausoleums that stood out to me were built for people not listed on the map. With no real agenda, and a free afternoon on our hands, Angela and I really enjoyed walking through the cemetery and just taking it all in.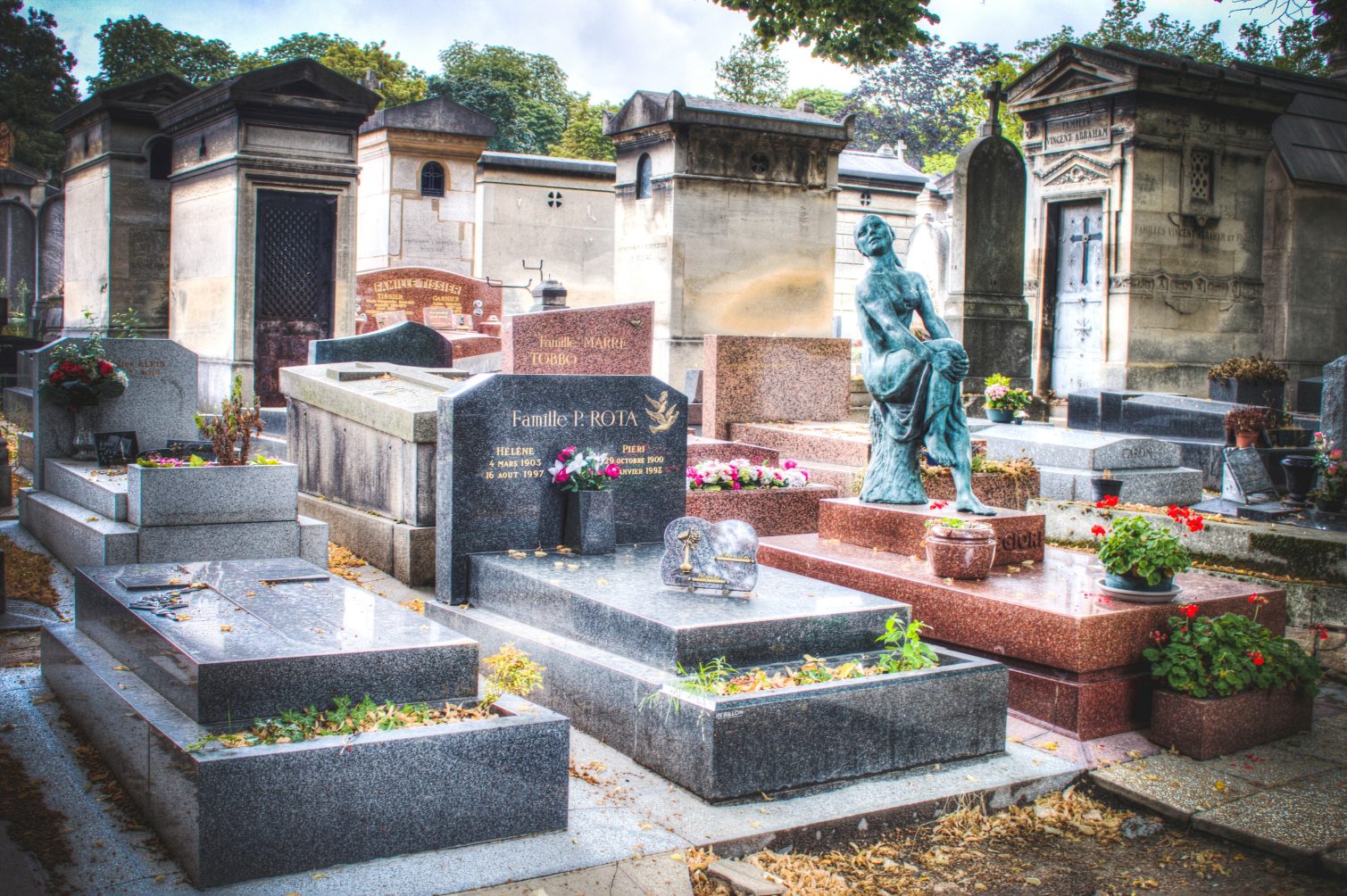 With a few exceptions, most of the graveyards in North America I've visited have headstones and little more. In Paris the cemeteries tend to be dotted with mausoleums, tombs, and plots that are far more intricate than basic headstones. It makes for an interesting landscape.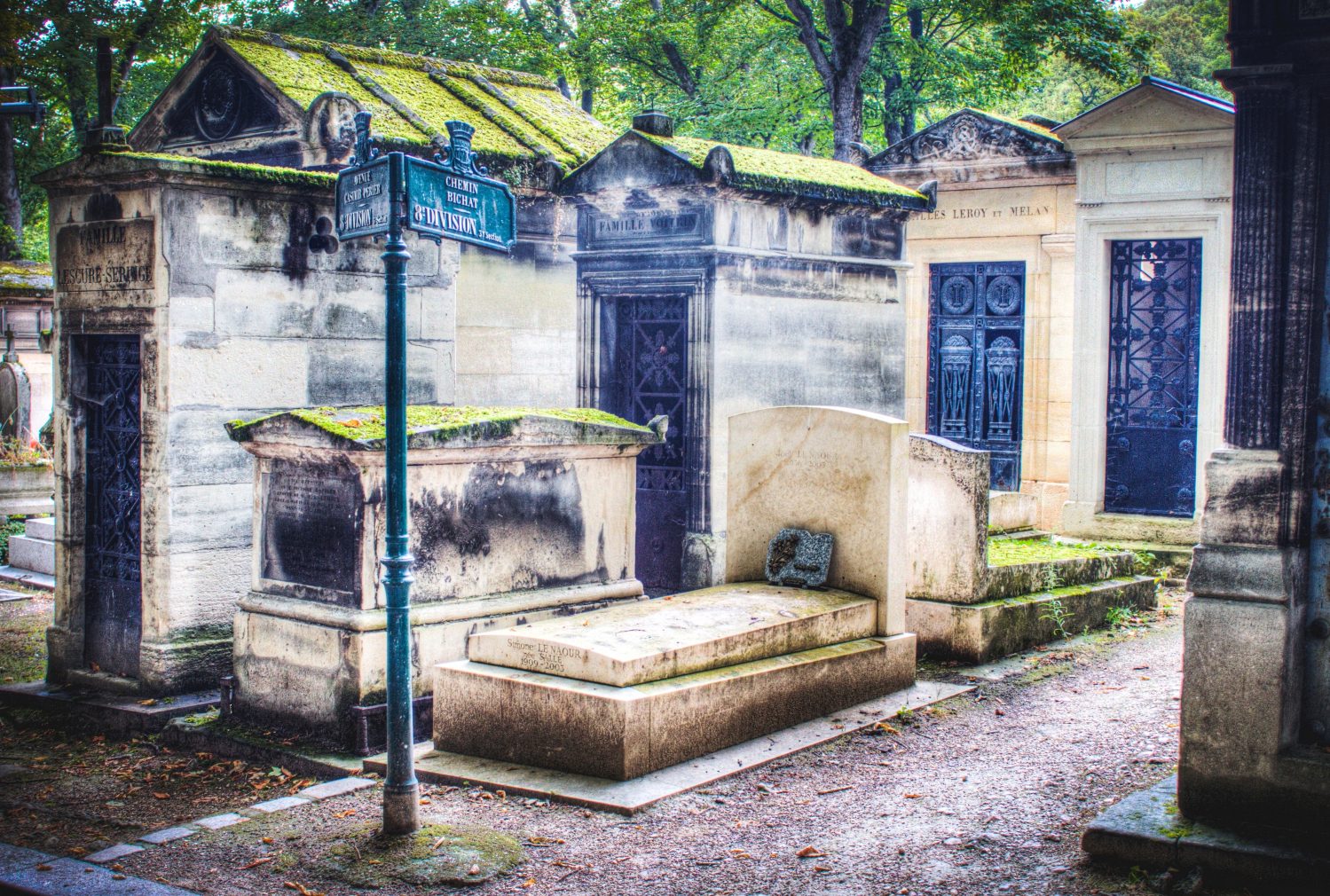 One of the sites that captured my attention was a weeping statue that was downright bleak. You could feel the emotion pouring out of her, and I couldn't help but stop and look at this site for a few minutes. And at the risk of sounding insensitive (which I don't mean to be); she reminded me of the statues in the Doctor Who episode "Blink". So while I wanted to pay my respects, I also didn't blink. Not once. Better safe than sorry – the doctor knows what he's talking about.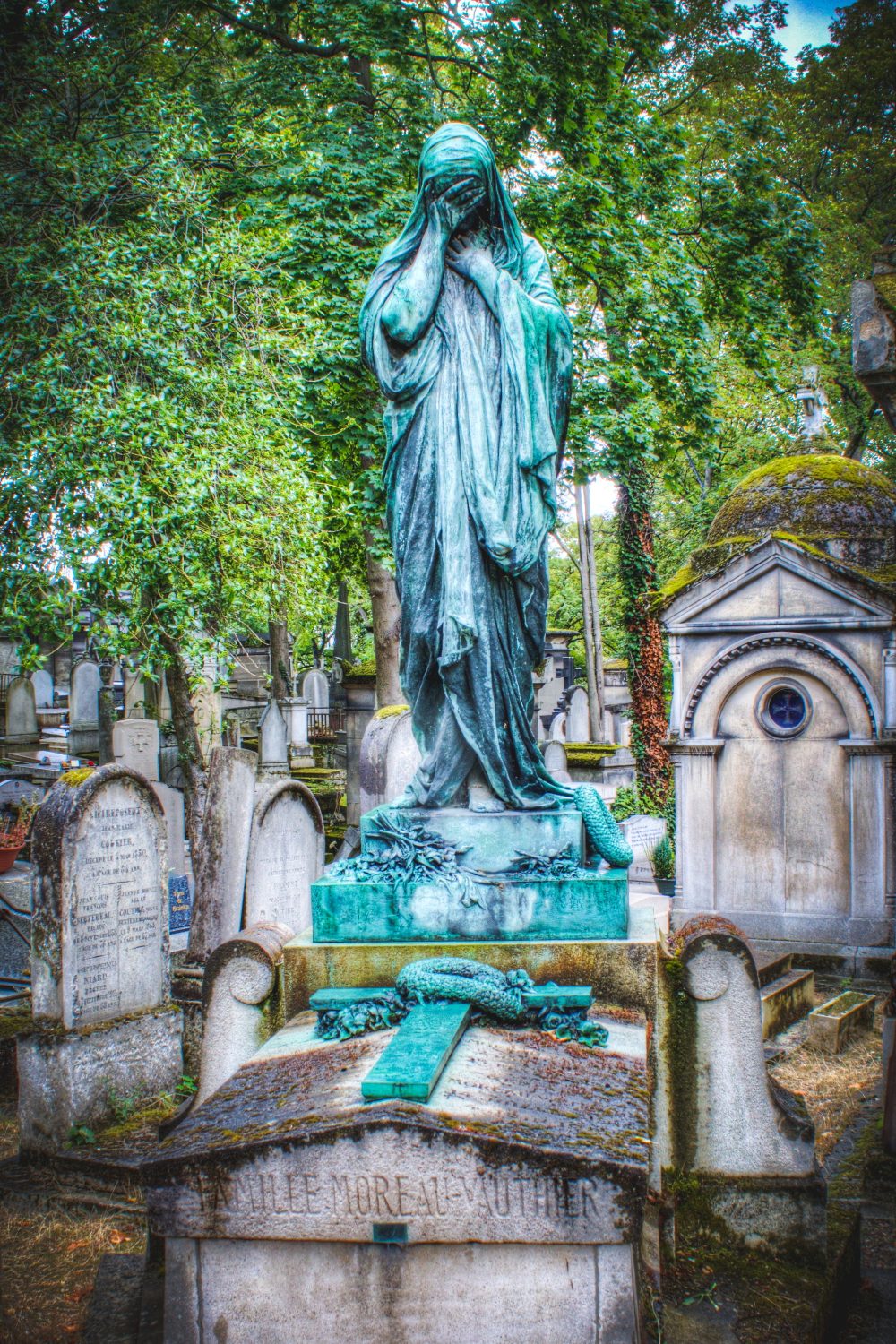 Some grave sites are more like public displays than burial plots. The site for Casimir Perier, 11th Prime Minister of France, is dominant, and occupies its own little island at the nexus of a number of paths.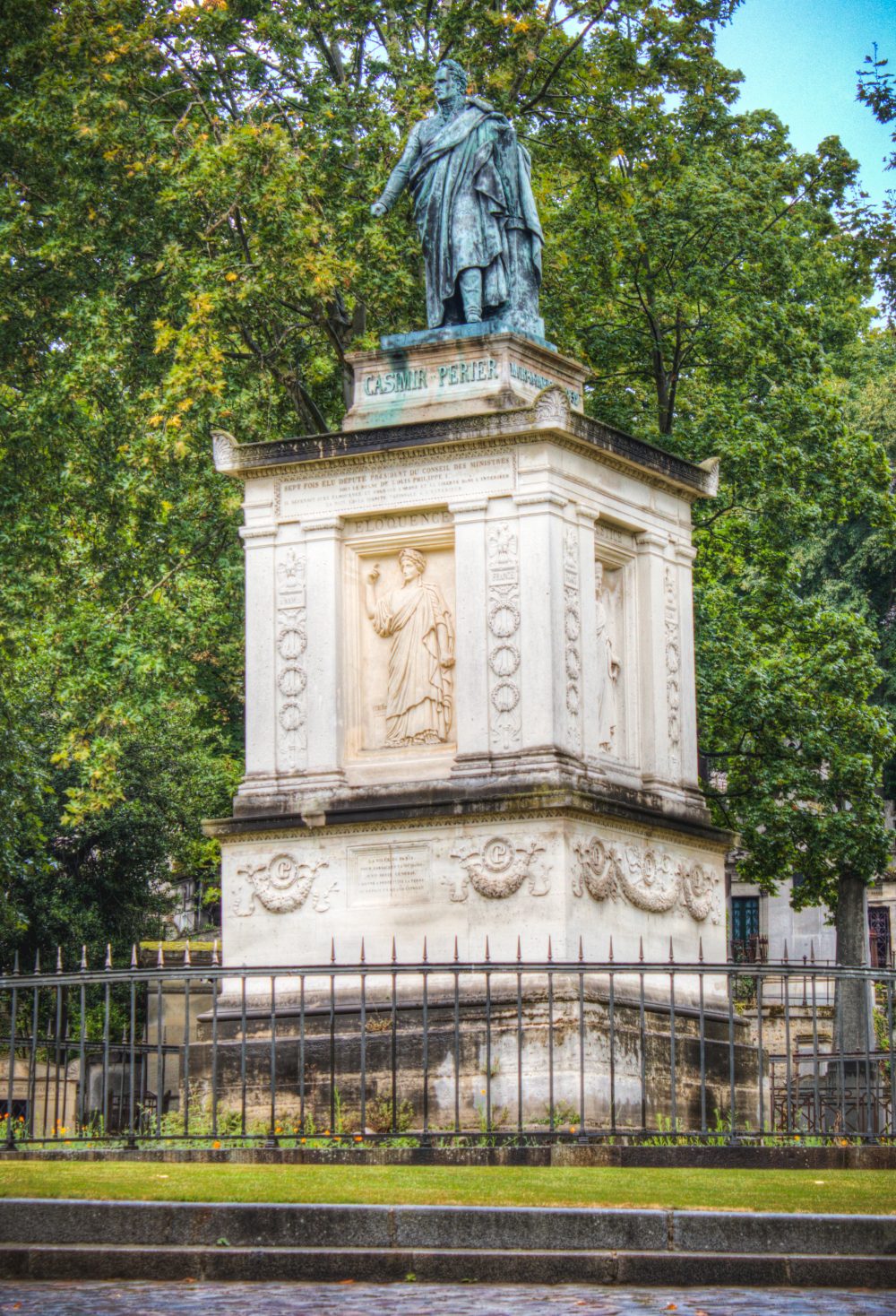 While there we got a kick out a of a kid who was running around the curb, giving it like an Olympic sprinter, when his sister ratted him out to his mother, who was looking at a grave not far away. "Mummy," she said, as only little British girls can, "Terence is running around on the curb. He's going to fall." "Let him go," Mum replied, "he'll be fine." A minute later the kid fell off the curb, twisted his ankle and yelled out in pain. "Why in bleeding hell did you let him run around that curb?!" Mum yelled at the daughter, who could only look over at us and shrug. This is obviously not the first time she's been the victim of such radical injustice.
Not long after the ankle twisting, the skies opened and we were forced to look for cover. Some of the mausoleums are open so you can duck inside and read about the families buried there. We dove into an open one, brushing cobwebs off our faces as the rain bounced off the ceiling above. It rumbled like thunder. In fact, there might have been thunder. Regardless, I was less concerned about the weather than the massive spider eyeing us up in the corner. I made a telepathic pact with him that if he left us alone we promised to leave him alone. He obviously understood me, because he honoured the pact.
After about fifteen minutes the worst of the downpour let up. We walked for about another twenty minutes, checking things out as the sun fought through the clouds. The cemetery took on a different feel in brighter light, the mossy greens coming to life.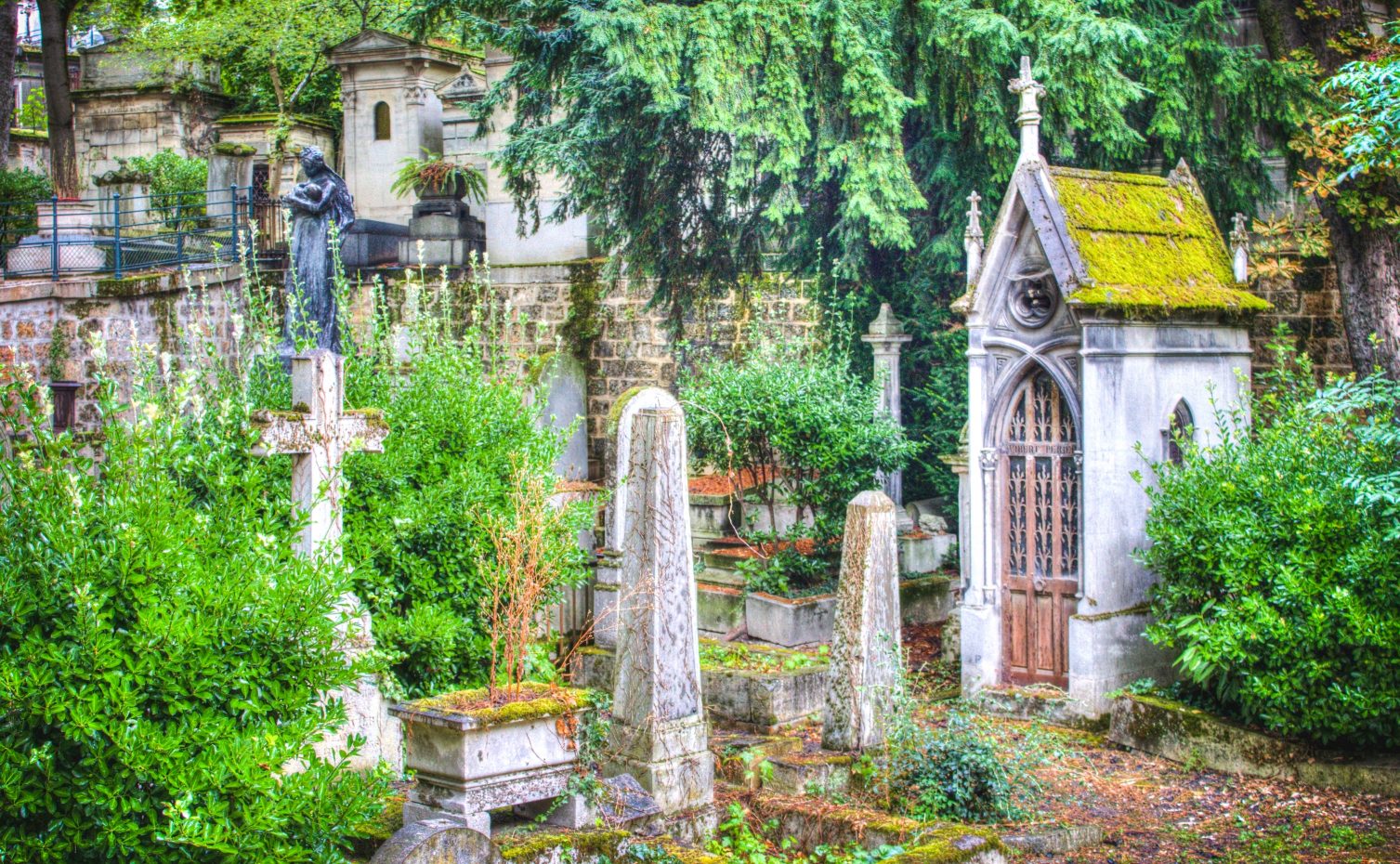 Our day done, we made our way back to our hotel in Montmartre. Looking back on our day, we'd walked about five kilometres, visited celebrities, made telepathic bargains with dangerous arachnids, witnessed a travesty of familial justice, and enjoyed exploring one of the city's famous burying grounds. We had waited for the sun and been rewarded – you can't ask for much more than that.
How about you? Visited a cemetery while on the road? What are your impressions of Père Lachaise? Comment below! Cheers –