Having just arrived home from Asia, I flipped on the TV and Austin City Limits was on. Stevie Ray Vaughan was mesmerizing the audience with his anthem "Texas Flood" and it reminded me of the time Angela and I spent in Texas recently, but never got a chance to write about. So here I am, happily bringing you that post now. It also encouraged me to pick up my guitar, which I hadn't touched in about a month as I was on the road. Guitar in hand, I belted out a rendition of Stevie Ray's "Pride and Joy", causing the neighbour's dog to howl and all local cats to hide.
When I used to think of Texas, it would conjure images of guns, God, and barbeque. After visiting the lone star state, I still think of guns, God, and barbeque. So nothing's changed on that front, but I have added a number of other associations to one of the most unique, distinctive regions in the USA. Most of them great, a few not so great, but overall this is a fascinating place to visit. And did I mention the barbeque? Anything negative you've ever thought of or said about Texas is immediately negated with the readily available world class barbeque. People have pontificated over the prescription for happiness since the beginning of time, yet the answer is so simple, and can be boiled down to two words: low and slow.
I was visiting Texas with Angela for a week and a half split between San Antonio, Austin, and Rockport on the Gulf Coast.  We kicked things off in San Antonio, where Angela was toiling away on a work assignment and I was free to roam the city. We were staying within a five minute walk from the Alamo, so we got that out of the way early. Hitting it on our first night, we visited on a warm Texas evening, a weekday when hardly anyone was around. It was a perfect time to take in this iconic building and listen to the trees rustling around the illuminated landmark. It was a relaxed, chill place to be – even the nearby drunk, sipping on Stoli in a paper bag, just kicked back under a tree and asked in a half-assed manner for some change. Nothing aggressive, no follow-ups, a laid back panhandler in a laid back city.
The Alamo is a beautiful place to visit, but like so many landmarks it's just kind of right there in the middle of the city. As you walk towards it, you're looking through shop windows at "In Texas We Don't Call 9-1-1" t-shirts (complete with pictures of various and assorted firearms), walking past bars, jumping over potholes, and then there you are – in front of the Alamo. We spent a while enjoying it but were unable to enter, as it was closed – the site is actually much more than just the famous facade. It's a full-on historical site, location of the original Mission San Antonio de Valero, where you can learn about the history of the Battle of the Alamo and the Texas Revolution.
 Seeing the illuminated Alamo is special.
So we went to our home away from home for the week, the Marriott Rivercenter. Tired from a long day of travel, we were happy to hit the sack but I couldn't sleep past 5:00 am. Getting up a couple of hours earlier than you planned is a drag, but it does occasionally provide you with some pretty nice sunrises. Here's the view from our room:
Once the civilized world woke up, we went back to the Alamo and enjoyed the full experience, walking through the grounds and eavesdropping on nearby tours. This enthusiastic employee, dressed in period garb, told us all about some of the tools and other items used by folks in the 1860s. A kid ran up and grabbed
 a small wooden pipe off the table, causing him to almost break character and snap on the young thief, but all credit to him, he didn't. The pipe was saved, and all was right with the world.
For history nerds it's a fascinating place, and there's as much – or as little – information as you need to learn about every last detail of the UNESCO heritage site. We enjoyed our time there, but had more of San Antonio to explore, so we went on our way after a couple of hours.
While Angela worked I explored San Antonio on foot. It's a great walking city, with plenty to see, and I felt totally safe and free to roam as I saw fit. I happened upon the Cathedral of San Fernando after walking a few kilometres, and decided to have a look inside. I'm not in any way religious, but as someone armed with a history degree, I've always found cathedrals to be full of fascinating imagery, architecture, and they're just calming places to visit while on the road.
There was no one inside, so I was free to walk through the church. It's a beautiful space, one that I am sure the people of San Antonio appreciate.
This is a city of churches. Just up the street I came across another catholic church, this one busier.
The second church was less impressive on the outside, but was pretty impressive inside its doors. I found many such places when wandering around this fascinating city.
I continued to explore. When you talk about San Antonio people always talk about the Alamo, the Spurs, and the River Walk. With the Alamo checked off, I decided to try and get San Antonio Spurs (basketball) tickets. No dice. Apparently the Spurs are REALLY popular in San Antonio, so much so that they were completely sold out while we were there. Making matters worse, the Mavericks were in town (for the uninitiated, the Mavericks are based in Dallas and the two teams have quite a rivalry), making my odds of landing a ticket slim to none unless I wanted to part with a small fortune. So I skipped the Spurs, watching the game in a local pub, surrounded by extremely vocal and inebriated Spurs nuts. It was almost like being at the game, but way cheaper. I lost 10% of my hearing that night, but it was cheaper.
That left the River Walk, the network of pedestrian pathways lining the San Antonio River. It cuts through the city centre, one storey below street level, providing access to restaurants, bars, shops, and tourist attractions. We heard it was super touristy, but honestly, it's worth a visit. It was a good place to get some miles in walking in the morning and eat in the evening. The bars are hopping at night, and there's loads of live music around.
We enjoyed the River Walk, and truly enjoyed some of the finest Mexican food we've ever had (Mexican food in Canada doesn't even come close to what they offer in the southern USA), but as inviting as it is, the RIver Walk has limited appeal after a couple of days. Luckily, we were in town during Fiesta.
Trying to describe Fiesta is no easy task. There's really nothing like it – it's truly a San Antonio thing. Toss in some mardi gras, a touch of Rosebowl Parade, add in part food truck festival, and a heavy dose of live music, and you'll come close to wrapping your head around it. It's a fusion of San Antonio arts, heritage, and culture. Started in 1891 as a single float parade celebrating the honor and memory of those who fought at the Alamo, it's now a happening with more than 100 events, 3 million visitors, and $284 million generated annually for the city. So this thing is serious business.
We were there on the opening night, and immediately became jealous of people sporting spiffy hats. At first you think, "man, that looks really heavy and kind of ridiculous." This thought is immediately followed by, "I want one, those things are awesome."
You got the sense that people worked all year on their hats and couldn't wait to bust them out for Fiesta. It was nice to see the pride people took in their creations. They took pictures of each other's hats and traded pins and medals.
Media was there, covering Fiesta in earnest, and apparently, in Spanish. I didn't know much about Fiesta before arriving at the Alamo, and was hoping to learn a bit of background from the media types as they covered it. But they did so in muy rapido Spanish, which yielded exactly the same amount of info for me if they had covered it in muy lento (very slow) Spanish, which is to say nada.
They set up a stage in front of the Alamo where a local band of Air Force musicians rocked the downtown core with a sampling of pretty solid classic rock standards. I think Lynyrd Skynyrd was played, so now I can say I've heard "Sweet Home Alabama" played in the south. Sure, Texas isn't Georgia, but it counts. I have to take my small victories when I get them.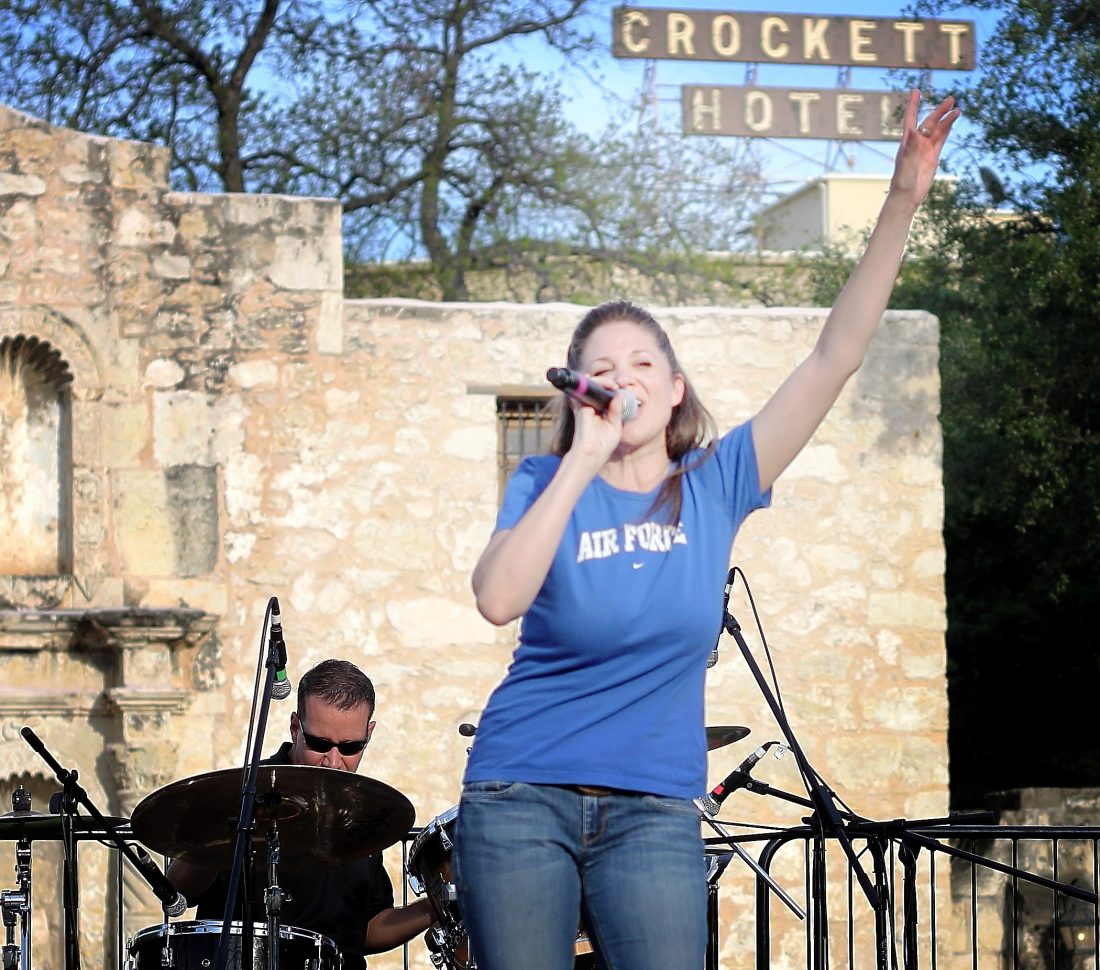 Of course, what would a party be without an Elvis kicking around?
Spurs King wasn't about to be outdone…
But faux royalty was replaced by slightly less faux royalty when a major procession arrived and this guy showed up. I actually don't know who he was, but I'm dubbing him Fiesta King. Fiesta King threw pins out to his adoring fans, and people went bananas.
And of course, there was a tiger there, wearing a tiger shirt, because…Fiesta.
Through the week there were parades, concerts, dinners, costumed affairs, and countless other gatherings. As a festival, Fiesta is uniquely San Antonio, a celebration stretching over about ten days. It might be an event that is tough to define, but I can say without reservation it was a good time.
San Antonio overall was a good time. It's a walkable city with friendly people, great food, festive atmosphere, and an easy vibe that has convinced me I'll be back.
After roughly five days in the land of the Spurs, we packed up our rental car and jumped on the freeway, headed north.
Next up – Austin!
What do you think of San Antonio? Leave your thoughts in the comments and don't be afraid to mention your own blog / website!