This is Part 2 of a two-part post on Phuket and Songkran. It's a throwback post to the first time I visited Thailand, a trip that brought me there shortly after the devastating Boxing Day tsunami of 2004. This post covers events taking place in April, 2005. To read Part 1, click here.
***********
We left James Bond Island absolutely famished. The spray from Phang Nga Bay was refreshing, and the gorgeous limestone cliffs gave us something to look at as we sputtered towards the sea gypsy village where I had no idea what to expect. But we were promised food, so that was a good thing.
The sea gypsy village is a small community of people who live on the water, their homes connected by docks and floating buildings, attached to one of the many limestone rocks that make Phang Nga Bay so fascinating.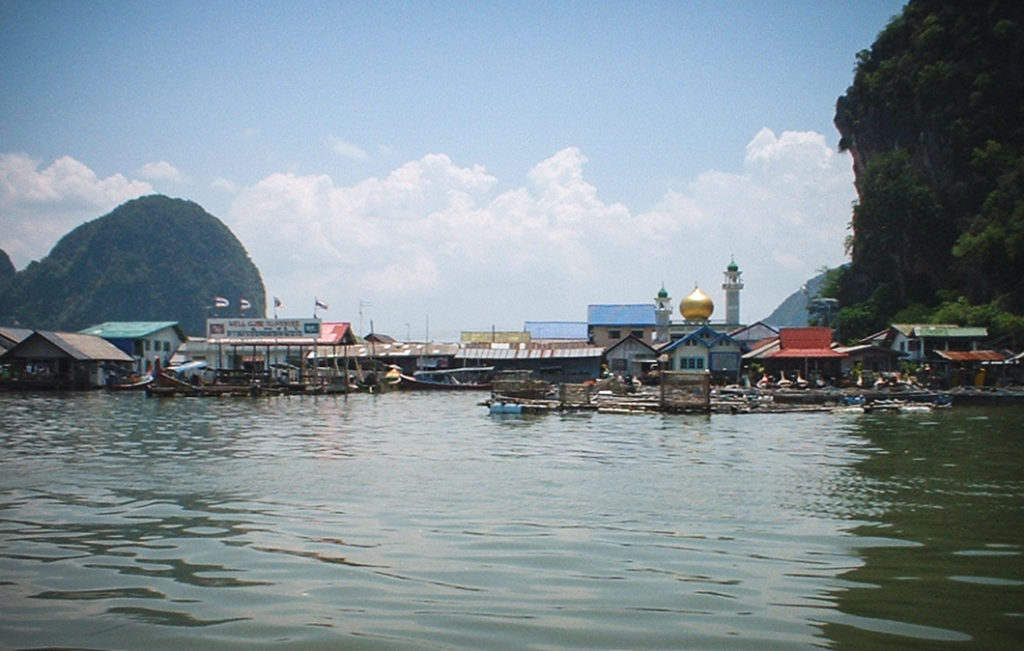 The boat docked and we got out, making our way to a small restaurant overlooking the water. We were served a spicy cocount based soup with chicken and shrimp. I don't usually eat shrimp but in this case I was hungry enough to munch it down and it was edible, I suppose. I've never loved those tiny, tough, stringy shrimp. It's not my thing, but I know people love it. The broth, though, was delicious. There were a few other items on the menu – I remember mango salad, satay, and a few other odds and ends. I dove into the satay, as no one does satay like the Thais, and any meat on a stick is worthy of serious consideration.
After lunch we were given a few minutes to explore freely. The guide did give us one warning – there was a door at the back of the restaurant that, if we walked through it, would take us out of the "touristy" area of the village and into the "real" village. This was a place that won't be quite as comfortable as the sanitized front half of the village, she explained. Enter at your own discretion.
Of course I went (I was the only one). As soon as I went through the door a kid ran up and snatched my camera out of my hand. Before I could protest I had two monkeys thrown at me (this is absolutely true – you remember flying monkeys, especially when they're flying at your head) and a man in a robe ran over and placed an unreasonably large bird with sharp talons on my shoulder. They moved around, checked me out, and one of the monkeys took up an infatuation with the reflector on the top of my running hat.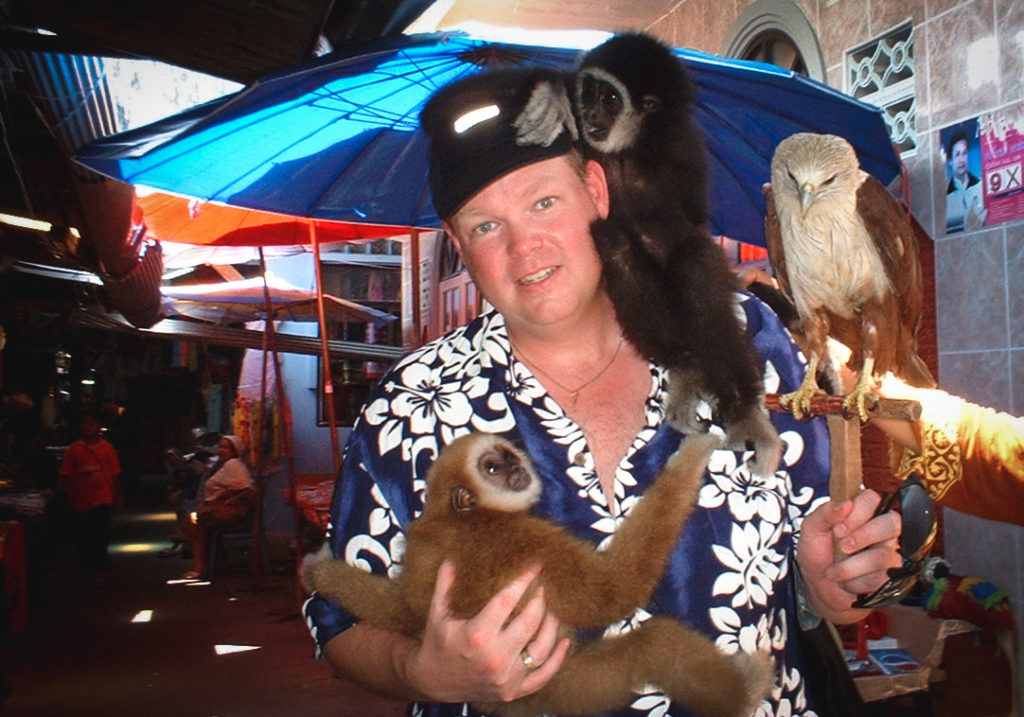 Before I knew what was happening, the kid took my picture with my own camera. Before he would give it back he asked me for money. Obviously the novelty of having monkeys thrown at you is worth a few baht. I gave him some, which maybe I shouldn't have, but did anyway as it's an experience I'll never forget. Not sure how they pegged me as a tourist, though – my blonde hair, Running Room hat and flowery beach shirt should have had me blending in like a local.
In defense of the beach shirt, it was super comfortable, and made of very light, breathable cotton – perfect for the tropics, even if it was a bit on the nose. On the downside, it was remarkably easy to puncture, which was made evident to me when the claws of both monkeys left fairly significant scratches on my arms and chest for the next few weeks.
When the monkeys took off and the kid set me free, camera returned, I wandered through the village, and the guide had been right. People were there, living their daily lives, but it wasn't for the tourists on this side of the door. Families, living in small compartments no bigger than an outdoor shed for many in North America, smiled and waved at me as I walked past. I felt out of place, but not because the people there made me feel that way. Most of them were very nice, and I was grateful for their kindness.
I headed back to the boat and we made our way back to the mainland after exploring a few other spots of interest in the bay. After a long day everyone was pretty tired and grateful for the bus ride back to the resort. I had a dinner at a small restaurant in the village near Bang Tao beach and then crashed for the night.
The next day the resort had a festive energy. It was the first day of songkran, the Thai new year. Celebrated from April 13-16 each year (although the dates vary a bit depending on where you're celebrating), songkran is marked by a nation-wide holiday. The country closes down as people make merit in the morning by honoring Buddhist monks. The passing of water, or cleansing, from one person to another marks change or transformation. At the Dusit Thani a group of monks came to perform this ceremony, solemnly passing water from one monk to the next.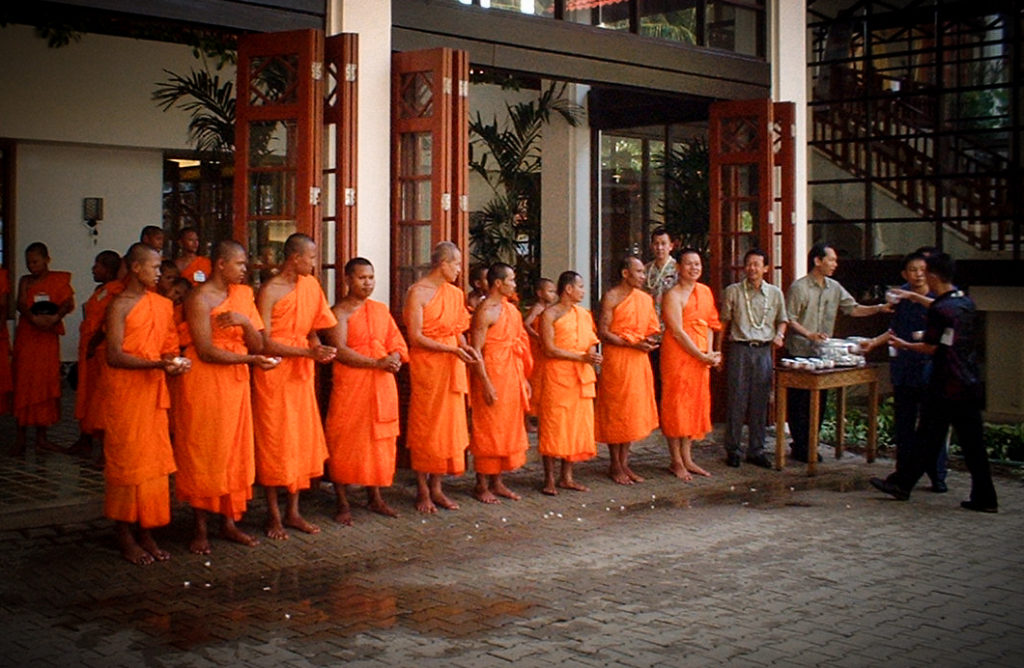 Others were also invited to take part, with precedence given to the elderly and the disabled. It was a nice ceremony, very civilized. I had no idea what was to come.
After eating I went back to Patong, where I had heard there was a massive celebration going on. I was told, in no uncertain terms, not to bring my camera, so I didn't. But creative commons is a great place to get photos, and this is a rare occasion where I'll share a few pics that are not my own to give you a sense of what happens on songkran – it's basically the biggest water fight in the world.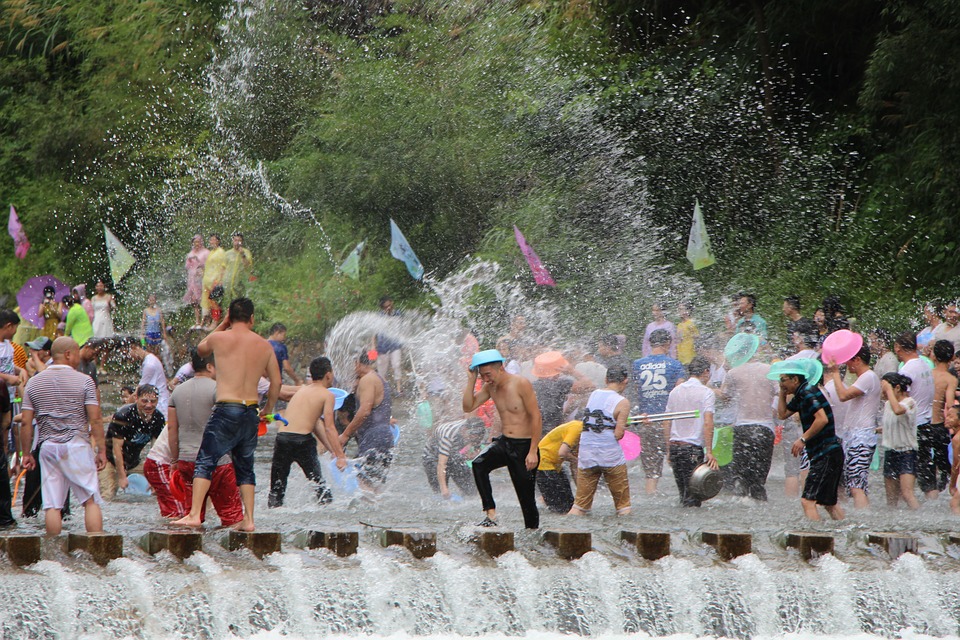 No one is safe.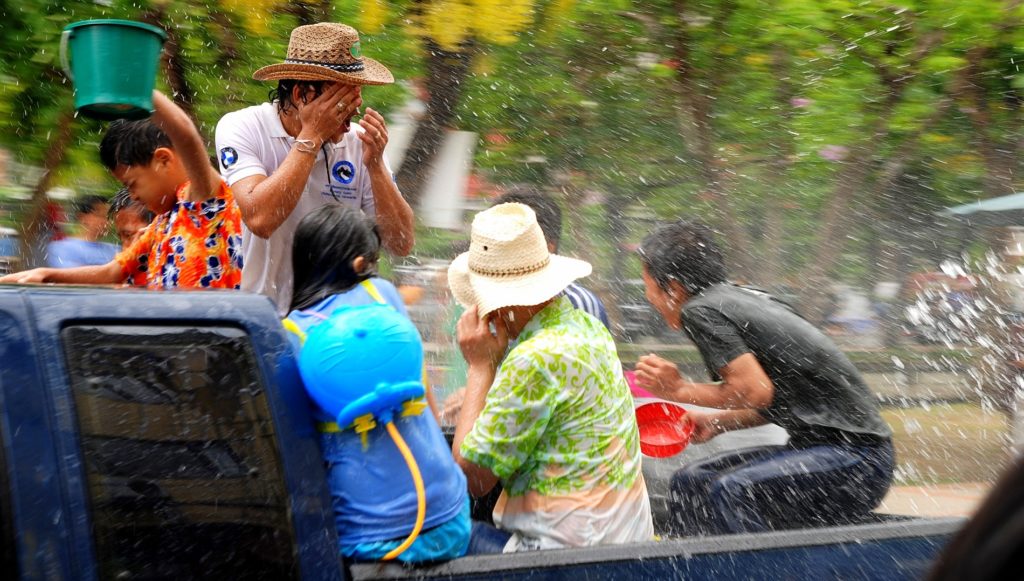 I walked up Patong's main drag, standing out as the target of choice; my blonde hair, tall build, blue eyes and flowery beach shirt made me way too attractive for the locals to ignore. Thais with itchy trigger fingers on loaded Super Soakers were hanging out of windows to get a shot at me, and honestly, in the sticky heat of April it was kind of refreshing.
I have to admit I was kind of impressed by their commitment to the whole thing. I got hit in the side of the head by a balloon fired out of a trebuchet made for this occasion. A trebuchet. That's taking your water fight game seriously.
While trying to stay alive, a girl in her 20's ran up to me and smeared plaster under my eyes. This is apparently quite common, as it signifies the plaster used by monks to mark blessings. Of course, it ran into my eyes, blinding me temporarily. I ducked into an alcove, where the girl followed. She apologized, but I didn't mind that she was just trying to include me, blindness aside.
We got to talking and the topic of the tsunami came up. She told me she operated a hut on the beach selling things to tourists. She said she was always there at the crack of dawn to open up and begin her day, but on the day of the tsunami she had slept in. The day before was Christmas and she had had way too much to drink. Hungover, she skipped opening on Boxing Day. The tsunami struck, destroying her hut and sweeping it out to sea.
"If I had been there that day, I would be dead," she said. "So I feel so lucky…and apparently drinking can save your life!"
People in Phuket were obviously saddened by the impact of the tsunami, but nearly everyone there was thankful it wasn't worse, and I didn't hear one person complain. It was an amazing feeling of both resilience and community.
On my way out of Patong, ready to call it a day and spend the next 14-26 hours drying off, I saw an old woman down a side alley beckon to me. She was sitting on top of a bucket, and she waved at me a couple of times, suggesting I come and see her. I thought, perhaps this woman is about to share some ancient wisdom with me. This had been an incredible day so far, why not? So I approached her, and she smiled at me sweetly. She was eighty years old if she was a day. As I got to within a few feet I stopped. She beckoned me closer. Within a foot, she leaned towards me, and with remarkable dexterity jumped off the bucket, lifted it up, and dumped a couple litres of water on my head. And then she laughed. And laughed. And laughed.
No one is safe at songkran.
The rest of the trip flew by. I spent my mornings on the beach by the Dusit Thani, where a local elephant trainer brought his baby elephant to play in the sea every day. I loved this little guy.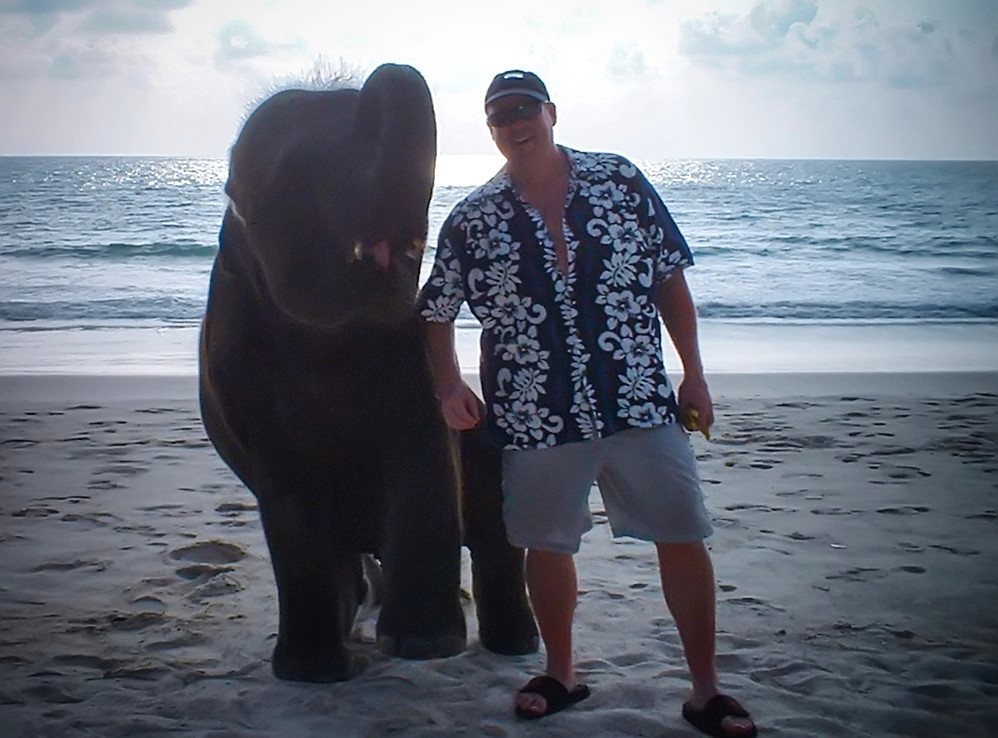 On an excursion to the Phi Phi Islands I snorkeled for the first time, marvelling at the fish and coral. It was a phenomenal experience, although the guys running the tour put a pretty good scare into us. When the entire group (about 20 of us) were in the water one of the leaders stood on the back of the boat and started yelling, "Shark! Get out of the water!"
We all paddled like hell, scrambled into the boat, and then they broke up laughing. There were no sharks. Yeah, it's all fun and games until someone has a heart attack, Mr. Boat Operator. 🙂
Phuket was good to me. Songkran was an amazing experience, and this trip was my introduction to Thailand, a country I have returned to many times and hope to for the rest of my life. In 2018 we'll be hitting Chiang Mai, Pai, Mae Hong Son, Bangkok, and Koh Samui. Who knows where future trips will bring us, but I will forever be thankful for my first time in the Land of Smiles.
PS – I still have that shirt. I'm never giving it up.
How about you? Any Thai experiences to share? Comment below, and thanks for reading! Cheers –