I've read other blogs saying Singapore is boring and expensive. Well, I would say that compared to other SE Asian locales, yes, it's expensive. Hard to argue against that. And is it boring? I think it comes down to you. You won't get the adrenaline rush of taking your life in your hands when crossing the street in other SE Asian locales, or the burst of energy that first time you try unidentified street meat in Bangkok, but it's hard to say Singapore is boring when it has so much going for it. I've never been bored there, but then again I'm easily amused.
I had the pleasure of working and traveling in Singapore, on and off, since 2005. I work with a wonderful consultancy there that brings me over from time to time, and I absolutely love it.
Singapore is a comfortable place to be for someone from Toronto / Victoria. It's clean, efficient, and multi-cultural. There's excellent shopping, hotels, amenities, and anything else you can ask for. If you're North American or European and want a good base to explore SE Asia from for the first time, it's a good jumping off point – it will feel familiar while introducing many of the sights, sounds, foods, and cultures you are likely to encounter during your time in the region.
In the midst of the chaos that SE Asia can sometimes provide, Singapore is the calm in the middle of the storm. It's a place with traffic rules, which in and of itself is reason to take a deep breath after coming from somewhere like Cambodia, Thailand, or Vietnam. The cabs are ridiculously clean and hardly ever run out of gas, unlike in Thailand, where they run out of gas on each and every trip. For the love of all things good and holy, Thailand taxi owners, you're in the business of driving people around – BUY SOME GAS!
Singapore is extremely multi-cultural, has phenomenal food, and some of the best chicken satay anywhere in the world. I'm not kidding. The satay I tried (and then went back for half a dozen times) at the Grand Copthorne Waterfront is pure magic. It's easily the tastiest meat I've ever eaten off a stick, and that's saying something.
So I have plenty of fond memories of Singapore and plan on making many more in the future. Here's the five memories I picked out for this post, and like with the previous "pre-blog" posts, this was pre-camera obsession, so please forgive the photographs. 🙂
5 Memories of Singapore:
1. It's comfortable, safe, and clean. I know this doesn't sound like a prescription for laughs, but honestly, Singapore can be a respite in SE Asia if you've been bombing around the jungles of Cambodia, Laos, Indonesia, Malaysia, and Vietnam. Singapore is a lot like Toronto, in that it's clean, safe, efficient, and there's plenty to do. Throw in excellent restaurants, world class hotels, a vibrant arts scene, and you can walk anywhere at two a.m. (if that's your thing) – it's a nice break in the chaos that can be the rest of SE Asia.
2. The food. Singapore sits in a location on the southern tip of the Malaysian peninsula where you get access to an amazing blend of Singaporean, Malaysian, Thai, Indoensian, Indian, and other foods. All of these foods are bursting with flavour, and there are so many options it's a smorgasbord for the soul as well as the stomach. Eat at the hawker centres for some of the tastiest, cheapest food going. Singapore is an expensive city, but food doesn't have to break the bank if you eat like the locals do (and trust me, it's not a sacrifice – Singapore food is awesome).
How lucky was I to be staying near the King of Chicken rice? The king! Right by my hotel. Amazing. It was, actually pretty good. This is near a small hawker centre out by Changi Village.
Some hawker centres are better than others. Ask around, and don't be afraid to venture out and try new things. People will turn you off Newton Circus (they'll say it's pricey and become too touristy), but I've eaten there twice and had a great time on both occasions. The touts are really aggressive, though – just ignore them, push through their advances, and you're good. I had stingray there for the first time, and while I am happy to add stingray to the list of "weird things Paul's eaten" I think it will likely be my last.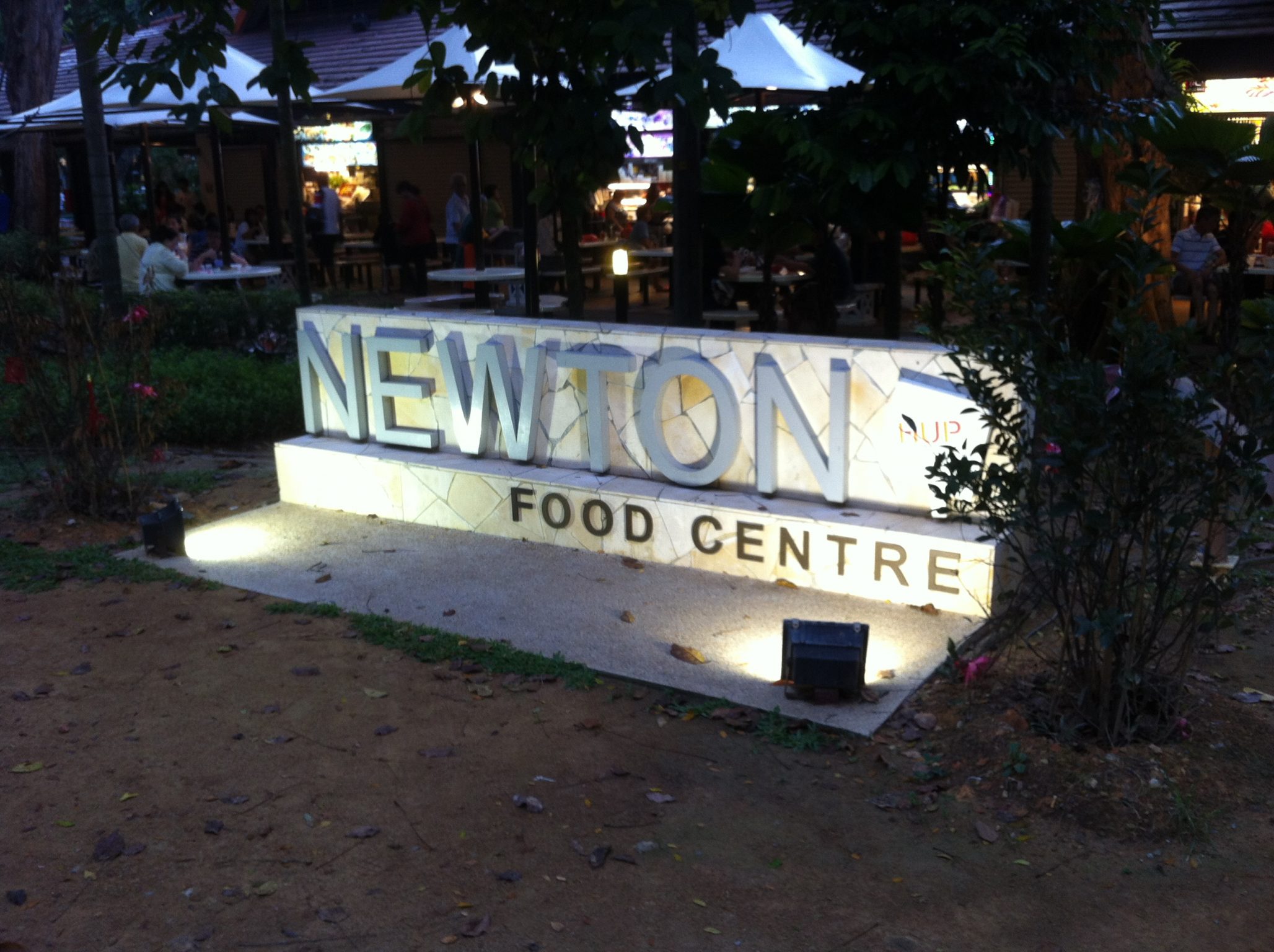 No matter where you go, make sure you know what you're eating – I've wound up with one too many plates of pig innards in my lifetime. Oh, and try the satay at the Grand Copthorne Waterfront, as I already mentioned. I can't pretend to know what heaven is, but if I had to guess, I am imagining it to be not unlike the pure bliss that is the chicken satay at the Grand Copthorne Waterfront.
3. Clarke Quay / Boat Quay. I know this area is touristy and expensive, and there are touts all over the place trying to will you – and sometimes physically drag you – into their restaurants and bars, but I love sitting out on the patio, eating good food, sipping a tall Tiger, and watching the world go by on a warm night. The Singapore River provides boat traffic, the lights dance on the water and there is no shortage of entertainment while people watching.
4. Marina Bay Sands. Okay, let's start with the views. Go up to the top and you can see the Super Grove trees over the back:
You see for miles in all directions: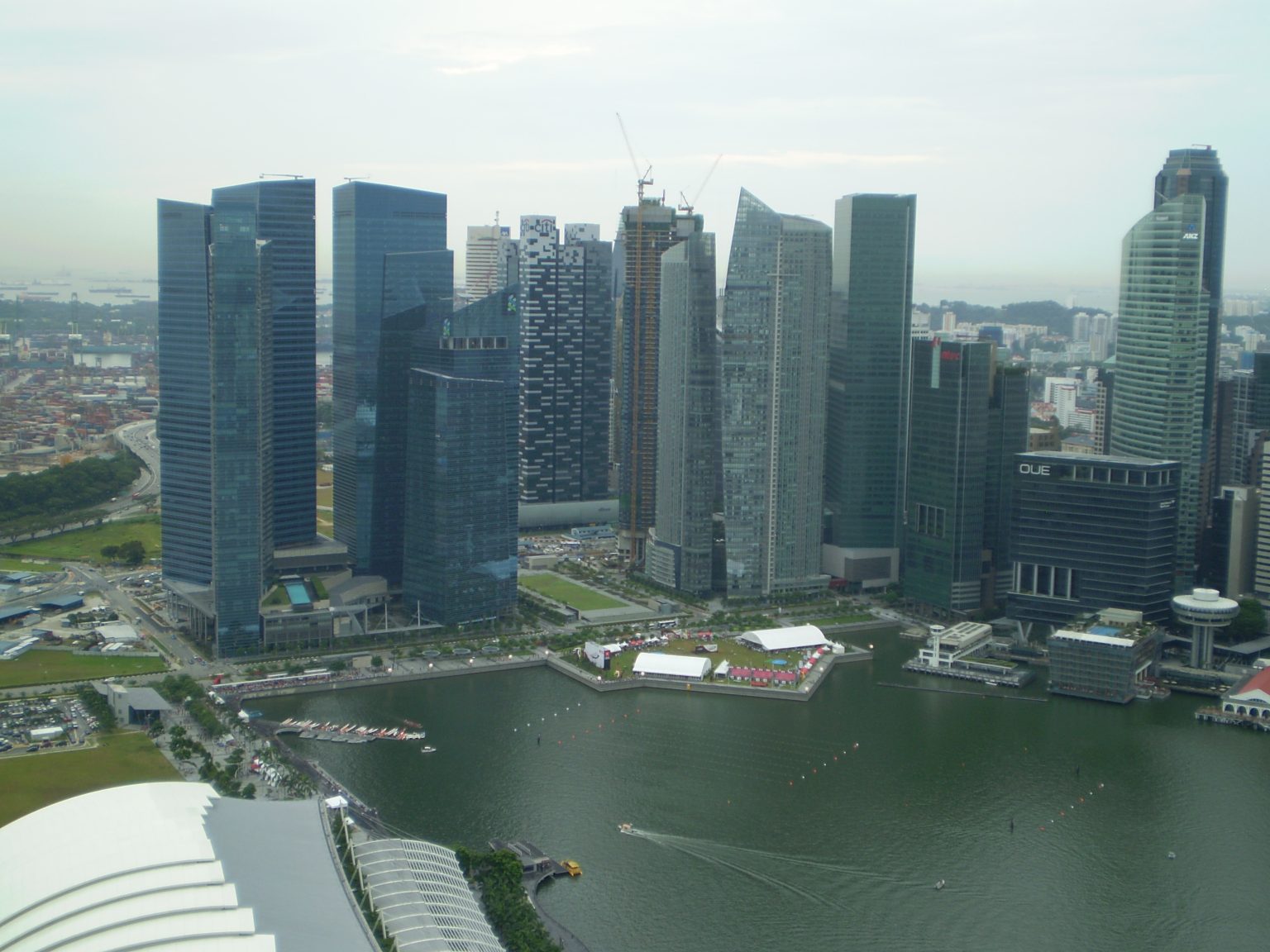 The rest of MBS and the infinity pool:
 And you can see the whole city of Singapore from up there, although I have to sheepishly admit (I'm among friends, right?) that I can't find any of the sweeping vistas I must have taken from the top of MBS when I was last there.
It's worth paying for the ride up just for the views, but I also got a kick out of Marina Bay Sands for it's really high end retail (ie. shops I will likely never shop in), restaurants, and casino (remember to bring your passport or else they won't let you in. I know this because I forgot to bring my passport and they didn't let me in).
5. Christmas in the Tropics. Christmas without snow doesn't seem to fit, yet in Singapore they never have snow, but always have Christmas, so there you go – Christmas is not dependent upon snow.
I've been in Singapore twice when Christmas in the Tropics was in full swing. The first time was kind of surreal – walking down the street in thirty-five degree weather (with the ever-present 1000% humidity), wearing shorts and a t-shirt, guzzling water to keep from becoming dehydrated, and marveling at the Christmas decorations swung across Orchard Road. Carols blared over loudspeakers attached to palm trees, and special tours to see the lights left the tourist office every hour after 7pm.
It didn't feel right, yet everyone totally bought into it and it won me over. I bought some overpriced gifts (I was, after all, on Orchard Road), bought a mug of egg nog and got my Christmas on. I refused to put on a tacky Christmas sweater, though. Not because I don't dig tacky (who doesn't?), but because the thought of putting on another layer of clothing would have brought out the Grinch in me, and I only bust that guy out on special occasions.
They really do an amazing job on their Christmas celebrations, and if you happen to be in Singapore during the season (they usually begin around mid-November), jump in and enjoy the festive season.
Honourable Mention: Shopping – if you have the $$ you can buy anything in Singapore, but know that it won't be cheap; the Night Safari at the Zoo; F1 weekend; the Raffles (once); the tech malls; Kampong Glam for lunch and sightseeing; running along the water; fresh tropical fruit everywhere.
What have your Singapore experiences been like? What are your SG highlights?
Comment below (and feel free to mention your own blog) – cheers!